by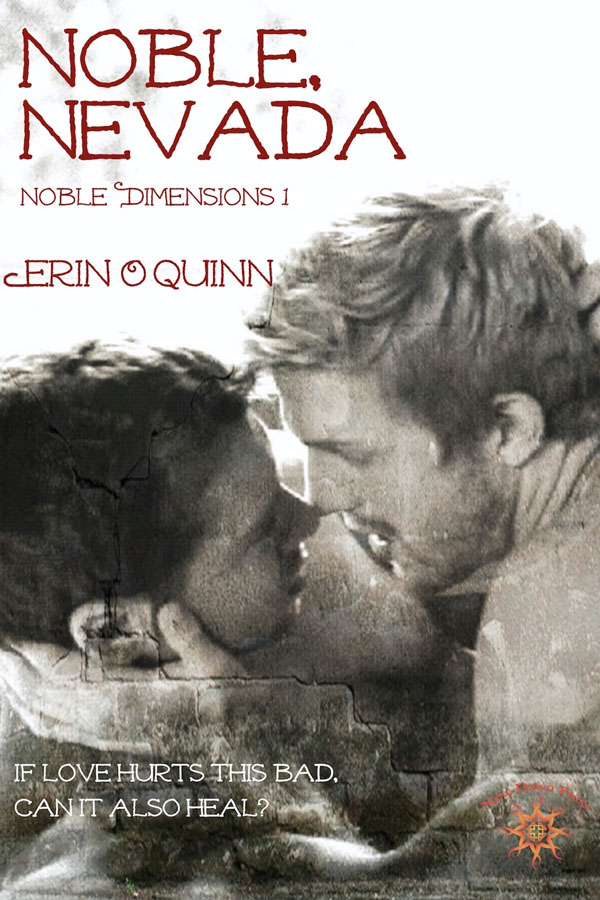 Love hurts…
Rick Hendrickson is a drifter who stops in the hick town of Noble, Nevada, hoping to find a job. One night in a bar his delft-blue eyes reach out and snag young Tony Grazzo like barbed wire.
Hometown boy Tony, home from college, is ducking a suffocating relationship with a girl. When he and Rick find themselves in a dumpy roadside motel room, on a swaybacked bed …blue eyes and tight Levi's come together.
Their affair is fast and unrestrained, in spite of Tony's awkward naivete and Rick's shrouded history. Each begins to think life is pretty damn good. But the past of both men fractures their present life together. What happens to put one behind bars, while the other runs? And if love hurts this bad, can it also heal?
This book is on:
3 To Be Read lists
1 Read list
Published:
May 2, 2016
Publisher:
New Dawn Press
Cover Artists:
Genres:
Pairings:
M-M
Heat Level:
5
Romantic Content:
5
Ending:
Click here to reveal
Character Identities:
Gay
Protagonist 1 Age:
18-25
Protagonist 2 Age:
26-35
Tropes:
Families/Raising Kids, First Time, Friends to Lovers, Gay for You / Straight to Gay, Second Chances
Word Count:
49135
Setting:
Nevada small town
Languages Available:
English
Series Type:
Same Universe / Various Characters
Excerpt:
From Chapter Five:
The two men sat with their elbows on the table enjoying their second beer. Tony was beginning to feel only slightly light-headed. He wasn't used to imported beer. It tasted stronger, somehow. Rick was leaning toward him.
"Got anything on tap this afternoon, Tone?"
He shrugged again. "Only to help Dad out a little. Try to iron a shirt or two, wash some of my duds. How 'bout you?"
"Nothing special. I was hoping you'd come by the place for a while."
Tony looked at him again. Rick's eyes seemed to draw him into a private conversation that he wanted to hear more of.
"Um, sure. Better than taking up space at Mamacita's. Let's go."
READ MORE
Rick dropped him off at his car, a Dodge Intrepid, and followed his new friend up Highway 95 to the truck stop. He pulled in right behind Rick's Silverado and followed him into the motel room. Rick nested his hat on the spindly back of a kitchen chair.
The place looked a lot seedier in the daylight. The walls hadn't been painted in probably a decade, and the worn rug had long splits where it had ridden up into folds and then been trampled down by years of lodgers' heavy feet.
"I hate this dump, Tone, but it'll take me a few paychecks to find a nicer place. Have a seat. You can use the bed if you want. A lot softer than the goddamn chairs."
"I just might do that." At least the view from the bed was not as depressing as the shabby little kitchenette with its contact-paper veneer. He sat a little gingerly on the bottom end of the bed.
Rick went to the small refrigerator and pulled out two generic beers. He walked over to Tony and handed one to him, while he found a spot a few feet from him, near the head of the bed. He leaned against the plywood headboard.
"D'you mind? I gotta kick off these damn boots. Sleeping in them last night was a big mistake."
Tony laughed with real humor. "Yeah. Yours all swollen up like mine?"
"Hey, go ahead and kick yours off, too, dude. Get comfortable."
Tony eyed the spot on the other side of Rick. "I'll sit next to you then. Unless you bite." Shit, what made me say that?
But Rick seemed to like his comment, throwing his head back and letting loose a throaty laugh. "Sometimes."
Soon the two of them were leaning on the pliable headboard, toasting everything from Mexican beer to pickup trucks.
Tony drained his beer can. "That was good. Yeah, for a generic, pretty good."
Rick was closer to him than when he had first crawled to the head of the bed. His face seemed to be only inches from his own.
"How 'bout one more?"
"Um, later." Tony was beginning to feel buzzed, and his cock was starting to stir in his jeans. What the hell? Rick's mouth was somehow very close to his own.
"I like your mustache."
Tony giggled. "I grew it because someone else didn't like it."
"Tell me."
"My girl Lotte. We haven't slept together in forever. Maybe because I put up this mustache as a barrier. Like a border wall between Mexico and Texas." He began to laugh again, wondering why he was telling Rick things he didn't even want to think about.
"Well, Tone, I think it's sexy as hell." Rick's voice was very low, and Tony leaned forward a little to hear him.
When he leaned, he was surprised to find Rick's mouth right there, right next to his. Then he felt a most curious sensation from his balls to the tip of his prick as Rick's tongue flicked out and traced his upper lip, all along the mustache.
"Mmmnn, I like it." He licked again. "A lot."
His cock engorged so fast his denims couldn't hold him, throbbing and beating against the too-tight riveted crotch.
Tony knew this was either the beginning or the end of something. He could succumb right now to this heady feeling of arousal. Or he could jump up immediately and move away from Rick as if nothing had happened. His choice. The rest of his life sat on the fulcrum of this lumpy little bed.
COLLAPSE
Reviews:
K Griffith

on

Amazon

wrote:
Wow---I didn't think there could be anything as good as the hot, kilted alpha males Ms. O'Qunn crafts in her Burns mysteries--but I was so very wrong. In this series, she introduces us to Tony, a man who tries and fails to be honest with himself about what he really wants until one night, one memorable night in Noble, Nevada, where he runs into Rick at the town watering hole.

The imagery is so vivid you can smell the stale beer soaked into the bar, and the hopeful looks of the other guys who are there for the exact same reasons.

Rick and Tony (or "Tone" as Rick calls him) hit it off right away, but demons from both their pasts threaten to derail any chance they might have at happiness. Oh, and I really really loved Tony's dad--getting over the recent death of his wife and Tony's mother, but still managing to support his son. What a finely drafted character.

And the sex? Christ Jesus, it's nuclear. These men are definitely not afraid to say what they want from each other. I'll definitely be reading more about my cowboys ...Yeehaw 🙂