Dragons of Astria - Book 1
by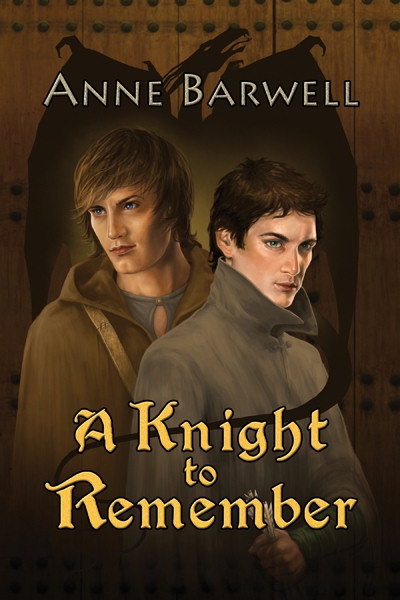 Editions:
ePub

-

First Edition

: $ 6.99

USD

ISBN:

978-1-62380-861-7

Pages:

204
Paperback

: $ 14.99

USD

ISBN:

978-1-62380-860-0

Pages:

204

"The last of your line will be in the embrace of a dragon."
Aric, Crown Prince of Astria, has been brought up to believe that all dragons are evil. But when he speaks with one, he finds himself questioning those beliefs. The dragon tells him to find a sword in Sherwin Forest to save not only his kingdom but also his sister, Georgia, who must otherwise wed the prince of a neighboring kingdom.
At the start of his quest, Aric dons a disguise and meets Denys, an archer and herbalist who lives alone at the edge of the forest. Denys agrees to guide Aric into the forest, but then Georgia appears, revealing Aric's true identity.
However Aric learns he is not the only one keeping secrets. Denys has a few of his own that could change both of their lives forever.
Published:
June 13, 2013
Publisher:
Dreamspinner Press
Cover Artists:
Genres:
Pairings:
MM
Heat Level:
3
Romantic Content:
2
Ending:
Click here to reveal
Character Identities:
Gay
Protagonist 1 Age:
18-25
Protagonist 2 Age:
18-25
Tropes:
Amnesia, Fated Mates / Soul Mates, Hero and the Great Quest, Magic Sword
Word Count:
65490
Setting:
Astria
Languages Available:
English
Series Type:
Continuous / Same Characters
Excerpt:
"You said you had something to tell me." Aric cleared his throat, not wishing to reminiscence about such things, at least not now. He was losing his mind, he must be. This was a dream, it had to be. Yet why did it feel so real? "And my name is not Brandric. It's Aric. Brandric is what my father calls me."
"Aric, then." The dragon inclined its head again, lowering its voice. "Your sister is to marry the prince of a neighboring kingdom. This must not be allowed to happen. It will not unite your kingdoms, but is merely a ploy to gain your father's trust."
READ MORE
"I already know that." Aric had heard two of King Malachite's men talking. Once the marriage had taken place, King Malachite planned to invade Astria and claim it in the name of Logan, his own kingdom. "He… they talked about using magic." Aric had told his father about what he'd overheard, but he hadn't been believed. King Malachite, King Brandr assured his son, would not attempt to betray Astria by using the evil that was magic. Nor would he use their children's marriage to gain control over Astria. He was an honorable man who had stood by Astria and its people many times, their armies united against a common foe. Together they had triumphed over those who might use magic against them, and worked to rid both their lands of the threat of dragons.
Aric had never trusted King Malachite. There was something about the man that made his skin crawl, but if asked to explain, he couldn't. Only two people had ever believed him: Georgia and Aunt Hannah.
"The only way to fight magic is with magic." The dragon looked around, then cocked its head to the side as though listening to something Aric could not hear. "You must seek the Sword of Sherwin, Aric. The quest will not only save your kingdom, but also your sister."
"I…." Aric stared at the dragon. He'd heard of the sword, of course he had. It was an old tale told to him by both his aunt and his mother. The sword was a thing of power. "It doesn't exist. It's just a story. Or if it did, it was lost generations ago." He shook his head. Surely the dragon couldn't be serious?
"Then it is time it was found again, isn't it?"
"You make it sound simple. It's not." Aric looked up at the dragon. Its eyes were the same color as its scales. They seemed to bore into his own, searching his heart, and his soul. There was something ageless about it, powerful yet lonely. He shivered, and averted his gaze.
"You see what others don't, young Aric." The dragon opened its wings. Aric gasped. They were the length of several men, black cobwebs of fine leather and scale. "Follow your heart, and trust your instincts."
"But I don't know where to look." Aric wanted to believe the dragon, he truly did. Georgia couldn't be allowed to marry Prince Thorold, and Aric could not stand by and let his kingdom fall. Killing dragons had only been part of the oath he'd taken. He might not intend to keep that part of it, but he certainly would keep the other.
The dragon had already begun to flap its wings. It was preparing to leave, and Aric knew once it took flight he'd never be able to stop it. "Follow your heart, Aric. Do what is right."
Aric stumbled back, his sword falling to the ground. He couldn't kill the dragon, but more than that, he didn't want to. "I don't know where to look," he yelled after it. The dragon did not reply but instead took to the air, gliding, hovering above him, its movement graceful, majestic. Something about it called to him, touched him.
He wiped at his eyes. They were wet.
When he looked up again, the dragon was gone.
COLLAPSE
Reviews:
Pixie

on

MM Good Book Reviews

wrote:
Aric might be the Crown Prince of Astria but he is firmly under the thumb of his father as is his twin sister Georgia. After a forbidden visit to his aunts Aric meets a dragon and he begins to realize that not everything he was taught was true, the dragon tells him to find a magical sword that will save his kingdom and his sister. Heading off on his quest in a disguise, he meets Denys who begrudgingly offers to act as his guide to Sherwin Forest, as they progress Aric discovers he isn't the only one with a secret.

This is a brilliant fantasy story that I hope we will see much more of in the future. Aric is butting heads with his father the older he gets now twenty-four he feels that his father is losing his grip and putting the kingdom in danger by ignoring the information, Aric discovered. When a dragon tells Aric of a way to protect his kingdom he sets out on a quest. Denys is a loner who lives at the edge of a forest when he comes across a traveler who has a magical cloak, he offers to escort the man to his destination if no one else will and finds himself returning to Sherwin Forest. The two men become close on their journey but their tentative relationship is nearly destroyed when Georgia turns up and blurts out the truth about Aric. Continuing on the journey their joy at finding love is cut short when Aric loses his memory, they still have a quest to fulfill and they discover enemy's from within the kingdom.

I did really enjoy this story and liked the way that it was developed, the flow of the story was pretty smooth and was very easy to read. The characters were great and we get a really good feel for both Aric and Denys, at times Aric would let his mind wander and Denys would seem a bit standoffish but they were characters you could connect to. There was some pretty good background to the story, which we discovered more of as we progressed through the story, and secrets were uncovered which added nicely to the story. The story is quite interesting and at times, you can understand why things are, the way they are in the kingdom, but you can also see where the over-reaction has taken place and the ill effects it has wrought.

There were many things to enjoy with this book but there was also things that annoyed, like why Georgia joined Aric on his quest, I couldn't see the point other than she was a brilliant archer, she didn't really add much to the story other than stopping Aric and Denys from getting intimate at times. She does come in handy later in the book though. The ending had me gritting my teeth in frustration because nothing has been resolved, the very reason why Aric went on the quest still lingers and because of the circumstances you don't see how it ever really will be either, and this is where we fall on our knee's and pray that Anne Barwell will continue with this as a series.

I will recommend this to those who love fantasy, dragons, magic, a quest, betrayal, finding love and a happy for now ending.