Word Count:
72000
Character Identities:
Gay
Summary: 6 Days Series, Book Two Mixologist Nick Valentine never thought love was in the cards, but after a scorching Valentine's Day kiss from bouncer Davis "FatBoy" Newman, he's beginning to think it's possible. After four weeks of dry spell, Nick's losing patience—it's time FatBoy stop acting the gentleman and just throw him over the bar or Nick may just change his mind. All FatBoy wants is a shot at winning Nick's heart. As long as meddling bosses, an Irish hurling team and a bar riot don't ruin his chances forever, he might just get lucky and take the man of his dreams, home.
6 Days To Get Lucky
Pairing: M-M
March 9, 2018
Word Count:
69034
Character Identities:
Gay
Summary: Matthew Doner is starting over. After a five-year prison term that alters every aspect of his life, he receives a bequest from his aunt with the stipulation that he use the money to make things right. Breaking free of the long-standing role he's played and inspired by the few who support him, he decides to create a safe place where people like him can find purpose and start a new life. Julian Capeletti likes challenges. He is confident, brash, stubborn, and just what Matt needs. Desperate for work after a downturn of luck, he accepts the job to renovate Matt's crumbling building. Over the course of a year, romance simmers between them as they restore the house. But there's a bigger renovation that must take place in their hearts. To become better men, they need to learn to trust each other even with secrets and painful memories they fear may rip them apart.
-------------------------------------------------------------------------
69,034 words. 2nd edition. Revised and expanded.
A Better Man
Pairing: M-M
January 16, 2014
Word Count:
56,025
Character Identities:
Bisexual, Lesbian
Summary:
Annie Slocum is a bisexual woman struggling to make a living as a freelance writer. Stuck in a rut, she feels bored with her career, her relationships—her life. A chance meeting with Siobhán at a gallery adds a bright spark to her dull life.
Siobhán Murray is a lesbian Irish painter living in Boston. She loves her career, loves her life, but she's missing the one piece that will make her life complete—a partner. She falls hard for Annie and is delighted to realize Annie inspires her work. But a string of failed relationships has left her wary of bisexual women and wondering if she can trust that Annie won't leave her.
When Siobhán's past comes back to haunt them, they'll have to decide if the new relationship is something that will burn bright and end quickly or if it's meant to last.
A Brighter Palette
Pairing: F-F
June 30, 2017
Word Count:
124,200
Character Identities:
Gay
Summary: For Wall McCormack, actions speak louder than words. He's giving and protective, loyal to his friends, and devoted to his job. While confident and powerful enough to conquer any challenge, his greatest strength lies in his calm nature. Until an unexpected assignment sends his world into a loud and colorful chaos he never could have anticipated. Rejection. It's something Dylan Vaughn has known his entire life. But he's a tough nut to crack and refuses to break. Armed with a sharp tongue and brutal honesty, he pushes through life and at anyone who attempts to take him on. Except for the quiet guardian who piques his interest and dares him to want…more. When Dylan's past comes back with a vengeance and jeopardizes their growing connection, Wall will stop at nothing to protect the younger man and remain by his side. But convincing Dylan that someone accepts the real man behind the cocky facade might prove to be Wall's greatest challenge yet. With his freedom on the line, Dylan must trust the strength of their bond and confront the forces threatening their future. Only then will he realize the dream of acceptance is real and finally have a place to call home.
A Chosen Man
Pairing: M-M
September 26, 2018
Word Count:
145000
Character Identities:
Gay
Summary: A story of healing and confronting demons… Detective Aidan Calloway is rock-solid strong. He's a man of justice—loyal to his friends, family, and job—even if it requires bending a law…or two. He shields himself behind an abrasive, fearless facade, until a phone call one night chips his armor and throws his perfectly planned, hollow life into a tailspin. Jessie Vega is the epitome of optimism. His carefully crafted attitude of hope and positivity protects him from a past filled with too much pain. When a ghost from a dark time resurfaces and nearly breaks him, he must tap into his inner strength or risk losing everything he's worked so hard to build. But Jessie can't do it alone. He must fight to break through Aidan's ironclad defenses to reveal the heart of the man hiding beneath the tough surface and mend his damaged spirit. Only then can they truly heal and become strong enough to battle the demons that haunt them and threaten their chance to finally be together. ---------- ***This book contains scenes and subject matter some readers may find distressing. It is only intended for adult readers.*** Word count: 145K Although part of a series and events from prior stories are referenced, this book can be read as a stand-alone.
A Mended Man
Pairing: M-M
April 28, 2016
Word Count:
120100
Character Identities:
Bisexual, Gay
Summary: Two men. One sweet dream of family and forever. Gabriel "Bull" del Toro loves his fast-paced globe-trotting job, but aches for an honest relationship and the trust that comes with it. After a few too many heartbreaks, he's nearly given up hope of finding that special someone. Until Ben. Born deaf, Ben is used to working twice as hard for what he wants, but risking a newfound friendship on an impossible dream is scary. After all, there's one lesson he's learned: everything is temporary—freedom, friends, even family. Neither man expects the undeniable spark between them or for every moment together to fuel that connection. For the first time, a happily ever after is within reach, but they must trust that the dream of acceptance, family, and a place to call home is more than a sweet fantasy. It can be forever. ———— A Sweet Man is an interconnected standalone within The Men of Halfway House series. It is a story about the power of love, the meaning of family, and never giving up on a dream. It includes wounded hearts, an age-gap romance, and enough cake and sweetness to give you a toothache.
A Sweet Man
Pairing: M-M
June 16, 2020
Word Count:
70000
Character Identities:
Demisexual, Gay
Summary: Reed Matthews lives a quiet and structured life in the small town of Edgewood. Going on his sixth year as the principal of a Catholic high school, Reed thrives on routine, but one unplanned excursion for Chinese takeout is enough to send his meticulously-constructed world into a tailspin. After growing up in foster care, Dominic O'Halloran decided to enter seminary in his early twenties, and he's dedicated his adult life to creating space for the LGBT community. Weeks after answering the call from St. Paul's and moving to Edgewood, Dominic finds himself face-to-face with the one person he's never been able to leave in the past--his childhood best friend. Dominic and Reed find themselves entangled in decades old unresolved feelings and a complicated, new emotions. Reed is terrified of losing his soul, and Dominic is worried about losing his heart. But all it takes is one make-believe kiss for them to realize they'd throw everything away for another chance at happiness.
A Taste of Sin
Pairing: M-M
March 20, 2019
Word Count:
11930
Character Identities:
Gay
Summary: Kenneth Taylor has bright plans for a future as an engineer. In the summer of 1957, as soon as he returns home to Bristol from two years of National Service in the Royal Signals, a furious row with his dad means he's thrown out of the house, and his prospects are in jeopardy. He finds lodgings in the hilltop, bomb-damaged suburb of Kingsdown, determined to be independent and juggling night school with his humdrum day job. He soon meets Gino, the good-looking son of a local café owner and is thrilled when the attraction proves to be mutual. As their romance blooms, Kenneth finds unexpected encouragement from an apparition in the mirror who inhabited the house in the late 18th century. When the ghostly vision of Kit also appears to Kenneth in his dreams, it seems they have much in common when Kit reveals his dilemma at a similar age, concerning his growing attachment to a young man, Ned. Past and present intermingle as Kenneth faces parallel and difficult decisions. But can he trust Kit? Or is it all merely a trick of the light?
A Trick of the Light
Pairing: M-M
October 1, 2022
Word Count:
124000
Character Identities:
Gay
Summary:
A story of two men and the boundless love that forever changed them.
Vannguard Shaw has spent the last ten years serving a life sentence and adjusting to the ache of solitude. He accepts his fate, a sacrifice for the only man he ever loved and the one person who saw beyond his rough edges. Drayton grew up with a trust fund and pre-planned future, but an unexpected encounter one night forces him to abandon everything and start from scratch. He is now a self-made man and developer of one of the most sought after electric exotic automobiles in the world with a fortune greater than that of his birthright. Yet, he'd surrender it all—again—for the only man who's still ever-present in his heart. After a decade and entirely too much distance between them, Vann is suddenly released back into a world that has been nothing but cruel. Drayton never lost hope they would once again reunite and pick up where they left off, but Vann's stubborn nature and repeated encounters with a heartbreaking world prove to be a challenge. Vann needs to tap into his fighting spirit's reservoir of strength and hope life doesn't punish him for taking a chance. Only then will he realize his own value and feel worthy enough to finally have Drayton's heart. And their chance at forever.
----------------
This is book 5 in The Men of Halfway House series. Although part of a series, this is a full-length stand-alone novel.
Main Characters: Drayton and Vann Release date: May 2, 2017 Series: The Men of Halfway House No. in series: 5; can be read as a stand alone Category: Contemporary Gay Romance Word Count:  124,300 words Formats available: e-book and print Drayton first appears in book 3, A Restored Man. Vann is first mentioned in book 4, A Mended Man.
A Worthy Man
Pairing: M-M
May 2, 2017
Word Count:
117000
Character Identities:
Bisexual, Gay
Summary:
Brent Weyland was the life of the party until an injury ended his hockey career. Now he's retreated alone to a lakefront house, trying to make sense of a life and body that don't feel like his anymore. Jon Norquist was happily married right up until he wasn't. Now a single father in his forties, he's trying to figure out what comes next. In the meantime, he pours his heartache and regret into the lyrics he sings for the wine bar crowd a couple of nights a week. When a friend coaxes Brent out for a night of wine and music, he puts Brent and Jon on a collision course. Their chemistry is instantaneous. Jon gives Brent's battered body a much-needed remedial lesson in pleasure. And Brent gives Jon a reason to smile again. Multiple reasons, actually. Neither man wants anything serious, but love has a habit of showing up whether it's welcome or not. No matter how hard they try, the two can't help having feelings for each other, even as life continues to throw them curveballs. But they've both got baggage to unpack and hurt to move past, and if they can't leave their pasts in the past, they might just miss out on an amazing future.
Aftermath
Pairing: M-M
March 29, 2021
Word Count:
115000
Character Identities:
Demigender, Gay
Summary: Blurb: I don't like labels and I'm happy that way, but it's taken a long time to get here. A jerk of a father, too many bullies to name, and a string of dipshit boyfriends whose interest in me rarely made it past the skirts I sometimes wear. Suffice to say, my faith in men runs a little thin. The last thing I need is a gruff, opinionated, fiery, closeted, Paralympian jock messing with my hard-won peace. Miller Harrison is a wrinkle in my life I could definitely do without. I have a job that I love at Auckland Med., a boss who understands me, and a group of friends who accept me as I am. I should walk away. But Miller knows a thing or two about living life against the grain, and that hope I thought I'd buried a long time ago, is threatening to surface.
Against the Grain
Pairing: M-M
December 8, 2020
Word Count:
149,000
Character Identities:
Bisexual, Gay
Summary: The star of the University of Virginia theater department, Aidan Emery is lusted after and admired for living out and proud. He uses his talent and good looks to his advantage and never sleeps with the same guy twice. But his glamorous patina has been carefully honed to hide the pain he carries inside. Aidan wasn't always such a player. He starts college naively romantic, hungry for the attention he can't get from his workaholic father and mentally ill mother. Unfortunately, that leaves him ripe pickings for predatory professor Rodney Montgomery. Rodney's flattering regard seduces Aidan into a dysfunctional relationship that destroys his innocence. Life looks up for Aidan when he finally breaks free of Rodney's pull and moves to New York City to make it as an actor. Meeting sweet fellow actor Patrick Jaymes seems like the start of a fairy tale. But before Aidan can rebuild his life into happily ever after, family secrets rip him wide open, leaving him easy prey when Rodney decides he's not willing to let Aidan go.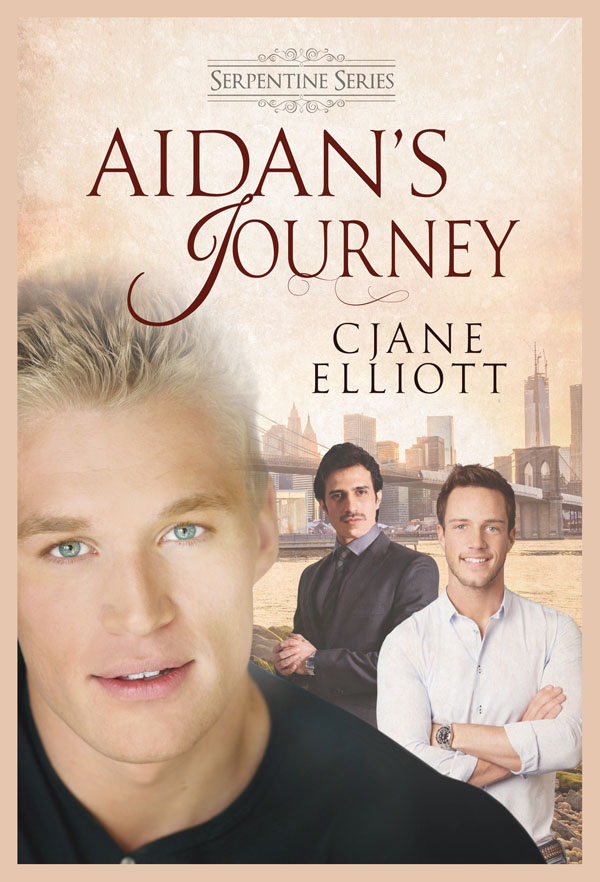 Aidan's Journey
Pairing: M-M
October 15, 2014
Word Count:
56000
Character Identities:
Bisexual, Gay
Summary: What happens when a cruise ship romance crashes on the rocky shores of reality? Jonathan Vallen, a gentle musician who loves to garden, is failing miserably at running his father's Boston company. When hotshot executive Marco Pellegrini takes over, a humiliated Jonathan moves to Cape Cod and spends a year transforming from an insecure duckling into a sexy swan. They meet again on an LGBTQ Caribbean cruise and when Marco doesn't recognize him, Jonathan pretends to be someone else for the week—Jonah Rutledge—someone good enough to be loved. Intrigued by Jonah, Marco lets down his defenses and their shipboard fling deepens into something special. Back on land, the romance crashes when Marco discovers who Jonah really is. While Marco struggles to understand the deception, Jonathan resolves to win back Marco's trust. But Jonathan's father takes vindictive action against Marco for daring to get involved with his son. Will Marco and Jonathan defeat their own fears as well as the challenge from Jonathan's father? If you like swoony romances in tropical paradises, hidden identity, and the courage to love in the face of adversity, then you'll love All the Way to Shore.
All the Way to Shore
Pairing: M-M
January 6, 2020
Word Count:
41,000
Character Identities:
Gay
Summary: What if you fell in love with your best friend? Ben Cooper has spent his life trying to make others happy and sacrificing his own dreams. When one fateful night with his best friend gives him a glimpse of what the future could be, he needs to find the courage to follow his heart. One night gives Spencer Henderson a tantalising taste of the man he loves. But he doesn't fit into Ben's future plans--Spence is a complication. Running may be the only option to protect his heart. With trouble escalating at home and Spence out of reach, Ben's life will finally spiral out of control. Always Been You is a standalone M/M romance between best friends who fear taking the next step in their relationship and need to find the courage to risk it all for their HEA. It features an emotional hurt/comfort theme. Note: This story has been previously published (as It's Not Easy). This edition has been revised, expanded, and re-edited, adding approximately 9k words, but the story largely remains unchanged. It is approximately 41k words.
Always Been You
Pairing: M-M
July 1, 2020
Word Count:
81000
Character Identities:
Gay
Summary: Matt There's nothing quite like a night with one of the Gentlemen of the Emerald City. No strings. No complications. I've been burned by love, and I'm not going there again. Unlike my teammates who fell for their Gentlemen, I know how to keep emotions from coming into play. At least… I used to. Andre I used to love this job. The money doesn't matter—just the thrill. But that thrill is gone now. That is, until I meet Matt. And that's before he starts looking at me like that. And booking me more often. And making my heart do things it's not supposed to do when I'm on the clock. How do I convince a jaded man that love is worth another try? Gentlemen of the Emerald City Andre is Book 5 of Gentlemen of the Emerald City, a sexy series centered around the high class, high-dollar Gentlemen of Seattle's most exclusive escort service. Each book is full of snark, sass, and sweetness, and like any Emerald City client, you're guaranteed a happy ending.
Andre
Pairing: M-M
September 15, 2021
Word Count:
76000
Character Identities:
Gay
Summary: For Andrew Tuttleman, sex is a means to an end. With a mother too sick to pay the bills on her own and college bills to pay, Drew has spent years resorting to sex with strangers to keep a roof over his mother's head and keep himself at school, far away from the hell where he grew up. This summer, his usual tricks are still paying the bills. But there's a new one, Grant, who never got the memo that a trick is a no-strings deal. Convinced that Drew is the answer to a hopeless prayer, Grant seems ready to pursue Drew to the ends of the earth. Drew, on the other hand, isn't so convinced. Grant comes with trouble in the form of a wife and three kids, not to mention a single and unwavering requirement: that Drew give up his livelihood. Grant's kiss makes Drew ache for more, a romance that he never dreamed possible. He finds himself unexpectedly willing to try. Can Drew weather Grant's angry father, wife, and a daughter determined to kick him in the shins so hard that he'll leave Grant's life forever? It all relies on Grant's faith in an impossible prayer.
Andrew's Prayer
Pairing: M-M
September 27, 2017
Word Count:
20,000
Character Identities:
Bisexual, Questioning, Polyamorous
Summary: On an alien world that crucifies men for prohibited desires, two boyhood best friends risk the ultimate punishment to explore a forbidden passion. Nero: Dex Draven's the most intimidating guy at our intergalactic next-gen leaders' camp, and his psycho galactic tyrant of a dad has a crucifixion fetish. Our two races are deadly enemies, but Dex was my boyhood best friend. Suddenly this summer, he's all grown up—and suddenly he can't seem to stop staring at me. I don't know whether to be afraid that it's all a figment of my telepathic imagination…or that every dangerous desire we're forbidden to acknowledge is real. Dex: I'm one combat-to-the-death away from the imperial command I've determined to achieve. All I need to do is keep my junk in my pants. Besides, Ben the most gorgeous, most maddeningly unattainable, most sought-after guy at leaders' camp. There's no way he'd ever look twice at a buttoned-tight, hypercompetitive, compulsive overachiever like me. Until the night I blunder in on Nero in the shower. Which is a total catastrophic mistake. Now I've heard how sounds moaning my name…how in blazes can I resist him? Because letting Ben Nero in close, the way I'm burning to do, means risking the ultimate punishment. For both of us. Anticipated Angel is a steamy, angsty, friends-to-lovers, first-time MM New Adult sci fi novella and the prequel to the award-winning Astral Heat Romance Series.
Anticipated Angel
Pairing: M-M, 4+ or Other
April 1, 2022
Word Count:
117000
Character Identities:
Gay, Polyamorous
Summary: A rookie, his teammate, and his best friend from a rival team. What could possibly go wrong? Seattle Snowhawks rookie Justin Reid has it bad for his teammate Shawn Kelleher. It's just his luck that Shawn's got a crush too… on Justin's best friend, Vancouver Narwhal center Keith Adams. When Shawn lets it slip at the worst possible moment that he wants Keith, Justin is hurt, but what can he do? He steers Keith in Shawn's direction and lets chemistry do the rest. What Justin doesn't know is that while Keith is into Shawn, he's also secretly wanted Justin since forever. After some stumbling, they realize there's something very hot and very mutual going on between all three of them. It's fantasies coming true left, right, and center, and it just doesn't get any better than this. Except this scorching hot triad is anything but simple. Not while the closeted son of a hockey legend is fighting to make his own name in the shadow of his deeply homophobic father's legacy. Not in the midst of grueling schedules and a team's fraternization rules. Throw in pesky emotions showing up where they aren't wanted, and it's a play that's doomed from the start. Shawn, Keith, and Justin all fought their way into professional hockey. Is what they have together worth fighting for too? Or will fear let heartache win this game? ASSIST is approximately 117,500 words. It's book 2 of the Pucks & Rainbows series, and can be read as a standalone.
Assist
Pairing: M-M, M-M-M
December 26, 2019
Word Count:
52000
Character Identities:
Gay
Summary:
What's the perfect recipe for an emotional MMM romance? One autistic coffee shop owner, one morose mug maker, and a mostly cheerful police detective. Fie Morogh Russell goes off to war with a broken heart and returns with a shattered spirit. He hermits away in Bideford, Devon, making mugs, with his service dog, Haggard, for company. Post-traumatic stress turns every memory into a minefield, and life is dismal with one or two rare exceptions. Davet Heuse drags his younger brother to Bideford for a new start. Both autistic, the two siblings have fought hard to enjoy freedom by the seaside. While Davet runs a coffee shop from his tiny house, his brother pursues his dream at university. Detective Sidney Little has transitioned from military service to the police force easily. His unrequited crushes and his estranged father are the only points of frustration in his life. He hasn't quite figured out how to deal with either problem. When a tragic accident brings Davet's world crashing down around him, can Fie and Sid help him through the pain of loss? In this May-December romance with a twist, three men struggle through one obstacle after the other to somehow find themselves in love on the other side.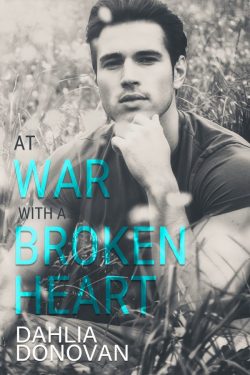 At War With A Broken Heart
Pairing: M-M-M
February 26, 2019
Word Count:
12000
Character Identities:
Gay, Lesbian
Summary:
"At first, I tried to pretend that I wasn't different. That these urges I felt were no more than just sinful lust of the flesh. But when I'm near him I can't help but close my eyes and bask in his essence; so fresh, like the smell of the Earth rising after the rain. How can I silence the desires of the flesh? I find myself dreaming of him at night. I find myself craving to taste him, and his body tells me that he desires the same. But I am so afraid."
Johanan is a sweet Amish farm boy with a secret. He and his best friend Amos share a bond beyond what would constitute as "just friends," a love that dare not speak its name. One day after the church picnic, they sneak away, and what originally was intended to be horseplay transforms into a forbidden moment of passion. But when they are discovered by their fathers locked in a kiss, it results in a confrontation and the end of their innocence. They are forbidden to see one another again, and their sacred bond is deemed an abomination.
Will Amos and Johanan ever see one another again, or will they remain forever separated by the punishment for their sin?
Join Daniel Elijah Sanderfer for this heart wrenching inspirational tale of how love can prevail even after all is lost.
Beautiful Abomination
Pairing: F-F, M-M
September 23, 2019