Word Count:
98000
Character Identities:
Bisexual, Gay
Summary: Grey Ackles The Soul Weaver feels useless. A burden endangering his brothers. The last battle with the pestilents cost Grey his sight and powers. Now he's dependent on his vision rehabilitation therapist Cort to learn how to function on a daily basis. But as he grows closer to Cort, Grey is left wanting his powers back for a new reason—how will he ever know if the man he's falling for is actually his soul mate? Cort Newton There is some really weird stuff going on at that house. Spell books, guns, and a giraffe in the backyard? But no matter how strange it gets, Cort is not going to leave the grumpy writer. Adjusting to sudden blindness is hard for everyone, but Grey clearly has deeper reason for needing his vision back at any cost. Cort just wished Grey would confide in him. Even with Grey's secrets, Cort has never been drawn to a man like he is with Grey and he will do anything to keep this man safe. Blind Warrior is the third book in the Weavers Circle series. It includes fast-paced action, running through Savannah, secrets, shapeshifting, brainwashed assassins, a gorilla, sexy times, fun with water, insecurity, three crazy old ladies, and magic!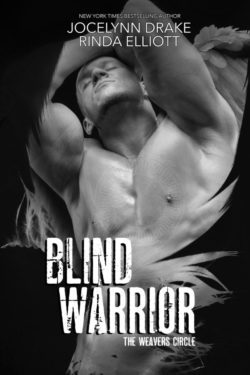 Blind Warrior
Pairing: M-M
November 20, 2020
Word Count:
130,000
Character Identities:
Gay, Pansexual
Summary: A Mage's List for Freedom: 1.    Escape his evil, controlling clan. 2.    Get a job. 3.    Work magic on HIS terms. 4.    Avoid all dragons. Tori was doing great until sexy dragon Baldewin interfered. Between the little gifts, constant protection, and the steadfast confidence from the overgrown lizard, Tori wonders if maybe that last step needs revising. He has no chance to consider it. Not before trouble called Jaeggi REALLY hits. Now he's on the road trip from hell to the one place he'd never thought would be a safe haven. A clan of dragons. Assuming they make it, that is. Tags: Dragon shifters, mages, fated mates, hurt/comfort, enemies to lovers, not mpreg, interracial couple, road trip, No Flying, nope not even with a dragon, dwarf hunting in Poland, Tori needs allll the hugs, Baldewin is happy to supply them, dragons are ninjas, attempted kidnapping, mages being BAMF, insecurity, trust issues, Tori is an arse, Baldewin is adorable, Cassie is over it, virgin character, but not for long fufufufu, dysfunctional family, family of choice, magical realism, cuuuuudles,  the authors regret nothing
Breath
Pairing: M-M
December 4, 2020
Word Count:
93508
Character Identities:
Bisexual, Gay
Summary: Greyson Variusdraconis is a newly shifted dragon searching for purpose. Growing up in the Consilium Veneficus, his tutors taught him not to trust Fate. Raised by his elder brother who serves their king directly, Greyson still lives under his sibling's roof. King Varius recently signed a treaty, so Greyson's job is guarding wizards. Greyson finds it boring, and he worries his brother will never accept his desire to avoid a political arranged marriage. As a child, Morgen Bassett struggled to find his footing. Two centuries later, the wizard works in a tiny library, lacks family, and has a rented room barely large enough for its furniture. Although Morgen's early education included mentions of matebonds, the split between the Council of Sorcery and Shifters and the Consilium changed everything. With no promise of his other half or anything else, Morgen is doing little more than surviving. On an otherwise normal trip to the supermarket, Greyson and Morgen meet, and neither man is prepared for the force of their connection. Not long after the sparks fly between them, Greyson accepts a mission to infiltrate the Draconis High Court of D'Vaire. The pair will have to find a way to stay together. Should they be successful in gaining entry, they'll also need to learn how to unearth all the D'Vaire secrets. However, Greyson and Morgen will soon find that nothing about their lives is what it seems.
Deceiving D'Vaire (D'Vaire, Book 30)
Pairing: M-M
July 7, 2022
Word Count:
90503
Character Identities:
Gay
Summary: A man torn between what his soul wants and what he believes is expected of him, Scheredin D'Vaire is still fiercely loyal to his family. Scheredin is one of the few remaining warlocks and spends his days aiding his cousins in running the D'Vaire sanctuary. In his free time, Scheredin loves gaming. With the tap of a few keys, Scheredin can lose himself in another world. Kieran Tarinthfenix is a phoenix shifter whose tribe likes to forget that elf blood also runs through their veins. A driven man, Kieran takes his hobby of gaming and learns to craft titles of his own. He hands his income to his chieftain despite Kieran's lack of respect for a man who forces his people to take part in an ancient but cruel ceremony every year. Scheredin and Kieran meet online and quickly grow into gaming buddies. For years, they are content with an online relationship and the anonymity it provides. When Scheredin decides to meet Kieran in person, they discover they're mates, but there are secrets between them. To find lasting love, both men will have to throw away the past and seize their destinies.
Embers of Darkness (D'Vaire, Book 27)
Pairing: M-M
February 3, 2022
Word Count:
81000
Character Identities:
Gay
Summary: Can a sorcerer apprentice learn to control his magic before the elder demon destroys his home? Fledgling sorcerer Isaac and his friends accidentally create a spell that sets a cryptid town on top of theirs. With no one hurt in the aftermath, they put the night of the Red Storm behind them and opened their arms to the new residents, shifters monsters and everything in between. Caspian, a sweetly sexy fox shifter has turned his considerable affections and attention toward Isaac, making him smitten in return. Unfortunately, not everyone is welcoming and not everyone is kind. A corrupt mayor and his cronies want to use Isaac for his unique and powerful magic. With the help of Caspian, his foxy boyfriend, and his mentor, Darius, Isaac discovers that magic can be fun and helpful in the battle to save his town from the grasping hands of an elder demon hellbent on taking over. Monsters In Love is a small-town series where monsters, humans and others find love and community. This book includes a sweet cinnamon roll fox and his shy sorcerer, found family and small-town charm. There is a happy for now ending but the main couple is together
Foxes Love Sorcerers
Pairing: M-M
April 4, 2022
Word Count: Information not available
Character Identities:
Gay
Summary: After dealing with what seemed to be their biggest nemesis, Valentino and his crew land a brutal murder case that rocks the community. Worlds collide when an assassination attempt on Aladar leads them to more questions than answers. New alliances are forged, long-buried secrets resurface, and traitors abound. One can never be too sure when matters of the heart are involved.
Heart Of Ice: A Valentino Celestine Mystery: Book two
Pairing: M-M
June 20, 2021
Word Count:
88766
Character Identities:
Gay
Summary: Beta Donnell Ursus Arctos devotes his life to protecting his leader and defending every bear in his clan. Some call him overprotective, but Donnell prioritizes safety. When he's not working, Donnell has simple hobbies that others consider boring. Although Donnell is surrounded by family, wealth, and prestige, the bear shifter pines for Fate to pair him with the other half of his soul. For Joshua Brenton, little is going right. On the same day, Josh loses his job and his run-down apartment. But there is a bright light on the horizon—the annual retreat for mages. As an aqua mage, Josh has been disrespected since birth, but Fate has recently selected new leaders. After sweeping changes are made, Josh is randomly selected to prove his worth in the newly instituted mage testing. Josh is stunned when he meets the mage rulers and is invited to their home. Upon ringing the doorbell to the mansion, Josh meets Donnell, and they discover that they are mates. Although the pair are instantly drawn to each other, Josh learns he is more than a mage and must unravel a past he'd prefer to forget. It will be up to Josh and Donnell to chart a future while dealing with the surprises they encounter along the way.
Lockmage Legacy (D'Vaire, Book 24)
Pairing: M-M
July 29, 2021
Word Count:
78756
Character Identities:
Bisexual, Pansexual
Summary: A magician in need of redemption. A loyal hero on a quest. And only one bed at the inn. Once the world's most legendary sorcerer, Lorre fled the Middle Lands after his own curiosity - and a misguided transformation spell - turned him into a dragon and nearly killed a king. He isn't a dragon anymore, but he is hiding alone on a tropical island, avoiding people, politics, and his own reputation. But now a hero's found him. And not just any hero. Prince Gareth's made of patience, intelligence, a kind heart - and unfairly attractive muscles. And he needs Lorre's help: his tiny mountain kingdom is under attack from ice magic, and Gareth hopes the world's last great magician will save his people. Lorre is done with quests and princes and trying to change the world. But Gareth might tempt him to believe in heroes again...
Magician
Pairing: M-M
July 24, 2021
Word Count:
49500
Character Identities:
Gay
Summary: Asking a necromancer for help is scary; falling for him may be downright terrifying. Darien Green's afraid he's going insane. The voices in his head are getting louder, weirder, and more numerous. But tattoos appearing on his skin say that there might be a magical reason, something other than his own brain going around the bend. He's worked up the nerve to ask the local necromancer for help. Now he just has to survive his encounter with tall, dark, and talks-to-ghosts. Necromancer Silas Thornwood doesn't appreciate being woken out of his bed by a stranger pounding on his door. But when that stranger turns out to be a half-frozen young man with an unexpected appeal, Silas can't turn him away. Even Grim, his cat-familiar, agrees— in a world of death and demons, protecting gorgeous, ghost-ridden Darien is Silas's next difficult job. (This is a FREE download at most retailers)
Marked by Death
Pairing: M-M
October 24, 2020
Word Count:
138448
Character Identities:
Lesbian
Summary: Emilia Drakon was once the youngest and kindest of the dragon sorcerers, but she's now the last of her kind. Betrayed and angry, she trades her meekness for a sword and embarks on a quest for vengeance that will lead her straight into the arms of the legendary Captain Maria Welles. Captain of the famed pirate ship, the Wicked Fate, Maria is every bit as treacherous and bloodthirsty as they say. She has her own vendetta and practically jumps at the chance to trick Emilia into joining her crew. But when their animosity toward each other blossoms into a passionate romance, the two women will have to decide what they want most. Vengeance? Or love? A sapphic fantasy adventure for people who love dangerous women, magical worlds, and lesbian pirates.
Pirates of Aletharia
Pairing: F-F
December 24, 2021
Word Count:
50,500
Character Identities:
Gay
Summary: An untrained sorcerer and a reclusive necromancer face a ghost-infested town. Darien is free of his dead invaders, and his eyes have opened to a new reality. In a world of sorcerers and necromancers, he's full of power and potential, but completely ignorant. Necromancer Silas, and Silas's cat familiar, Grim, are teaching him basic skills, but danger won't hold off, just because he's not ready. Silas never planned to share his life with anyone, but after a week of shared battles and shared nights, Darien has become a fixture in his home. Silas has never met anyone with more raw magical ability, or less idea what to do with it. When Silas is offered a job hunting ghosts, he's tempted to refill his depleted bank account, but reluctant to bring untrained Darien along. Darien's eager to help, though, and eventually Silas gives in. It's just a few ghosts. Nothing he hasn't handled before. What could go wrong?
Powered by Ghosts
Pairing: M-M
November 26, 2020
Word Count: Information not available
Character Identities:
Gay
Summary: Following the defeat of the Dark Sorceress Alana, Azrael and Mecah attempt to move on with their lives. The two, work together to bring peace and prosperity to the realm, as their love for one another continues to intensify. Meanwhile, Azrael is plagued with nightmares of a pending doom; one which reaches from beyond the grave. When the Palace is attacked, Azrael and his friends are faced with a new, more terrifying threat. A threat that is hundreds of years old and powered by dark magic. Will this new nightmare, succeed in tearing Azrael and Mecah apart? Will Azrael be able to control the darkness that continues to grow within him?
Rise of the Dark Sorcerer: The Dark Sorcerer: Book 2
Pairing: M-M
February 11, 2021
Word Count:
64,390
Character Identities:
Gay
Summary: The time has come. The Dark Mage, Lord Morgorth, and Aishe of the Ravena Tribe, are to become bondmates. Morgorth is equal parts nervous and excited. He wants to unite with Aishe in the sacred dialen ceremony, to proclaim their devotion to the world, to show everyone that Aishe is his equal and deserving of respect. After all they've survived together, why shouldn't they make the cosmic promise before friends and family? But duty must often come before pleasure. When Morgorth's estranged mentor, Master Ulezander, comes to him with a time-sensitive mission involving a major stone of power, Morgorth has little choice but to acquiesce. Aishe knows his mate struggles with the revelation of his true destiny, after a lifetime of defining himself as the future Destroyer of Karishian. All he can do is reassure Morgorth that being the Savior is a far better fate for both of them. But as Morgorth and Aishe leap through worlds and dimensions in pursuit of a stone of power, more pieces to the puzzle of Morgorth's destiny are revealed. And they form an image of sacrifice and tragedy. The dark cloud of an ancient enemy looms ever closer, and the path to becoming the Savior might prove more monstrous than that of the Destroyer.
Sapphire: Home and Abroad
Pairing: M-M
June 14, 2022
Word Count:
95000
Character Identities:
Gay, Polyamorous
Summary: When Orion joins an established coven of powerful mages he is unsure how he will fit into the group. The four elemental mages have had centuries to build both their powers and their relationships while Orion is little more than a stranger. As a light mage, Orion has the power to heal, but as he comes to know the other members of the coven, he learns that not all wounds are visible, and healing tortured souls and broken hearts isn't as easy as fixing broken bones. Orion must bring them all together before they tear themselves apart. Only when the coven is strong will they be able to welcome the dark mage who will complete the circle and give them the power to defeat a mage who has waited centuries to exact revenge on the former members of his coven. READER ADVISORY: This story is a ménage and more story with emphasis on the more.
Soul Magic
Pairing: M-M, M-M-M, 4+ or Other
October 31, 2020
Word Count:
96162
Character Identities:
Gay
Summary: Praetor Sashati Soriandras is adjusting to his wonderful new life as part of the Council of Sorcery and Shifters. His new leader's choice to leave the demonic realm gained Sashati's immediate approval. There is nothing there but dark memories and a horrible legend about the butcher who ripped magic from the demons a millennium ago. After being banished to a tiny realm, Imperian Paszratorabiel—or Paszra, as he prefers to be called—is waiting for his wings to grow back. The minute he recovers, Paszra hunts for a place to bring his family so they can find mates. When Paszra finds a planet full of interesting beings, the presence of demons is the only thing he hates about his potential new home. When Sashati and Paszra meet, neither man is happy to learn they are mates. The demons blame Paszra for everything, while the Imperian despises Sashati's people. However, they share a tradition of not denying Fate. But to honor the way their souls are connected, Paszra and Sashati must overcome much more than their initial dislike of each other.
Soul of the Imperian (D'Vaire, Book 26)
Pairing: M-M
December 9, 2021
Word Count:
82139
Character Identities:
Gay
Summary: Grand Warlock Familiar Renny D'Vaire has a life he adores and is hoping for a mate who will not bring strife into his world. Renny, along with the rest of the D'Vaires, believes that his other half will be a dragon shifter, thanks to his magical beast form. Happy couples surround Renny, and he wants nothing more than to experience that joy for himself. However, Fate is full of surprises. Protector Roriethiel of the Fae wakes up in an unfamiliar desert, uncertain how he arrived. His ample magic sapped, the rock he finds himself on is nothing like home. For weeks he stumbles along, searching for answers, and is unerringly led to the Council of Sorcery and Shifters. Rorie's single purpose is to return to his castle, but instead he discovers his other half. Renny is unsure how to handle the impetuous Rorie or the fairy's desire to return to his realm. Torn between two worlds, Renny and Rorie find little common ground until they are lured into a magical dream. Chaos surrounds them as they unravel the mystery of what happened to Rorie, and although their attraction is intense and their feelings for each other grow swiftly, to succeed in love they must learn to trust that Fate has not led them astray.
Spellbound Dreams (D'Vaire, Book 21)
Pairing: M-M
January 28, 2021
Word Count:
80,000
Character Identities:
Bisexual, Gay
Summary: Hale Anderson The Air Weaver. He was the freaking Air Weaver. Not exactly what he expected when he got kidnapped by the pestilents, but Hale's good rolling with the punches. He can take a little time away from his pursuit of a doctorate in astrophysics to save the world. Except that the final spell is poised to kill all the Weavers and their last hope lies with him finding his soul mate. Hale doesn't want a soul mate. He just wants Harrison. Harrison William Davenport III As the Keeper of the Heart of the Earth, Harrison must bring the final key to the Weavers if they're to stop the pestilents. He's trained for this task his entire life. And he's prepared to die just like his father did with the last generation of the Weavers. But what if saving the world isn't enough anymore? What if the only thing that matters is saving Hale? Storm Warrior is the final book in The Weavers Circle series. It includes fast-paced action, a dangerous cross-country roadtrip, dirty fun in tents, flying, bi-awakening sexy times, animal shenanigans, nerdy talk about the stars, jealousy, three crazy old ladies, magic, and a fight to save the world!
Storm Warrior
Pairing: M-M
January 14, 2022
Word Count: Information not available
Character Identities:
Gay
Summary: Azrael, who has been held captive his entire life, escapes in the hopes of learning who he is, who imprisoned him, and why he was held captive. During his escape, Azrael meets Mecah, who joins Azrael on his journey to discover the secrets of Azrael's past, as well as the dark fate that awaits him. During this journey into the dark world of magic, power, love and betrayal, Azrael must face the demons of his past, as well as the all-powerful Dark Sorceress if he is to ever truly be free. Is Azrael the Angel of Death as some proclaim? Can someone who has spent their entire life isolated and locked in a dark prison ever truly be trusted? Or will the rage found deep within him consume him?
The Prophecy: The Dark Sorcerer: Book 1
Pairing: M-M
January 27, 2021
Word Count:
98,500
Character Identities:
Gay
Summary:
The Vampire's Witch welcomes readers back to the world of vampires, witches, and magic. Jaret Bachmann's life spins out of control after a handsome stranger saves him from an attack along the bike path on Lakeshore Drive. His estranged high school sweetheart stalks him, the enraged ghost of his ancestor destroys his family, and his bike path savior-cum-lover abandons him after learning Jaret is a powerful witch, all of it sending Jaret into deep depression. Struggling to find his way afterward, Jaret searches for comfort in the unlikely friendship of a secret vampire community. Xavier, Thomas, Anthony, and Catherine return in this, the third book in The Realm of the Vampire Council series and a sequel to The Bachmann Family Secret. Over time, Jaret's friendship with the vampires strengthens and he forges a new family connection with Xavier, Thomas, and Catherine.  But he and Anthony are estranged and though their souls are entwined, their hearts are another matter.
The Vampire's Witch
Pairing: M-M
April 19, 2021
Word Count:
54000
Character Identities:
Gay
Summary: Silas Thornwood's worst nightmare has come to life. Darien's familiar Pip is gravely injured, and Darien and Jasper have been kidnapped. Someone ruthless and violent is holding the man Silas loves prisoner, for purposes he doesn't want to imagine. Silas needs help from his friends to locate and rescue Darien. And when he does, those responsible― whether sorcerer, human, or demon― are going to be truly, utterly sorry…
Trapped by Greed
Pairing: M-M
July 29, 2021