Word Count:
16500
Character Identities:
Bisexual, Gay
Summary: When he agreed to take the fall for his pack leader's failed attempts to help the Rebellion, Jace knew he wouldn't live long enough to regret it. However, instead of the noble end he envisioned for himself, the werewolf finds himself at the mercy of a witch and his depraved games. Though he clings to his conviction that he can withstand anything his new master can dish out, it isn't long before he realizes pride has no place in his life as the pet of the controlling Elias Ivers. ### Now that supernatural beings have seized control of the world, life has become a struggle for the humans who once held power. Witches, vampires, and werewolves determine the fate of every single human, but their moral compasses have long since been shattered. Rebels, free humans, and slaves all share dreams of hope, mercy, love, and more. But with their fate so uncertain, survival isn't enough... and they may have to sacrifice what is nearest and dearest to them if they want to change their lives. Bought, Ravel, and Recoil feature different characters whose lives begin to come together in Owned and Temper. 1. Bought: Jace & Elias. [Revised 01/2017] 2. Ravel: Ashton & Reese. [Revised 01/2017] 3. Recoil: Khaz & Noah. [Revised 01/2017] 4. Owned: Khaz & Noah, Jace & Elias. [Revised 03/2017] 5. Temper: Ashton & Reese, Jace & Elias. [Revised 03/2017] 6. Refraction: Khaz & Noah, Ashton & Reese (Jace & Elias) [Revised 04/2017] *Please note that the Fate of the Fallen (previously Ripples in the Status Quo) world has little place for humanity, and as a result, content in these works may contain graphic scenes of depravity, cruelty, and violence -- sexual or otherwise -- that could be offensive and potentially triggering to some readers.*
Bought
Pairing: M-M
March 21, 2016
Word Count:
56000
Character Identities:
Bisexual
Summary: In a near-future United States where slavery is alive and controlled by an organization known as the Circle, Avery Tulano is up for sale yet again—and it might very well be his last time on the auction block. As a young man, he signed his life away in a contract willingly, driven by the desire to escape his life. Now, eight years later, he's broken, battered, and sick from a life of unspeakable horrors. When the bidding starts as low as $200, it may as well be a death warrant. Enter Conrad Fisher, a corrupt ex-cop discharged from the force who runs a failing private detective business. His wife died chasing one final high and he's been in a state of isolated depression ever since. He's only at the auction to help his journalist daughter Christina get a scoop on the Circle. When he sees Avery up for bid at such a low price, however, it's an offer he can't refuse and before he knows it, he's walking out of the auction house as Avery's new owner. It's a mistake. Slavery is wrong. Conrad can't afford to keep him anyway, no matter what strange connection they find in each other. But even if a real relationship was possible, a life of drugs, alcohol, and bad decisions is rapidly catching up with both of them—if the Circle doesn't kill them first.
Break The Chains
Pairing: M-M
March 27, 2019
Word Count:
55000
Character Identities:
Gay
Summary: In a world where humans are genetically designed, altered and sold for pleasure and breeding, a young prince of the powerful Cassian Dynasty decides to take a mate and sire heirs. Not wishing to saddle himself with royal and meddlesome in-laws, and a wife he would have no desire to bed, Prince Edward goes to Heritage Breeders, and finds far more than just a warm body to carry on his lineage. Percy is the result of a master DNA architect designing himself his own personal slave and breeder. Yet when his creator and Master dies, leaving Percy alone at the mercy of the callous stable masters and the new owner of Heritage, he fears his future. Afraid he'll be bought by a wretched old man or a deviant monster, Percy is terrified when he is dragged from his cell and presented to the most prestigious client Heritage has ever welcomed...a Cassian Royal. Prince Edward is immediately infatuated with the shy, nervous and enchantingly beautiful Percy, and claims him for his own. Yet not everyone is pleased by a royal purchasing a breeder, especially one like Percy, and tensions rise both in Heritage and in the palace. Torn between need, duty, a king's command and the innermost desires of their hearts, Edward and Percy are set on path that is anything but easy. Can Percy trust Edward with his heart as he does his body? Can Edward keep an angry king and unseen enemies away from the young slave who is steadily stealing his heart? And what happens when Nature takes its course, and Percy's true purpose is fulfilled?
Bred For Love
Pairing: M-M
April 21, 2015
Word Count:
20469
Character Identities:
Gay
Summary: "I love you on your knees. My cock belongs in your mouth, brother mine. Doesn't it?" When Mateo tried to leave his twin behind to have a more enriching life, he didn't realize it would lead to Devin's psychotic break. But he's found himself caught in a web of misery, where his brother controls his every move and his sexual sadism has no bounds.
Brother Mine
Pairing: M-M
May 20, 2020
Word Count:
123100
Character Identities:
Bisexual, Demisexual, Gay, Pansexual
Summary: Sheltered and lonely, Jon's life changes drastically when a strange ship sails into the harbour of his small port town one day. Trapped between the possessive pirate captain and his murderous first mate, he must learn to adapt or he will lose himself completely. An epic tale of love, treachery and revelation, this first instalment of the Baal's Heart series brings you into the lives of three men so bound together by jealousy and lies that they must sail to the very ends of the earth to find forgiveness.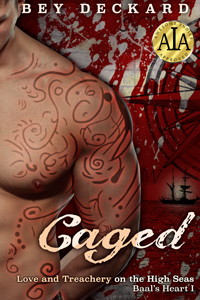 Caged: Love and Treachery on The High Seas
Pairing: M-M-M
February 11, 2014
Word Count:
113000
Character Identities:
Bisexual, Gay
Summary: A twist of fate changed both their destinies. The wyrbears, once a long-lived species, were being lost to the forest in their prime. A people borne of a curse, their abilities not a gift but something wrongly taken, they nonetheless live in harmony with their animal spirits. But over time the curse they lived under changed, mutated, and now what once was a refuge from the world when they became too weary is culling mathan in their prime. Ewen mhic Friscalach, the leader of his peoples, lost his father too early and is now a widower with four children. The vow he made as a youth to break the curse afflicting wyrbears has been buried by grief and responsibility. Roi mhic Alric, a priest of Cerridwen and seer, watched his fellow priests slaughtered and his temple desecrated. The only thing that kept him going the last three horror-filled years was the vision Cerridwen had granted him of his emancipation. If freedom came at the cost of his life, well, he was more than ready for the Otherworld. A fated meeting upon a bloody field of battle. A wrong done long ago. Their choices could save a people… or send them into extinction. Either way, their love will be legend.
Caledonia Destiny
Pairing: M-M
July 9, 2018
Word Count:
58000+
Character Identities:
Gay, Questioning
Summary:
On a lush, tropical island inhabited by rogues, thieves and villains, where men take the law into their own hands, a father and son are thrust into tumultuous events that will change their lives forever.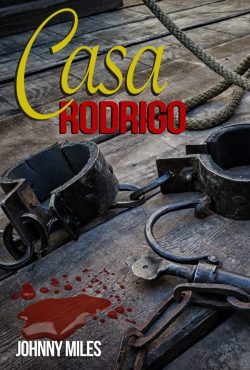 Casa Rodrigo
Pairing: M-M
December 1, 2018
Word Count: Information not available
Character Identities:
Gay
Summary: It seemed so simple, cross a train yard, hop a train and Todd and Nick would be free, on their way home to Elk's Ridge in Yellowknife. Nothing is ever simple or easy for the Ruger men, however. Captured by Vice-Chancellor Raleigh, Todd is imprisoned, leaving Nick alone and seeking a way to free his mate. Help comes from an unlikely and unexpected ally. Todd's freedom places the Rugers yet again into the Chancellor's debt. He sends them on a fact finding mission to the small village of Eldrid, the same village where Nick was raised a slave. There they discover how past events led to their present society, the origins of sentries and slaves and what made some of them so special. They also uncover a conspiracy spear-headed by Vice-Chancellor Raleigh. An attempt at stopping him isn't as successful as they'd hoped when old enemies are confronted. The realities of war, and why some people don't survive, are hard lessons for both Todd and Nick to learn. Through firefights, explosions and a vicious attack from a seemingly unbeatable supernatural being, one thing is reinforced over and over—the most important thing each one has is each other. Will they survive or join an ever growing list of casualties?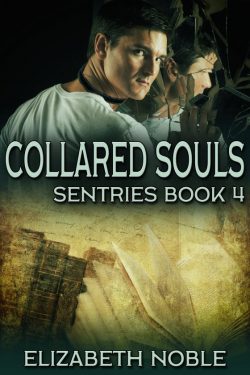 Collared Souls
Pairing: M-M
January 11, 2020
Word Count:
87000
Character Identities:
Bisexual, Gay
Summary: In AD 107, after a grueling campaign against Rome's fierce enemy, the kingdom of Dacia, Gaius Fabius returns home in triumph. With the bloody battles over, the commander of the Lucky IV Legion now craves life's simple pleasures: leisurely soaks in fragrant baths, over-flowing cups of wine, and a long holiday at his seaside villa to savor his pleasure slaves. On a whim, he purchases a spirited young Dacian captive and unwittingly sparks a fresh outbreak of the Dacian war; an intimate struggle between two sworn enemies with love and honor at stake. Allerix survived the wars against Rome, but now he is a sex slave rather than a victor. Worse, the handsome general who led the destruction of his people now commands his body. When escape appears impossible, Alle struggles to find a way to preserve his dignity and exact vengeance upon the hated Romans. Revenge will be his, that is, if he doesn't lose his heart to his lusty Roman master. Dominus is a plot-packed erotic m/m historical fantasy that transports readers back to ancient Rome during the reign of the Emperor Trajan (98-117). This is the first of four books in an alternate history saga—a tumultuous journey filled with forbidden love, humor, sex, friendship, political intrigue, deception and murder.
Dominus (Dominus Book 1)
Pairing: M-M, M-M-M
April 21, 2014
Word Count:
98000
Character Identities:
Gay
Summary: Troubled residents come and go at the Care House where River Caulfield is a caregiver, working towards fulfilling his dream of becoming a nurse. When Silver arrives, a patient found on a roadside near death after suffering terrible abuse, River finds his previous personal detachment is compromised. Seeking to help the mysterious and enigmatic young man locked inside his own mind and memories, River finds his professionalism slipping as Silver begins to open up and live again. But as their relationship begins to blossom, the roots of Silver's past abuse and the abuser who forced him into such a mental state sends forth new shoots of darkness enveloping them in dangers threatening not only Silver's sanity, but their very lives. With River's devotion and help, will Silver finally be able to break away from his past? The answer lies in the words of a priest, a painting and a long walk through a churchyard harbouring the secrets of the enigma that is Silver.
Enigma
Pairing: M-M
December 3, 2011
Word Count:
140500
Character Identities:
Gay
Summary: Silver has been freed from sexual slavery and settled down with River, his lover and former patient, yet cracks begin to form when it becomes increasingly obvious that the stress of constantly having to care for Silver, begin to tell on River. When River's parents die, leaving him to care for his 12 year old brother it, at first, seems that the introduction of the lively twelve year old into the mix was going to do them all the world of good. However, when spiteful relatives involve Social Services, the previous flaws nearly rip them all apart. Faced with the dilemma of keeping either Ben or Silver at home and sending the other to stay with Sam, a personal friend, River chooses responsibility for his brother over his love and concern for Silver. Things come to a head when a series of misunderstandings lead Silver to believe River doesn't love him anymore and that everyone is secretly ashamed of him because of his past. After running away, Silver reasons the only place he can fit in is with his own kind and he sets out to search of a new "home." At the Theatre de la vie he meets Tony, a club owner with big ideas, who 'looks after' a group of young men who dance and "entertain" patrons of the club. There, among others, Silver finds Ariel, an ephemeral little minx with a knack for getting into trouble, Alex, the big hearted mountain of muscle, and Asher. With Asher, a former sex slave like himself, Silver finds a kindred spirit and soon finds himself falling for the beautiful, broken boy. Together, Ariel and Asher show Silver a whole new way of looking at the world, a transformation echoing the sleeping chrysalis of his soul, and soon his inner self emerges as the beautiful butterfly he was always meant to be. Yet as happy as he is with his new friends, Silver eventually realises he truly misses River and intends to return to his side, but a dark figure from his abusive past returns to threaten both a possible reunion and the very ones who would protect Silver. River learns of the danger, and hurries to add his own support of Silver and reaffirm their love, but with so many doubts and unspoken regrets between them, is it too late for a chance at happiness together? At the emotional climax to this suspenseful story of love and loss, Silver and River reach conclusions that will either save them both or drive them apart forever.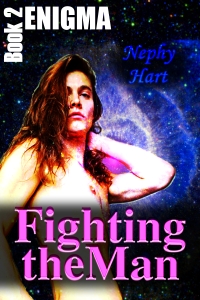 Enigma II - Fighting The Man
Pairing: M-M
May 6, 2012
Word Count:
17500
Character Identities:
Gay
Summary: Special Agent Cameron Asada has spent four years deep undercover in an attempt to deal a death blow to the Sapphire Guild, the largest drug cartel on Alpha. The things he's done in the name of his mission weigh heavily on his soul, and Cam is reaching the point where he's not sure he recognizes the man he sees in the mirror anymore. Things come to a head when Cam finally gets the break he's been waiting for: an invitation to work for the boss himself as a psionic interrogator. While working at the boss's estate, Cam meets Miko, a powerful psion trapped behind a wall of silence. It doesn't take long for Cam to realize that Miko is a slave, handed around to the boss's associates as a reward for a job well done. Miko's plight tugs at Cam's heartstrings, forcing Cam to examine just how many lines he's willing to cross in the name of serving the greater good. Will Cam risk his life and his career to help Miko? Or is the trail of broken minds and bodies he's left in his wake worth the possibility of victory over the Guild? (~17,500 words)
Facing the Mirror
Pairing: M-M
November 20, 2013
Word Count:
117000
Character Identities:
Bisexual, Demisexual, Gay, Pansexual
Summary: With the captain's mind in shambles, Jon and Tom set out to find the passage home through the black mountain range, hoping to find a cure for Baltsaros's madness. However, when the men are forced to part ways, darkness takes root in the schism created; fate, lust, and vengeance become obsessions threatening to tear apart the fragile bonds holding the three together. Following on the heels of Sacrificed, Fated takes the pirates on a quest to find those responsible for the captain's bloody beginnings. But can they survive what awaits them where past and present meet?
Fated: Blood and Redemption
Pairing: M-M-M
April 11, 2015
Word Count:
47000
Character Identities:
Bisexual, Gay
Summary: As a lifelong passion continues to fade, another love deepens… two stand-alone m/m stories of love, lust, and friendship in ancient Rome. February: Home from the first war against the kingdom of Dacia, Gaius Fabius ignores his obligations in Rome and returns to his secluded seaside villa in southern Italy. Under the pretense of a holiday trip, his best friend and secret lover, Lucius Petronius, surprises him with an unexpected visit. Later that evening, the lusty masters share the delights of Gaius's blond pleasure slave, Nicomedes. December: With whispers of an embezzlement scandal floating through the capital, Lucius Petronius and his beloved concubine, Bryaxis, celebrate the raucous winter solstice festival of the Saturnalia with Luc's family. After a joy-filled evening of food, gifts, and stories, Lucius and Bryaxis reverse roles in the master chamber.
February and December: Dominus Calendar Series I
Pairing: M-M, M-M-M
August 17, 2016
Word Count:
117000
Character Identities:
Bisexual, Pansexual, Polyamorous, Straight
Summary: Owyn had learned one lesson early – no one wanted him. Then he discovered that he was the Fireborn, and in an instant went from nameless slave to one of the most important people in the world. One of the most sought after. And one of the most hunted. Faced with a tantalizing link to his own unknown past, and the growing fear that the promised haven may be nothing more than a pretty trap, Owyn must learn to stand on his own in a race against treachery and time. He has to uncover the truth…. A truth that might destroy his hopes for a future.
Forged in Fire (Heir to the Firstborn, Book 2)
Pairing: M-F, M-M, M-M-F
October 22, 2019
Word Count:
107000
Character Identities:
Bisexual, Gay
Summary: Second Place in the 2016 Rainbow Awards for Category: Gay Historical! In this sequel to Dominus, Gaius Fabius Rufus, the victorious general of Rome's brutal Dacian Wars, finds his loyalties and his affections pulled in different directions. Should he return to Rome and secure his claim to the imperial throne, or remain at his seaside villa and protect his pleasure slave, the fierce Dacian prince, Allerix? Retaliation for the murder of his beloved friend beckons him home, but his desire for justice could put both him and Allerix in mortal danger. As Gaius's deceptions multiply, another tragedy strikes. Will the Lion of the Lucky IV Legion be forced to sacrifice his besotted heart to achieve his aspirations for supreme power? Every moment since Allerix's violent capture has tested the young prince's fortitude and cunning. If he can kill the triumphant emperor who decimated his Dacian nation, revenge and immortality will be his glorious, everlasting rewards. But to realize his scheme for vengeance, he must deceive the Roman master whose body he lusts, the handsome, arrogant man whom he has grown to adore and admire. Can two former enemies—the conqueror and the conquered—find trust and true love, or are the consequences of war destined to tear them apart? Can Gaius and Allerix survive the perilous games of Rome? Dominus is a plot-packed erotic m/m historical fantasy set in ancient Rome during the reign of Emperor Trajan (AD 98-117). Games of Rome is the second book in this alternative history saga—a tumultuous journey of forbidden love, humor, sex, friendship, political intrigue, deception, and murder.
Games of Rome (Dominus Book 2)
Pairing: M-M, 4+ or Other
November 18, 2015
Word Count:
60000
Character Identities:
Bisexual, Gay
Summary: "All I want is a puppy for my baby boy. That's all. Just a good puppy for my boy. The better you behave, the happier you'll be." When Cammy's Daddy asked him if he wanted a puppy, he expected the fluffy, four-legged kind. Instead, he finds that his Daddy meant something else entirely... and he isn't sure what to think of the new addition to the household. Zay's life might not have been perfect, but it was still better than being kidnapped and sold into slavery. When his new Master tells him he's going to be Cammy's puppy, he has to decide just what he's going to do… Gilded Cages is not a romance. Please "look inside" for other tags.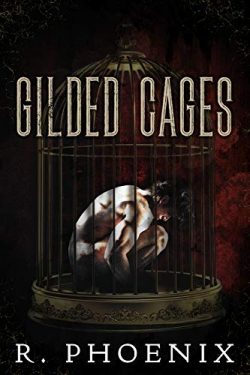 Gilded Cages
Pairing: M-M, M-M-M
October 18, 2019
Word Count:
100000
Character Identities:
Bisexual, Gay, Lesbian
Summary: All is fair in love and war. Or is it? On the world called Ana-Darasa, the gods of war engage in a desperate search for their lost hearts while waging a battle against the Good Mother for supremacy. But theirs is not the only struggle as dominant men, powerful rulers, and demigods clash, fiery passion erupts, and destinies are shaped on the battlefield and in the bedroom. In a war between pride and love, no victory is ever simple. BLURB All is fair in love and war. Renaldo has lived happily by that proverb his entire life. But he has finally met his match, and he's about to discover how unfair love and war can be. When demigod and warlord Lord Renaldo takes a beautiful stranger captive during an ambush, he is delighted to have found a distraction that will keep him entertained during the upcoming siege. Little does he know, Casto is keeping more than just one secret from him. Slowly, Renaldo gets sucked into a turbulent roller-coaster relationship with his mysterious prisoner, one that begins with hatred and soon spirals into a whirlwind of conflicting emotions. And when it seems that things can get no worse, an old enemy stirs right in the heart of his home. Determined to keep Casto by his side, Renaldo has to find a balance between the capricious young man and his own destiny as a ruler and god to his people.
Gods of War: Casto
Pairing: M-F, M-M, M-M-M
June 21, 2016
Word Count:
50000
Character Identities:
Gay
Summary: Khy is a prisoner and a slave. His life consists of days of drudgery and nights of agony. He has no memory of anything else, yet he knows there must be more beyond the fog that shrouds his mind. When his Master is called away on urgent business and Khy is left alone, a moment of unexpected clarity has him running for freedom. Jaedin is done running, both from war in the north and from his lover's tragic death. He's settled in the tiny village of Rosefire, and has finally achieved an uneasy truce with his grief. Jaedin's hard-won peace is shattered when he places himself between Khy and the band of brigands hunting him. During the scuffle, Khy panics and works the leythe to set loose a spell. When the dust settles, Khy has fled and Jaedin finds himself haunted by something far darker than his own past. In order to regain his peace—and his sanity—Jaedin sets off in search of the young man who has cursed him. What he finds threatens not only his own personal equilibrium, but the balance of the leythe itself. To protect the leythe, Khy must face his tormentor and fight to free himself from the man who considers him both pawn and prize. To protect the man he loves, he must do it alone. (~50,000 words) Note: Human Choices is a stand-alone story that takes place in the same world as Human Frailties, Human Strengths.
Human Choices
Pairing: M-M
July 4, 2014
Word Count:
135031
Character Identities:
Ace, Gay, Non Binary
Summary: Following the Prentish/Nemarri war, Kes is rejected by his homeland under the guise of religious purity laws. Though he's spared execution, the proud Nemarri's fate is only marginally more merciful than death when he is sold into sexual slavery at a prosperous pleasure house. Despite his stoic endurance, Kes knows he's reaching his breaking point, but there is nothing he can do—there is no path to freedom in the Holy Prentish Empire, only a lifetime of humiliating servitude. That is, until a beautiful young slave and his formidable master approach Kes in the marketplace and make an astonishing offer to take him home with them. The only problem: "home" is the accursed Horthmont Castle from the scare-stories of Kes's childhood. Thrown into a world of living myth, powerful magic, and ancient gods, Kes learns the secrets kept hidden by Horthmont's thick blackstone walls. There he discovers something he thought he'd never know again: hope for the future.
Kestrel's Talon
Pairing: M-M-M
May 23, 2016