Word Count: Information not available
Character Identities:
Gay
Summary: Drew needs to start over and the only place he can think to go is back home. Back to Monroe, Iowa where he grew up. The one place in the world he hates. Back to all the people he left behind after high school. Back to Paul. Paul knew Drew was back in town, now he just had to get his attention. He had let him get away once before, it wasn't going to happen this time. Not if Paul had anything to do with it.
20 Years Worth of Time
Pairing: M-M
December 28, 2012
Word Count:
11428
Character Identities:
Gay
Summary: In 1805, Charles Denham's comfortable life in Regency London with his long-term partner Avery Mallory is disrupted by the sudden death of his father. As the heir to a modest country estate in Gloucestershire, Charles returns home to care for his bereaved family and take up his new responsibilities. Overwhelmed with grief, rather than leaning on Avery, Charles rejects his love and becomes fixed on the idea of taking a wife for reasons of family duty alone. With this plan in mind, during early winter, he travels the short distance to Bath only to find that Avery and his family have already arrived at the resort. Will Charles follow through with his ill-conceived plan for a hasty betrothal by Christmas? Or will he come to his senses and resume his relationship with the nicest man in England? 
A Christmas Engagement
SALE
Pairing: M-M
December 24, 2022
Word Count:
12079
Character Identities:
Gay
Summary: Guard your heart, or Jack Frost will freeze it. Jack Frost is all about the freezing cold, and he not only wants to freeze the earth, but he also wants to freeze people's hearts. When he sees two lovers kissing under the mistletoe, he vows to split them up. Teddy and his husband, Kirk, are still in love. Will they let a little frost come between them?
A Frostbite Christmas
Pairing: M-M
December 9, 2018
Word Count:
86611
Character Identities:
Bisexual, Demisexual, Gay, Transgender
Summary: Prince Edmund of Thalassa and Prince Arden of Aither are eagerly anticipating their upcoming wedding, but the danger to their kingdom hasn't lessened. They have a plan, but they won't be able to carry it out alone: they need a strong wielder of each Element, whom they can trust implicitly, to carry out the magic. Rhys is a commoner and wielder of Earth magic. He and his sister have made a living from the use of their magic for years and have become highly respected in scholarly circles, though he prefers a more simple life with his plants. When a message from Prince Arden reaches them asking for their help, they don't hesitate. They stop only to request that Gaz, a strong Fire wielder and the man Rhys has long been enamored of, accompany them on the journey to Thalassa's royal palace. What no one knows is that Gaz was once known as Prince Gareth of Thalassa and is Edmund's younger brother, long believed dead. He fled his home after his Fire Affinity made itself known and put him in danger, and he had no intention of ever going back. But he can't keep himself from going to his brother's aid, despite the risk of discovery and of the weight of his secrets potentially crushing his fledgling relationship with Rhys. Working against time, they must find a way to come together in a magical working the likes of which none of them has ever imagined, or their homelands will surely burn.
A Harmony of Fire and Earth
Pairing: M-M
March 11, 2019
Word Count:
24000
Character Identities:
Gay
Summary: What surprises await Vic and Kellan when their egg finally hatches? Kellan's new life in the magical town of Vale Valley is filled with more love and joy than he'd ever dared dream of. Even more thrilling is the new life growing inside the egg he and his Alpha wolf mate watch over night and day. When their hatchling still fails to appear after several weeks, Kellan fights his growing fears about the uncertainty of a swan mating with a wolf. All Vic wants is to keep his beautiful swan omega and their egg safe. He'd despaired of ever finding the one who was meant for him, and he'll do everything within his power to protect his true love and their baby. Vic might still be bewildered by nesting and swan cuisine, but whatever his omega wants, Vic makes sure he gets. As Valentine's Day draws near, Vic's plan to do something special for their first celebration of the holiday doesn't seem possible. The egg isn't showing any signs of hatching and no one—not even the avian fertility specialist—knows why. Then, the last person they want to see makes an unexpected appearance. Vic is about to discover how tough his sweet little swan truly is… Note: A Hatchling for Valentine's is the 8th book in Season Two of the multi-author series about Vale Valley, a small magical town open to everyone in need of love and a home. Each installment in the series can be read as a standalone, however, Kellan and Vic's story is a continuation from Season One's A Swan for Christmas. This mpreg romance novella features a swan and wolf who are fated mates and are anxiously awaiting the birth of their first tiny hatchling. So grab a box of chocolates, a glass of champagne and put your feet up and enjoy a sweet dose of smexy mpreg.
A Hatchling for Valentine's
Pairing: M-M
February 8, 2019
Word Count:
20302
Character Identities:
Bisexual, Lesbian
Summary: A Reverie of Flames is the new, spell-binding third installment of 'The Fae Souls' series. Born again into the mortal world, I'd hoped to escape the war between light and dark fae. I wasn't alone - Sorcha (my love) and Princess Saphira of the seelie (who we were sworn to protect) were with me. Rings gifted by Queen Carisse of the seelie ensured we were born in the same timeframe and we'd remain together. More than chance brought us to the city of Grayhaven. It was magic and destiny. Sorcha had returned to my life the day she saved me from an unseelie attack; that was when my memories had come flooding back. Now I found myself regaining my awareness of who I was and discovering how serendipitous fate can be at bringing you to the right place at just the right time. In the unique position of remembering our fae origins, Sorcha - now Angelica, a white witch who opposed unseelie interests in the city, and I had a lot to catch up on. As she brought me up to speed, I realised the depth of my feelings for her, and that I wanted to continue our romance into this, our next lifetime. Princess Saphira was reborn as Ayla: my sister. Now an 18 year old student and budding witch, she was a prime target for the unseelie who sought to overthrow the seelie royal family. We had to protect her, and Angelica and I would do our best to ensure she stayed safe. A Reverie of Flames is a romantic urban fantasy novella of just over 20,000 words, which contains strong steamy content and language.
A Reverie of Flames
Pairing: F-F
October 27, 2017
Word Count:
50,000
Character Identities:
Gay
Summary: Kink and wedding vows can't stop danger, but love gives a Dom and his sub courage to fight. After too much time apart from his lover and sub, Brian Harrison is thinking kink, a cowboy hat, and one more marriage proposal. When Jackie Vasquez finally says "yes" to a wedding, he also says, "why wait?" But their vows and the toasts to the happy couple have hardly faded when a phone call reminds them that trouble still awaits. Despite his best intentions, Brian broke the law in his efforts to stop a powerful criminal from harming those he loves. He could go to prison, or he could risk his life going undercover to help bring one of Europe's most nefarious citizens to justice. Friends and smart thinking can help him do the right thing. But only love can supply the courage he and Jackie need to prevail against schemes and guns and, if they're lucky, stay alive to enjoy a honeymoon.
A Shot of Courage
Pairing: M-M
July 30, 2020
Word Count:
4500
Character Identities:
Gay, Pansexual
Summary: In love, time is relative, until they run out… Regulations limit time digger Ish and time cop Kabal, born years and worlds apart, to two dates a year, making every date precious. But when Kabal announces his retirement at their tenth anniversary, what should have been a happy occasion might be their last night together. ___________________________ Previously appeared in Storm Moon Press' Sweethearts & Seduction anthology
A Time Traveler's Valentine
Pairing: M-M
February 14, 2017
Word Count:
124000
Character Identities:
Gay
Summary:
A story of two men and the boundless love that forever changed them.
Vannguard Shaw has spent the last ten years serving a life sentence and adjusting to the ache of solitude. He accepts his fate, a sacrifice for the only man he ever loved and the one person who saw beyond his rough edges. Drayton grew up with a trust fund and pre-planned future, but an unexpected encounter one night forces him to abandon everything and start from scratch. He is now a self-made man and developer of one of the most sought after electric exotic automobiles in the world with a fortune greater than that of his birthright. Yet, he'd surrender it all—again—for the only man who's still ever-present in his heart. After a decade and entirely too much distance between them, Vann is suddenly released back into a world that has been nothing but cruel. Drayton never lost hope they would once again reunite and pick up where they left off, but Vann's stubborn nature and repeated encounters with a heartbreaking world prove to be a challenge. Vann needs to tap into his fighting spirit's reservoir of strength and hope life doesn't punish him for taking a chance. Only then will he realize his own value and feel worthy enough to finally have Drayton's heart. And their chance at forever.
----------------
This is book 5 in The Men of Halfway House series. Although part of a series, this is a full-length stand-alone novel.
Main Characters: Drayton and Vann Release date: May 2, 2017 Series: The Men of Halfway House No. in series: 5; can be read as a stand alone Category: Contemporary Gay Romance Word Count:  124,300 words Formats available: e-book and print Drayton first appears in book 3, A Restored Man. Vann is first mentioned in book 4, A Mended Man.
A Worthy Man
Pairing: M-M
May 2, 2017
Word Count:
73,141
Character Identities:
Gay
Summary: Time travel. For mages, it violates their number one rule: what the Mother has written, let no one unwrite. The Mother writes the destinies of the creatures on the world of Karishian. If her writings were undone, it is feared that Creation itself could be undone. The dark mage Morgorth takes this rule to heart, but there are others who do not. Morgorth is about to claim a stone of power when it is stolen from him by a female mage he hasn't seen in decades. As they struggle for the stone, she activates it, and Morgorth is unwillingly plunged into another time and another place. It isn't long before he realizes what time he's found himself in and there are a few familiar faces. Most notable is a much younger version of Aishe. His mate. Living with a tribe who will be massacred, caring for a young lad who will become his mate, and fighting a battle against a mage who can travel from past to future at a whim—Morgorth's life has never been easy but now he must contend with the will of the Mother. Unable to change the future and the tragedies of Aishe's life, he must decide what his role in his mate's past will be, and ask himself one vital question: how does one defeat time?
Agate: Then and Now
Pairing: M-M
May 2, 2017
Word Count:
149,000
Character Identities:
Bisexual, Gay
Summary: The star of the University of Virginia theater department, Aidan Emery is lusted after and admired for living out and proud. He uses his talent and good looks to his advantage and never sleeps with the same guy twice. But his glamorous patina has been carefully honed to hide the pain he carries inside. Aidan wasn't always such a player. He starts college naively romantic, hungry for the attention he can't get from his workaholic father and mentally ill mother. Unfortunately, that leaves him ripe pickings for predatory professor Rodney Montgomery. Rodney's flattering regard seduces Aidan into a dysfunctional relationship that destroys his innocence. Life looks up for Aidan when he finally breaks free of Rodney's pull and moves to New York City to make it as an actor. Meeting sweet fellow actor Patrick Jaymes seems like the start of a fairy tale. But before Aidan can rebuild his life into happily ever after, family secrets rip him wide open, leaving him easy prey when Rodney decides he's not willing to let Aidan go.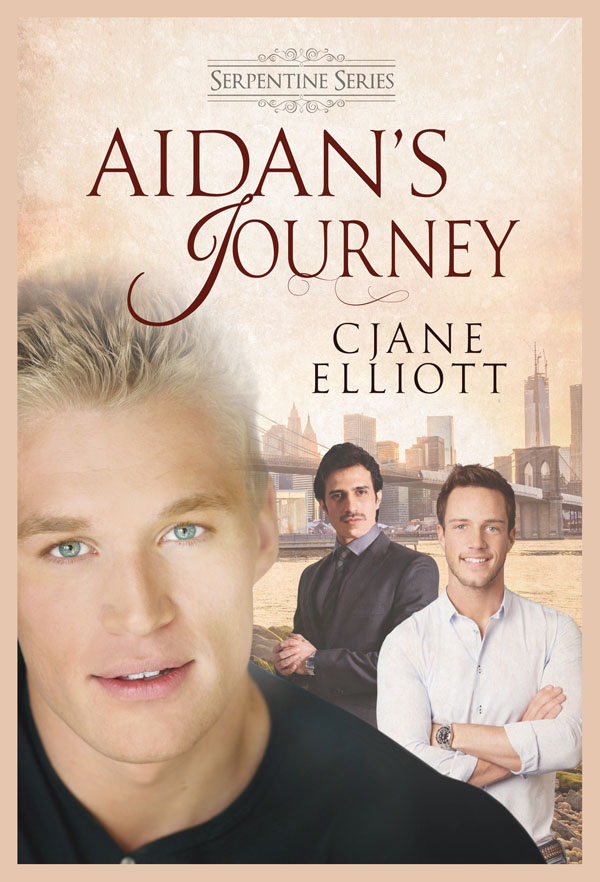 Aidan's Journey
Pairing: M-M
October 15, 2014
Word Count:
17000
Character Identities:
Gay
Summary: In the first book of the series, Life Lessons, MPD detective Mac and high school teacher Tony decided that a closeted relationship was worth the risks and difficulties. Now, in this free short story, they are briefly separated for the holidays by Tony's trip to visit his family. Tony on a Florida beach contemplates the joys and stresses of their hidden life, while Mac in the Minnesota snow handles a murder case that hits close to home. And in the evening, over the phone, they try to reach each other with words. With bonus short story - Getting It Right - Life Lessons Valentines story 1.8. Total 17,000 words
And to All a Good Night
Pairing: M-M
April 18, 2017
Word Count:
67000
Character Identities:
Bisexual, Gay
Summary: A tale set in Stuart England, where the king's life depends on his most loyal of subjects. Anthony Redbourn, Earl of Crofton, delights in his reputation as a charming rogue. Life is never quiet at the court of King James I, especially with his good friend and secret lover, Sebastian Hewel, by his side. As an actor with the celebrated King's Men, Sebastian has his own admirers, but neither man has eyes for anyone else. When a plot against His Majesty is uncovered it threatens Anthony and Sebastian's charmed lives, and they are dragged into the political intrigue and the race to save the king from danger. Fear that a traitor is linked to the King's Men leaves Sebastian and Anthony with no choice but to stage a very public dissolution of their friendship, so Anthony can be free to be the patron of a new rising actor, and Sebastian can be the prodigy of another noble. It is a dangerous game they are playing to expose the plotters and still find a way to meet in secret, as Anthony is adamant that they will not sacrifice the love they have fought so hard to win. They will do whatever it takes to protect the king's life, and their commitment to each other.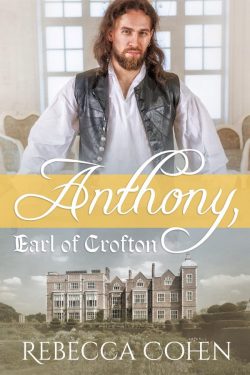 Anthony, Earl of Crofton
Pairing: M-M
April 25, 2019
Word Count: Information not available
Character Identities:
Gay
Summary: ~Loveland, Colorado is a special place, a community of creativity and art, with scenic views and majestic mountains~ Books 3 to 5 of the Welcome to Loveland series. Mistletoe Reunion in Loveland - 3 Finding Forever in Loveland -4 Winter Lights in Loveland -5 Writing Lucky and Jack has been a real treat, but it's also fun to take an extra peek around town. Around Loveland features stories that represent different faces and facets of the sweet city of Loveland: Graham & Patrick are looking for a second chance, Joey & Giles are hoping for a future, and Miles and Jeremy are experiencing first love.
Around Loveland - Welcome to Loveland books 3-5
Pairing: M-M
September 8, 2018
Word Count:
83400
Character Identities:
Gay
Summary: Artists use all manner of materials to express their vision, to interpret the world around them, to affect the hearts and minds of their audience. But what if the artist himself were the medium? And what if artistic inspiration weren't the only force at work? If painter Stefan Cobbe and art investigator Luke Morganstern don't answer those questions fast, they stand to lose their reputations, their relationship — and their lives. **Omnibus edition contains both The Artist's Touch and Tested in Fire
Art Medium
Pairing: M-M
June 18, 2018
Word Count: Information not available
Character Identities:
Bisexual, Polyamorous
Summary: The search for the swords brings Douglas and Margaret back to England, where Mystere has hidden the sword Almace -- his own sword. Four months pass with no signs of Mystere, and Douglas and Margaret start to make plans to go in search of him. Then they accidentally become the caretakers of an injured street urchin. The boy — a sweep's apprentice — tells them that there is something invisible haunting the rooftops of London, preying on the children who make their living there. In the absence of Mystere, Margaret insists that they need to help, but Douglas refuses. Margaret defies him and goes anyway, only to discover that what lurks on the rooftops is far worse than she had imagined -- Caedda has taken the rooftops of London as his domain. Worse, he has taken Mystere prisoner, he holds the sword Almace, and he knows that Margaret is there. Trapped on the roofs, unable to reach Douglas, Margaret has to rely on her wits and her memories in order to save Mystere, herself and her unborn child.
Ashes and Light (Swords of Charlemagne, Book 3)
Pairing: M-M-F, M-M-M
July 20, 2021
Word Count:
121000
Character Identities:
Gay
Summary: A child's memory. A journey's end. Lance doesn't remember the time before Ulfr found him. It's a dark pit in his mind that he avoids at all costs. And yet, despite his best efforts, pieces start to fall, and echoes from the past begin to ring. However, he has little time to comprehend their meaning, since the Captain of the Imperial Army herself has come to collect him and bring him to the capital city of the Nifdem Empire. Whisked away to the gilded streets and glittering court of the Hill of Tarran, and then to the snowy reaches of Swenen, Lance and Gust will learn the answers to questions they've had from the start. And be forced to acknowledge their roles in the survival of the empire and the ripple effects of their actions. But such knowledge can come at a steep price. As allies and enemies begin to step from the shadows, Lance will learn the truth of his past and the price of his redemption, and all the pain that comes with them. While Gust will have to decide what he's willing to sacrifice to safeguard the one he loves.
Avenging Lance
Pairing: M-M
September 29, 2020
Word Count:
78000
Character Identities:
Ace, Demisexual, Gay, Pansexual, Polyamorous
Summary: In the final installment in the SoulShares series, author Rory Ni Coileain weaves together the myriad threads of this compelling paranormal romance in a climax that crosses time and space. Sometimes Fae love stories aren't what you expect. The Marfach—devourer of magick, long-imprisoned mortal enemy of the Fae race—is free of its Antarctic prison. The Demesne of Purgatory—Fae, humans, a Fade-hound puppy, a Gille Dubh, and a darag—is all that stands between the monster and the power it needs to destroy both the Fae Realm and the human world. The only clue they have as to how to kill the unkillable is a cryptic note from the Loremasters: "Osclór, Nartú; Tobar, Soladán; Nidantór, Breathea; Glanadorh, Coromór, Farthor; Scian-omprór, Nachangalte; Crangaol, Síofra; Gastiór, Laoc, Caomhnór; Fánadh, Ngarradh." Opener, Strength; Wellspring, Channel; Unmaker, Judge; Cleanser, Equalizer, Sentry; Blade-bearer, Unbound; Tree-kin, Changeling; Binder, Warrior, Guardian; Wanderer, Sundered. As they rebuild Purgatory from the rubble the Marfach left behind, they have to stand together, using everything they know—everything they are to their partners, lovers, husbands. Everything SoulSharing has made them. And not everyone who enters the final battle will leave it.
Back Door Into Purgatory
Pairing: M-M, M-M-M
October 2, 2019
Word Count:
72579
Character Identities:
Bisexual, Gay, Non Binary
Summary:
A Dark Steamy Superhero Yaoi Romance
❤️former super-powered hotties returning to action!
❤️ second chance at love for a Hero and a Villain 
❤️ amazing secondary cast with their own love stories
BOOKS 1 - 6 NOW AVAILABLE ON AMAZON & KU
BOOK 7 - Series Finale - COMING IN APRIL 2021!
Several years past 50, Matt thought that his days as a Villain in the staged Chosen fights were long over.
But then his powers returned in the wake of a devastating attack that took the powers of all the active Chosen, perpetrated by a young Hero.
With no other choice, Matt goes to the one man who might understand what is happening to him - Colton. The man who was Matt's main rival back in the days of his fighting career. A man Matt hasn't seen since the day he burned out and walked away from the fights.
That would be complicated enough. But back then, they were also secret lovers. Matt walked away from that as well without a goodbye.
Now after nearly twenty five years, these two men are coming face to face for the first time. Can they handle their personal issues while trying to save the world from a Hero gone bad?
Trigger warnings for dub/noncon, super tragic backstories, explicit on page sex, angsty gay dudes, and cliffhangers.
Back Issues
Pairing: M-M
March 6, 2020
Word Count:
32723
Character Identities:
Gay
Summary: Bryce Harkless is unapologetic. He's raw, rude and arrogant but sweet, gentle and loving. He's a sexy college basketball player from Savannah, GA that everyone loves and wants to sleep with. His life, however, is full of conflicts. He is haunted by the past, yet afraid for the future. He loves his boyfriend, but hates him, too. To avoid facing his troubling past, he lies, cheats and engages in risky behavior. There are layers of pain inside of Bryce that are destined to destroy his life if he doesn't learn how to face them and move on. He was raised in the church, but he doesn't understand God's reasoning for treating him the way he does. He doesn't want to be gay, but women do nothing for him. In turn, he blames God for everything. He hates God. The month of March is the hardest time of the year for Bryce. During this time, he is forced to deal with an event from his past that shattered his young life into pieces. As if dealing with that situation isn't hard enough, an incident involving another man raises questions about his sexuality in the mind of his beloved auntie. However, everything comes to a screeching halt in just one phone call. There, he gets the news that undermines everything else. Come along for the ride in this novella, as the next few days are destined to turn Bryce's already rollercoaster life, even more upside down!
Bad Religion
Pairing: M-M
March 22, 2014