Word Count:
124,200
Character Identities:
Gay
Summary: For Wall McCormack, actions speak louder than words. He's giving and protective, loyal to his friends, and devoted to his job. While confident and powerful enough to conquer any challenge, his greatest strength lies in his calm nature. Until an unexpected assignment sends his world into a loud and colorful chaos he never could have anticipated. Rejection. It's something Dylan Vaughn has known his entire life. But he's a tough nut to crack and refuses to break. Armed with a sharp tongue and brutal honesty, he pushes through life and at anyone who attempts to take him on. Except for the quiet guardian who piques his interest and dares him to want…more. When Dylan's past comes back with a vengeance and jeopardizes their growing connection, Wall will stop at nothing to protect the younger man and remain by his side. But convincing Dylan that someone accepts the real man behind the cocky facade might prove to be Wall's greatest challenge yet. With his freedom on the line, Dylan must trust the strength of their bond and confront the forces threatening their future. Only then will he realize the dream of acceptance is real and finally have a place to call home.
A Chosen Man
Pairing: M-M
September 26, 2018
Word Count:
95000
Character Identities:
Gay
Summary: It's good to be the Boss. That's what I thought my whole life. Now I am the Boss. I'll shoulder that responsibility with my beloved husband beside me. As long as I have Finch, I can handle whatever life throws at me. But what they say is true: Be careful what you wish for. My Family has been decimated. My allies are few. I'm holding onto power by a thread. And the truth is, my husband is more vulnerable than ever. He's always been a lost soul, and now he's suffered yet another crushing loss. I can't protect him from Fate's cruel blows. But I'm determined to protect him from our enemies, no matter what it takes—as soon as I get my own house in order. Because I'm starting to wonder if there's a traitor in the Morelli Family… If I can't even trust my own men, how can I keep my beloved safe?
Beloved by the Boss
Pairing: M-M
August 26, 2020
Word Count:
42516
Character Identities:
Gay
Summary: Never let go of the one you love. After recent traumatic events, Olly is finding it hard to get his head around what happened. While he tries to deal with a maelstrom of emotions, renovations at The Edge are in full flow, alongside preparations for tenth anniversary celebrations. Joe, his Dom, recognizes Olly's delicate state of mind and does his best to reassure him. A trip to the New Forest with their friends, Aiden and Heath, helps the healing process. Returning home, Olly and Aiden focus on preparations for the party. When Aiden is called away, Olly takes a walk to clear his head, keeping his eye on a brewing storm. To his horror, he discovers Mark Vickery, an old enemy, has landed on the island by boat and is out for revenge. With Olly missing and the storm raging, Joe, Heath and Aiden set out on a rescue mission that unfolds in a way none of them expected. Can the storm wash away the past or will Olly and Joe's future be destroyed by a twist of fate?
Binding the Edges
Pairing: M-M
January 10, 2017
Word Count:
59123
Character Identities:
Gay
Summary: A human, a wolf-sprite, and a Sandman. How could life for these three go wrong? Darren Carpenter is running from his love of Samuel and his future as the Coimeádaí of a Sandman. Samuel Tolliver just wants what he wants and is willing to raise a little mischief to get it. Dailon knows he is more than human but has no clue what he is or what he needs. But the Fates have a plan for them, even if family, friends, and fairy royalty must get involved. When everything goes wrong, can they make it right again?
Broken Dreams
Pairing: M-M-M
October 7, 2021
Word Count:
50000
Character Identities:
Gay
Summary: This collection combines the complete books: Because Faery Godmonster and His Dungeon Discovery. Enter an enchanted world of gay romance and fairytale magic!   How can they get together with a monster in their way? The warrior-priest. Gossamer wants true love. But his faery godmonster, a gigantic, winged, two-headed beast named Puff-puff, is determined to keep him "safe"--even from a broken heart. The necromancer.  Pox is a sexy fugitive. An exiled aristocrat, his ego is as big as a dragon's maw. He has no time for love. Still, that brawny Gossamer might make a fine manservant.... Content warning: graphic, sexually explicit scenes—for adults only. (It also contains crude humor, a love story, and a big scary monster.)
Chainmail and Velvet
Pairing: M-M
October 6, 2019
Word Count: Information not available
Character Identities:
Ace, Bisexual, Pansexual
Summary: An unknown enemy wanted to take everything from us. Graves I'd spent all of my forty-plus years paying for mistakes when I'd simply been human. Living my life in the shadow of the happiness my friends from the Cold Case Unit found grew harder every day. I didn't mind being the odd one out; didn't mind being considered the unloveable straight-laced-ish one to their mayhem. Acceptance after a lifetime of not measuring up was nice. I'd found my rhythm and my place among the weirdness of my unit. That was until Marcel Douglas the new ego-manic in Homicide decided he had to pick apart every case I'd left behind. Douglas Leaving Chicago hadn't been in my plans, but my daughter needed me. I'd do about anything to make her happy. When her mother was transferred out of the States I'd moved so my daughter could stay with her friends—the place she'd come to love. Being at the bottom of the hierarchy and earning respect didn't sit right with my pride. I wasn't afraid to admit that. And I'd made one hell of an enemy. Graves and his Cold Case Unit frustrated me and I didn't understand their method. A series of body dumps brought me back to Graves for help, but he wasn't feeling charitable. We'd thought we were our biggest and bitterest enemies until the threats came, could we work together before the man gunning for us could finish the job?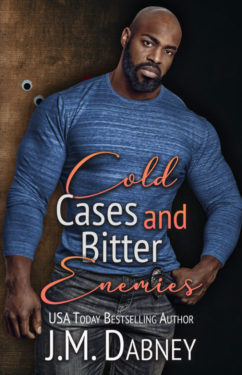 Cold Cases and Bitter Enemies
Pairing: M-M
April 5, 2022
Word Count: Information not available
Character Identities:
Gay
Summary: When your only goal is to save the world who's there when you need to be rescued? Boss Most of my life I'd been the savior and sought when anyone found themselves in trouble. It could be to atone for sins of my past or because I was a natural caregiver. Whatever it was I didn't understand how to do anything else. My Outreach Program cared for everyone in the city who needed help and I wouldn't say I hadn't made enemies, but when the protector needed protection I wasn't prepared for Dolan Sharp. Dolan No one did anything for free or out of the kindness of their hearts. That wasn't how the world worked and it was always survival of the fittest. I didn't care what anyone said about the man named Boss. When I witness Boss in action, what I thought I'd believed shattered and I didn't know how to handle that. There's always threats at every turn, it's just a matter of when they catch up with you, but when one jaded man and another with a seemingly deep death wish have to work together who's going to survive the aftermath? (TW: Mentions of childhood sexual, physical and mental abuses. Passive Suicidal Ideation, self-harm and mental illness. These are mainly off-page, but there are details flashbacks and conversations of said acts. Yet if these are triggering for you, please feel free not to read the story. Your self-care and mental health are more important. Thank you.)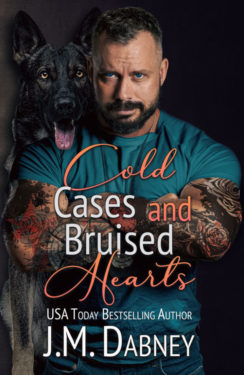 Cold Cases and Bruised Hearts
Pairing: M-M
July 5, 2022
Word Count: Information not available
Character Identities:
Gay
Summary: Time Didn't Heal All Wounds and the Scars were About to be Ripped Open Stevenson When I'd moved from Homicide to the Cold Case Unit my friends headed, I'd thought it would be a new start. The minute my marriage fell apart I'd lost my purpose. Years passed and I hadn't found myself until I'd helped my friends catch a serial killer, but I'd also found friends and family. As I'd searched for a case among dusty boxes, a decades' old murder and missing person case caught my attention. The autopsy report send me to the M.E.'s office and the man I'd avoided for months. Doc Making death my job didn't allow for normal friends, but the dead needed an advocate and it was the only purpose I'd known. Being an Medical Examiner was all I'd had for decades and I didn't know what to do outside my job. I had a group of friends, all worked in law enforcement and forensics, but one thing was missing. Short, adorable middle-aged men weren't getting swept off their feet. When my secret crush, needed my help with a case to the detriment of my sanity I said yes. All I had to do was not be my weird self and blurt out everything in my head. When a missing person case turns out to be more than it appears can Stevenson keep Doc safe from a twenty year old threat? (TW: Mentions of childhood sexual, physical and mental abuses. Passive Suicidal Ideation, self-harm and mental illness. These are mainly off-page, but there are details flashbacks and conversations of said acts. Yet if these are triggering for you, please feel free not to read the story. Your self-care and mental health are more important. Thank you.)
Cold Cases and Dark Secrets
Pairing: M-M
February 22, 2022
Word Count:
65000
Character Identities:
Bisexual, Gay
Summary: Lornyc is good at keeping secrets, because secrets can get you kicked out of College. Lornyc considers the undergraduate course, and most of the people on it, beneath him. He just needs to get through this year and then he can start his doctorate. Methian might be attractive enough, but he's an annoying, fat-headed, sloth toad, and Lornyc doesn't want him as a lab partner. In fact, Lornyc doesn't want anything to do with him. Prequel to the Reagalos novels: enemies to lovers, new adult, gay romance fantasy. A stand-alone novel in the Reagalos universe that charts how Lornyc and Methian got together, despite their best efforts not to.
College Days: Reagalos Prequel
Pairing: M-M
January 13, 2022
Word Count: Information not available
Character Identities:
Gay
Summary: Welcome to Brawlers Bar… A quick pit stop for a comfortable bed to sleep turned into an eight-year stay. Vincent "Crave" Butler hit the road the day after college graduation and hadn't looked behind him since. He'd swore to never stop moving, but the night he drove into Powers, Georgia changed the course of his life. He'd hit a bar called Brawlers with its rundown exterior and pride flag beside the door, the next day he had a job. Second in command to the Head of Brawler security, Crave found the place he didn't have to run from. No one would call Crave sane. He lived to make people as uncomfortable as possible just for his own twisted amusement. That all changed when a certain cute as fuck bartender walked in for an interview. No one wanted Twitch Harrison around. He was small, femme and annoying on his best days, downright abhorrent on his bad ones. When college turned out to be a no-go, and the parents canceled his credit cards he'd needed a job. Walking into Brawlers, the roughest gay bar in his hometown, was like a game of pick the thing that didn't belong—him. The two owners, Scary and Tank, hired him on and four years later he was still that thing that didn't belong. No one made it more apparent than bouncer Crave Butler who didn't hide the fact he barely tolerated Twitch's presence. Crave threatened every man who thought they'd get the pretty Twitch but would Twitch rather be in their beds than his? Only one way to find out and he hoped Twitch was ready for forever because that's what Crave was determined to have.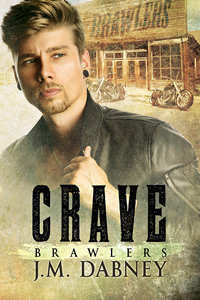 Crave
Pairing: M-M
March 21, 2017
Word Count:
19549
Character Identities:
Gay
Summary: A man without scars never had to fight for something he believed in. A new relationship takes time and effort. A new relationship with Orlando de la Pena takes a whole lot more. As a Dom, Rogue knows what he wants, but Orlando refuses to fit neatly into the box labeled 'submissive'. He's feisty, demanding and far too pretty for his own good. Orlando loves Rogue and he's learning to love The Wyverns, but he hates being stuck out in the desert. Finding a niche in the world of bikes and fierce warriors is difficult, and Orlando's impatience gets the better of him. He walks out into the desert and runs in to an antisocial diamondback. Rogue has more than one problem to deal with. The Longhorns MC issues a challenge for territory. The Bellazi cartel is out for Wyvern blood. The Wyverns are under siege, and Rogue has to work out how to save not just Orlando, but all of them. Reader Advisory: This books contains scenes of mild BDSM.
Deathtrap
Pairing: M-M
July 14, 2015
Word Count:
62000
Character Identities:
Bisexual, Gay
Summary: For a relationship to work, it is not just love which is demanded. Direction is, too. Garrett has never really settled. With loud opinions and a strong character, he makes people both admire and fear him in equal measure. Tim and Derrick weren't prepared for the hurricane they were letting into their home. Openly polyamorous, Garrett wouldn't be the first–nor the last–person they let into their bed. A relationship between a ballet dancer and two bakers with a past they thought they'd left behind could work, but only if they took the time to figure out what each of them needs. Direction is the 5th book of the Demands series. Although they can be read as stand-alones, characters from previous books will make multiple appearances throughout the series. Content Warning: This book includes mentions of eating disorders, physical parental abuse, and fatphobia.
Direction
Pairing: M-M, M-M-M, 4+ or Other
January 3, 2022
Word Count:
57000
Character Identities:
Gay, Straight
Summary: Previously on Dragon War Chronicles, the first strike was made against their enemies, but the cost was heavy. Mourning their losses Danica still must prepare for dragons that will be coming to woo her. She already knows the dragon she wants to mate to, but will she convince Kollin that she's ready to commit? Of all the dragons going to Toulouse to meet Danica and see if they have a chance only one has a completely different agenda. He knows which dragon he wants and it isn't Danica. Will Xavier win the heart of Danica's brother? Anchin Luu, Danica's brother and manager of her Las Vegas casino, Dragon's Hoard, has spent his whole life alone due to his deadly nature. A broken experiment and retired assassin Anchin isn't sure what to make of the water dragon that has invaded his life. Love is in the air, but so is gunpowder. SLIPs going missing, Coyotes crashing parties, and a mating you'll never forget are all in store for you on the next exciting installment of Dragon War Chronicles. Attention: This book contains explicit sexual content between consenting dragons, depictions of relationships that are MF and MM with a dash of doublemint fun. Dragon War Chronicles is a continuous series. It is best read in order. SYN Consulting Secrets Revealed First Strike Dragon's Hoard
Dragon's Hoard
Pairing: M-F, M-M
September 26, 2019
Word Count:
43087
Character Identities:
Gay
Summary: Not all limits can be negotiated. The Edge is reaching a major milestone. After ten years in business together, Doms Joe Dexter and Heath Anders are planning a celebration and new beginnings. But even the best-laid plans can be thrown off course. When Olly, Joe's beloved sub, gets caught up in a hostage situation involving Special Forces soldiers, PTSD and blood diamonds, a party is the last thing on Joe's mind. He hates the lack of control, and the thought of losing Olly takes him close to the edge. Joe is not the only one reassessing his priorities. Olly needs Joe's strength more than ever. He feels safe only in Joe's arms or in his bondage. Can Joe and Olly find sanctuary in each other or will their latest adventure drive them apart? Reader Advisory: This book contains a hostage situation and scenes of violence. 
Driven to The Edge
Pairing: M-M
September 6, 2016
Word Count:
135000
Character Identities:
Gay
Summary: Silver is trying hard to settle down again with Ben and River after the events at the Theatre De La Vie, but he isn't the same person anymore and River is having a hard time dealing with the changes. One of the hardest things he has to cope with is Ariel, Silver's new best friend, who makes Silver act like a teenager and causes trouble wherever he goes. When that trouble touches Ben, it sparks off a chain reaction that almost ends in tragedy. In the meantime, Ariel has his own fallout to deal with. After finally finding someone to whom he might give his heart, he very nearly loses him by…well by being Ariel. With his family life in tatters and his best friend lurching from one disaster to the next, Silver needs to be stronger than he's ever been. The problem is he's not feeling very strong at all. In fact, there are times when he thinks it would be so much better if he just went back to that place inside his head where he was safely shut away from the world, and that place is getting closer all the time.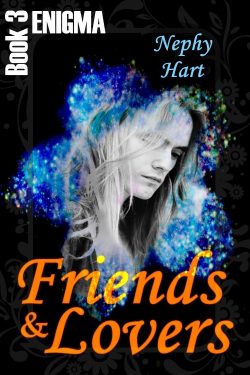 Enigma III - Friends And Lovers
Pairing: M-M
December 6, 2016
Word Count:
90000
Character Identities:
Gay
Summary: Wealthy playboy Nick Romani is a trouble-magnet. When the local news net obtains compromising pictures of him with a prominent politician's married son, Nick's exasperated father exiles him to a remote research facility until the scandal dies down. When Nick learns what kind of research he's expected to do, he balks. Instead of obeying his father's orders, he heads out alone into the wilderness. Ajhani Guardian Vaya Rhivana has chosen exile over a slow death by the drug that binds his uncontrollable power over the mythe. Before Vaya finds the strength to leave his clan, his sister's son is kidnapped by the Sky People. Heartbroken, but too weak and sick to help rescue his nephew, Vaya heads off into the mountains, not expecting to return. When a storm dumps an injured Nick at Vaya's feet, Vaya's first thought is to kill him. Only a whisper of prophecy stays his hand. An uneasy bargain is struck, and as the two exiles journey through the dangerous wilderness, Vaya finds his feelings for Nick slowly changing. Can Vaya keep his promise to Nick and see the bargain through? Or will the power he struggles to control destroy both himself and the man he's beginning to love? (~90,000 words)
Eye of the Storm
Pairing: M-M
September 3, 2016
Word Count:
85,000
Character Identities:
Gay
Summary: All Keiron wants is a quiet life. Fat chance with a boyfriend like Bren. But if he thought Bren complicated his life, that was nothing compared to the complications that begin when he opens the door to what he thinks is a naked boy claiming to be his slave. Draven is a fairy with his sights set on the handsome human who keeps a wild place in the garden for fairies. When Draven slips through a fairy gate into the city, he sets in motion a series of events that binds him to Keiron forever, and just might be the end of him. While Draven explores Keiron's world with wide-eyed wonder, Keiron does everything he can to keep Draven's at bay, until the only way to save Draven and bring him home is to step into a world that should exist only in children stories.
Fairies At The Bottom Of The Garden
Pairing: M-M
November 13, 2017
Word Count:
105000
Character Identities:
Lesbian
Summary: Heart of Temptation is a gritty, sexy, glittering road trip to wild and dusty Temptation Rock, Nevada where three lifelong friends will reunite over mezcal and donuts to battle the forces of evil and find love. It started with one little text: "Milkman's come home." Skye Kincaid has ignored a lot of texts in her time, but that particular phrase isn't one she can just leave on read. She has no choice but to leave her metaphysical supply shop in Los Angeles in the care of her assistant, pack a bag with all her best toys, hop on her motorcycle, and head back to Temptation Rock, Nevada. Her hometown is pretty much the way she remembers it from her childhood in the 80s and 90s: too hot, too dusty, too slow, too many idiots showing off too much butt-crack at the bar. But Temptation Rock has two great things going for it: Skye's sister, Daisy Kincaid, and her best friend, Sadie Pine. Daisy is the one who sent the text, and she wouldn't have done so if she hadn't meant it. Twenty years ago, the three women stumbled upon a dark horror lurking in the shadows of Temptation Rock. The Milkman: a powerful demon wreaking unspeakable havoc in the small quiet town. They put him down, but not before he changed their lives forever, and not for the better. Now, it seems the bloodthirsty demon from Temptation Rock's past is not as dead as they thought. There are signs that he's resurfaced, and this time he's brought backup. But why is anyone's guess. On top of everything else, sexy FBI agent, Tempest McGuire, keeps showing up at just the wrong moment. Skye and Tempest can't keep their hands off each other, but Tempest has a dark secret that threatens not only Skye's heart, but their plan to thwart the Milkman entirely. They say you can never go home again, and maybe that's true. But for Skye Kincaid, it seems like home never stops coming for her.
Heart of Temptation
Pairing: F-F
April 14, 2020
Word Count:
99000
Character Identities:
Ace, Bisexual, Demisexual, Gay, Pansexual, Polyamorous
Summary: Riley's Guardians are breaking apart, and he fears he can't put them back together again. A hybrid born of an Angel-Fallen union, Riley Shepard is an anomaly coveted by both sides of an ancient war. But he doesn't want to fight their war; he has his own battles to face. As his family fractures, bonds are tested, and forbidden feelings threaten to tear his heart into bloody thirds. When the next attack comes—not from the outside but from within—is he strong enough to separate truth from lies, allies from enemies, reality from fantasy? How can Riley know what's true when he doesn't even know what's real? Life isn't simple, love is complicated, and reality is terrifyingly blurry.
***Illusion is the third book in the slow burn harem/poly romance series, Fire & Brimstone, featuring hurt/comfort, broken but brave guardian angels, the first spicy taste of love, and an unlikely hero who learns to embrace his deepest desires. Book 3 is open-ended (no cliffhangers!), but the series will be HEA, I promise. For trigger warnings, see the author's note.***
Illusion
Pairing: M-M, M-M-M, 4+ or Other
June 26, 2020
Word Count: Information not available
Character Identities:
Bisexual, Gay, Questioning, Straight
Summary: Nira. Astrum Industries' newest charted planet. Freshly discovered. Wholly unexplored. But that won't be the case for long. Led by Captain Alec Hamlin, a team of explorers make an emergency landing and are soon confronted by their first Niran native. A huge male Kríe packed with muscle, baring small, black horns and fangs. Fortunately, he's friendly. Or so he lets them believe. With the help of his pack, the Kríe takes Alec's team captive, intending to sell them for profit. But these Nirans aren't just shrewd, they're arrogant and domineering. And most of all, extremely sexual. Which explains why, on their journey to peddle their new wares, they feed Alec's team a powerful aphrodisiac. Nothing like some decadent entertainment on the side. Soon the team finds themselves feverishly trying to resist the growing urge to mount their seductive captors. But as passion prevails and unexpected bonds form, so much more is suddenly at stake. With no time left, will a shift in Kríe perspective be enough to change the fate of Alec's team? Warning: Contains mild dub/con elements, and explicitly scorching gay sex with exotic and shamelessly kinky males of otherworldly descent.
Kríe Captivity
Pairing: M-M, M-M-M
February 29, 2016