Word Count:
17000
Character Identities:
Gay
Summary: In the first book of the series, Life Lessons, MPD detective Mac and high school teacher Tony decided that a closeted relationship was worth the risks and difficulties. Now, in this free short story, they are briefly separated for the holidays by Tony's trip to visit his family. Tony on a Florida beach contemplates the joys and stresses of their hidden life, while Mac in the Minnesota snow handles a murder case that hits close to home. And in the evening, over the phone, they try to reach each other with words. With bonus short story - Getting It Right - Life Lessons Valentines story 1.8. Total 17,000 words
And to All a Good Night
Pairing: M-M
April 18, 2017
Word Count:
10548
Character Identities:
Bisexual, Gay
Summary: A trip to visit his boyfriend Nate's parents during the holidays leaves Emerson a nervous wreck. Bad weather and an unfortunate mix-up leads to an awkward first introduction, and as things deteriorate from there, Emerson begins to doubt if their relationship will survive the stressful weekend. Can Emerson get their relationship back on track and impress the Collins family in time to have a Merry Christmas?
Baby, It's Cold Inside
Pairing: M-M
December 15, 2013
Word Count:
212000
Character Identities:
Ace, Bisexual, Gay, Straight, Transgender
Summary:
On the Right Track
A scandal tore apart the boy band, Vocal Growth, leaving Ru in disgrace. Hiding out in a midwestern suburb, he comes face-to-face with a high school student he hopes can look beyond his past. Can a former pop star find romance with the boy next door? ♥♥♥♥
Unicorns and Rainbow Sprinkles
Dane joined a boy band to escape a rough childhood, only to have it all fall apart when the band broke up. When he lapses into the depths of his eating disorder, fellow bandmate, Tommy, sends a friend to help, filling Dane's life with glitter, sprinkles, and unicorn magic. Will Dane's unwanted guest become his savior? ♥♥♥♥
Tommy's Song
The band fell apart and everyone turned to Tommy, but when he caves to the pressures of celebrity life, who will save him? Lost in the depths of alcoholism and drug addiction, Tommy finds his friends hurt and distant, his family at war amongst themselves, and himself locked away in a rehab facility. His biggest supporter is a girl he barely remembers, who hides a few secrets of her own. Can Tommy work through his past to find a future?
(This novella has never before been released!)
♥♥♥♥
Double Exposure
Tory spends his life snapping pictures, hiding behind the lens, and trying to see the world like everyone else. Autistic and with a strong dislike for being touched, he is surprised when a boy he admires kisses him. Confused by the feelings, Tory is launched into the chance to step out from behind the camera, explore who he is, and find love and acceptance.
Note: Stories feature teens in love with boy band stars or other teen celebrities and real life issues. Sweet romance, teen romance, LGBTQIA+ on the spectrum for teen readers. Novels are re-edited and expanded, previously published under the pen name Sam Kadence. See the look inside for possible content triggers.
Boys Next Door
Pairing: M-M
November 24, 2021
Word Count:
103000
Character Identities:
Gay
Summary: Sometimes a single moment defines a man For homicide detective Mac, it's been a good year. Having Tony to go home to makes him a better cop and a better person. For Tony, it's been hard being in love with a man he can't touch in public. Evasions and outright lying to friends and family take a little of the shine off his relationship with Mac, but Tony is determined to make it work. As the Minneapolis Police Department moves into a hot, humid summer, Mac is faced with a different challenge. A killer has murdered two blond women, and the police have no real clues. Mac hates to think that another murder may be the only way they'll make progress with the case. But when that murder happens, it hits close to home for Tony. And suddenly Mac faces an ultimatum: come out into the sunlight and stand beside Tony as his lover, or walk away and live without a piece of his heart.
Breaking Cover
Pairing: M-M
December 14, 2021
Word Count:
41,000
Character Identities:
Gay
Summary: It had been Tanner's goal to make sure Camden didn't waste another birthday all alone. Yep, his good buddy from college was hell bent on getting Camden "some action" as he put it. In fact, the idiot set up an entire weekend get-away on a private remote island where a group of men, including him, would be playing a very sexy game of chase and capture. Happy Birthday, Camden! Oh yes, it promised to be quite the game. An adult twist on "Capture the Flag". Very adult. Especially when it came to what the "flag" actually was and where it went. The fun, very adult part? You still needed to capture your opponent's flag to win. However, Camden had immediately ended up the prey and that big, sexy, dark haired, muscle bound, relentless god of a man, Gunner, was the hunter. And he was closing in. Shouldn't it be the other way around since this was supposed to be Camden's birthday present? Well, it didn't matter. There were going to be three rounds of this game. And it appeared like this round Camden was going down before he even reached the first check point. Yep. Going down on all fours, stripped, flag confiscated and – well – let's just say he would be screwed. Oh yes, well screwed. So... what was the down side of losing again?
Chase & Capture
Pairing: M-M
November 27, 2017
Word Count:
11200
Character Identities:
Gay
Summary: This is a Life Lessons short story 3.5, occurring a week after Home Work - book 3. (* contains significant spoilers for Home Work*) Mac, Tony, and the kids have had a long complicated year. Each of them has dealt with fears and losses, joys and triumphs. As December 31st approaches, it's time to look forward to the new year, and what may be in store. Mac and Tony figure whatever happens, they can handle it, as long as they go through it together. 11,000 words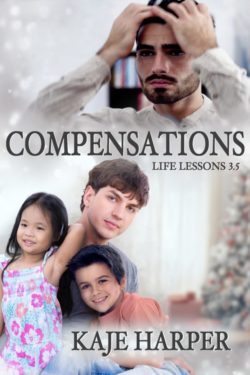 Compensations
Pairing: M-M
December 8, 2012
Word Count:
52000
Character Identities:
Gay
Summary: When a man hits rock bottom, he needs someone to remind him life comes with second chances. Luke Lafontaine lost everything— his father, their family farm, and a whole way of life. He's survived the past year by putting one foot in front of the other in dead-end jobs to survive. Cleaning up city folks' trash at the State Fair is just another two weeks of money between him and being back on the streets. But seeing Mason Bell in the parade— gorgeous, gay, out-of-his-league Mason— stirs dreams he thought he'd given up long ago. Mason left his small hometown for college in Minneapolis without looking back. It's been fun and easy— classes and guys— but nothing has really felt important. Then he spots his high school crush, Luke, picking up trash at the Fair. Mason's done with smooth and easy; he desperately wants a second chance with the boy he left behind. This is a rerelease of the 2018 Dreamspinner Press novella, with only minor editing changes.
Fair Isn't Life
Pairing: M-M
July 7, 2020
Word Count:
119,600
Character Identities:
Gay
Summary: Hi, my name is Trevor. I'm a wolf shifter. I say that like I know what I'm talking about. I don't. I was simply running off a ton of steam one day when I was about eleven and bam! Okay, not quite that easy or fast but it happened when I was young and stupid. I'm also gay. I say that like I know what I'm talking about with that too. I simply don't. I'm grown up now and living in the big city which has me too busy to much care about either one of those things. I get out and run my wolf when I can, trying like hell to stay out of the local pack's territories. Belonging to a "family" just sounds like too much work. I honestly don't have time for such things. Besides, I was told when I was young the color of my wolf was all wrong. Too silver I guess. Metallic. I thought it looked cool in the full moon. "An Alpha would kill ya soon as look at ya." My grandpa used to say. Course he wasn't my real grandpa. Just an old man who lived down the street. But he was a shifter too and I thought he knew it all. He probably knew diddly shit either but a guy can't be too careful. So romance? Way off the radar. But then someone started killing wolves. Started leaving lined up broken bodies all in a nice little row next to the high school in my home town and it got me to thinking. If a shifter is killed in his or her wolf state, does he/she stay that way? Were these dead wolves like me? I had to see what I could do. Kind of like a super hero. Oh yeah. Probably forgot to tell you this. I can turn invisible. Yep, Ghost Wolf to the rescue.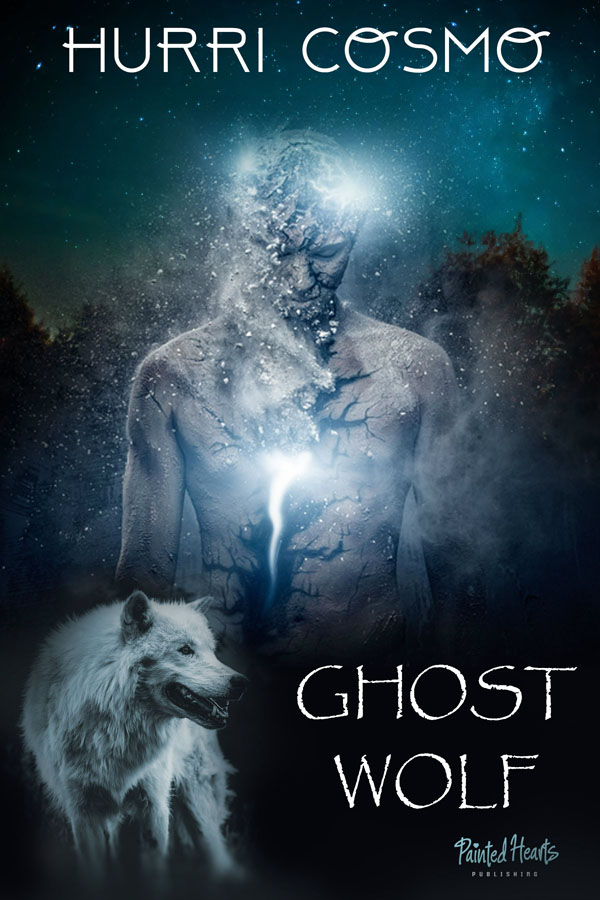 Ghost Wolf
Pairing: M-M
January 18, 2018
Word Count:
107000
Character Identities:
Gay
Summary: Murder, trauma, and raising children - who said love was easy? Mac and Tony thought the hard part was over. They're together openly as a couple, sharing a home and building a life with their two kids. It's what they dreamed of. But daughter Anna struggles with the changes, Ben is haunted by old secrets, Mac's job in Homicide still demands too much of his time, and Tony is caught in the middle. It'll take everything these men can give to create a viable balance between home and work. Especially when life refuses to give them a break. (This suspenseful mystery-romance is a lightly edited rerelease of the 2012 original.)
Home Work
Pairing: M-M
January 6, 2022
Word Count: Information not available
Character Identities:
Bisexual, Gay
Summary: Kiss, Kiss! Stories of Love and Cake - is a collection of gay romantic stories exploring love and the pursuit of happiness, featuring some of LE Franks' most beloved characters. From a squirrely shifter to holiday angst, from the poignant search for acceptance and love to the testament of enduring friendship in the face of loss. LE Franks explores the human condition with humor and a touch of snark, while making her men jump through hoops for their happily-ever-afters. This anthology includes selections of shorts and novellas from 2013-2018.
Kiss, Kiss!
Pairing: M-M
September 20, 2019
Word Count:
117,000
Character Identities:
Gay
Summary: Mac is afraid he won't recover enough to go back to being a cop; Tony's afraid that he will. Three months after being injured, Detective Jared MacLean is healing, but he's afraid it may not be enough to go back on the job. He won't give up, though. Being a cop is written deep in Mac's bones, and he'll do whatever it takes to carry his badge again. Tony used to wish he could have Mac safely home, but watching his strong husband battle disabilities is far from Tony's dream come true. When Mac is asked to consult on a case involving one of Tony's students, both men will have to face old demons and new fears to find a way to move forward together. (This is a lightly edited rerelease of the 2013 original, bringing Mac and Tony to their HEA.)
Learning Curve
Pairing: M-M
January 27, 2022
Word Count:
91000
Character Identities:
Gay
Summary:
Mac's three goals: keep Tony safe, catch the killer, don't come out. Tony Hart's a dedicated teacher, though he's not much older than his high-school students. Between his profession, a few good friends, and plenty of books, he's content with his quiet life. Then the murdered body of another teacher falls into the elevator at his feet, and Tony's life becomes all too exciting. Jared MacLean is a homicide detective, widowed father to a young daughter, and deeply in the closet. But from the moment he meets Tony's blue eyes in that high school hallway, Mac can't help wanting this man in his life. Mac's not out ― can't afford to be out ― but Tony makes him want the impossible. Mac isn't the only one with their eyes on Tony, though. As the murderer tries to cover their tracks, Mac has to work fast or lose Tony, permanently. (This is a rerelease of the 2011 original with light editing.)
Life Lessons
Pairing: M-M
November 14, 2021
Word Count:
80000
Character Identities:
Bisexual
Summary: Some things you can't just blurt out… right? When you've shared a kiss with your best friend and it blows your mind—and other parts of your body—it's inevitable that everything changes. That's the way it now is with me and Jayden Moore, my best friend who thought he could rock my world with no consequences, all while throwing me his signature grin. But this is Jayden we're talking about. He gets himself into unexpected trouble no matter what, and when visiting Australia, I'm compelled to make sure he doesn't get eaten by a croc or try to steal a kangaroo. Like the glutton for punishment I am, I follow him. And that's all great until my desperation and big mouth send our worlds spiraling. Apparently, we're now officially a couple. And because of course it goes one step further, I've now got my very own fake fiancé. Being in the media is one thing, but being inspiration for others creates a whole new set of guilt and problems. But we'll tackle it together and find our way back to how things were. And if that's not possible, just maybe Jayden and I can find ourselves with a brand-new label. One that's real, and one I don't run from. That's the thing with Jayden: he has a way to extract my secrets. Whether he's prepared for them or not.
No More Secrets
Pairing: M-M
March 16, 2022
Word Count:
84000
Character Identities:
Gay
Summary: Some things you can't take back. If you say those words, get caught glancing at his bulge, or share a heated kiss, it's game over. The "no take backs" rule strikes, and there's no way you can backtrack. That's the way it's always been with me and Nate Griffin, my old best friend who thought he could change the rules. It doesn't matter that time and distance have pulled us apart. I've finally figured myself out and yanked my head out of my backside. Now, if only I can drag myself out of the closet and be the man I want to be for Nate… But I'm a pro basketball player who has no desire to be a poster boy. Not only that, Nate and I don't even live in the same country. Nate, big-hearted guy he is, takes it all in his stride, and I can't help but wonder if just maybe he's too good for me. But hell if I can resist him. It all boils down to: Do I want to take anything back when it comes to Nate Griffin?
No Take Backs
Pairing: M-M
November 10, 2021
Word Count:
72000
Character Identities:
Bisexual, Gay
Summary: Pining for your best friend sucks ass—and not the good kind of sucking. But I can't back away, and I definitely can't let go. Eddie Phelps is too damn important to me. He has my heart and soul. Well, he and his daughter, a ten-year-old who one day will run the world. It's not like I can even blame Eddie for mixed signals or anything. He's done everything right. He always does. Honestly, that's part of his problem. But I won't put pressure on him. That means it's down to Eddie to see how freakin' awesome a catch I am. I just have no idea how exactly I'll get him to do that. Sure, I'm a professional basketball player. But once upon a time, so was he. It's going to take something huge to get him to see beyond my age *cough immaturity cough*. But since Eddie isn't one for making wrong moves, I'm not sure a grand gesture will work. That leads me back to pining, and hoping somehow, someway, he'll see me as more than a joker. More than his best friend—even though I'm a kick-ass one. Maybe someday, he'll know I'm exactly the person he needs to make the move on.
No Wrong Moves
Pairing: M-M
October 20, 2022
Word Count:
6400
Character Identities:
Gay
Summary: Sometimes you have to go home again. When Bryce Edwards left Minnesota for the bright lights of Hollywood ten years ago, he was determined not to look back. He's built a solid acting career through his own hard work and talent. But when he finds himself unemployed right before Christmas, the memories he's been ignoring start to rise up and annoy him. Maybe it's time to take a different approach; maybe it's time to confront his past and not just use it as motivation for his next angsty scene. If he can make peace with what happened back then— the small-town bigots who drove him away, and his first boyfriend who refused to leave with him— maybe he'll be free to move on to something better. He's not sure what "something better" will look like, but he's finally ready to get on a plane, go home, and find out. 64,000 words
Second Act
Pairing: M-M
January 4, 2015
Word Count:
110000
Character Identities:
Gay
Summary: He can find a use for his lover's hands…except when he needs help the most. Kellen is short on cash—at least until his first novel starts to sell—but he has plenty of friends. None of them, unfortunately, share his love of books. For that he turns to IM chats with Mike from his online book group. Though he manages to coax the shy, socially inept pathologist into a real-time meeting, Kellen has no intention of letting his new friend become more than a casual lover. Shaky finances and ailing mother aside, self-sufficiency is Kellen's prime directive. Mike considers himself a nerd of the highest order—short, bespectacled, prone to blurting out the wrong thing at the worst possible time. Meeting Kellen face to face is the biggest risk of his life, and he wonders if they'll get more body parts together than just their faces. First meeting leads to first date—first everything for Mike—and soon Kellen's faced with breaking his just-friends-with-benefits rule. Yet as his elderly mother wanders deeper into senility, Kellen wonders if it's better to lean on Mike rather than fall.
Sole Support
Pairing: M-M
June 4, 2013
Word Count:
38,000
Character Identities:
Gay
Summary: The Minneapolis/Saint Paul 77th police precinct has been labeled as a group of misfits. It's unfair. In reality, they have loads of talent. Paranormal talent. Except, of course, no one knows that. Their job? Chasing and capturing all those creepy crawly things that go bump – or worse – in the night, and sending them back to their realms. In other words, they keep the people of the city safe and totally unaware that doors to other realms even exist. Nick, their boss, is the keeper of those cosmic openings. He is the only one who can find, open, shut, and more importantly, seal other-worldly realm doors, preferably with its scary and sometimes homicidal inhabitants on the other side. Vicious hungry monsters waiting for Nick to mess up. Or for an opening Nick misses. From a single tear comes an unspeakable horror. A dangerous vampire. Ferociously brutal, he is a killing machine. A creature so lethal it will take Nick's entire team and absolutely all their power to hunt him down to send him back. And the last thing Nick needs is another partner. Especially one as sexy as Arrain. But Arrain intends on being more to Nick than just a partner. Much more. Something Nick cannot allow. Not with the devastating secrets he harbors. Except Arrain has a few secrets of his own and one thing he knows. Nick is next on the vampire's list. The handsome monster wants not only to seduce the talented Door Keeper, but to suck his power over doors right out of him. If that happens, the world of humans is doomed. Can Arrain make Nick trust him in time to save him?
The Door Keeper
Pairing: M-M
November 30, 2018
Word Count:
151000
Character Identities:
Gay
Summary: At seventeen, Rick Albright left his home, his parents and even his old name, rather than pretend to be straight. But being on his own was hard. When his big brother Sam found him, and insisted on giving him a place to stay, he didn't resist too long. Living with Sam is better than fighting just to survive, but it's not easy to find his balance in a simple, small-town life, after his time on the streets. Travis Brinkerhoff finally managed to come out in college, his second year anyway. It was the one bright side to losing his baseball scholarship and jock status. But without money for tuition, second year came to an abrupt end. He's back in his small Minnesota hometown, and back in the closet. Travis feels like he's trying to fit into a life he's outgrown. If he's going to survive, he has to figure out a way to be his own man, maybe even have his own man, without losing the family he loves. When he left the Marines, Sam Albright wanted nothing more than to find his missing younger brother. Mission accomplished. Now he's got an independent, possibly traumatized, openly gay young man on his hands, a girlfriend in a war zone overseas, and parents he has to lie to in order to keep the peace. Keeping it all together won't be easy, but Sam has never backed away from a challenge. 145,000 words
The Family We Make
Pairing: M-M
August 14, 2014
Word Count:
21000
Character Identities:
Gay
Summary: Jesse Calhoun met Devin Palmer five years ago, in front of a Christmas tree at a friend's party. It was Jesse's first holiday alone, away from home. Devin didn't have much of a home to go back to. They found a way to make the season brighter, together. Four years ago, Jesse brought Devin to his parents' house and came out to them. It wasn't all roses, but his family came around, and Devin has spent each holiday with the Calhouns since then. Jesse really loves sharing Christmas with his family, and sharing his family with Devin. So he isn't prepared to hear his mom say, "I don't want Devin to come to the house for Christmas Eve this year." Suddenly it's not smooth sailing, keeping peace with the family he was born with. 20,000 words
The Family We're Born With
Pairing: M-M
December 14, 2013