Word Count: Information not available
Character Identities:
Gay
Summary: Drew needs to start over and the only place he can think to go is back home. Back to Monroe, Iowa where he grew up. The one place in the world he hates. Back to all the people he left behind after high school. Back to Paul. Paul knew Drew was back in town, now he just had to get his attention. He had let him get away once before, it wasn't going to happen this time. Not if Paul had anything to do with it.
20 Years Worth of Time
Pairing: M-M
December 28, 2012
Word Count:
12000
Character Identities:
Gay
Summary: Can thirty minutes change your life? Maybe it can, or maybe it can't. Either way, if you had the chance to sit down with someone you thought hated you, do you think you could find common ground? Charlie and Aiden have known each other since the third grade, but both boys have very different memories of the moments they shared. While Aiden remembers love taps, Charlie remembers a bully who made his life even more miserable than it was and still does to this day. So why does Aiden pick on Charlie if he actually likes him? Maybe he just doesn't know any other way to show Charlie how he feels. Unfortunately, every action has a consequence and he's about to lose the best thing that's ever happened to him if Aiden doesn't change his ways. Join best selling author Daniel Elijah Sanderfer for this short, sweet, enemies to lovers story about two rival boys who find they may have something in common after all.
30 Minutes or Less
Pairing: M-M
August 7, 2020
Word Count:
12079
Character Identities:
Gay
Summary: Guard your heart, or Jack Frost will freeze it. Jack Frost is all about the freezing cold, and he not only wants to freeze the earth, but he also wants to freeze people's hearts. When he sees two lovers kissing under the mistletoe, he vows to split them up. Teddy and his husband, Kirk, are still in love. Will they let a little frost come between them?
A Frostbite Christmas
Pairing: M-M
December 9, 2018
Word Count:
70000
Character Identities:
Bisexual, Gay
Summary: Mal's first priority is giving his six-year-old son the best Christmas ever, a goal made trickier by a recent move to New England after losing his job. As a single dad, he's not looking for romance—especially not with a blond California boy ten years his junior. After being ridiculed at the family business, Luca sets out to prove himself by opening an eco-friendly gift-wrapping store in a small town with a hard-on for Christmas that's about as far from LA as he can get. Out of his comfort zone in snowy Maine, love is the last thing on his mind. But the magic of the season has other ideas. As Mal and Luca collide on wintery streets, will they let their first Christmas in Lighthouse Bay lead to happily ever after?
A Gift-Wrapped Holiday
Pairing: M-M
November 22, 2022
Word Count:
24000
Character Identities:
Gay
Summary: What surprises await Vic and Kellan when their egg finally hatches? Kellan's new life in the magical town of Vale Valley is filled with more love and joy than he'd ever dared dream of. Even more thrilling is the new life growing inside the egg he and his Alpha wolf mate watch over night and day. When their hatchling still fails to appear after several weeks, Kellan fights his growing fears about the uncertainty of a swan mating with a wolf. All Vic wants is to keep his beautiful swan omega and their egg safe. He'd despaired of ever finding the one who was meant for him, and he'll do everything within his power to protect his true love and their baby. Vic might still be bewildered by nesting and swan cuisine, but whatever his omega wants, Vic makes sure he gets. As Valentine's Day draws near, Vic's plan to do something special for their first celebration of the holiday doesn't seem possible. The egg isn't showing any signs of hatching and no one—not even the avian fertility specialist—knows why. Then, the last person they want to see makes an unexpected appearance. Vic is about to discover how tough his sweet little swan truly is… Note: A Hatchling for Valentine's is the 8th book in Season Two of the multi-author series about Vale Valley, a small magical town open to everyone in need of love and a home. Each installment in the series can be read as a standalone, however, Kellan and Vic's story is a continuation from Season One's A Swan for Christmas. This mpreg romance novella features a swan and wolf who are fated mates and are anxiously awaiting the birth of their first tiny hatchling. So grab a box of chocolates, a glass of champagne and put your feet up and enjoy a sweet dose of smexy mpreg.
A Hatchling for Valentine's
Pairing: M-M
February 8, 2019
Word Count:
21534
Character Identities:
Bisexual, Gay
Summary: Josh has stepped back into the closet for a guy, but how long can he stay there? Life in a college town suits Josh Cassidy. He has good friends and neighbors, and the bookshop café he runs with his family is thriving. As the winter holidays begin, Josh finds himself enamored with police officer Alex Curiel, an old friend who has recently moved back to town. The trouble is, Alex isn't ready for the world to know he's attracted to men. At Alex's request, Josh agrees to closet their relationship, though the secrecy quickly becomes a burden. When Josh realizes he is falling for Alex, his ability to hide his feelings from the world begins to slip, and he's forced to decide if love is enough to keep him hiding behind closed doors. A Hometown Holiday is a 21.5K sex-buddies-to-lovers MM novella. It features a bookshop owner with a fondness for jazz music, a closeted cop who could be Mr. Right if only he'd give himself a chance, and the warm, fuzzy HEA that both guys deserve.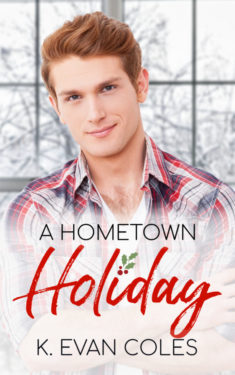 A Hometown Holiday
Pairing: M-M
December 12, 2018
Word Count:
21000
Character Identities:
Gay
Summary: Ethan Carson can't bring his father back, but he can give his widowed mom a perfect Christmas. He's spent all his savings on her wish list and found an epic tree. But when he starts to decorate with the family heirlooms, he finds her favorite ornament, the one his father bought on their honeymoon, is broken. The last time glassblower, Nico Kazan celebrated Christmas his boyfriend died. He woke up in the hospital alone and guilt-ridden. When Ethan, the object of his secret crush, asks him to recreate a broken Murano ball, the last thing he wants is to recreate a symbol of love—not when he knows love doesn't last. With Christmas orders coming in, only Ethan can convince Nico there's more to life than money. And only the magic of Christmas can open a heart sealed up tight. It'll take more than skill to recreate the Murano ball. It'll take a Christmas miracle.
A Hundred Promises of Love
Pairing: M-M
December 8, 2017
Word Count:
37,000
Character Identities:
Gay
Summary: Sheriff Avery O'Rourke has tried to obey his strict Christian faith and lead a "normal" life. In 1923 in a rural East Texas town, "normal" means heterosexual. A cholera outbreak has made Avery a young widower, so he is married to his job. When a murder investigation forces him to confront his truth, will he finally be able to accept being gay? Veterinarian Garland Sands has returned from Europe to take over his father's practice. Struggling with shellshock (PTSD) and heartbroken by the suicide of his French lover, he resigns himself to a quiet, solitary life as a country vet. But the murder of the town doctor brings the sheriff to Garland's doorstep looking for help with the investigation. Seeing Avery awakens dormant feelings. Can he love a man who hates what he is? This isn't the lavish 1920s of The Great Gatsby. This is the flip side of that coin—rural East Texas. No electricity. No indoor plumbing. No flappers. In 1923, the timber barons have left and racism, homophobia, and sexism thrive. A Little Sin is a realistic mystery with unlikely heroes and a timeless romance between lovers caught in a world where their love is forbidden. This book contains steamy sex scenes and is intended for adults only.
A Little Sin
Pairing: M-M
February 24, 2018
Word Count:
47570
Character Identities:
Gay
Summary: Nigel wouldn't mind if Asher called him Daddy if the age-gap didn't bother him so much. Nigel Blackburn has lived a full like as a private investigator. His job means he travels solo a lot, which is something he enjoys. He's a grouchy, stubborn dragon shifter who is better off alone. The last thing he wants is a mate and certainly not one so young. It doesn't matter that he finds little bobcat shifter, Asher Burkhart, sexy. But all Nigel's dragon wants to do is protect, which is good because danger drives into town. A Little Unsteady (Wingspan #4) is a continuation of Solid Ground (Wingspan #3). For the best reading experience, read them in order.
A Little Unsteady (Wingspan 4)
Pairing: M-M
October 9, 2020
Word Count:
30000
Character Identities: Information not available
Summary: Christmas has come on the ridge, Levi and Travis are busy getting ready for the biggest celebration the old farmhouse has seen in years. But a cloud of sadness still haunts Levi after losing both of his parents only a month ago. Meanwhile, Jeannie is seven months along in her pregnancy and has a bad case of the holiday grumps, and when the city council asks her to play The Virgin Mary in the town Christmas Parade she must decide whether she wants the responsibility, and when her husband Tony has to work; she asks her ex-fiance Jake to play Joseph, making his husband Shane jealous. Back At Magnolia, While he is searching for decorations in the attic he discovers a secret his father had kept hidden from him and his mother for years; he has a half-brother, and it's someone he and Travis have met before. Join Daniel Elijah Sanderfer and the cast of characters you have come to love for the epic seventh book in the Best Selling Magnolia Ridge Series. Even if we aren't feeling the holiday cheer, Christmas still lives in all of us. We just need help finding it sometimes.
A Magnolia Christmas
Pairing: M-M
December 17, 2018
Word Count:
32100
Character Identities:
Gay
Summary: An Alpha wolf and an omega swan can't be fated mates… Right? Abandoned by his swan herd and lost in a snowstorm, Kellan has nowhere to go. When he's near death, he's discovered by a wolf shifter in the woods surrounding a mysterious town filled with magic and hope. Could there also be love? Vic, the owner of Vale Valley Inn and Restaurant, has been alone since a virus claimed the lives of most of his pack. He's found acceptance and built a good life for himself in the beautiful town that has become his home. Still, facing another Christmas without a mate is heartbreaking, even if he's accepted that he'll never find his true wolf omega. When Vic rescues Kellan, he plans to do anything he can to help the skittish man forge a new life in Vale Valley. He's all too familiar with having to start over. But as they grow closer, something else starts happening that he's not familiar with—the mating pull and a swan's heat. A Swan for Christmas is the fourth book in a multi-author series about Vale Valley, a small town open to everyone in need of love and a home. Each installment can be read as a standalone. This mpreg romance story features an omega virgin desperate for love, a lonely Alpha who is perplexed by the mechanics of nesting and a whole lot of hurt/comfort and smexy times.
A Swan for Christmas
Pairing: M-M
December 7, 2018
Word Count:
41591
Character Identities:
Gay
Summary: Opposites attract when the timid bar owner asks out the resident bad boy. Brad Flynn's reputation doesn't change just because he has. Prison might not have been fun, but he'd made the most of it. Since his release, he's tried to make the most out of his freedom as well. His handyperson business is taking off, but his clientele is in the nearby towns. When local bar owner, Kendrick Ashby, calls him to fix a leaky roof, he doesn't expect the attraction he feels to go anywhere. Kendrick's violent past doesn't make asking him out on a date a simple task. Can Brad be brave enough to start over?
A Tarnished Strength
Pairing: M-M
February 26, 2021
Word Count:
58900
Character Identities:
Bisexual, Gay
Summary: It was just a one-time indiscretion after an intense disagreement with the love of his life, David Fulbright.  But little did Cal Anderson know it would change his life forever.  The fallout would take him on an unusual quest – sometimes wittingly, and sometimes not – across the ocean and even across time.  During that journey, he would learn that his love for David was his destiny in more ways than he could have ever imagined.  And a young man named Gunter from another place and time would be the one to show him how important that love is to him.  Join Cal as he takes an extraordinary journey to find redemption, and to be reunited with the man who was meant to be in his life.
A Triangle of Pink
Pairing: M-M
September 26, 2020
Word Count: Information not available
Character Identities:
Gay
Summary: Free gay shifter novella when you join TJ's newsletter Renny knew the risks when he started working for the Résistance, but he never expected to be captured and branded as a loup-garou and traitor to the State of France by the occupying Germans. Now on the run and wounded, he needs a place to hide and heal. A blacksmith's on the edge of a small town looks like the ideal place. At first Marc doesn't want to believe Renny is a shapeshifter, but his curiosity and desire to help outweighs his caution. It feels good to lie to the soldiers. Better to see the heat in Renny's eyes. One night together makes Marc realize he wants more from life than hot coals and cold nights, but with no end to the war in sight, neither man can make promises. A wolf shifter seeking refuge from the Nazis WW2 Urban Fantasy set in occupied France A Happily Ever After in a time when the world was falling apart "I was intrigued from the minute I read the blurb..." Love Bytes Reviews "They only have a handful of hours together but Nichols captured the energy of the era brilliantly." Boy meets Boy Reviews
A Wolf's Resistance
Pairing: M-M
January 1, 2020
Word Count:
117000
Character Identities:
Bisexual, Gay
Summary:
Brent Weyland was the life of the party until an injury ended his hockey career. Now he's retreated alone to a lakefront house, trying to make sense of a life and body that don't feel like his anymore. Jon Norquist was happily married right up until he wasn't. Now a single father in his forties, he's trying to figure out what comes next. In the meantime, he pours his heartache and regret into the lyrics he sings for the wine bar crowd a couple of nights a week. When a friend coaxes Brent out for a night of wine and music, he puts Brent and Jon on a collision course. Their chemistry is instantaneous. Jon gives Brent's battered body a much-needed remedial lesson in pleasure. And Brent gives Jon a reason to smile again. Multiple reasons, actually. Neither man wants anything serious, but love has a habit of showing up whether it's welcome or not. No matter how hard they try, the two can't help having feelings for each other, even as life continues to throw them curveballs. But they've both got baggage to unpack and hurt to move past, and if they can't leave their pasts in the past, they might just miss out on an amazing future.
Aftermath
Pairing: M-M
March 29, 2021
Word Count:
76,189
Character Identities:
Gay
Summary: Aiden Fisher does well as a New York artist. In fact, he's known among the art elite for being the man to watch. That doesn't keep his critics from arguing that his work lacks personality or emotion. Of course, his life doesn't have much of that either. While perusing a dating site that connects urban gay men to their rural counterparts, Aiden comes across a profile of a Washington state rancher. The silhouetted picture and matter-of-fact language trigger his inspiration and spin him into a creative journey that ends with a collection that surpasses perfection. After his collection sells to a prestigious buyer, Aiden feels he has no choice but to meet and thank his muse. Little does he know the journey to the rugged mountains of Southeast Washington could change his life forever. Devin Pearce is tall, built and remarkably handsome, all of which is accentuated with the personality of an angry bear. When he first comes upon Aiden, he can't see past his anger -- this stranger is here because his nosy housekeeper set up that damned profile. But Aiden isn't a typical stranger, not only does this man have the looks but he has a work ethic Devin has seldom seen in another man. Sure, Devin wants love, but experience has taught him to be leery. Can he trust his instinct that Aiden is an extraordinary person, or will he let the tragedy of past relationships get in his way? The fire between them burns hot, but they are truly opposites. Only the fates know if they are brave enough to overcome their differences and build the relationship they both dream of.
Aiden Inspired
Pairing: M-M
April 15, 2019
Word Count:
68,500
Character Identities:
Ace
Summary: Three cheating girlfriends in a row have given skateboarder Brennan Cross the same excuse: he wasn't meeting their needs. Desperate and humiliated, he goes to the professionals at the local sex shop for advice. Zafir Hamady, a sales clerk at Red Hot Bluewater, has an unusual theory: he doesn't think Brennan is a bad lover. In fact, he doesn't think Brennan is heterosexual. Or sexual at all, for that matter. He also can't stop thinking about Brennan. But even if he's right and Brennan really is asexual, that doesn't mean Zafir has a chance. Brennan's never dated a man, and Zafir's never met anyone who's game for a Muslim single father with a smart mouth and a GED. Brennan's always thought of himself as straight. But when sex is explicitly out of the mix, he finds himself drawn to Zafir for the qualities and interests they share. And Zafir can't help enjoying Brennan's company and the growing bond between Brennan and his son. They work well together, but with so many issues between them, doubts creep in, and Brennan's struggle with his identity could push away the one person he didn't know he could love. * * * * * * * The BLUEWATER BAY stories can be read in any order - jump in wherever you'd like!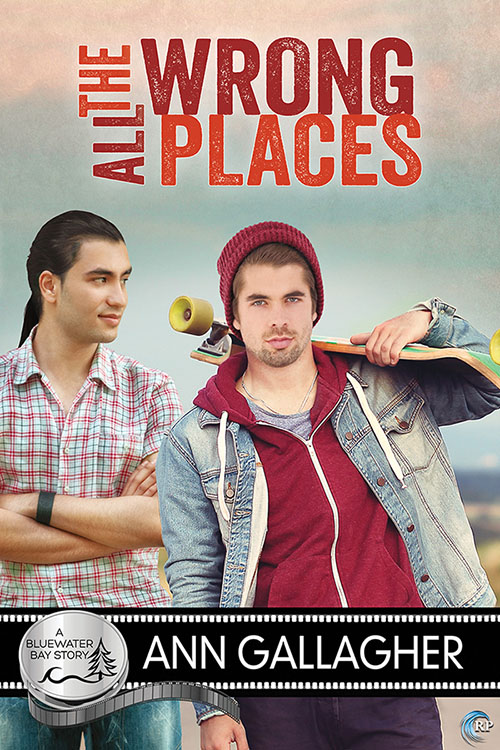 All The Wrong Places
Pairing: M-M
June 13, 2016
Word Count:
18000
Character Identities:
Gay
Summary: Escape with Leo and Zak in outback Australia as they discover it sometimes takes time, distance, and interfering family to amalgamate. After five years of living in the UK, it's time for Leo to return home to his dad's stud farm in outback Australia. He has no idea what to expect when he arrives. He didn't exactly leave with balloons and banners. Nope. His farewell involved destruction and his own heart split in two. He knows seeing the man who's always held his heart, Zak, is going to be awkward. The older farm manager made his feelings pretty damn clear when Leo hightailed it out of there. Leo quickly figures out life is going to get complicated and a whole heap more exciting as his trip home becomes so much more.  Amalgamated is a fun and steamy M/M short story in Becca Seymour's Coming Home collection. Stand-alone romances complete with heat, wit, and happily ever afters. 
Amalgamated
Pairing: M-M
September 28, 2019
Word Count:
12900
Character Identities:
Gay
Summary: As a soldier, Dustin Cooper survived his unit being blown up. His twin brother didn't survive the blast, and Dusty knows he's lucky just to be alive. He doesn't feel lucky. Crippled and scarred in the explosion, Dusty can't even go to the local grocery store without being called a monster by any kid who gets a good look at what's left of him. When Dusty collapses in the aisle, he wakes to an angel looking down on him. Benjamin Newell offers hope, offers help. That he's gorgeous only makes the whole situation more tense. But Dusty is determined to overcome his injuries and the trauma of the past without any charity from a stranger. There's only one thing he wants from his grocery store savior—a date.
American Pride
Pairing: M-M
March 1, 2017
Word Count:
82000
Character Identities:
Gay
Summary: JAKE I knew my life would change when I followed my best friend across state lines and transferred to the Reedsport Police Department. I just wasn't prepared for how much. From the moment I meet him, CJ Reyes isn't what I expect, and neither is our chemistry. The fire with him is like nothing I've felt before, both in and out of the bedroom. His sexy sapphire eyes are cracking the walls around my heart, and for the first time in my life, I'm not rushing to repair them. But can I trust him with the heaviest burden of all: the dangers of my career? REYES After being cut from the national team in Mexico, I'd hoped to get away from it all when I accepted a temporary coaching position in a small town in South Carolina. The reprieve doesn't come, though, thanks to my family constantly breathing down my neck and the uncertainty of my future looming over me. Then I meet Jake, whose humor and understanding feel like my only way out of the darkness. Our fiery nights and growing friendship make my loss feel a little less devastating and my future less bleak. But when I'm forced to make a decision that could change my life forever, will Jake see reason? Or will I end up losing something far more valuable than the world championship?
And Then You
Pairing: M-M
May 1, 2019