Word Count:
12000
Character Identities:
Gay
Summary: Can thirty minutes change your life? Maybe it can, or maybe it can't. Either way, if you had the chance to sit down with someone you thought hated you, do you think you could find common ground? Charlie and Aiden have known each other since the third grade, but both boys have very different memories of the moments they shared. While Aiden remembers love taps, Charlie remembers a bully who made his life even more miserable than it was and still does to this day. So why does Aiden pick on Charlie if he actually likes him? Maybe he just doesn't know any other way to show Charlie how he feels. Unfortunately, every action has a consequence and he's about to lose the best thing that's ever happened to him if Aiden doesn't change his ways. Join best selling author Daniel Elijah Sanderfer for this short, sweet, enemies to lovers story about two rival boys who find they may have something in common after all.
30 Minutes or Less
Pairing: M-M
August 7, 2020
Word Count:
56,025
Character Identities:
Bisexual, Lesbian
Summary:
Annie Slocum is a bisexual woman struggling to make a living as a freelance writer. Stuck in a rut, she feels bored with her career, her relationships—her life. A chance meeting with Siobhán at a gallery adds a bright spark to her dull life.
Siobhán Murray is a lesbian Irish painter living in Boston. She loves her career, loves her life, but she's missing the one piece that will make her life complete—a partner. She falls hard for Annie and is delighted to realize Annie inspires her work. But a string of failed relationships has left her wary of bisexual women and wondering if she can trust that Annie won't leave her.
When Siobhán's past comes back to haunt them, they'll have to decide if the new relationship is something that will burn bright and end quickly or if it's meant to last.
A Brighter Palette
Pairing: F-F
June 30, 2017
Word Count:
37,000
Character Identities:
Gay
Summary: Sheriff Avery O'Rourke has tried to obey his strict Christian faith and lead a "normal" life. In 1923 in a rural East Texas town, "normal" means heterosexual. A cholera outbreak has made Avery a young widower, so he is married to his job. When a murder investigation forces him to confront his truth, will he finally be able to accept being gay? Veterinarian Garland Sands has returned from Europe to take over his father's practice. Struggling with shellshock (PTSD) and heartbroken by the suicide of his French lover, he resigns himself to a quiet, solitary life as a country vet. But the murder of the town doctor brings the sheriff to Garland's doorstep looking for help with the investigation. Seeing Avery awakens dormant feelings. Can he love a man who hates what he is? This isn't the lavish 1920s of The Great Gatsby. This is the flip side of that coin—rural East Texas. No electricity. No indoor plumbing. No flappers. In 1923, the timber barons have left and racism, homophobia, and sexism thrive. A Little Sin is a realistic mystery with unlikely heroes and a timeless romance between lovers caught in a world where their love is forbidden. This book contains steamy sex scenes and is intended for adults only.
A Little Sin
Pairing: M-M
February 24, 2018
Word Count:
45000
Character Identities:
Bisexual, Gay
Summary:
Tre Derringer, perpetual underachiever with negative self-esteem, made a mistake. If he'd been a sleeper—sans and unaware of superpowers, that is—he would've gotten a slap on the wrist. Too bad Tre has awakened hot-thermal superpowers, so he ended up in lockup instead.
One year later, Tre's picked up from prison by a mysterious woman called Amy, who turns out to be a recruiter for an activist group—or so they call themselves. New Dawn, New Day's leader, Vic, is out to bring the presence of the awakened to sleeper attention once and for all, by any means necessary.
Tre becomes a part of the ND2 commune, committed to their mission. But then, at a summer music festival, he runs into a crush from his past, Dorian Archer. Dorian's compassionate, cheerful, and even hotter than he used to be. He might just manage to keep Tre from making an epic mistake… or he might not.
It's only the biggest secret in the world at stake, after all.
While all other Superpowered Love books can be read in any order and without previous knowledge, A New Beginning works better after reading at least book 2, Riot Boy and book 5, Re-entry Burn.
A New Beginning
Pairing: M-M
September 3, 2021
Word Count:
45,000
Character Identities:
Gay
Summary: Gay American Dom with a fabulous sub juggles romance and bondage with Scotland Yard police work. Book 1 in the the Vasquez Inc series, spinoff from Vasquez and James. When Brian Harrison first met Jackie Vasquez at a Hawaiian wedding, Jackie was sixteen and troubled. Six years later they meet again; Brian's career at Scotland Yard is budding with promise, while Jackie's student days at the University of Nebraska are rolling toward a strong finish. Magnetic mutual attraction pulls them insistently toward one another, but the ocean separating their lives makes for a simmering romance. When the waiting ends and they get together for a weekend in Denver, Dom Brian and sub Jackie both know they've tapped into something scalding hot, and much deeper than sharing an artful session. Shibari, lust, and love are all on the agenda -- but for Brian, so is his police career, and a strange series of crimes seems poised to threaten their romance -- and maybe their lives.
A Shot of J&B
Pairing: M-M
November 1, 2019
Word Count:
48000
Character Identities:
Gay
Summary: Deep love, hot kink. Secrets call for a shot of trust when true danger lurks in LA's hidden places. __________ Brian Harrison wants to keep everyone safe -- especially his beloved sub, Jackie Vasquez -- and he's convinced the only way to do that is to dig ever deeper in a forbidden investigation. Keeping his activities secret from the State Department means keeping them from his own boss, Luki Vasquez, and keeping secrets from Luki means Jackie can't know either. Meanwhile, Jackie keeps his own secrets as his kind heart and indomitable spirit drive him to find and help a mysterious homeless woman, who may be connected to a kidnapping. Both men dance around dangers lurking in LA's hidden places. Love continues to grow, adventurous kink heats up, and a marriage proposal still hangs in the balance. Can a willing shot of trust keep them together and alive when secrets collide?
A Shot of Trust
Pairing: M-M
April 24, 2020
Word Count:
49,000
Character Identities:
Gay, Transgender
Summary: After Andrew Wentz loses his job, his parents take pity and invite him to join them on a Mediterranean cruise. He jumps at the chance, but once he's aboard, he feels guilty. Shouldn't he be figuring out what to do with his pathetic life instead of lazing around on a ship? The cruise was supposed to be Eric Schofield's honeymoon, but one cheating fiancé later, he's traveling solo. Fine. He's been working too much anyway, so a vacation is exactly what the doctor ordered. He's on a boat with plenty of hot men, and he's determined to invite as many of them as he can into his stateroom's king sized bed. When the two men run into each other—literally—it's crush at first sight. Now Andrew can't think of anyone else, and Eric only wants one man in his bed. The sparks fly, and it's the perfect vacation fling, especially since ten days isn't nearly enough time to develop feelings. At least, it's not supposed to be.
Adrift
Pairing: M-M
May 7, 2018
Word Count:
88084
Character Identities:
Gay
Summary:
Introduction to the set
With the Queen due for her annual visit to Balmoral Castle, Constable Aidan Williamson has been transformed overnight into an undercover detective for Police Scotland. He's managed to emerge from his first case (
Where There's Smoke
) with only a bullet wound and a few other scars no one can see. He's also become deeply attracted to Kenneth Logan, an enigmatic hermit who chooses a stone tent and hard floor over a comfy flat with a soft bed. His second case (
Deep Fury
) takes him once more to a property owned by Her Majesty—but this time another monarch takes top billing. A very old secret hidden by Queen Victoria has become a cause for murder. At her famous Widow's House on a lake in the Highlands…and in his own private life with a hot Scot named Logan…there's a smoldering deep fury at work, and Aidan's determined to get to the bottom of it. In
Spilled Passion,
a hidden crime has been uncovered in the same place the royal party is set to visit soon. Aidan, rookie dick, is struggling to confront his demons—and his angels too. Who's the killer? A pillar of the local church…a couple of horny adolescents…a protective kinsman of the dead man's wife…or the sweet widow herself? This time around, the edges are blurred more than ever in a mystery and a buried secret that spill all the way into serious romance.
Aidan Undercover: The Box Set
Pairing: M-M
May 20, 2020
Word Count:
149,000
Character Identities:
Bisexual, Gay
Summary: The star of the University of Virginia theater department, Aidan Emery is lusted after and admired for living out and proud. He uses his talent and good looks to his advantage and never sleeps with the same guy twice. But his glamorous patina has been carefully honed to hide the pain he carries inside. Aidan wasn't always such a player. He starts college naively romantic, hungry for the attention he can't get from his workaholic father and mentally ill mother. Unfortunately, that leaves him ripe pickings for predatory professor Rodney Montgomery. Rodney's flattering regard seduces Aidan into a dysfunctional relationship that destroys his innocence. Life looks up for Aidan when he finally breaks free of Rodney's pull and moves to New York City to make it as an actor. Meeting sweet fellow actor Patrick Jaymes seems like the start of a fairy tale. But before Aidan can rebuild his life into happily ever after, family secrets rip him wide open, leaving him easy prey when Rodney decides he's not willing to let Aidan go.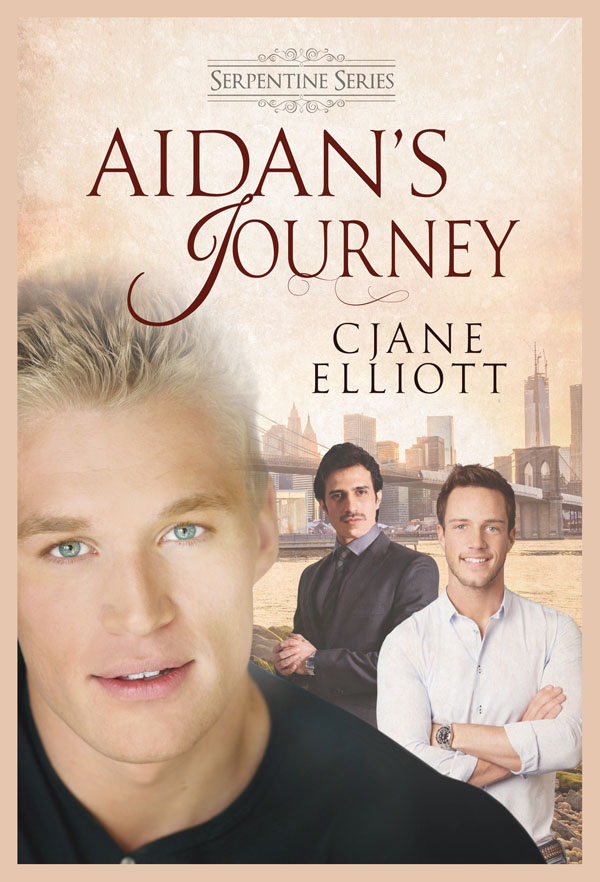 Aidan's Journey
Pairing: M-M
October 15, 2014
Word Count:
18000
Character Identities:
Bisexual, Pansexual
Summary: Alfie Adams comes at life sideways. After unexpectedly losing his job in television, and having the script he's worked so hard on unceremoniously dropped, Alfie turns up at his oldest friend, Jam's, birthday party drunk, pretty sure his world has ended, and that he's about to hit rock bottom with a bone-cracking thud. But it's funny how Jam's little brother, Benji, seems to know exactly what Alfie needs. For the past twelve months Alfie has thrown himself into his job and tried hard not to think about beautiful punk-loving Benji—tried not to see how the sweet kid he used to look out for, and who used to trail so adoringly after him, has grown up into a big lad with an even bigger heart. As Alfie sobers up, he begins to see things with a new perspective, and Benji has his full attention. If only Alfie can admit what it is he wants.
Alfie Adams Comes At Life Sideways
Pairing: M-M
October 4, 2019
Word Count:
70000
Character Identities:
Gay
Summary: A B&B owner takes on a posh hotel developer in this enemies-to-lovers story with plenty of South Florida heat. The grudge match is set to get nasty. Wesley and Nathan are willing to pull out all the stops to achieve their dreams. They just never expected the heat between them to carry over to the bedroom. After one reckless night burning up the sheets, Wes and Nathan can't stay away from each other. But is there any hope of them having their happily ever after when it means someone has to give up his dream?  All For Wesley is a standalone enemies-to-lovers MM romance with sneaking, spying, family troubles, helpful movie stars, one poorly timed hurricane, and all the feels.
All For Wesley
Pairing: M-M
October 4, 2019
Word Count:
20,000
Character Identities:
Bisexual, Questioning, Polyamorous
Summary: On an alien world that crucifies men for prohibited desires, two boyhood best friends risk the ultimate punishment to explore a forbidden passion. Nero: Dex Draven's the most intimidating guy at our intergalactic next-gen leaders' camp, and his psycho galactic tyrant of a dad has a crucifixion fetish. Our two races are deadly enemies, but Dex was my boyhood best friend. Suddenly this summer, he's all grown up—and suddenly he can't seem to stop staring at me. I don't know whether to be afraid that it's all a figment of my telepathic imagination…or that every dangerous desire we're forbidden to acknowledge is real. Dex: I'm one combat-to-the-death away from the imperial command I've determined to achieve. All I need to do is keep my junk in my pants. Besides, Ben the most gorgeous, most maddeningly unattainable, most sought-after guy at leaders' camp. There's no way he'd ever look twice at a buttoned-tight, hypercompetitive, compulsive overachiever like me. Until the night I blunder in on Nero in the shower. Which is a total catastrophic mistake. Now I've heard how sounds moaning my name…how in blazes can I resist him? Because letting Ben Nero in close, the way I'm burning to do, means risking the ultimate punishment. For both of us. Anticipated Angel is a steamy, angsty, friends-to-lovers, first-time MM New Adult sci fi novella and the prequel to the award-winning Astral Heat Romance Series.
Anticipated Angel
Pairing: M-M, 4+ or Other
April 1, 2022
Word Count:
60,000
Character Identities:
Gay
Summary: The 1950s. Postwar exuberance. Conformity. Rock and roll. Homophobia. Russell tells himself he'll marry Susie because it's the right thing to do. His summer job coaching her water ballet team will give him plenty of opportunity to give her a ring. But on the team's trip to the annual Aqua Follies, the joyful glide of a trumpet player's solo hits Russell like a torpedo, blowing apart his carefully constructed plans. From the orchestra pit, Skip watches Poseidon's younger brother stalk along the pool deck. It never hurts to smile at a man, because sometimes good things can come of it. Once the last note has been played, Skip gives it a shot. The tenuous connection forged by a simple smile leads to events that dismantle both their lives. Has the damage been done, or can they pick up the pieces together?
Aqua Follies
Pairing: M-M
June 15, 2017
Word Count:
37000
Character Identities:
Gay
Summary: Sam McAuley isn't having a great start to the summer. Served with papers? Great. He's being sued. Perfect, pristine yard overrun with chickens? What the—? Clearly, the new guy running the animal rehabilitation centre next door has no idea what he's doing. It's one town to the next, one school to the next, one job to the next for Bo Novak. Everything is temporary. Even his current job—running his sister's animal rehab centre while she's away on a four-month leave—is temporary. And he does know what he's doing, thank you very much. Sure, things don't always run smoothly, but the stick-in-the-mud next door could be a little nicer about it. One overheard conversation, an olive branch, and a baseball game might show these guys that being at odds isn't really what they want, and that what they want might just be each other. [As Big as the Sky was first published in August 2017. This new edition has a brand new cover but no content changes.]
As Big as the Sky
Pairing: M-M
August 7, 2020
Word Count: Information not available
Character Identities:
Bisexual, Polyamorous
Summary: The search for the swords brings Douglas and Margaret back to England, where Mystere has hidden the sword Almace -- his own sword. Four months pass with no signs of Mystere, and Douglas and Margaret start to make plans to go in search of him. Then they accidentally become the caretakers of an injured street urchin. The boy — a sweep's apprentice — tells them that there is something invisible haunting the rooftops of London, preying on the children who make their living there. In the absence of Mystere, Margaret insists that they need to help, but Douglas refuses. Margaret defies him and goes anyway, only to discover that what lurks on the rooftops is far worse than she had imagined -- Caedda has taken the rooftops of London as his domain. Worse, he has taken Mystere prisoner, he holds the sword Almace, and he knows that Margaret is there. Trapped on the roofs, unable to reach Douglas, Margaret has to rely on her wits and her memories in order to save Mystere, herself and her unborn child.
Ashes and Light (Swords of Charlemagne, Book 3)
Pairing: M-M-F, M-M-M
July 20, 2021
Word Count:
98500
Character Identities:
Gay
Summary: The tall pines, the thick mist, the birdsong above his head...Barrett loves everything about living outside the remote mountain town of Lake Honor, but especially the peace and quiet. His days as a forest ranger are filled with unpredictable adventure, so home is the one place he knows he can count on. But even home has been a surprise of late, as his next door neighbor and good friend has suddenly passed away, and the house has been sold to someone new. He's not sure this change will be good. When the new neighbor, Ambrose, arrives, Barrett realizes that the man is a loner, like himself, and clearly not looking for a friend. Which is a pity, because Barrett finds him fascinating and incredibly good looking. Ambrose didn't move to the outskirts of nowhere to make a friend. But Barrett, his new neighbor, is kind and generous, and has soft brown eyes he can't stop thinking about. As he slowly warms up to Barrett, fate finds a way to push them together when danger and sabotage strike. Barrett saves Ambrose's life, and their bond is cemented. Ambrose isn't sure about letting in someone new, but Barrett hasn't proven to be anything but a good person. And a handsome one at that. As their lives entangle, and their relationship grows, neither man can ignore the attraction between them. But their pasts are complicated; an ex-boyfriend reappears, an estranged parent tries to get in contact, and Barrett's nephew falls ill. On top of that, the sabotage of forest ranger equipment grows more dangerous and Barrett is pulled into the investigation. Both men want to take their relationship slow, even with all the drama swirling around them. Ask Me For Fire is a love story drenched in atmosphere, suspense, and heartfelt connections. Tropes: forced proximity, slow burn, grouchy loners Content warnings: explicit sex; some violence and danger (mostly minimal and/or off-screen); mental health issues including anxiety and depression; abusive and manipulative family; neglectful family and past relationships
Ask Me For Fire
Pairing: M-M
August 1, 2022
Word Count:
117000
Character Identities:
Gay, Polyamorous
Summary: A rookie, his teammate, and his best friend from a rival team. What could possibly go wrong? Seattle Snowhawks rookie Justin Reid has it bad for his teammate Shawn Kelleher. It's just his luck that Shawn's got a crush too… on Justin's best friend, Vancouver Narwhal center Keith Adams. When Shawn lets it slip at the worst possible moment that he wants Keith, Justin is hurt, but what can he do? He steers Keith in Shawn's direction and lets chemistry do the rest. What Justin doesn't know is that while Keith is into Shawn, he's also secretly wanted Justin since forever. After some stumbling, they realize there's something very hot and very mutual going on between all three of them. It's fantasies coming true left, right, and center, and it just doesn't get any better than this. Except this scorching hot triad is anything but simple. Not while the closeted son of a hockey legend is fighting to make his own name in the shadow of his deeply homophobic father's legacy. Not in the midst of grueling schedules and a team's fraternization rules. Throw in pesky emotions showing up where they aren't wanted, and it's a play that's doomed from the start. Shawn, Keith, and Justin all fought their way into professional hockey. Is what they have together worth fighting for too? Or will fear let heartache win this game? ASSIST is approximately 117,500 words. It's book 2 of the Pucks & Rainbows series, and can be read as a standalone.
Assist
Pairing: M-M, M-M-M
December 26, 2019
Word Count:
20000
Character Identities:
Bisexual
Summary: After years of going unnoticed, the darkness has seen her... Annabel has enough to worry about. She's escaped the suffocating clutches of an abusive religious group. She's safe in a new home, with her supportive roommate, Kat, who makes her heart flutter. Every day is an opportunity to heal from her childhood trauma while she explores paganism and develops a relationship with a gentler deity. She would rather not add another spinning plate to her recovery. But when Kat begins a week-long magical ritual to heal her broken heart, she sprains her ankle on the first day and can't continue the process. And though Annabel knows a romance with her straight roommate is unattainable, she can't stop herself from offering to finish the ritual as a proxy. Annabel's role seems simple enough. She must go to the crossroads every night and deliver an offering to the unseen being who resides there. If she is polite and respectful, then by the end of the week, the creature should remove Kat's heartbreak. There is only one rule: she should not look over her shoulder at the crossing. Because if she locks eyes with the spirit, they could take it as an invitation to follow her home—or keep her. At the Crossing is a 20,000-word monster romance novella. It features a F/NBi pairing involving a human woman and an agender demon. This book is intended only for adult audiences. Content warnings may be found in the book's front matter and on the author's website.
At The Crossing
Pairing: F-NB
October 15, 2021
Word Count:
46584
Character Identities:
Gay
Summary: It's summer 2016 and two years have passed since we've last seen Bryce Harkless. He has moved past that devastating but eventual false diagnosis, but has much changed in his life? Is he still doing the harmful things that caused that initial life-changing scare? As Bryce prepares to head into his senior year of college, he plans a relaxing vacation to travel up the east coast with his best friend. Something unexpected happens while on the trip, so they alter their plans and head to the Midwest. While on that journey, Bryce encounters another life-shattering event that will shake him to his core. This unforeseen circumstance will force Bryce into a decision that'll allow him the opportunity to seek vengeance for a previous wrong done to his family. Will Bryce do what his church upbringing taught him and leave it in God's hands, or will he go out and do his own thing? Where will his relationship with God stand when the dust clears? Jaxon Grant, author of the "Incidental Contact" and "Life of a College Bandsman" series, pens a masterfully woven tale of adventure, crime and consequence, lust, secrets, exploration, revenge and mind-blowing sex. In the final book of this trilogy, join Bryce on this two-week voyage as he learns the hard truth about himself—the truth that maybe he isn't even ready to discover.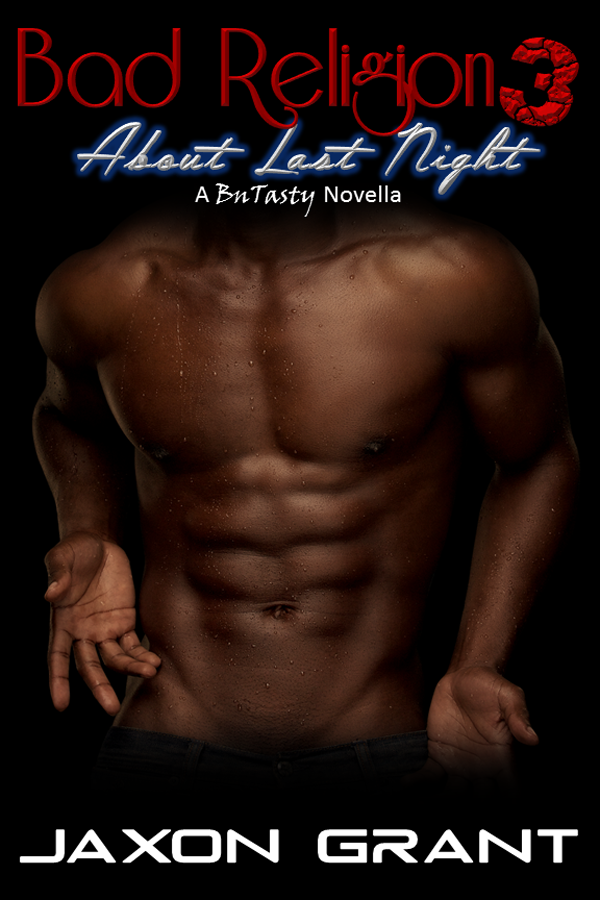 Bad Religion 3: About Last Night
Pairing: M-M
May 22, 2017
Word Count:
90000
Character Identities:
Bisexual, Demisexual, Gay
Summary: Quarter-Finalist in the BookLife Prize Contest "Overall: 9.50 out of 10 Expertly plotted and paced, this romance builds a central relationship that is sweet, sexy, and satisfying. The love story grows through various plot points and conflicts, taking the main characters -as well as a vibrant supporting cast - on an emotionally resonant and heartwarming journey. It's exactly what a good romance book should be. Merrill's dialogue is authentic and exhibits variances of tone and cadence when spoken by different characters; it's distinct and clear. The love scenes are explicit and passionate with an undercurrent of emotion that sets them apart from others in the genre. This swoon-worthy romance between a Marine officer and a rock star charms with a sweet and sexy story that shows how love can heal two hearts touched by tragedy." —BookLife Prize "Over the course of this novel, Merrill writes about this burgeoning connection with smooth confidence...Merrill rests a good part of the story on a realistic appraisal of his characters' fallibility: "People want to think they can handle anything that comes their way, but everyone has a breaking point," Brains reflects at one point. It may seem like a standard unlikely-romance plot at first, but the author offers it to readers with considerable skill and style." —Kirkus Reviews "R.L. Merrill is the reigning queen of romance and rock and roll. Brains and Brawn delivers yet another heartfelt love story with relatable characters whose trials feel steeped in the real world. Like the first book in the series, Summer of Hush, this one gives you a VIP backstage pass to life on a mega-tour. You'll come out feeling like a member of the band.A realistic and inviting love story in the rock-music world.A rock star with a secret is injured in a freak accident. A single-dad Navy corpsman comes to his aide. Neither expected romance to bloom, but now that it has, will their secrets end it before it begins?" —Award-Winning Author Kilby Blades Billy "Brains" Brennan has achieved rock stardom in not just one, but two chart-topping bands, but events from his past have him convinced he's living on borrowed time. Brains and his brothers-in-Hush are ready to take the last cross-country Warped Tour by storm...until the actions of two drunk dudes with bad attitudes set off a chain of events that leave him incapacitated...and face-to-face with a handsome stranger who inexplicably feels like home—and not the home Brains fled at sixteen. Chief Petty Officer Paul McNally has spent his 25-year career as a Navy Corpsman responding to emergencies and caring for wounded soldiers. When fate has him in the right place to provide aid to a fallen rock star, it sends his life spiraling on a trajectory he never planned for. Instead of concentrating on his impending retirement and a second career, he's now playing nursemaid to a fascinating younger man…and falling in love—a fact he can't seem to figure out how to explain to his adult son. A health scare, band drama, and pain from both their pasts threaten to end Brains and Paul's fledgling relationship. Fate brought them together. It will take trust, honesty, and hope to keep them together.
Brains and Brawn
Pairing: M-M
August 24, 2020