Word Count: Information not available
Character Identities:
Gay
Summary: It's July 3, 1976, the beginning of America's bicentennial weekend, and everyone seems to be celebrating their freedoms except eighteen-year-old runaway Michael Ryder. Fresh from rural Pennsylvania, Michael is doing whatever and whoever it takes to get to San Francisco, where he hopes to find a new life with the freedom to love without fear. While hitchhiking, a mysterious, tattooed biker named Snake offers him a ride west—on the back of his customized Harley chopper. During their journey across Route 66, Snake introduces Michael to new and steamy pleasures, leaving Michael aching for more than just a physical relationship. But a violent encounter with a cruel biker gang and a harrowing secret from Snake's military past might destroy their unlikely relationship long before they reach the end of the road.
Easy Ryder
Pairing: M-M
June 23, 2020
Word Count:
48,000
Character Identities:
Gay
Summary: Patrick and Goose are getting married on Halloween. Before they can say their "I dos," however, they must recover both physically and mentally from the tragedy that befell them over the summer. While doing that, a new mystery begins, as several new ghosts enter their lives. Since Jefferson and Daniel were forced apart the last time Patrick and Goose saw them, Goose is convinced these new ghosts are somehow part of a puzzle to get the angelic duo back together. Meanwhile, Carrie gets a job working with children. At least one parent isn't happy about that. Rip and Shelby prepare for the arrival of their little one, and all three help Goose and Patrick with their new paranormal  adventure.  At the end of it all, marriage,  birth,  death, love and romance, plus many surprises abound in Ghosts of Honor.
Ghosts of Honor
Pairing: M-M
October 30, 2019
Word Count:
63000
Character Identities:
Gay
Summary: For Jacob and Daniel, two young gay men aboard a Navy ship in WWII, the risks were high. Not just the risks of injury and death from Japanese planes and submarines, but the risk of discovery, of discharge, imprisonment or worse. Only a special kind of love was worth taking that chance. But from the moment Daniel met Jacob's eyes across a battle-scarred deck, he knew he had to try. Being together required figuring out what it meant to be gay and in love with another man, in an era when they could be jailed or committed for admitting the desires of their hearts. On a ship at war, their relationship was measured in stolen moments and rare days of precious leave, with no guarantees there would be a tomorrow. And if they survived the war, they would need even more luck to keep their love alive through all the years to come. 63,300 words This story was written for a photo and story request letter as part of the Goodreads M/M Romance Group Love is Always Write event. This is a free download in ebook. The audio book, narrated by Kaleo Griffith, is Whispersync'd to the free book on Amazon.
Into Deep Waters
Pairing: M-M
May 8, 2012
Word Count:
78000
Character Identities:
Gay, Lesbian
Summary: Reading Loving Artemis by Janet Mason  is a full-body immersion into the 1970s, with the smells of joints and musk oil, the tastes of beer and lip gloss, and the sounds of motorcycles roaring down a highway. It captures perfectly the days when young queers searched library catalog cards to find "homosexual" books, when teen lesbians felt they were the only ones in the world. More than a coming-of-age story, more than the love story of Artemis and Grace, the novel is also an illuminating and thoroughly enjoyable journey through the decades. I cared about these characters and loved seeing their lives come full circle by the book's end in the 21st century. – Kathy Anderson, Bull and Other Stories Loving Artemis, An Endearing Tale of Revolution, Love And Marriage (Thorned Heart Press, August 2022) by  Janet Mason is a novel that comes just as the hard-won right of marriage equality is being threatened. Loving Artemis appeals to a wide readership, with particular interest to the LGBTQA+ audience. As a love story and a coming-of-age narrative, it holds universal appeal. It is also an important slice of American history -- enticing to those who have lived through it. It also attracts a younger audience who want to learn about the events that led to marriage equality. Artemis found the love of her life when she met Linda, but their passionate relationship fizzles when Artemis lands herself on the other side of the law. Pulling the pieces of her life together, Artemis rekindles her relationship with Linda, and together they raise a daughter. Meanwhile, Grace, running from her past, starts a life with Thalia. At a pride parade, Grace spots someone who reminds her of Artemis, who she was briefly involved with in her youth. Old feelings are rekindled. A lifetime of rejection, abandonment, and fleeing rears its head, Now she must come to terms with her past, put her relationship with Artemis to rest--or risk losing everything. Artemis and Grace embark on a journey of revolution, love, and marriage and discovery that love finds us when we least expect it. Janet Mason is an award-winning creative writer, teacher, and occasional blogger for such places as The Huffington Post. Her book, Tea Leaves, a memoir of mothers and daughters, published by Bella Books in 2012, was chosen by the American Library Association for its 2013 Over the Rainbow List. Tea Leaves also received a Goldie Award. Her work has been nominated for a Pushcart Prize, and her novel THEY, a biblical tale of secret genders (Adelaide Books – New York and Lisbon) was featured at the 2018 Frankfurt Book Fair. Adelaide Books also published her novel The Unicorn, The Mystery late in 2020. She lives and writes in Philadelphia. Her novel Loving Artemis, an endearing tale of revolution, love and marriage was published by Thorned Heart Press in August, 2022.
Loving Artemis, an endearing tale of revolution, love and marriage by Thorned Heart Press
Pairing: F-F
August 11, 2022
Word Count:
47,349
Character Identities:
Gay
Summary: All the Honorable St. John Ashford ever wanted was his father's love, but if he can't have that, he'll settle for being noticed. In an effort to do that, St. John sets his sights on Andrew Dorincourt, a man for whom the Viscount has nothing but disdain. Surely this will draw his father's attention? Unfortunately, while Andrew seems willing to date him, he appears entirely disinterested in anything else. St. John knows it's just a matter of time before all his plans going up in smoke, especially when Andrew becomes attracted to an exotic young man he rescued from Malossini's House of Oddities. Robin Dorincourt is something of a playboy who enjoys nothing so much as flitting from one boyfriend to another. He doesn't poach, though, and when he finds himself attracted to St. John Ashford, he does what he can to keep a healthy distance between them, using taunts and teasing. It's difficult, until he realizes his brother is in love with someone else. Robin's path toward St. John is clear, and he makes his move. But is his path as clear as he imagines? St. John might be as attracted to Robin as Robin is to him, but he'll be damned if he allows himself to be passed from one brother to the other as if he's nothing more than a poor second choice. Now it remains is for Robin to persuade St. John he's no one's second choice.
More, By All Mores
Pairing: M-M
November 28, 2020
Word Count:
36,050
Character Identities:
Gay
Summary: (Scrolls Book Three) Vietnam War vet turned deep-sea treasure hunter Digger Sullivan scratches out a living, and this new commission is just another job—albeit an exciting one—off the Florida coast in 1977. But while exploring the area, Digger and his crew encounter one shark too many. Reef and his shark shifter clan are charged with protecting a vital, magical secret—two of four scrolls that, when brought together, could annihilate shifters across the world. But Reef can't keep his head in the game around this intriguing diver, and it's not long before Digger takes one of the scrolls topside. Reef now has two missions: seduce Digger and recapture the scroll. Despite his attraction to Digger, Reef's priority must be reclaiming the scroll. For Digger's part, he can't keep his eyes off the flirty young man on his boat. While he doesn't know what Reef could want with a scarred old vet, he's not going to pass up an opportunity of pleasure. Unfortunately for Reef, he loses sight of his duty and all his plans go awry. Then Digger's crew is captured by the very person who commissioned them, and Reef and his shark clan are the only things standing between them and death. Second Edition with revised and expanded text.
Predator and Prey
Pairing: M-M
August 10, 2021
Word Count:
106,516
Character Identities:
Gay
Summary: Andrew Dorincourt has the blood of powerful shifters in his veins. It's his job to take care of his siblings, who are his pack, and he has no intention of letting anything get in the way. However, he's seen the love shared not only by his parents but by the Papas, the men who raised his mother, and he wants that for himself. The problem is none of the young women he's dated have left him wanting anything more than to go home alone. Perhaps he'd have more success by dating men, as his brother does. Only it seems he's not very successful at that, either. Da'ric is the son of Ric'u, a Brachi who'd been stranded on Terra for decades, and David Knight, an ichthyologist who traveled up the Amazon in search of his heart's desire. Seeing the deep love his fathers have for each other, Da'ric determines to settle for nothing less. At any rate, the dating pool is pretty much empty in the Lagoon of Dreams, and so he goes to the States, where he intends to become a herpetologist. In order to do that, he must mingle with normals, Terrans who have no idea extraterrestrials share the planet with them. When he walks among Terrans, he must disguise his heritage by wearing sunglasses to conceal his rainbow-colored eyes and long-sleeved shirts to hide his scale-patterned skin. After being kidnapped and sold to a high-ranking member of the London underworld to be displayed as the Snake Boy, Da' despairs of ever seeing his beloved family again, until Drew wanders into the House of Oddities and helps Da' escape. Is it fate, kismet, or destiny that brings together the offspring of two very unique families? Have these two been waiting for each other, and will the future hold the love they'd both been seeking?
Rainbows in Your Eyes
Pairing: M-M
October 7, 2020
Word Count:
133,317
Character Identities:
Bisexual, Gay, Straight
Summary: Sidebars are stories set in the Spy vs. Spook/Mann of My Dreams universe. The stories in this book are told from the points of view of Nigel Mann, Bryan Sebring, Jack Matheson—Wills's dad—a pair of jeans, Michael Shaw, and finally, Wills begins to tell his story. Solo Tu—Nigel Mann, known as the CIA's own Mr. Freeze, and Portia Sebring, the Ice Princess of the NSA, might seem like a match made in the Arctic, but it's exactly what Anthony Sebring wants for his daughter. This story starts the Sidebars, taking place in 1958. Chasing Rainbows—If they're lucky, Sebrings find not only their "one" but their own HEA. However, not all are lucky. Bryan Sebring knows who his "one" is, but the stubborn man is reluctant to face facts. Bryan has the one; will he ever have the other? How to Handle a Gay Son—Jack Matheson learns Wills, his beloved oldest son is gay, and we see how he handles it. The Lick Me, Suck Me, Fuck Me Jeans—Wills's jeans explain how his owner becomes pretty much irresistible while wearing them. Where Have You Been, Willie Boy?—Michael Shaw has been William Matheson's best friend since they met in the sixth grade. Things change when they start college, helped along by those lick me, suck me, fuck me jeans Wills had been given for a birthday present. But Michael isn't gay, and he won't let anyone label him as queer, not even for his best friend. But will his determination drive away the one man he values above all others? Into the Lion's Den—The first of Wills Matheson's stories. We see his relationship with Michael Shaw, with his family, and eventually with the WBIS and Mark Vincent, who becomes his boss.
Sidebars Book 1
Pairing: M-F, M-M
April 17, 2021
Word Count:
71,988
Character Identities:
Gay
Summary: The springboard finals find David leading the best divers in the world, but his internal struggles try to derail his competitive psyche. David must silence the voices in his head to perform a near-perfect final dive and change his life forever. Returning home to Aulden, Ohio, David faces the reality that people aren't what they seem. In August 2016, David agrees to Dr. Warner's unethical form of therapy. Reflecting on the year he turned sixteen, David discovered he had the God-given talent, determination, and a once-in-a-lifetime opportunity. Several things stood between him and a gold medal at the 1979 World Games Diving Championships: his age, inexperience, and family's secrets.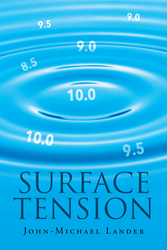 Surface Tension
Pairing: M-M
May 31, 2017
Word Count:
38000
Character Identities:
Gay, Genderfluid
Summary: It's summer of 1977 and sex is on Tracy McCarthy's mind. Newly graduated from high school, the gender fluid teen is now 18 and hell-bent on losing his virginity. On the first day of his final summer off, he discovers sex in a public restroom at the beach. He also meets Angel Rosa, an incredibly handsome Latino who invites Tracy to take a walk on the wild side in unknown territory.
The Rosas of Spanish Harlem
Pairing: M-M
December 4, 2018