Word Count:
311000
Character Identities:
Gay, Lesbian
Summary: Everyone has secrets… but some are fatal. 1932, London. Late one December night Simon Sampson stumbles across the body of a woman in an alleyway. Her death is linked to a plot by right-wing extremists to assassinate the King on Christmas Day. Simon resolves to do his patriotic duty and unmask the traitors. But Simon Sampson lives a double life. Not only is he a highly respected BBC radio announcer, but he's also a man who loves men, and as such must live a secret life. His investigation risks revealing his other life and with that imprisonment under Britain's draconian homophobic laws of the time. He faces a stark choice: his loyalty to the King or his freedom. This is the first in a new series from award-winning author David C. Dawson. A richly atmospheric novel set in the shadowy world of 1930s London, where secrets are commonplace, and no one is quite who they seem.
A Death in Bloomsbury
Pairing: F-F, M-M
November 10, 2021
Word Count:
105000
Character Identities:
Gay
Summary:
The Larkspur Mysteries Book 3
"Despite your adversities, Mr Blaze, you remain unbroken because of who you are, not what you can or cannot do."
Mrs Norwood, October 1890
Shakespeare, the Bible, Edgar Allan Poe… What could a series of random quotes have to do with a masked ball and eight unsolved murders? Archer, Lord Clearwater, is hosting a masquerade at Larkspur Hall, and Prince Albert Victor is the guest of honour. The vitally important event is miles away from London, where Jimmy Wright has enlisted the help of Dalston Blaze and Joe Tanner in solving two mysteries: Who has been sending Archer cryptic notes, and who has murdered eight men on Bodmin Moor? Dalston finds himself the only one who can solve both riddles, but self-doubt, his concerns for Joe, and his newly found admiration for Jimmy Wright are obstacles he must overcome if he is to prevent Lord Clearwater's downfall. But what if the killer isn't after His Lordship? What if the plan is to assassinate the prince? Or worse, someone much closer to Dalston's heart? Agents of the Truth is the third novel in
The Larkspur Mysteries
, and the stories are best read in order. The Larkspur Mysteries follow on from
The Clearwater Mysteries series
, and both feature gay main characters, and are set at a time when homosexuality was illegal. They are a combination of MM/romance, mystery and bromance, and are inspired by historical fact.
Agents of the Truth
Pairing: M-M
February 2, 2022
Word Count:
52663
Character Identities:
Gay
Summary: Past crimes, present danger With a new Police Scotland job, a new-ancient home, a loving pet, and a fresh outlook, Rory and Alex are almost ready for their marriage—as soon as bonnie Scotland can figure out how to do it. Working on the restoration of an old Jacobite tower house, they find evidence of a serious crime. But with no handy forensics lab on the wind-swept heathland, they don't know whether it happened recently, or a hundred years ago. For his part, Alex's new duties also mean a new identity, as he follows the trail of drugs and dirty cops. Former playboy Rory is anything but a detective. But with Alex tied up in his current job, he finds himself chasing down clues to a mystery lurking in Brash Tower itself.  Their independent investigations uncover some startling secrets—and a source of immediate peril—as Brash Tower becomes once again a fortress against brutal enemies. Will Rory and Alex ever tie that infernal knot—or will the high moor become once again a desolate reminder of what might have been?
Brash Tower
Pairing: M-M
January 1, 2022
Word Count:
80,000
Character Identities:
Gay
Summary: In 1888 Austin, Texas, a shy medium with clubfoot is visited by the horrific ghosts of murdered children and enlists the help of a rugged Texas Ranger to pursue their killer. As the two men hunt the murderer, they find themselves not only in the grip of a taboo love that could—at best—send them to prison, but also in danger of becoming the killer's next prey. In the twenty three years of his life, Thomas Carillon has known nothing but unrequited love. People don't notice him; they only notice his clubfoot. He has given himself up to a solitary existence with only the companionship of his cat and the ghosts who visit him. When a rare child ghost, her massive injuries evident, asks Thomas for help, the only law man that will listen is a hard-bitten Texas Ranger who reawaken's Thomas's secret desires. The two grow closer as they chase the killer, but can they hold onto their fragile, budding love in such hard times? Hadrian Burton thinks Thomas looks like an angel, except for whatever horror he's hiding in that strange boot. Temporarily leaving life on the range and his complicated past to track down a killer with Thomas, Hadrian finds himself doing something he vowed never to do again—falling in love. Their "congress," as Thomas calls it, is more intense than he has ever experienced. After a lifetime of virginity, the clubfooted man is going wild, and he doesn't balk at Hadrian's unconventional appetites. But they're too different; Hadrian fears he will only hurt Thomas in the end. And yet, he has never fallen so hard for another man. How can he keep both his and Thomas's hearts from being broken? And how can he bring the elusive Child Slayer to justice with only the help of a medium and ghosts? This erotic gay romance contains violence, period homophobia, period racism, period ableism, and graphic sex scenes.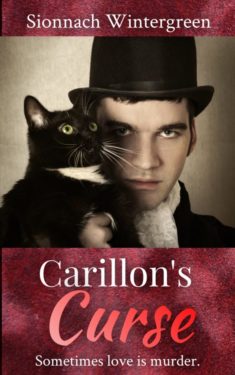 Carillon's Curse
Pairing: M-M
December 10, 2021
Word Count:
40926
Character Identities:
Bisexual, Gay, Transgender
Summary: Nick Fabian never made it as a CSI. His idealistic vision of the police as an institution dedicated to serving justice died in the harsh light of day, and he quit to become a freelance private investigator, taking on cases nobody else wanted to touch. Enter Emily Bright, a woman with a score to settle. Her best friend Sabrina was murdered, but local law enforcement is dead-set on ruling it a suicide. Determined to get justice, she turns to Nick. Nick feels the pain of one of his own and takes on the mantle of finding Sabrina's killer.But Point Clear has skeletons in its closet. A married local school teacher, Connor Long, had an affair with the victim and isn't above threatening Nick to keep his secret safe. Local man Roy Constas took Sabrina home that night, but he swears nothing happened between them. Emily herself raises suspicions when she reveals she was in love with Sabrina, a sentiment that was not returned. If Nick wants to get to the truth, he'll have to cut through the small-town prejudice and lies surrounding Sabrina's death, but that's not easy when the entire system is determined to bury the case and chase Nick out of town...
Clear Motives
Pairing: M-M
November 13, 2020
Word Count:
83000
Character Identities:
Gay, Transgender
Summary: Ghost wards are failing. Mediums are vanishing. Someone—or something—is stirring up the ghosts of Toronto. It's up to psychic medium Harlan Brand to find out why. After defeating a serial killer who could control ghosts, psychic medium Harlan Brand is feeling much more confident in his abilities working for the Toronto Police Service with his partner, Hamilton, as they protect the city from dangerous spirits. He is expanding his social circle, however reluctantly, to include the other police mediums and Morgan Vermeer, another graduate from the Centre—a school for training psychic children. Harlan and his boyfriend, Charles Moore, are continuing to explore BDSM, their relationship and Charles' strange ability to shield people from ghosts. Hoping to find answers about Charles' power and the serial killer, Harlan returns to the Centre only to find that one of its ghost wards—magical symbols that spirits can't cross—is broken, and it's a mystery as to how and why. The calm and order that Harlan has been building up in his life are shattered when wards start failing across the city and mediums begin to disappear, including one of his new friends and a student from the Centre. Someone—or something—is stirring up the ghosts of Toronto. Reader advisory: This book contains scenes of violence and murder. It is best read as part of a series.
Cold Blood
Pairing: M-M
March 8, 2022
Word Count: Information not available
Character Identities:
Gay
Summary: When your only goal is to save the world who's there when you need to be rescued? Boss Most of my life I'd been the savior and sought when anyone found themselves in trouble. It could be to atone for sins of my past or because I was a natural caregiver. Whatever it was I didn't understand how to do anything else. My Outreach Program cared for everyone in the city who needed help and I wouldn't say I hadn't made enemies, but when the protector needed protection I wasn't prepared for Dolan Sharp. Dolan No one did anything for free or out of the kindness of their hearts. That wasn't how the world worked and it was always survival of the fittest. I didn't care what anyone said about the man named Boss. When I witness Boss in action, what I thought I'd believed shattered and I didn't know how to handle that. There's always threats at every turn, it's just a matter of when they catch up with you, but when one jaded man and another with a seemingly deep death wish have to work together who's going to survive the aftermath? (TW: Mentions of childhood sexual, physical and mental abuses. Passive Suicidal Ideation, self-harm and mental illness. These are mainly off-page, but there are details flashbacks and conversations of said acts. Yet if these are triggering for you, please feel free not to read the story. Your self-care and mental health are more important. Thank you.)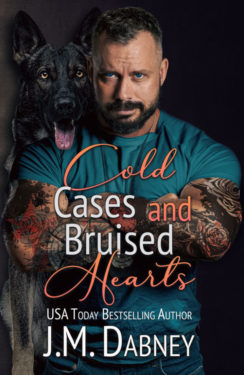 Cold Cases and Bruised Hearts
Pairing: M-M
July 5, 2022
Word Count: Information not available
Character Identities:
Gay
Summary: Time Didn't Heal All Wounds and the Scars were About to be Ripped Open Stevenson When I'd moved from Homicide to the Cold Case Unit my friends headed, I'd thought it would be a new start. The minute my marriage fell apart I'd lost my purpose. Years passed and I hadn't found myself until I'd helped my friends catch a serial killer, but I'd also found friends and family. As I'd searched for a case among dusty boxes, a decades' old murder and missing person case caught my attention. The autopsy report send me to the M.E.'s office and the man I'd avoided for months. Doc Making death my job didn't allow for normal friends, but the dead needed an advocate and it was the only purpose I'd known. Being an Medical Examiner was all I'd had for decades and I didn't know what to do outside my job. I had a group of friends, all worked in law enforcement and forensics, but one thing was missing. Short, adorable middle-aged men weren't getting swept off their feet. When my secret crush, needed my help with a case to the detriment of my sanity I said yes. All I had to do was not be my weird self and blurt out everything in my head. When a missing person case turns out to be more than it appears can Stevenson keep Doc safe from a twenty year old threat? (TW: Mentions of childhood sexual, physical and mental abuses. Passive Suicidal Ideation, self-harm and mental illness. These are mainly off-page, but there are details flashbacks and conversations of said acts. Yet if these are triggering for you, please feel free not to read the story. Your self-care and mental health are more important. Thank you.)
Cold Cases and Dark Secrets
Pairing: M-M
February 22, 2022
Word Count:
40671
Character Identities:
Bisexual, Gay, Transgender
Summary: Nick Fabian has settled into life in the small Maine town of Point Clear with his boyfriend Roy Constas, but work in the P.I. business is slow. Struggling for money and a sense of purpose, he considers working at the local laundry with Emily, but the news that his old crush Lieutenant Scott Mordis has been murdered in Philadelphia ignites a deep yearning he'd been trying to snuff out. With their last parting a bitter one, Nick is conflicted about returning to Philly, but is driven by the force of his emotions to obtain justice for Scott. Roy insists on tagging along for the ride, refusing to be left behind. He's jealous of Nick's affection for his former mentor and boss, and the two men face their first major hurdle as a couple. Nick's journey will plunge him back into a cold case—that of Aiden Winters, the murder that drove a wedge between him and Scott in the first place—and he'll unearth connections between the two cases better left buried in the past…
Cold Winters
Pairing: M-M
June 30, 2021
Word Count:
64548
Character Identities:
Bisexual, Non Binary, Transgender
Summary: What if cyborgs suffered body dysphoria? In his mid-forties, former cop turned career bureaucrat Nolan Rogers is diagnosed with terminal cancer. His best friend Elly Takahara convinces him to undergo the process of body conversion, where his brain is transplanted into a robotic body. The operation is successful, but Nolan quickly finds himself adrift in a body that doesn't eat or physically react to emotion. For the first time in years, he's suffering from a new kind of body dysphoria, a sensation he hoped to have left behind when he transitioned to male decades ago. During this crisis, he meets Tallis, a proud nonbinary body convert who sued his parents for the right to give up his flesh and blood body. Tallis is fire to Nolan's water, and whereas Nolan just wants to fit in, Tallis is determined to stand out in a world where being a cyborg marks one for discrimination and worse. Despite hitting it off poorly, an undeniable attraction blossoms between the pair, and they become entwined in a complicated relationship. Nolan can't understand Tallis, but he wants to. Trapped in his own narrow confines of what he believes the world to be, Tallis challenges everything he thought he knew. Can Nolan learn to love who he is now, or will he find himself drawn into the ranks of the Regretters, an organization of cyborgs campaigning to outlaw body conversion altogether?
Conversion Dysphoria Blues
Pairing: M-NB
May 24, 2022
Word Count:
50K
Character Identities:
Gay
Summary: Derek "Crash" Wheeler never really wanted to make detective. He was a good marine and a great beat cop, but now he has to deal with cases like the one that just landed in his lap. Multiple deaths. Probably a serial killer. And if that isn't bad enough, now he has a crazy ex-profiler calling and texting, acting like he knows exactly what's going on. Matthew Herrera has more than one clue about Derek's case. He worked on a serial murder case once that took everything away from him, and while the perpetrator went to jail, Matthew knows the case isn't over. This murderer likes to play games, and he doesn't work alone. Racing against time, Derek and Matthew have to learn to work together to solve this case, and they find they have a chemistry they can't deny, even if it feels selfish to indulge. People are dying out there, and it will take all their skills to work out this puzzle before it's too late, or before one of them becomes the next victim.
Cryptic: Puzzles, Book One
Pairing: M-M
August 17, 2021
Word Count:
26000
Character Identities:
Gay
Summary: Wilderness tour guide, Patrick Morgan, wakes to discover Harlan Quinn—the man he'd invited home for the night—has left, with no traces of his presence. Disconcerting as that might be, Patrick is shocked when the police turn up a week later, demanding to know Harlan's whereabouts. He's an ex-patrol officer, accused of manslaughter. Harlan Quinn is desperate. Not only has he been dismissed from the Space Patrol, on a charge he strongly denies, but now he is on the run.   He can't find a legitimate job. With no money and no prospects, what's left? When Patrick's tour group is caught up in a kidnapping plot, the last person he expects to run into is Harlan. With everything he knows, can Patrick dare to trust him?
Dangerous Love
Pairing: M-M
October 19, 2021
Word Count:
79,025
Character Identities:
Bisexual, Lesbian
Summary: Solving mysteries is her business. Finding love is her dream. Will combining the two get her killed? Victorian Era England. Stetson revels in being unconventional. So when society shies away from her independent nature, the bold woman creates an imaginary boss and opens her own detective agency. And her keen observational skills, convincing disguises, and Holmesian methods quickly bring in a string of tough-to-crack cases. Struggling to squeeze a personal life in around a series of hazardous investigations, Stetson worries she'll never find a woman of like-passions. But with her heart set on true love despite the risk, she carries on hunting for the perfect relationship. Will her clever escapades lead to death… or delight? Daring Duplicity: The Wellington Mysteries, Vol. 1, Adventures of a Lesbian Victorian Detective is a collection of five sequential novellas, each encompassing its own exciting mystery while furthering the story of Stetson's life in London. If you enjoy crime dramas, Victorian era fiction, or a sweet lesbian romance, then you'll love award-winning author Edale Lane's Daring Duplicity. Order yours today!
Daring Duplicity, The Wellington Mysteries, Vol.1
Pairing: F-F
January 19, 2022
Word Count:
54750
Character Identities:
Gay
Summary: DOA becomes BRB when this client goes MIA… When I agreed to accompany my selkie boyfriend on a private boat trip, I didn't realize the invitation included a swim. In the Pacific. In November. Naked. And I certainly didn't expect to have our swim derailed the instant I got in the water—holy crap, that's c-c-cold—by a literal boatload of selkie clan leaders. Climbing out of the water in front of them—did I mention naked? Yeah, way to make a brilliant first impression. Then things get worse: I get served. Not in the metaphorical sense, either. Nope, I'm being sued. By Death. Well, not Death precisely, but an Ankou—a Celtic psychopomp who escorts the departed to their final destinations. This guy is miffed that his workload has increased exponentially, which he blames on my actions in Sheol on an earlier case. I'm not about to take the heat when eons of shady demon shenanigans finally come home to roost, but here at Quest Investigations, we aid any and all supernatural folk in need—especially if they'll drop their specious lawsuits against the agency's lone human. When the Ankou skips out on us, though, all hell breaks loose. Because without anyone to lead them on, the dearly departed become nearly departed and stick around to party hearty. Now it's not just the selkie leaders complicating my love life—it's the ex-living as well. And when one of the ex-living decides not to remain ex? Things get really complicated, not to mention deadly. Dammit. Death on Denial is the fourth in the Quest Investigations M/M mystery series, a spinoff of E.J. Russell's Mythmatched paranormal rom-com story world. It contains no on-page sex or violence, and although there is a romantic subplot, it is not a romance. The series is best read in order.
Death on Denial
Pairing: M-M
March 27, 2022
Word Count:
115000
Character Identities:
Gay
Summary: Luca thought keeping me out of the Family business would keep me safe. He was wrong. Now his own life is hanging in the balance. While our enemies stalk us, long-buried secrets begin to resurface, and I'm not sure who we can trust. But I won't let anyone take him from me. No matter what I have to do. I meant every promise I made to Luca in my marriage vows. And now it's time to make good on them -- for better or worse. Till death do us part? Over my dead body. I've been underestimated my whole life. But if there's one thing our enemies should have counted on, it's my love for my husband. My devotion to the Don. *** Join Finch and Luca in a dangerous, action-packed, steamy adventure that takes them from New York to Boston, through Roman ruins and a Venetian masquerade, as they redefine their marriage and search for a way to eliminate their enemies for once and for all. Devoted to the Don is the sixth and final book in the Morelli Family series.
Devoted to the Don
Pairing: M-M
December 26, 2021
Word Count:
73000
Character Identities:
Gay
Summary: Vampires and werewolves live long lives. The Sleepless City saga might have ended but the story continues… Someone is hunting supernaturals.  Vampire Simon Hawthorne and his human partner Ben Leyton's plans for a peaceful holiday with family are hijacked by the New Zealand Supernatural Council. Tensions are on the rise in Wellington. Supernatural councillors are disappearing. Werewolves are suspicious of anyone human or vampire. If they don't work together, their enemy has already won. And no one with a connection to the supernatural world is safe.
Double Exposure
Pairing: M-M
July 11, 2022
Word Count:
50750
Character Identities:
Gay
Summary: Something's definitely fishy about this case… On my last stakeout for Quest Investigations, I nearly got clotheslined by a grove of angry dryads. I expected my bosses to reprimand me, but instead they handed me my first solo assignment. Me! Matt Steinitz, the only human on the Quest roster! Okay, so the mission isn't exactly demanding. Obviously, the bosses wanted to give me something they think I can't screw up. I'm determined to show them what I can do, however, so I dive right in with no complaints. At first glance, it looks as simple as baiting a hook: A selkie's almost-ex-husband is vandalizing his boat with unwanted deliveries of deceased sea life. All I have to do is document the scene, tell the ex to cease and desist, and present the bill for property damages. Boom. Mission accomplished, another Quest success, and as a bonus, I get to keep my job. But then things get…complicated. Suspicious undercurrents muddy up my oh-so-easy case. Nothing is as clear as it should be. And the biggest complication? My inappropriate attraction to the client, who may not be as blameless as he claims. Turns out those dead herrings aren't the only things that stink about this situation. Dammit. Five Dead Herrings is the first in the Quest Investigations M/M paranormal mystery series, a spinoff of E.J. Russell's Mythmatched paranormal rom-com story world. It contains no on-page sex or violence, and although there is a romantic subplot, it is not a romance.
Five Dead Herrings
Pairing: M-M
September 4, 2021
Word Count:
103000
Character Identities:
Gay
Summary: Forgive when there is nothing to forgive, and forget when there is. Barbary Fleet, September 1890 Bodmin Moor, Cornwall, September 1890 Deaf since birth, Joe Tanner is destined for a life of misery in the workhouse until Lord Clearwater offers him a place at the curious Larkspur Academy in Cornwall. There, while adjusting to his new life, His Lordship challenges Joe to unlock the mystery of the Colvannick stone row. As Joe sets about his task, he suspects a connection between the standing stones and a series of unsolved murders. The problem is convincing others, and his obsession soon threatens his relationship with his lover, Dalston Blaze. Joe's determination to unearth the truth also jeopardises his place at the academy, but a man's life is at stake, and the only one who believes in the mysteries of the past is Joe — and the killer who is prepared to murder anyone who interferes. The second of The Larkspur Mysteries continues from book one, 'The Guardians of the Poor.' The Larkspur Mysteries are inspired by existing locations and newspaper reports from the time, and combine fact, fiction, adventure and bromance. If you have not yet read the preceding series, 'The Clearwater Mysteries', you might like to start with book one, 'Deviant Desire.' There are 11 books in the ongoing series including a prequel, 'Banyak and Fecks' which can be read first although it is not a mystery. To get the most out of it, you should read it just before you read book nine, 'Negative Exposure.'
Keepers of the Past
Pairing: M-M
November 4, 2021
Word Count:
68000
Character Identities:
Bisexual, Gay
Summary: August Morrison and Ricardo Torralba would really like to live a quiet life—as quiet as life can be for a couple of eccentric hitmen, anyway. Unfortunately for them, they pushed their luck with the authors and demanded a second book. So now, whether they like it or not, they're getting a third installment. Yes, this is a revenge book. Because we're the authors, that's why. This time, August and Ricardo are in way over their heads, because there are few things more dangerous than owing a favor to the mafia. When that favor gets called in, though, it's not to kill anyone—it's to save them. Time is running out to find the source of tainted street drugs poisoning innocent people. Now they're caught in the middle of a deadly war between rival families, all while trying to dodge suspicious police and merciless drug cartels. Maybe this time, August and Ricardo will learn their lesson and not demand another book… assuming they survive this one. Killer vs. Kingpin is book 3 in the Hitman vs. Hitman series that seems to have evolved from an alleged "standalone" to "yeah, we don't even know." They're just too much fun to torture! Err, write. Too much fun to write.
Killer vs. Kingpin
Pairing: M-M
March 29, 2022
Word Count:
56057
Character Identities:
Bisexual, Gay, Non Binary
Summary: Edgar Tobias works as a freelance computer programmer in the city of Anver. Desperate to escape his deceased fathers' fame as a hit singer-songwriter duo, he left the city of Kasyova and the arts behind. He doesn't know he's about to be targeted in a vicious murder game where the prize is a million dollars in cryptocurrency to the first person who can capture his murder on video. Reis Asher lost everything in the Anverite civil war ten years ago, including their mother. Their father created the agreement known as Unification, which joined Anver and Kasyova to create the Twin City-States of Anver-Kasyova, ending the civil war and ushering in a new era of peace and prosperity. When they discover the Killing Game, they know that it represents a threat to everything they hold dear and set out to stop it. But powerful forces are at work that refuse to be undermined by one stubborn soul and their sense of justice. Someone wants Edgar dead, and they'll stop at nothing to see him six feet under… even if that means Reis and other innocent bystanders get caught in the crossfire.
Killing Games
Pairing: M-NB
April 5, 2021