Word Count:
62000
Character Identities:
Gay
Summary:
When evil stirs in the shadow of the Rocky Mountains, heroes come in both ordinary and extraordinary packages. Ignatius Faber knows a few things for absolute certain. He's half-demon, his father is the unequivocal prince of darkness, and demons want to destroy his city. And if he doesn't make the first move on his crush, they're never going to be anything more than a teenage fantasy that's lasted into his thirties. Lalo Pavia grew up hard and fast, orphaned at a young age.  As an autistic, he's learned to approach life cautiously. He throws his energy into gardening and photography—allowing both to provide a buffer between himself and the rest of the world. Except for Iggy. Can they find triumph, life, and even love in the middle of a city in flames? Their fight for the mile high city has just begun.
Here Comes The Son
Pairing: M-M
July 27, 2019
Word Count:
42,000
Character Identities:
Bisexual, Pansexual
Summary: Sekwistli's entire life revolves around sacrifice. He gives his blood to beg for rain, for the harvest, for prosperity. He sacrifices for their once flowering city. He sacrifices for the good of their dying land. He sacrifices for himself. After a night of sacrifice goes too far, he meets a blind healer who attempts to heal him of more than just his physical ills. But sacrifice is ingrained in Sekwistli's soul. In Pain, In Pleasure is a 42k fantasy novella featuring some dark themes and a bittersweet m/m love story.
In Pain, In Pleasure
Pairing: M-M
April 6, 2019
Word Count:
125000
Character Identities:
Gay
Summary: In the blink of an eye, everything can change. That's what happened to Andrew James. One minute he was just an average IT guy, working for a large company. The next he was waking up in a hospital bed as a powerful psion. Learning to navigate the unfamiliar world of psions as an adult is a daunting prospect. And as Andrew's carefully constructed life falls apart around him, the only one helping him hold the pieces together is Oscar Watkins. The anchor from Mount Hope Hospital who saved his life. Oscar has worked at Mount Hope for almost a decade. And not once has he experienced the deep connection to a patient he feels toward Andrew. While he finds his work rewarding, it's also demanding and emotionally exhausting. When Andrew arrives in a psionic crisis, it sets off a chain of events that changes everything for Oscar. While Oscar struggles to find a balance between work and a personal life, Andrew struggles to rebuild his life. Andrew turns to SPIRE. But his new senses soon reveal that everything is not as it appears, leading him to wonder what SPIRE is hiding. This urban fantasy M/M romance contains themes including a verbally abusive ex, a workaholic, and a homophobic family of origin.
Keen Sense
Pairing: M-M
April 28, 2019
Word Count: Information not available
Character Identities:
Bisexual, Transgender
Summary: It's been three years since Micah's spouse, Cat, passed away at the age of thirty-six. In the process of cleaning his house, Micah discovers a series of letters Cat hid before he died, in which he made one request: that Micah empty his life of Cat as a way of moving on. Micah has been able to work through his sorrow, but he's unable to fulfill Cat's last wish. He can't see a way past his loneliness despite all the caring people around him. Enter two new friendships. Jude, Micah's vivacious new coworker, brings joy back into his life. But she has a big secret about her family, and the truth will rock Micah's understanding of who she is. Chris, the new minister at Cat's former church, intrigues Micah. Unlike Jude, Chris is an open book, from his musings on theology to his work as a trans advocate and activist. His gentle manner and deep faith become safe space for Micah to open up about his loss. Through them, Micah becomes involved with the town's new community center, where he offers a creative writing class. Using Cat's detailed letters, he fictionalizes their love story to share with his students. In doing so, he at last begins to sort through his complicated grief. Micah learns he doesn't have to erase his life with Cat in order to make new memories. He may even be falling for Chris, despite their vastly different spiritual views. With a little help from family and friends, Micah will need to open his heart to love completely again.
Keeping the Faith
Pairing: M-M
November 1, 2017
Word Count:
111,000
Character Identities:
Gay
Summary: Isaac Morris has devoted his life to preaching against the sin of homosexuality. But when his sister proposes a documentary to demonstrate once and for all that it's a choice—with Isaac choosing to be gay as proof—he balks. Until he learns his nephew is headed down that perverted path. Isaac will do anything to convince the teenager he can choose to be straight . . . including his sister's film. When Isaac's first foray into the gay lifestyle ends with a homophobic beating, he's saved and cared for by Colton Roberts, a gentle, compassionate bartender with a cross around his neck. Colton challenges every one of Isaac's deeply held beliefs about gay men. He was kicked out by homophobic parents, saved from the streets by a kind pastor, and is now a devout Christian. Colton's sexuality has cost him dearly, but it also brought him to God. As the two grow closer, everything Isaac knows about homosexuality, his faith, and himself is called into question. And if he's been wrong all along, what does that mean for his ministry, his soul, his struggling nephew—and the man he never meant to love?
Lead Me Not
Pairing: M-M
August 24, 2014
Word Count: Information not available
Character Identities:
Bisexual, Gay, Genderqueer, Lesbian, Polyamorous, Straight, Transgender
Summary: From Christmas to Easter and from childhood through the end of life, here are ten interconnected stories revolving around one couple and the people who love them. These are tales of friendship, family, sensuality, and all the intimate moments that make them who they are, together and apart. The stories fill in the gaps before and around the events in the other novels in the Passing on Faith series. Included: A youth embraces his identity; two women build a life together; a former rebellious teen finds her way; a pair of lovers explore each other's bodies and minds; a man copes with loss and grief.
Leaps of Faith
Pairing: F-F, M-F, M-M, M-M-F, Includes NB
July 12, 2017
Word Count:
132448
Character Identities:
Bisexual, Gay, Straight
Summary: Zach's grandmother has been warning him about an evil presence in his life from the moment he stepped foot on the campus of Florida A&M University. That evil shows its face in book four. Also, Zach's faith is put to the ultimate test as he takes several major blows to his life. Will he come up standing after all the dust settles or will he drown in his pity? Dwight is at a crossroads in his life. What will he do when he can no longer hide from himself? What will become of Zach and Dwight's relationship? Will they finally take it to the next level? Three major events happen in Tony's life over the next five months that will rock him to his core. Everything that he has worked so hard for could be gone in a matter of seconds. What will Tony do when the world turns its back on him? Will he survive this terrifying time in his young life or will he succumb to the pressure? Micah takes a turn for the worse as some of his darkest secrets are exposed. The stress of life is wearing him down as he continues to battle being in a dysfunctional relationship. He is silently crying for help, but is anyone listening? Will someone be able to save him or is it already too late? All hell breaks loose in the fourth book of this eleven-book series. The ending sequence of events is guaranteed to leave you shocked. The lives of all of these characters will be forever changed! Nothing will ever be the same after this.
Life of a College Bandsman 4: Hell on Earth
Pairing: M-M
February 11, 2016
Word Count:
300000
Character Identities:
Ace, Bisexual, Gay, Lesbian, Non Binary, Straight, Transgender
Summary: Liminal Sky chronicles humankind's first journey to the stars. The first three books - the Ariadne Cycle - cover the creation and launch of Ariadne (aka Forever) as she was grown from seed on an asteroid and then launched across the interstellar void. The books are told in epic fashion, with each broken into three parts that span generations. THE STARK DIVIDE Some stories are epic. The Earth is in a state of collapse, with wars breaking out over resources and an environment pushed to the edge by human greed. Three living generation ships have been built with a combination of genetic mastery, artificial intelligence, technology, and raw materials harvested from the asteroid belt. This is the story of one of them—43 Ariadne, or Forever, as her inhabitants call her—a living world that carries the remaining hopes of humanity, and the three generations of scientists, engineers, and explorers working to colonize her. From her humble beginnings as a seedling saved from disaster to the start of her journey across the void of space toward a new home for the human race, The Stark Divide tells the tales of the world, the people who made her, and the few who will become something altogether beyond human. Humankind has just taken its first step toward the stars. THE RISING TIDE The Earth is dead. Five years after the Collapse, the remnants of humanity travel through the stars inside Forever: a living, ever-evolving, self-contained generation ship. When Eddy Tremaine and Andrissa "Andy" Hammond find a hidden world-within-a-world under the mountains, the discovery triggers a chain of events that could fundamentally alter or extinguish life as they know it, culminate in the takeover of the world mind, and end free will for humankind. Eddy, Andy, and a handful of other unlikely heroes must find the courage and ingenuity to stand against the rising tide. Otherwise they might be living through the end days of human history. THE SHORELESS SEA Rise of the Inthworld. The fight for the future isn't over yet. It could lead to a new beginning, or it might spell the end for the last vestiges of humankind. The generation ship Forever has left Earth behind, but a piece of the old civilization lives on in the Inthworld—a virtual realm that retains memories of Earth's technological wonders and vices. Lilith leads the uprising, and if she sets its inhabitants free, they could destroy Forever. But during the ship's long voyage, humanity has evolved. Liminals with the ability to connect with the world mind and the Inthworld provide a glimmer of hope as they face not only Lilith's minions, but the mistrust of their own kind as homotypicals fear what they can't understand. The invasion must be stopped, the Inthworld healed, sothe people of Forever can let go of their past and embrace their future.
Liminal Sky: Ariadne Cycle Complete Box Set
Pairing: F-F, M-F, M-M
March 17, 2021
Word Count: Information not available
Character Identities: Information not available
Summary: All it took was one kiss… …one kiss that changed my life and turned my world upside-down. My dad is gonna freak when I tell him my secret…my truth…unless he finds out first. No one will ever treat me the same at Benedictine Catholic High School. I'll be made fun of, cast out, or worse, beaten for being different…for being me…for falling in love with the wrong person… …because I didn't do what I was told …what was expected …what was morally acceptable. But I can't help it. I could get lost forever in Tommy's emerald green eyes, those eyes that see deep into my soul and move me like no other. How the hell am I gonna tell my parents that I'm gay? Love's Hope is the second book of the Love Grows in Honest Places series. Get it now.
Love's Hope
September 3, 2019
Word Count: Information not available
Character Identities:
Bisexual, Gay, Straight
Summary: Phin Patterson is an educational consultant dissatisfied with his job and his life. On a mission to complete one last assignment before escaping his unfulfilling career and figure out what he wants, he accepts a commission from Donald Murdock at the New York State Education Department. Suddenly, he finds himself on his way to evaluate a tiny school in New York's Southern Tier, not far from the town where he grew up. Now his only goal is to get in, do his job, and get out before anyone from his past remembers him. That turns out to be easier said than done. Dani Sloane, the sharp-witted administrative assistant to the principal, learns the truth about why Phin is really there. With the help of her friends, she sets out to unmask him and force the local board of education to stop the plans that could ruin their school. Discovering that her sometime-lover is an old business associate of Phin's only complicates both the situation and their relationship. Meanwhile, Phin, who has committed himself to keeping his emotional distance, can't resist the charm of the town and its residents—especially the school psychologist, who turns out to be an old friend he hasn't seen in over twenty years. While Dani works to take him down and save her school, Phin wrestles with learning how to do the right thing, including telling the truth to the man with whom he's already falling in love.
Lower Education
Pairing: M-F, M-M
November 1, 2014
Word Count:
48000
Character Identities:
Gay
Summary: For the last five years, Veier has been chained to a king's throne in his bear form. When a neighboring kingdom overthrows the crown, Veier's imprisonment ends, but true freedom is not so easily earned. With blood on his hands, he needs someone with patience, strength, and trust to help him become the person he was before and prove to the invaders that he isn't the monstrous king's loyal pet. Elrid, the invading king's brother and a powerful mage, is everything Veier despises. He's also the only thing between Veier and execution, because he thinks he can help Veier change from an aggressive bear shifter into a reasonable man. While the pair have a rough start, with long talks and mutual leaps of faith, they begin to care for each other. However, the closer Veier gets to his freedom, the closer he is to losing Elrid. He must find balance in his heart and his life if he wishes to truly claim the freedom he's been given—and the man he loves.
Magic Runs Deep
Pairing: M-M
April 9, 2018
Word Count: Information not available
Character Identities:
Gay
Summary: The Mob sent him to kill me, but he owed me a debt… Years ago I saved his life, and we spent one hot night together before he disappeared. Now this bad boy's all grown up, and living a dangerous life. But when his Family decides to send a message to my father, it's my life on the line. Only he can't bring himself to do it when he realizes who I am. He bargains for my life. He argues to keep me as a hostage instead of killing me. He even agrees to marry me, but not for love. Marrying me is the only way he can repay the blood debt he owes me. He tells me he'll keep me alive only as long as his Boss allows it. What he doesn't know is that I've loved him since the first moment I laid eyes on him. I'll take him any way I can get him. Sleeping with the enemy never felt so good... But is there someone else who wants me dead?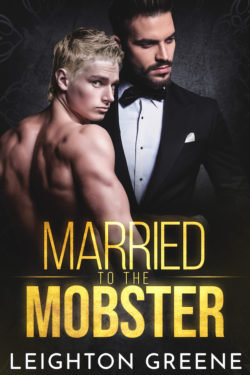 Married to the Mobster
Pairing: M-M
March 31, 2020
Word Count:
16000
Character Identities:
Lesbian
Summary: The past can cast a long shadow on a relationship. Susan Hay just wants to find a nice girl. Is that too much to ask? Susan thinks it is until she meets Ali Sams. To no one's surprise, Susan, a long-haired femme, falls hard and fast for the cute and sexy soft butch who looks strangely familiar. Ali falls just as fast, but Susan realizes that the familiarity she feels is linked to a painful childhood incident that sends her running away. Ali doesn't remember the incident, but that doesn't stop her from wanting to make things right. All Ali needs to do is get Susan to see her as more than who she was in the past, but Susan is not about to make that easy. Nice Jewish Girls is the twelfth book in the Lesbian Light Reads series, but each book stands alone. This lesbian contemporary love story includes graphic sex involving sex toys and is intended for adults only.
Nice Jewish Girls
Pairing: F-F
December 17, 2017
Word Count:
7901
Character Identities:
Gay
Summary: A man wakes up in a care unit. Who is he, and how did he get there? He feels no pain, but he's unable to speak or move. Infrequent visits by a "bean counter" named Gabe reveal what he refuses to believe: he's an angel fallen from grace, all the way. He can survive, um, sorry, not in heaven. But he can live in the realm of humankind only by performing a meaningful "mitzvah" or act of retribution. But for what sin? And why in hell should he believe in angels when he knows there is no god?
Nick Soul: Fallen Angel
Pairing: M-M
August 4, 2021
Word Count: Information not available
Character Identities:
Bisexual, Gay
Summary: Nate Kingsley is a master at messing up. Out of jealousy, he outed his best friend in a public and embarrassing way. Now he's doing his best to make up for his crimes, but it's left him empty and frustrated, unfulfilled even by his career as an opera singer and creative director. He enters an unsatisfying relationship he keeps hidden from his closest friends. When that ends on a disappointing note, he seeks solace in his crush on one of the drag queens performing at his favorite club. Izzy Kaplan is an EMT by day, a drag queen named TaTa Latke by night. He hasn't been in a relationship since his divorce from his wife, despite the best efforts of his mothers and his work partner. He avoids their suggestions in favor of attending the opera alone to see the gorgeous baritone who's caught his eye. He knows it's just a fantasy, but it's easier than starting over. A charity performance to benefit a local youth shelter and clinic puts them in each other's lives in an unexpected way. They begin to emerge from their relationship disasters, slowly building trust. But unknown to themselves or each other, they are facing separate health crises that might be enough to send them both running the opposite way. It will take drawing on the love and strength of their friends and families to bring them back together again. Notes from Boston is a series about four friends navigating the ups and downs of life, relationships, and their music careers in the historic city. Book Two follows Nate in the aftermath of Trevor Davidson's messy coming out as a bisexual Christian singer in Notes From Boston #1: Anthem.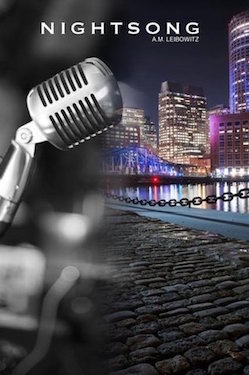 Nightsong
Pairing: M-M
May 1, 2017
Word Count:
95000
Character Identities:
Gay
Summary: ⚜It's Mardi Gras, cher, but this year le bon temps kick off with murder... For generations, the White Monks have treated the vampire Thaddeus Dupont as a weapon in their battle against demons. However, when a prominent matron drops dead at a party, Thaddeus and his lover Sarasija are asked to find her killer. Their investigation leads them to an old southern family with connections everywhere: Louisiana politics, big business, the Church, and an organization just as secret as the White Monks. Meanwhile, an esoteric text containing spells for demon-summoning has disappeared, Thaddeus is losing control of le monstre, and Sara is troubled by disturbing dreams. These nightmares could be a side-effect of dating a vampire, or they could be a remnant of his brush with evil. As the nights wear on, Sara fears they are a manifestation of something darker - a secret that could destroy his relationship with Thaddeus.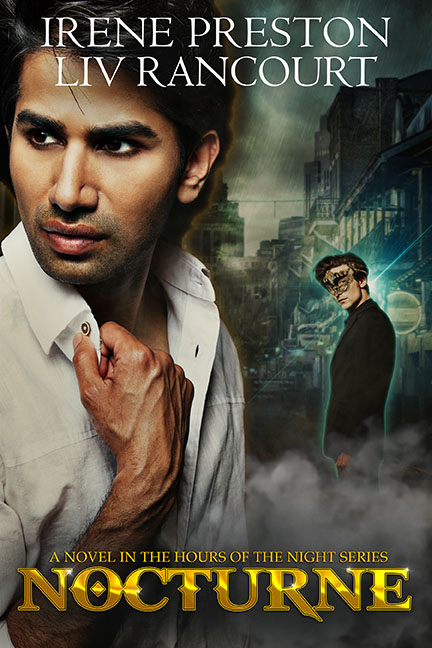 Nocturne
Pairing: M-M
October 12, 2017
Word Count:
40000
Character Identities:
Bisexual, Demisexual, Genderqueer, Non Binary, Pansexual, Polyamorous, Transgender
Summary: After four years in the Alpha Centauri solar system, astrobiologist Dath Bellin is relieved to be back at ECHO-Crosspoint Space Station. His next mission: return to Earth and take a vacation. There's family to see, R&R to catch up on, and Imbolc to celebrate with his Druid grove—everything he could hope for from a Canadian winter. Unfortunately, everything goes wrong before he can even leave the station. There's also the matter of his exes, whom he can't have back no matter how much he wants them, not after his horrible mistake. For the past four years, Mack Ainsley Tsallis and Kytzia Polović have wanted to know why Dath left them the way he did. They're determined to win him back together, especially since Mack is convinced Dath wasn't completely honest with xem and Kytzia before he ran off to Alpha Centauri. Being ignored isn't cutting it anymore: it's time to start fresh and prove the three of them are perfect for each other.
Of Kindred and Stardust
Pairing: 4+ or Other
July 29, 2019
Word Count:
53000
Character Identities:
Bisexual, Intersex
Summary: The Human Planets Collective sent young Ambassador Kaj Deder to the former colony planet Ostakis to establish relations. But in the twenty-five hundred years since Earth lost contact with Ostakis, the people of that colony have dramatically changed. Kaj must find the reason for these changes while he forges trade links between the HPC and Ostakis. Without trade with the HPC, the dwindling resources of Ostakis will ultimately end human life on the planet. But his mission faces a huge obstacle in the form of Most Reverend Thyenn Sharr, the head of the Faith Progressive Church, who sees Kaj's arrival as the beginning of the end of the Church. Kaj's powerful attraction to Trademaster Klath's son, Arlan does not smooth relations. Arlan Klath, the son of the Trademaster of Ostakis, bears the secret that the pious people of his planet want to hide from the homeworld and the HPC. The Curse of the Unspoken, wrought through the unspeakable acts of the First Colonists, afflicts all Ostakians, but some more strongly than others. Arlan is totally Cursed, considered born sinful, and he lives without legal rights or property. Thyenn Sharr focuses his attention on Arlan enraged Arlan's father defiantly refuses to submit Arlan to a cruel act to "redeem" Arlan's soul. The stakes ratchet when Arlan and Kaj form a relationship Thyenn Sharr considers ample justification to usurp the Trademaster position through the legal power of his Church. Can Kaj navigate the treacherous currents of Ostakian politics and religion to save these human descendants of Earth? And must he chose between Arlan or his mission to do so?
Ostakis
Pairing: M-M
February 18, 2019
Word Count: Information not available
Character Identities:
Bisexual, Gay, Genderqueer
Summary: Following his father's death, Micah Forbes believes he can finally put the family who rejected him and their religious bigotry behind him. In a cruel twist, his older brother calls to tell him he's inherited their father's abandoned vacation home. Micah discovers the house comes complete with a long list of repairs, boxes full of family secrets, and a handful of quirky neighbors. Despite not wanting to get in too deep, he can't help the spark of interest stirred when the sexy redhead next door offers his help. Everything about the enigmatic Cat Rowland throws Micah off-balance, from his gender-bending sense of fashion to his handy repair skills to his deep spirituality. Before long, Micah is swept up by Cat and his friends, but Cat himself keeps his heart carefully protected. When Micah's past and his present collide in a painful way, his self-destructive coping habits threaten to overwhelm him. To save himself, he needs to open his soul and let someone in. Cat has the key to unlock him, if he can let down his guard and trust his faith enough to catch Micah as he falls.
Passing on Faith
Pairing: M-M, Includes NB
November 1, 2015
Word Count:
53186
Character Identities:
Gay
Summary: A repressive childhood casts long shadows. Growing up in a reactionary religious household left Matt Aldridge socially inept and woefully unprepared for life in the wider world. He's still trying to figure himself out when he meets his hunky new neighbor, Collin Moravec. Matt likes him at first sight, and miraculously, Collin feels the same. When his cousin Levi shows up needing a home, Matt doesn't hesitate to take him in, even as it throws his own world into disarray. He's determined to save his younger cousin some of the struggles he faced. But taking on this responsibility brings up old anxieties, and in his terror of failing Levi, Matt pushes Collin away. He has to move beyond his fearful upbringing once and for all, or he's going to end up miserable – and alone.
Pursuing Happiness
Pairing: M-M
July 12, 2018