Word Count:
69034
Character Identities:
Gay
Summary: Matthew Doner is starting over. After a five-year prison term that alters every aspect of his life, he receives a bequest from his aunt with the stipulation that he use the money to make things right. Breaking free of the long-standing role he's played and inspired by the few who support him, he decides to create a safe place where people like him can find purpose and start a new life. Julian Capeletti likes challenges. He is confident, brash, stubborn, and just what Matt needs. Desperate for work after a downturn of luck, he accepts the job to renovate Matt's crumbling building. Over the course of a year, romance simmers between them as they restore the house. But there's a bigger renovation that must take place in their hearts. To become better men, they need to learn to trust each other even with secrets and painful memories they fear may rip them apart.
-------------------------------------------------------------------------
69,034 words. 2nd edition. Revised and expanded.
A Better Man
Pairing: M-M
January 16, 2014
Word Count:
56,025
Character Identities:
Bisexual, Lesbian
Summary:
Annie Slocum is a bisexual woman struggling to make a living as a freelance writer. Stuck in a rut, she feels bored with her career, her relationships—her life. A chance meeting with Siobhán at a gallery adds a bright spark to her dull life.
Siobhán Murray is a lesbian Irish painter living in Boston. She loves her career, loves her life, but she's missing the one piece that will make her life complete—a partner. She falls hard for Annie and is delighted to realize Annie inspires her work. But a string of failed relationships has left her wary of bisexual women and wondering if she can trust that Annie won't leave her.
When Siobhán's past comes back to haunt them, they'll have to decide if the new relationship is something that will burn bright and end quickly or if it's meant to last.
A Brighter Palette
Pairing: F-F
June 30, 2017
Word Count:
71000
Character Identities:
Gay
Summary: Berlin 1933: When the parties stop...the dying begins The city that's been a beacon of liberation during the 1920s is about to become a city of deadly oppression. BBC foreign correspondent Simon Sampson risks his life in a bid to save thousands of gay men from the growing Nazi threat. This is the second in the Simon Sampson mystery series. The first, A Death in Bloomsbury, was hailed as 'a good old-fashioned John Buchan-esque mystery reworked for the twenty-first century'. Simon moves to Berlin where he meets British author Christopher Isherwood and his lover Heinz. He's also reunited with his banter-partner Florence Miles, better known to her friends as Bill. She's recruited him into the British intelligence services and he's got the task of hunting down communist spies. But when Simon is ordered to spy on an old college friend, his loyalties are brought into question. Who are his real enemies? And how much can he trust his masters?
A Death in Berlin
Pairing: M-M
September 28, 2022
Word Count:
64000
Character Identities:
Gay
Summary: Leeland Drake and Jonathan White are a committed BDSM couple and have just moved in together. Leeland has only one year left in college, and everything seems perfect… until Leeland's uncle asks him to stand in for an injured UFC fighter. Leeland wants to help his uncle, but he remembers all too well from his years competing in martial arts how strenuous life as an athlete can be. He doesn't want to risk his relationship with Jonathan. After some discussion, they decide Leeland will go pro for a year. As if the training and strict diet weren't bad enough, the pressure skyrockets when Leeland encounters homophobic fighter Tommy Adams—especially when they end up facing each other in the championship Between the bigoted rants of his opponent, the scrutiny of the media, the pressure from his sponsor, and a fire in his uncle's gym, Leeland is close to breaking down. Only Jonathan's support and love keep him focused enough to set foot in the octagon once more—and maybe even walk away a winner.
A Dom and His Warrior
Pairing: M-M
September 25, 2018
Word Count:
37,000
Character Identities:
Gay
Summary: Sheriff Avery O'Rourke has tried to obey his strict Christian faith and lead a "normal" life. In 1923 in a rural East Texas town, "normal" means heterosexual. A cholera outbreak has made Avery a young widower, so he is married to his job. When a murder investigation forces him to confront his truth, will he finally be able to accept being gay? Veterinarian Garland Sands has returned from Europe to take over his father's practice. Struggling with shellshock (PTSD) and heartbroken by the suicide of his French lover, he resigns himself to a quiet, solitary life as a country vet. But the murder of the town doctor brings the sheriff to Garland's doorstep looking for help with the investigation. Seeing Avery awakens dormant feelings. Can he love a man who hates what he is? This isn't the lavish 1920s of The Great Gatsby. This is the flip side of that coin—rural East Texas. No electricity. No indoor plumbing. No flappers. In 1923, the timber barons have left and racism, homophobia, and sexism thrive. A Little Sin is a realistic mystery with unlikely heroes and a timeless romance between lovers caught in a world where their love is forbidden. This book contains steamy sex scenes and is intended for adults only.
A Little Sin
Pairing: M-M
February 24, 2018
Word Count:
145000
Character Identities:
Gay
Summary: A story of healing and confronting demons… Detective Aidan Calloway is rock-solid strong. He's a man of justice—loyal to his friends, family, and job—even if it requires bending a law…or two. He shields himself behind an abrasive, fearless facade, until a phone call one night chips his armor and throws his perfectly planned, hollow life into a tailspin. Jessie Vega is the epitome of optimism. His carefully crafted attitude of hope and positivity protects him from a past filled with too much pain. When a ghost from a dark time resurfaces and nearly breaks him, he must tap into his inner strength or risk losing everything he's worked so hard to build. But Jessie can't do it alone. He must fight to break through Aidan's ironclad defenses to reveal the heart of the man hiding beneath the tough surface and mend his damaged spirit. Only then can they truly heal and become strong enough to battle the demons that haunt them and threaten their chance to finally be together. ---------- ***This book contains scenes and subject matter some readers may find distressing. It is only intended for adult readers.*** Word count: 145K Although part of a series and events from prior stories are referenced, this book can be read as a stand-alone.
A Mended Man
Pairing: M-M
April 28, 2016
Word Count:
124000
Character Identities:
Gay
Summary:
A story of two men and the boundless love that forever changed them.
Vannguard Shaw has spent the last ten years serving a life sentence and adjusting to the ache of solitude. He accepts his fate, a sacrifice for the only man he ever loved and the one person who saw beyond his rough edges. Drayton grew up with a trust fund and pre-planned future, but an unexpected encounter one night forces him to abandon everything and start from scratch. He is now a self-made man and developer of one of the most sought after electric exotic automobiles in the world with a fortune greater than that of his birthright. Yet, he'd surrender it all—again—for the only man who's still ever-present in his heart. After a decade and entirely too much distance between them, Vann is suddenly released back into a world that has been nothing but cruel. Drayton never lost hope they would once again reunite and pick up where they left off, but Vann's stubborn nature and repeated encounters with a heartbreaking world prove to be a challenge. Vann needs to tap into his fighting spirit's reservoir of strength and hope life doesn't punish him for taking a chance. Only then will he realize his own value and feel worthy enough to finally have Drayton's heart. And their chance at forever.
----------------
This is book 5 in The Men of Halfway House series. Although part of a series, this is a full-length stand-alone novel.
Main Characters: Drayton and Vann Release date: May 2, 2017 Series: The Men of Halfway House No. in series: 5; can be read as a stand alone Category: Contemporary Gay Romance Word Count:  124,300 words Formats available: e-book and print Drayton first appears in book 3, A Restored Man. Vann is first mentioned in book 4, A Mended Man.
A Worthy Man
Pairing: M-M
May 2, 2017
Word Count:
22150
Character Identities:
Gay
Summary:
Abs Lust Bare Rejection: MM Desire #204
NAKED, COLD, NUMB - WANDERING, STUMBLING, LOST, ALL ALONE! HELP ME TY!!!
How long before Garrett dies of exposure and hypothermia? Ty's parents reveal insights he never suspected. Is Garrett and Ty's secret at risk? Hank, Garrett's father, cites Garrett's sexual orientation as reason to throw him out of the house. Garrett struggles to survive nude in frigid weather. Where is Ty when Garrett desperately needs him? By not dealing with Hank decisively, Ty makes a costly error destined to haunt the boys for a lifetime. So Ty must put everything on the line to save Garrett and a handsome nurse from Hank's wrath. But in whose bed will Ty sleep? Will Ty's love be lost forever? *This book contains explicit scenes of a gay sexual nature by consenting characters who are over 18 years of age. It is intended only for readers who are 18+ years of age. If you are underage or may be offended by this topic, do not purchase this book.
Abs Lust Bare Rejection
Pairing: M-M
September 1, 2020
Word Count:
23200
Character Identities:
Gay
Summary:
ABS LUST BEACH ROMP: MM Desire #207
NO TAN LINES BEACH!!!
Adjust your shorts over and over as Ty and Garrett take you on a sun worshiping beach romp. A community college gift sends the boys on a week long vacation to a very nice hotel on Clearwater Beach, FL. Find out what shenanigans two super hot sexy boys can get into on a clothing optional part of the beach during their first unsupervised trip away from home. Garrett and Ty explore a late night nude beach party only to find themselves with no clothes to wear. Then how do they get past security cameras to get back into their hotel room? For these two, love is in the air, in the sand, in the surf, in the shower, in their bed, and on their balcony. Tantalizing scenery and sizzling hot play things will keep you turning the pages… *This book contains explicit scenes of a gay sexual nature by consenting characters who are over 19 years of age. It is intended only for readers who are 18+ years of age. If you are underage or may be offended by this topic, do not purchase this book.
Abs Lust Beach Romp
Pairing: M-M, M-M-M, 4+ or Other
November 15, 2020
Word Count:
19400
Character Identities:
Gay
Summary:
ABS LUST EXPOSED: MM Desire #206
HOT BOYS, SUPER HOT BODIES, ULTRA HOT NAKED ESCAPADES Two hot guys together after a college formal (Prom) cannot wait to get into each other's pants, but when will Ty and Garrett find themselves truly alone? Who is to say a bit of public exhibition or two won't provide enough fun to tide them over? In the back row of a late night movie, what can happen is limited only by the imagination. Oooh, the cinema usher is really hot too! I wonder what antics they can talk him into before he kicks them out. And how late will the hotel hot tub be open? These are all very important concerns on the night after a formal dance. Stay on the edge of your seat! Don't worry about missing the movie, but try not to make a mess! *This book contains explicit scenes of a gay sexual nature by consenting characters who are over 19 years of age. It is intended only for readers who are 18+ years of age. If you are underage or may be offended by this topic, do not purchase this book.
Abs Lust Exposed
Pairing: M-M, M-M-M
October 15, 2020
Word Count:
27200
Character Identities:
Gay
Summary:
ABS LUST PLAYER: MM Desire #208
…Here we were three weeks later.

 

Garrett and I were checking out the island as our plane dropped toward a private airstrip at the end of an island in the Caribbean. As we disembarked from the jet, a driver greeted us and prepared to take us to our accommodations. "Welcome, gentlemen.

 

I'm Casey.

 

I will escort you to the estate and serve as your butler while you are visiting us." "Great, I'm Ty." "And I'm Garrett.

 

Nice to meet you, Casey."

 

"I only saw one building on the island when we were landing.

 

Are there others?

 

How many people live here?" I asked. "There is only one home on the island.

 

There are several other security buildings and maintenance buildings, but we have them very well camouflaged.

 

The owner and his husband live in the home part-time.

 

They are in Europe right now.

 

The security force is here full time.

 

We protect his island extremely well," the driver explained.

 

Holy shit!

The house was only one story, but it was massive.

 

When dad described the place as sprawling, he very much understated the reality of the place.

 

The rooms were enormous, and the house seemed to stretch on forever. There was a sea of marble everywhere, including on the floors of the master bedroom.

 

The house extended out onto a point of the island.

 

One step below the floor level, an integrated assembly of patios, decks, and gardens surrounded the house on three sides.

 

A multitude of chairs, chase lounges, tables, and hammocks were available for our leisure. A long serpentine swimming pool about 20 feet wide with an infinity outer border surrounded the decks, patios, and gardens.

 

The water level was but four inches below the level of the patios.

 

Water from the pool spilled over the infinity wall at various points, creating waterfalls as it dropped some 30 feet into a second pool surrounding the three sides of the estate.

 

The lower pool was at least twice as wide as the upper pool.

 

This was the largest privately owned pool complex I had ever seen. When I saw the smooth 30 foot shear wall with a finely textured surface, I wondered if in fact it might serve a secondary role as a security feature.

Hmm, no way to free climb that wall with no lips or edges on the infinity pool for a grappling hook to lodge on.

 

And the finely textured surface would prevent the use of suction cups to climb it.

 

This has to be a security feature.

Palm trees highlighted the house, the pool, and the beach in various locations.

 

The lavish landscaping created a perfect ambiance for the stunning master bedroom.

 

Besides the largest bed I had ever seen in the largest bedroom I had ever seen, it was on the terminal end of the house facing the end of the point toward the West.

 

We enjoyed breathtaking sunsets every evening.

 

The architect of the place had definitely planned it well. Floor to ceiling windows formed three of the walls of the master bedroom, providing a gorgeous panoramic view.

 

Pushing one button caused all the glass walls to disappear, allowing a comfortable light breeze to waft through the room.

 

We were inside, but it felt like we were going to be sleeping right on the beach.

 

We could hear the endless crashing of waves on the shore below us. Casey, our driver, put our luggage in the closet of the master bedroom while we walked to the dinning room for dinner.

 

Since we found no one there, we went into the kitchen where the chef immediately garnered our attention.

 

He was stunningly handsome, sported a lithe physique, and was only about 25 years old.

 

His attire of a chef's apron and nothing else definitely shocked our expectations.

 

The truly gorgeous bare ass of a man who actively engaged in fitness training shined through the back of his apron. When he turned and saw the rather stunned look on our faces, he said, "Hi guys, I'm Jordy, your chef.

 

We heard you guys like to spend a lot of time relaxing au naturel.

 

Casey and I are kinda fond of a free lifestyle as well.

 

We figured if we relaxed our clothing standards, you would feel much more comfortable about skittering around here in the buff as well.

 

You are the only guests on the island for the duration of your stay, so dress up, dress down, or undress as you see fit.

 

We are here to serve your needs in any way we can.

 

No matter what you might need, just call on us anytime."

Is he suggesting what I think he is suggesting?

"Thank you," I said to Jordy just as Casey came strolling in wearing nothing but a butler's apron.

 

Garrett and I immediately looked at each other, and our eyebrows bounced in a silent communication between us.

 

Clearly, we were thinking the same thing.

 

The next two weeks were going to be our chance to recreate our three days of nudity when we first met. After we finished a wonderful dinner, we went to our bedroom and removed all of our clothes.

 

As we strolled naked through various rooms of the house to explore our accommodations, the warm glow of the sun falling rapidly toward the horizon suddenly caught my eye.

 

The amber rays reflected beautifully off of the highly polished marble floor in the great room.

 

Suddenly, I couldn't resist the urge to lie down on my back in the middle of that picturesque scene and pull Garrett down on top of me. He had his legs folded up at my sides and his chest resting against mine.

 

I held his sexy toes in my hands as we kissed lovingly.

 

In no time, my throbbing…
Abs Lust Player
Pairing: M-M
December 15, 2020
Word Count:
19,400
Character Identities:
Gay
Summary:
ABS LUST PROM: MM Desire #205
PLAY NAKED! MAYBE YOU'LL GET CAUGHT!
Prom night essentials for great sex include super HOT boyfriends with great abs, great tushies, sexy feet, stunning smiles, and tantalizingly erotic tux attire. Ty desperately wants to take Garrett to the prom as his date, but neither wants to be out to classmates. This year's prom needs to be special, so Garrett manipulates this event in their favor. Special T-shirts with favorite sayings enhance the mood. Find yourself on the edge of you seat doing your best to ease your desires as Garrett allows Ty to relive what now seems like a wet dream premonition from a past… *This book contains explicit scenes of a gay sexual nature by consenting characters who are over 18 years of age. It is intended only for readers who are 18+ years of age. If you are underage or may be offended by this topic, do not purchase this book.
Abs Lust Prom
Pairing: M-M
September 15, 2020
Word Count:
105,980
Character Identities:
Bisexual, Gay, Genderfluid, Questioning
Summary: Olympic-size dreams come at a price. Openly gay college swimmer Ian Harrington feels like he's fighting against a current of tragedy. He's grieving the loss of his parents and best friend, and now he's dealing with a toxic coach and judgmental brother. But he won't let that stop him from chasing his dream: Olympic gold. Ricky Chavez has just about everything he wants in life: a great career, a supportive family, and a side gig as drag queen Rosie Riveting. The only thing he's missing is a partner to share it all with. When the two men connect after Rosie's performance, they're immediately drawn to one another. But it's never that simple. Ricky isn't the type of man to hide, and with Ian's coach breathing down his neck, he can't openly love a drag queen without making waves. They'll have to brave deep waters to make it to the finish line.
Advance & Retreat: The Midwest Series Book 4 - Ian & Ricky)
Pairing: M-M
July 14, 2020
Word Count:
88084
Character Identities:
Gay
Summary:
Introduction to the set
With the Queen due for her annual visit to Balmoral Castle, Constable Aidan Williamson has been transformed overnight into an undercover detective for Police Scotland. He's managed to emerge from his first case (
Where There's Smoke
) with only a bullet wound and a few other scars no one can see. He's also become deeply attracted to Kenneth Logan, an enigmatic hermit who chooses a stone tent and hard floor over a comfy flat with a soft bed. His second case (
Deep Fury
) takes him once more to a property owned by Her Majesty—but this time another monarch takes top billing. A very old secret hidden by Queen Victoria has become a cause for murder. At her famous Widow's House on a lake in the Highlands…and in his own private life with a hot Scot named Logan…there's a smoldering deep fury at work, and Aidan's determined to get to the bottom of it. In
Spilled Passion,
a hidden crime has been uncovered in the same place the royal party is set to visit soon. Aidan, rookie dick, is struggling to confront his demons—and his angels too. Who's the killer? A pillar of the local church…a couple of horny adolescents…a protective kinsman of the dead man's wife…or the sweet widow herself? This time around, the edges are blurred more than ever in a mystery and a buried secret that spill all the way into serious romance.
Aidan Undercover: The Box Set
Pairing: M-M
May 20, 2020
Word Count:
149,000
Character Identities:
Bisexual, Gay
Summary: The star of the University of Virginia theater department, Aidan Emery is lusted after and admired for living out and proud. He uses his talent and good looks to his advantage and never sleeps with the same guy twice. But his glamorous patina has been carefully honed to hide the pain he carries inside. Aidan wasn't always such a player. He starts college naively romantic, hungry for the attention he can't get from his workaholic father and mentally ill mother. Unfortunately, that leaves him ripe pickings for predatory professor Rodney Montgomery. Rodney's flattering regard seduces Aidan into a dysfunctional relationship that destroys his innocence. Life looks up for Aidan when he finally breaks free of Rodney's pull and moves to New York City to make it as an actor. Meeting sweet fellow actor Patrick Jaymes seems like the start of a fairy tale. But before Aidan can rebuild his life into happily ever after, family secrets rip him wide open, leaving him easy prey when Rodney decides he's not willing to let Aidan go.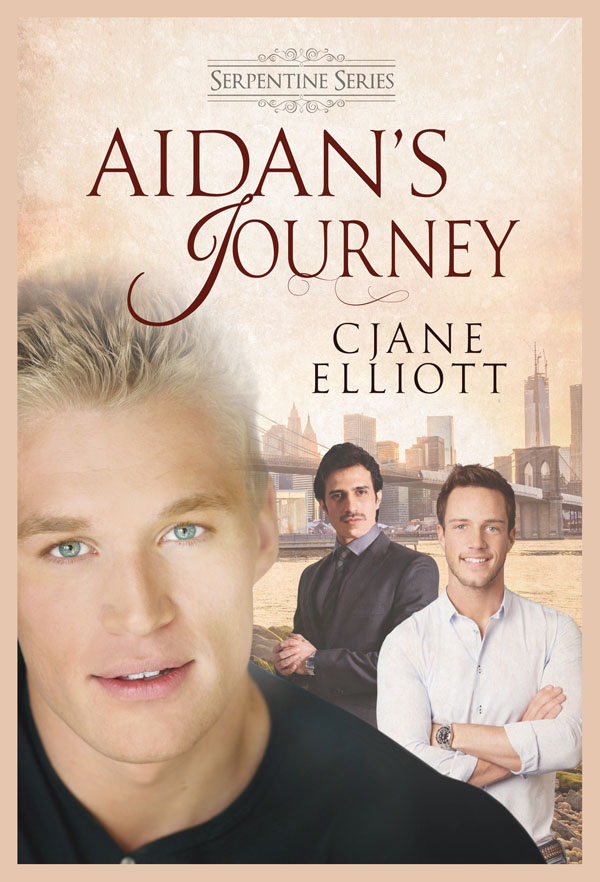 Aidan's Journey
Pairing: M-M
October 15, 2014
Word Count:
56000
Character Identities:
Bisexual, Gay
Summary: What happens when a cruise ship romance crashes on the rocky shores of reality? Jonathan Vallen, a gentle musician who loves to garden, is failing miserably at running his father's Boston company. When hotshot executive Marco Pellegrini takes over, a humiliated Jonathan moves to Cape Cod and spends a year transforming from an insecure duckling into a sexy swan. They meet again on an LGBTQ Caribbean cruise and when Marco doesn't recognize him, Jonathan pretends to be someone else for the week—Jonah Rutledge—someone good enough to be loved. Intrigued by Jonah, Marco lets down his defenses and their shipboard fling deepens into something special. Back on land, the romance crashes when Marco discovers who Jonah really is. While Marco struggles to understand the deception, Jonathan resolves to win back Marco's trust. But Jonathan's father takes vindictive action against Marco for daring to get involved with his son. Will Marco and Jonathan defeat their own fears as well as the challenge from Jonathan's father? If you like swoony romances in tropical paradises, hidden identity, and the courage to love in the face of adversity, then you'll love All the Way to Shore.
All the Way to Shore
Pairing: M-M
January 6, 2020
Word Count:
90000
Character Identities:
Bisexual, Gay
Summary:
Dominic Blake spent his teen years being a punching bag for the school's leading athlete, Tristan Jones. That was years ago. He shut down his heart. Never letting anyone in. Only trauma and pain awaited anyone who made it past his icy exterior. With his wit and talent for electronics he rose through society to become a respected inventor. He hadn't heard or thought about his teenage tormentor since he graduated. - Tristan Jones had always been a top performer in any sport he attempted. It didn't matter what it was. If it used muscles, he excelled at it. Home life for him wasn't all peaches and cream, though. He threw himself into sports in order to spend as little time as possible at home. Being around so many who expected him to be manly meant doing what they thought he should. Even if it meant giving the school nerd the beating of a lifetime. When his teammates took it too far, Tristan left and never turned back. - What happens when Tristan falls right into Dominic's world in the most unexpected way?
All Things to Ashes
Pairing: M-M
January 6, 2022
Word Count:
12900
Character Identities:
Gay
Summary: As a soldier, Dustin Cooper survived his unit being blown up. His twin brother didn't survive the blast, and Dusty knows he's lucky just to be alive. He doesn't feel lucky. Crippled and scarred in the explosion, Dusty can't even go to the local grocery store without being called a monster by any kid who gets a good look at what's left of him. When Dusty collapses in the aisle, he wakes to an angel looking down on him. Benjamin Newell offers hope, offers help. That he's gorgeous only makes the whole situation more tense. But Dusty is determined to overcome his injuries and the trauma of the past without any charity from a stranger. There's only one thing he wants from his grocery store savior—a date.
American Pride
Pairing: M-M
March 1, 2017
Word Count:
17000
Character Identities:
Gay
Summary: In the first book of the series, Life Lessons, MPD detective Mac and high school teacher Tony decided that a closeted relationship was worth the risks and difficulties. Now, in this free short story, they are briefly separated for the holidays by Tony's trip to visit his family. Tony on a Florida beach contemplates the joys and stresses of their hidden life, while Mac in the Minnesota snow handles a murder case that hits close to home. And in the evening, over the phone, they try to reach each other with words. With bonus short story - Getting It Right - Life Lessons Valentines story 1.8. Total 17,000 words
And to All a Good Night
Pairing: M-M
April 18, 2017
Word Count:
61725
Character Identities:
Bisexual, Gay
Summary: Just when Trevor accepts being bisexual, his life is turned upside down when he discovers he's a new dad. Two years after Peter lost his fiancée, he's convinced love isn't in his future. At least until sexy new father Trevor and his very opinionated infant son step into his life. As their relationship begins to blossom and grow, the baby's disapproving grandparents decide to intervene. Will Trevor and Peter have the strength to overcome the obstacles they face to have another chance with love?
Another Chance With Love
Pairing: M-M
July 31, 2020