Word Count:
7200
Character Identities:
Ace, Gay, Genderqueer
Summary: Part of the "A Holiday to Remember 2017 Series" On the colony planet Vega III, everyone knows Beck—outgoing, fabulous, and genderqueer—and nobody notices Anil, the quiet plant biologist. But when Anil finds Beck hiding in his greenhouse, lonely and missing Earth, it's Anil who is able to comfort Beck by letting them talk about what they miss most—the feeling that comes with celebrating the holidays with loved ones, especially New Year's Eve. ​The two of them are drawn to one another, but both of them are hiding secrets about their sexuality. With trust between them already on shaky ground, Anil's elaborate plans to cheer Beck may well backfire. A Holiday to Remember Freddy MacKay - Watermelon Kisses Foster Bridget Cassidy - But to Love More Toni Griffin - Corey's Christmas Bundle Angel Martinez - Safety Protocols for Human Holidays Nicole Dennis - Secrets & Silk Kassandra Lea - Winter Home Jill Wexler - The Christmas Eve Craigslist Killer Jayne Lockwood - New Beginnings Tray Ellis - A Piece of Ourselves J. Scott Coatsworth - I Only Want to Be With You Siri Paulson - A New Year on Vega III
A New Year on Vega III
Pairing: Includes NB
December 30, 2017
Word Count:
51000
Character Identities:
Bisexual, Gay
Summary:
Can a night of passion lead to a happily ever after?
Yakuza captain Hayato's life is a mess. His boyfriend broke up with him, changed the locks, and kept all his stuff. He can't crash at his brother's because his girlfriend is moving in. And just when Hayato thinks things can't get worse, he accidentally gets blackout drunk and wakes up in the arms of a clingy underling.
Masuo believes he and his boss made a deep connection, but when he's blown off the next morning, he feels lied to. Assigned to run a failing pachinko parlor, Masuo is determined to turn it around to prove himself to everyone…especially his sexy superior.
When Hayato realizes he's falling for the young parlor manager, he is more than ready for fun. But as Hayato's tragic past comes back to haunt him, Masuo wonders if he's ready to carry all Hayato's baggage.
Can the unlikely pair learn to accept each other and find their way to happiness even while new challenges arise, or is their love destined to fall like balls through a pachinko machine?
Buy Addicted to Lust to find love in crime today!
Addicted to Lust
Pairing: M-M
September 1, 2021
Word Count:
105,980
Character Identities:
Bisexual, Gay, Genderfluid, Questioning
Summary: Olympic-size dreams come at a price. Openly gay college swimmer Ian Harrington feels like he's fighting against a current of tragedy. He's grieving the loss of his parents and best friend, and now he's dealing with a toxic coach and judgmental brother. But he won't let that stop him from chasing his dream: Olympic gold. Ricky Chavez has just about everything he wants in life: a great career, a supportive family, and a side gig as drag queen Rosie Riveting. The only thing he's missing is a partner to share it all with. When the two men connect after Rosie's performance, they're immediately drawn to one another. But it's never that simple. Ricky isn't the type of man to hide, and with Ian's coach breathing down his neck, he can't openly love a drag queen without making waves. They'll have to brave deep waters to make it to the finish line.
Advance & Retreat: The Midwest Series Book 4 - Ian & Ricky)
Pairing: M-M
July 14, 2020
Word Count:
56000
Character Identities:
Bisexual, Gay
Summary: What happens when a cruise ship romance crashes on the rocky shores of reality? Jonathan Vallen, a gentle musician who loves to garden, is failing miserably at running his father's Boston company. When hotshot executive Marco Pellegrini takes over, a humiliated Jonathan moves to Cape Cod and spends a year transforming from an insecure duckling into a sexy swan. They meet again on an LGBTQ Caribbean cruise and when Marco doesn't recognize him, Jonathan pretends to be someone else for the week—Jonah Rutledge—someone good enough to be loved. Intrigued by Jonah, Marco lets down his defenses and their shipboard fling deepens into something special. Back on land, the romance crashes when Marco discovers who Jonah really is. While Marco struggles to understand the deception, Jonathan resolves to win back Marco's trust. But Jonathan's father takes vindictive action against Marco for daring to get involved with his son. Will Marco and Jonathan defeat their own fears as well as the challenge from Jonathan's father? If you like swoony romances in tropical paradises, hidden identity, and the courage to love in the face of adversity, then you'll love All the Way to Shore.
All the Way to Shore
Pairing: M-M
January 6, 2020
Word Count: Information not available
Character Identities:
Gay
Summary: ~Loveland, Colorado is a special place, a community of creativity and art, with scenic views and majestic mountains~ Books 3 to 5 of the Welcome to Loveland series. Mistletoe Reunion in Loveland - 3 Finding Forever in Loveland -4 Winter Lights in Loveland -5 Writing Lucky and Jack has been a real treat, but it's also fun to take an extra peek around town. Around Loveland features stories that represent different faces and facets of the sweet city of Loveland: Graham & Patrick are looking for a second chance, Joey & Giles are hoping for a future, and Miles and Jeremy are experiencing first love.
Around Loveland - Welcome to Loveland books 3-5
Pairing: M-M
September 8, 2018
Word Count:
78000
Character Identities:
Ace, Demisexual, Gay, Pansexual, Polyamorous
Summary: In the final installment in the SoulShares series, author Rory Ni Coileain weaves together the myriad threads of this compelling paranormal romance in a climax that crosses time and space. Sometimes Fae love stories aren't what you expect. The Marfach—devourer of magick, long-imprisoned mortal enemy of the Fae race—is free of its Antarctic prison. The Demesne of Purgatory—Fae, humans, a Fade-hound puppy, a Gille Dubh, and a darag—is all that stands between the monster and the power it needs to destroy both the Fae Realm and the human world. The only clue they have as to how to kill the unkillable is a cryptic note from the Loremasters: "Osclór, Nartú; Tobar, Soladán; Nidantór, Breathea; Glanadorh, Coromór, Farthor; Scian-omprór, Nachangalte; Crangaol, Síofra; Gastiór, Laoc, Caomhnór; Fánadh, Ngarradh." Opener, Strength; Wellspring, Channel; Unmaker, Judge; Cleanser, Equalizer, Sentry; Blade-bearer, Unbound; Tree-kin, Changeling; Binder, Warrior, Guardian; Wanderer, Sundered. As they rebuild Purgatory from the rubble the Marfach left behind, they have to stand together, using everything they know—everything they are to their partners, lovers, husbands. Everything SoulSharing has made them. And not everyone who enters the final battle will leave it.
Back Door Into Purgatory
Pairing: M-M, M-M-M
October 2, 2019
Word Count:
80000
Character Identities:
Gay
Summary: Everyone is chasing their own dreams, but Johnny isn't sure he even has one. Apex Racing is expanding and absorbing Pilot and his lovers. Everyone is happy with it…except for Johnny. He's constantly feeling left out and more alone than ever before. It's time to seek out his own win, and find his holeshot even if it's off the track and away from Pilot. Gavin is determined to put together the hottest Supercross team, and he wants that to include Bryce Nickels. But that seems almost impossible since Bryce signed with Apex. Perhaps he needs a new angle, like the sexy business partner of the bodyguard, Johnny Killebrew. Maybe he'll sign on more than he bargained for. Praise for Holeshot Christmas: "The writing was spot on once again and the storyline flowed really well. A Christmas feel good sexy story for the win!" ~Morningstar with Diverse Reader Blog. "Holeshot Christmas is a delightful little visit with Davey and Tyler. It's sweet, cute, and a lot of fun." ~Amy's mmromance reviews Bike Business is the fourth title in the Holeshot series. For your reading enjoyment, the preferred reading order is as follows: The Holeshot Holeshot 2 Holeshot Christmas Bike Business: A Holeshot Novel Tricky Tracks
Bike Business
Pairing: M-M
August 23, 2019
Word Count:
18700
Character Identities:
Gay, Lesbian, Pansexual, Transgender
Summary: The previous winter, Leon followed his twin sister Sara to a new town where she could be with her partner, Amber. There, Leon's boyfriend Nick, friends Jeff and Daniel, and their nine-year-old daughter Abby, swiftly swept him up into their lives, a newfound family. After a year of growing their relationship, Leon is ready to take it to the next level. Nick, however, has been stalling. When Ben, Abby's best friend, is suddenly abandoned, Leon is excited to finally care for the children he's always wanted. Haunted by the mistakes of his past, Nick attempts to reconcile his feelings of inadequacy as a parent with Leon's wishes. Against the backdrop of winter holidays filled with traditions from around the world, it is up to Leon to decide if he's willing to stand by Nick, or if he should find his happiness elsewhere. Catch a Falling Snowflake, the fourth story in the Snow Globes holiday series, can be read as a stand-alone, but greater enjoyment will come with reading about these characters in the order written.
Catch a Falling Snowflake
Pairing: F-F, M-M
November 23, 2020
Word Count:
11200
Character Identities:
Gay
Summary: This is a Life Lessons short story 3.5, occurring a week after Home Work - book 3. (* contains significant spoilers for Home Work*) Mac, Tony, and the kids have had a long complicated year. Each of them has dealt with fears and losses, joys and triumphs. As December 31st approaches, it's time to look forward to the new year, and what may be in store. Mac and Tony figure whatever happens, they can handle it, as long as they go through it together. 11,000 words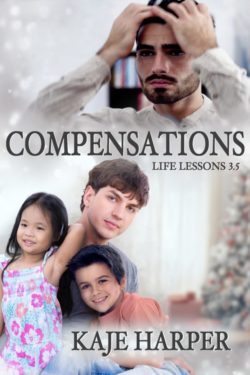 Compensations
Pairing: M-M
December 8, 2012
Word Count:
72000
Character Identities:
Bisexual, Gay, Straight
Summary: Izaak Calloway is young, carefree, and ambitious. He has everything a young gay man could want: the love and support of his family, a promising career with the money to match, and his own place and a fancy new car. And, when it comes to sex – he is an expert in that field. The one thing Izaak knew how to do is pull a man and he isn't ashamed of his many adventurous sexcapades. While sleeping around with "trade" is fun, Izaak wants something more profound. He wants a meaningful relationship. Late one night while Izaak was out eating, he saw the man who would forever change his life. A chance encounter with that same guy, DeMarkkis, a few weeks later would help set the stage for a romantic rendezvous between the pair. To Izaak, outwardly, DeMarkkis "Squirrel" Sanders is the perfect man and lover. And while DeMarkkis only has eyes for Izaak, his past raised some questions. Will DeMarkkis ever be able to escape those old demons, or would they eventually find its way into their new relationship? Join Izaak and DeMarkkis on the first part of this two-book adventure as they test the waters of a young, burgeoning relationship. Will DeMarkkis be Izaak's knight in shining armor, or will external factors cause this relationship to go up in flames?
Diggin' On You
Pairing: M-M
August 21, 2022
Word Count:
125000
Character Identities:
Gay
Summary:
Sam and Will are in love. And by the end of winter break, everyone in Chicago is going to know it.
After the summer that changed their lives forever, they've spent an entire semester apart. Now they're finally home for the holidays. For two college guys who are still new to this whole "first romance" thing, spending Christmas with their small-town families brings an unexpected set of challenges. But support can sometimes come from the most surprising places. An escape to nearby Chicago proves to be the perfect way to spend their first New Year's Eve together. The Windy City's vibrant gay community introduces farm boys Sam and Will to a world they'd never even imagined. New experiences and new choices give them the most memorable experiences of their life together...so far.
But the biggest obstacle in the way of their happiness might just be Sam himself. Read the sequel to the
book
that reviewers called "passionate," "heartbreakingly vivid," "heartwarming," "uplifting," and "really (REALLY) hot," and experience what it's like to fall in love for the very first time.
Everywhere with You
Pairing: M-M
December 18, 2017
Word Count:
149,000
Character Identities:
Bisexual, Gay, Genderqueer, Lesbian, Questioning, Polyamorous
Summary: I summon the lightning. I claim my power. The warlocks of Icarus Academy claim me. I start my night as a cat burglar in Singapore and I end up queen of the witching world. Too bad this rags-to-riches fairytale's a gig I never applied for and won't accept. My witchcraft is wild and lethal, so I've renounced my power. I'm a fish out of water at Icarus Academy. But these four sexy warlocks who rule the school just won't take no for an answer. They want me to claim my power. They want me to summon the lightning. And they want to claim me as their consort. Because the witching world is dying, and I'm their last chance. But there's a queen killer on the hunt. Unless I figure out how to claim my power before the killer claims my head, there's a global extinction event looming. With my name written all over it. One-click for an intense dark witch academy poly paranormal romance that delivers teacher-student forbidden love, steamy group encounters, possessive warlocks, sexy shifters, first-time M/M, bi awakening, a lightning witch heroine who doesn't have to choose, and enough MMMMF heat to set your Academy uniform on fire. (Contains M/M, M/F, and MMMMF encounters)
Gemini Queen
Pairing: M-F, M-M, M-M-F, 4+ or Other
July 26, 2022
Word Count:
69k
Character Identities:
Gay, Pansexual
Summary: Tony award-winning musician Reese Matheson's life resembles a natural disaster, and caregiver Jude De La Torre is caught in the eye of the storm. Can the love these two opposites find together survive caring for an ornery octogenarian with wayward balls and a meddling family insistent upon tradition? A public break-up is not what Reese expects upon returning from the successful run of his musical in London. All he wants to do is spend time with his beloved grandfather and musical mentor, who suffers from Alzheimer's. Reese knows he doesn't have much time left before the elder Matheson doesn't remember him. In classic "Hurricane Reese" form, he moves into the cottage by the sea, displacing Jude, the intriguing caregiver he'd hired two years before. When Grandpa proves too much for Reese to handle on his own, Jude comes to his rescue, taming Grandpa… and the Hurricane as well. Soon all Reese can think about is how to get Jude out of his scrubs and into his bed. Permanently. Will Hurricane Reese destroy everything in its wake, or will this gay odd couple learn to harmonize together?
Hurricane Reese
Pairing: M-M
January 30, 2018
Word Count:
22600
Character Identities:
Gay
Summary: Tired of being ridiculed as the man dumped in favour of an ugly Christmas sweater, Aston is determined to get revenge–by having his dream vacation at Ibiza's hottest clubs! He's even planned a social media campaign to make sure his ex, Dan, knows exactly what he's missing. When a snowstorm strikes, and Aston's media campaign takes off before he does, he finds himself propositioned by his unwelcome roommate Mike: trade vacations, or Mike will out Aston as a fake. Desperate to save his reputation, Aston finds himself in Finland–and falling hard for a man with a sweater almost as terrible as Dan's. Worse, Laaksonen cares as little about impressing people as Aston cares about being nice. Aston knows he has too much self-respect to fall for a man so hazardous to his reputation. But the long Polar Night poses the ultimate test to his Ibiza club dreams…
Ibiza on Ice
Pairing: M-M
December 12, 2016
Word Count:
16000
Character Identities:
Gay
Summary: Can a human survive being introduced to his elf boyfriend's parents? Leander Brooks hopes so. He loves the human world, but misses his elven family. And his human boyfriend Michael Jensen has been nagging him for months to introduce him to his parents. Leander thinks he has prepared Michael for the cold reception he might receive. Soon, he learns he hasn't prepared him enough for a situation that quickly goes from hostile to potentially deadly. Michael was thrilled when he learned that he was going to meet Leander's family at last. His disbelief when Leander comes out as an elf is understandable, but he's willing to keep an open mind for the man he loves, despite his occasional uneasiness at the raucous elven New Year's Eve celebration. What he's unwilling to do is give Leander up. Together Leander and Michael face a New Year's Eve celebration and a family reunion that tests their love and risks Michael's life.
Leander: Gay Elves of Ravensbrook
Pairing: M-M
December 15, 2017
Word Count:
132448
Character Identities:
Bisexual, Gay, Straight
Summary: Zach's grandmother has been warning him about an evil presence in his life from the moment he stepped foot on the campus of Florida A&M University. That evil shows its face in book four. Also, Zach's faith is put to the ultimate test as he takes several major blows to his life. Will he come up standing after all the dust settles or will he drown in his pity? Dwight is at a crossroads in his life. What will he do when he can no longer hide from himself? What will become of Zach and Dwight's relationship? Will they finally take it to the next level? Three major events happen in Tony's life over the next five months that will rock him to his core. Everything that he has worked so hard for could be gone in a matter of seconds. What will Tony do when the world turns its back on him? Will he survive this terrifying time in his young life or will he succumb to the pressure? Micah takes a turn for the worse as some of his darkest secrets are exposed. The stress of life is wearing him down as he continues to battle being in a dysfunctional relationship. He is silently crying for help, but is anyone listening? Will someone be able to save him or is it already too late? All hell breaks loose in the fourth book of this eleven-book series. The ending sequence of events is guaranteed to leave you shocked. The lives of all of these characters will be forever changed! Nothing will ever be the same after this.
Life of a College Bandsman 4: Hell on Earth
Pairing: M-M
February 11, 2016
Word Count: Information not available
Character Identities:
Gay
Summary: Micah Grayson lives in his baby mama's guesthouse. It's unconventional and awkward, but he's happy for a chance to reconnect with his teenage son. He doesn't have time for other distractions—no matter how sexy, independent, and compassionate that distraction might be. Besides, he's not good enough for more than a fling—no one would ever take him home to meet their parents. Adrien Darling has book smarts, but no street savvy—at least that's what his family says. And after a heart-breaking betrayal by the man meant to love and protect him, Adrien believes them. But then a gorgeous guy with a defeated look in his eyes walks into Adrien's coffee shop and makes him want to take a chance. After years of living on the outside as two misfits looking in, both men are afraid to reach for more. But in each other's arms, Micah and Adrien find out what it's like to live on the inside. As their tender bond grows and blossoms, old insecurities bubble to the surface. Will their commitment crumble under the pressure? Or will the two find the strength to fight for each other.
Living on the Inside
Pairing: M-M
January 29, 2019
Word Count:
110846
Character Identities:
Gay
Summary: A chance meeting leads to the romance of a lifetime. Can two young men hold tight to their blossoming love? Ireland. Seventeen-year-old Mitch McCann isn't out and isn't sure he wants to be. When he's bullied by his classmates for perceived gayness, he seeks refuge in an out-of-the-way library. But in the stacks, he meets the gorgeous guy he's longed for, and one kiss is all it takes for his heart to be lost forever. Cian Leavy may have made it to college, but he's still new to romance. So when he falls for the handsome high school senior, he doesn't know how to handle them living so far apart. But after they share a touching St. Patrick's Day weekend together in Dublin, he realizes this could be everything he's ever wanted. When Mitch starts university and makes plans to move in with his beautiful beau, he's nevertheless nervous about how it will go. And just when they're about to reunite, Cian is devastated by the housing crisis threatening to destroy his plan for an eternity of bliss. Can the sweet young couple find their way through turmoil to the relationship they both deserve? Including 5 brand-new stories, Mitch & Cian Lessons in Love Box Set is an unforgettable collection of M/M new adult romance. If you like heartfelt confessions, undeniable chemistry, and steamy moments, then you'll adore Helena Stone's pulse-pounding saga.
Mitch & Cian - The Full Story
Pairing: M-M
March 17, 2022
Word Count:
47,349
Character Identities:
Gay
Summary: All the Honorable St. John Ashford ever wanted was his father's love, but if he can't have that, he'll settle for being noticed. In an effort to do that, St. John sets his sights on Andrew Dorincourt, a man for whom the Viscount has nothing but disdain. Surely this will draw his father's attention? Unfortunately, while Andrew seems willing to date him, he appears entirely disinterested in anything else. St. John knows it's just a matter of time before all his plans going up in smoke, especially when Andrew becomes attracted to an exotic young man he rescued from Malossini's House of Oddities. Robin Dorincourt is something of a playboy who enjoys nothing so much as flitting from one boyfriend to another. He doesn't poach, though, and when he finds himself attracted to St. John Ashford, he does what he can to keep a healthy distance between them, using taunts and teasing. It's difficult, until he realizes his brother is in love with someone else. Robin's path toward St. John is clear, and he makes his move. But is his path as clear as he imagines? St. John might be as attracted to Robin as Robin is to him, but he'll be damned if he allows himself to be passed from one brother to the other as if he's nothing more than a poor second choice. Now it remains is for Robin to persuade St. John he's no one's second choice.
More, By All Mores
Pairing: M-M
November 28, 2020
Word Count:
27,169
Character Identities:
Bisexual, Gay
Summary: The New Year of 2002 starts off with a literal bang, when Mark Vincent is called to WBIS headquarters and learns the Washington Bureau of Intelligence and Security has been disbanded. He's not happy with the situation, but he's ready to make his own way in the intelligence waters of DC. However, when Trevor Wallace, known as The Boss, requests he accept the CIA's offer of a job, Mark reluctantly agrees. He isn't surprised to find working for the CIA is exactly what he expected, with the Company not allowing him to do his job. Mark lets his resentment be known as he's partnered with one officer after another, with no success. As a result, he's determined to leave the CIA, in spite of his promise to the man whose opinion he valued so highly. Quinton Mann is viewed as royalty in the intelligence community. He had a run-in with Mark Vincent a few years before, while Vincent was still senior special agent for the WBIS, and Quinn had developed a healthy respect for him. Now, however, it's his turn to partner with the man considered by the alphabet agencies to be a sociopath. Quinn can see what the problem is, and he's aware Vincent might not remain CIA for long. Now, the year is drawing to a close. Will a drink on Christmas Eve change things for both men?
No One Should Be Alone
Pairing: M-M
December 16, 2020