Word Count:
12000
Character Identities:
Gay
Summary: Can thirty minutes change your life? Maybe it can, or maybe it can't. Either way, if you had the chance to sit down with someone you thought hated you, do you think you could find common ground? Charlie and Aiden have known each other since the third grade, but both boys have very different memories of the moments they shared. While Aiden remembers love taps, Charlie remembers a bully who made his life even more miserable than it was and still does to this day. So why does Aiden pick on Charlie if he actually likes him? Maybe he just doesn't know any other way to show Charlie how he feels. Unfortunately, every action has a consequence and he's about to lose the best thing that's ever happened to him if Aiden doesn't change his ways. Join best selling author Daniel Elijah Sanderfer for this short, sweet, enemies to lovers story about two rival boys who find they may have something in common after all.
30 Minutes or Less
Pairing: M-M
August 7, 2020
Word Count:
72000
Character Identities:
Gay
Summary: 6 Days Series, Book Two Mixologist Nick Valentine never thought love was in the cards, but after a scorching Valentine's Day kiss from bouncer Davis "FatBoy" Newman, he's beginning to think it's possible. After four weeks of dry spell, Nick's losing patience—it's time FatBoy stop acting the gentleman and just throw him over the bar or Nick may just change his mind. All FatBoy wants is a shot at winning Nick's heart. As long as meddling bosses, an Irish hurling team and a bar riot don't ruin his chances forever, he might just get lucky and take the man of his dreams, home.
6 Days To Get Lucky
Pairing: M-M
March 9, 2018
Word Count:
69034
Character Identities:
Gay
Summary: Matthew Doner is starting over. After a five-year prison term that alters every aspect of his life, he receives a bequest from his aunt with the stipulation that he use the money to make things right. Breaking free of the long-standing role he's played and inspired by the few who support him, he decides to create a safe place where people like him can find purpose and start a new life. Julian Capeletti likes challenges. He is confident, brash, stubborn, and just what Matt needs. Desperate for work after a downturn of luck, he accepts the job to renovate Matt's crumbling building. Over the course of a year, romance simmers between them as they restore the house. But there's a bigger renovation that must take place in their hearts. To become better men, they need to learn to trust each other even with secrets and painful memories they fear may rip them apart.
-------------------------------------------------------------------------
69,034 words. 2nd edition. Revised and expanded.
A Better Man
Pairing: M-M
January 16, 2014
Word Count:
64000
Character Identities:
Bisexual, Gay
Summary: Old loves, new enemies, ancient legends… and dragons. So many dragons. Philip and Ejoler have been together for twelve years. They've traveled the world, they're raising a child together – their relationship couldn't be more solid. And yet, Philip worries that he's keeping Ejoler from the life he was meant to lead – the life of a dragon. Tris and Ormur's relationship is still new, but they're sure of their future together. Except Ormur's past is something he can't ignore – not when the dragons are calling him. Dragons are gathering for the first time in centuries. It's a meeting that will bring the two couples together to face new challenges. And one that will change the fate of humans and dragons forever.
A Deliberation of Dragons
Pairing: M-M
September 9, 2021
Word Count:
111200
Character Identities:
Gay
Summary: After surviving ten years in prison, Cameron Pierce is attempting to put the past behind him. He tries to adjust to his newfound freedom with a place at the halfway house and a job. But one lesson he learned in prison keeps him guarded: hope is a dangerous thing. Hunter Donovan, Assistant State Attorney, is a man of justice who loves a challenge. After a lifetime of putting his career first, a milestone brings him to a harsh realization—he's lonely. Hunter's world changes when he meets Cam. The wary young man intrigues him and awakens a desire unlike anything he's ever experienced. When Cam's past resurfaces and threatens to rip them apart, their budding relationship is challenged and Cam's hope for a future begins to dim. These outside forces hunting Cam will stop at nothing to send him back to prison. But they'll have to get past Hunter first. ---------- NOTE: Word count: 111,200. This story is a romantic suspense/mystery novel and the second installment in The Men of Halfway House series. Although characters reappear from book one, this story can be read as a stand-alone.
A Hunted Man
Pairing: M-M
April 28, 2014
Word Count:
20043
Character Identities:
Bisexual, Lesbian
Summary: A New F/F Fantasy Romance from the author of Cynthia and Eve. Book 1 of 'The Fae Souls'. When I first arrived at the mansion, I couldn't remember anything. My name, how I'd got there or who the people were around me. I knew I was a woman, and the pink dress and brown ankle boots I wore felt vaguely familiar, but nothing more. It wasn't long before I was told my name was Celina. I was given a suite to stay in and encouraged to prepare for the mysterious Prince Eldran's masquerade party. I found everything I needed in my suite, other than the answers I sought. Fragments of memory hinted at dark experiences, at love and loss, but there was no context and I was uncertain about my history and what the future might hold for me. A stranger at the time, Sorcha found me alone as I sought solace in an empty room. I discovered she too had missing memories, and in her I found a person to talk to. A friend and more, but did we have a chance? A Masquerade in Time is a romantic novella of just over 20,000 words, which contains strong steamy content and language.
A Masquerade in Time
Pairing: F-F
June 26, 2017
Word Count:
145000
Character Identities:
Gay
Summary: A story of healing and confronting demons… Detective Aidan Calloway is rock-solid strong. He's a man of justice—loyal to his friends, family, and job—even if it requires bending a law…or two. He shields himself behind an abrasive, fearless facade, until a phone call one night chips his armor and throws his perfectly planned, hollow life into a tailspin. Jessie Vega is the epitome of optimism. His carefully crafted attitude of hope and positivity protects him from a past filled with too much pain. When a ghost from a dark time resurfaces and nearly breaks him, he must tap into his inner strength or risk losing everything he's worked so hard to build. But Jessie can't do it alone. He must fight to break through Aidan's ironclad defenses to reveal the heart of the man hiding beneath the tough surface and mend his damaged spirit. Only then can they truly heal and become strong enough to battle the demons that haunt them and threaten their chance to finally be together. ---------- ***This book contains scenes and subject matter some readers may find distressing. It is only intended for adult readers.*** Word count: 145K Although part of a series and events from prior stories are referenced, this book can be read as a stand-alone.
A Mended Man
Pairing: M-M
April 28, 2016
Word Count:
20000
Character Identities:
Gay
Summary: This is a re-release of a previously published work. New material added and re-edited with a new cover. Walt Thompson had started training for the Olympics when he was just in grade school. Skiing was like second nature to him. It was all he had ever dreamed of. A great coach and a fabulous sponsor and he was on his way. Until a freak accident on the slopes at the winter try outs, left him with a broken leg and a very dark future. On top of all that, the man he thought he was in love with walked out. Leaving him to deal with the pain of losing his dream and going on with his life. Years later, he found himself working as the ski instructor at his family's lodge. This was not the dream he had wanted. Then one day a handsome man literally knocked him off his feet. Curt Woodridge was an entertainer. He was singing in the lounge at his family's lodge. Could this be the beginning of a new dream for Walt or just another crashing blow to his already fractured spirit?
A New Dream
Pairing: M-M
February 13, 2018
Word Count:
14000
Character Identities:
Gay
Summary: Reverend Jesse Dixon has always been "the helper." He's the living definition of the expression beauty for ashes. He's experienced a lot of heartbreak in his forty-some years on this earth, including the suicide of his first lover. But he didn't let it define his life or make him bitter. Steven is the exact opposite. Abandoned as a baby on the steps of a west-end church; he grew up in a house for orphan and wayward boys. When a tragic accident happens that takes the life of the home's overseeing Reverend, the church finds itself placing an ad for a new one. One who can handle the challenges of running the church and the boy's home. Steven is eighteen and the former Reverend and he had an arrangement that permitted him to keep living at the home, despite the fact he's too old to be adopted. However, that security come into question when he learns the church has hired a new Reverend, Jesse. At first, he doesn't know what to make of the man. But he decides for fun and games he'll make Jesse sweat a little by shamelessly flirting and teasing him. But Jesse resists his flirtations for the sake of his calling. The last thing on his mind is taking advantage of someone he's mentoring. But just how long can the good Reverend resist Steven's teasing before something happens between them? Join Daniel Elijah Sanderfer for the long-awaited sequel to his best-selling novella, A Prayer For Love.
A Prayer For Love 2
Pairing: M-M
May 1, 2020
Word Count:
115,000
Character Identities:
Lesbian
Summary: Life hasn't been easy for Aeley since she arrested her brother, and her role as a political leader leaves her feeling isolated and lonely. Days before her brother's trial, she meets Lira, a quiet and modest scribe who makes Aeley want more than just a professional relationship. When she attends the trial and leaves with a marriage contract, Aeley doesn't know what to do. She must choose one of two brothers, marrying into a family she doesn't know. Then she discovers that Lira is part of the same family—a sister to Aeley's suitors and the family's disgrace. And not at all opposed to an intimate relationship. Except random acts of violence against her people test Aeley's ability as a leader, and a web of lies and deceit threaten not only her chance at happiness, but her life...
A Question of Counsel
Pairing: F-F
October 18, 2019
Word Count:
117500
Character Identities:
Gay
Summary: Cole Renzo thinks his greatest challenge is to behave for the remainder of his term at Halfway House. Until he meets his new boss, Ty Calloway, a man who ticks off every box on Cole's list of interests. A sought-after restorer and customizer of exotic and collectible cars, Ty had enough confidence to command what he wanted in life, until one fateful night changed everything. Almost two years later, he's slowly rebuilding his life with great control. He's defied the odds and works tirelessly to be the man he once was—but he still feels broken. Cole's candor and unfiltered personality awaken Ty's barely-remembered desire to greet each new day with a smile, while Ty's unwavering acceptance of Cole's quirks and brash humor makes Cole feel as if he fits in for the first time in far too long. When a nemesis threatens Ty's personal restoration and the things he holds dear, Cole is determined to protect their relationship, even if that means sacrificing everything he's worked so hard to achieve. But Ty will have to let his guard down, surrender control, and admit he needs Cole first, even if that puts himself at risk of breaking beyond repair. ---- Word count: 117,600 This is book 3 in The Men of Halfway House series. Although part of a series, this book can be read as a stand-alone.
A Restored Man
Pairing: M-M
February 17, 2015
Word Count:
50,000
Character Identities:
Gay
Summary: Kink and wedding vows can't stop danger, but love gives a Dom and his sub courage to fight. After too much time apart from his lover and sub, Brian Harrison is thinking kink, a cowboy hat, and one more marriage proposal. When Jackie Vasquez finally says "yes" to a wedding, he also says, "why wait?" But their vows and the toasts to the happy couple have hardly faded when a phone call reminds them that trouble still awaits. Despite his best intentions, Brian broke the law in his efforts to stop a powerful criminal from harming those he loves. He could go to prison, or he could risk his life going undercover to help bring one of Europe's most nefarious citizens to justice. Friends and smart thinking can help him do the right thing. But only love can supply the courage he and Jackie need to prevail against schemes and guns and, if they're lucky, stay alive to enjoy a honeymoon.
A Shot of Courage
Pairing: M-M
July 30, 2020
Word Count:
45,000
Character Identities: Information not available
Summary: A Dom learns to love while Scotland Yard claims his time and a sociopath lays a trap for his sub. This is book 2 Vasquez Inc, a spinoff series from the popular Vasquez and James series. Jackie Vasquez knows he needs to submit to a Dom he can trust—just as much as he needs to manage his own life. He found the right Dom in Brian Harrison, and then romance beckoned them both beyond bindings and safewords. They take the first steps toward a life together in London, where Brian is pursuing his dream career at Scotland Yard, and Jackie is working toward a master's degree. Their private hours deep in the night brim with both heat and beauty as Brian's artful vision for bondage makes a masterwork out of Jackie, body and soul. But time together becomes scarce as a series of horrific gaslight crimes keeps Brian at work and out of reach for Jackie much of the time. Though Jackie is faithful, he isn't the type to sit and wait for his lover's attentions. His self-assured ways and his geocaching hobby lead him to a dangerous discovery—all is not as it seems at the University. Trapped in the Gaslighter's web, he'll need to use every trick he knows to stay calm and buy time. But will Brian unravel the knot of mystery in time to save the man he loves?
A Shot of Fear
Pairing: M-M
November 21, 2019
Word Count:
45,000
Character Identities:
Gay
Summary: Gay American Dom with a fabulous sub juggles romance and bondage with Scotland Yard police work. Book 1 in the the Vasquez Inc series, spinoff from Vasquez and James. When Brian Harrison first met Jackie Vasquez at a Hawaiian wedding, Jackie was sixteen and troubled. Six years later they meet again; Brian's career at Scotland Yard is budding with promise, while Jackie's student days at the University of Nebraska are rolling toward a strong finish. Magnetic mutual attraction pulls them insistently toward one another, but the ocean separating their lives makes for a simmering romance. When the waiting ends and they get together for a weekend in Denver, Dom Brian and sub Jackie both know they've tapped into something scalding hot, and much deeper than sharing an artful session. Shibari, lust, and love are all on the agenda -- but for Brian, so is his police career, and a strange series of crimes seems poised to threaten their romance -- and maybe their lives.
A Shot of J&B
Pairing: M-M
November 1, 2019
Word Count:
48000
Character Identities:
Gay
Summary: Deep love, hot kink. Secrets call for a shot of trust when true danger lurks in LA's hidden places. __________ Brian Harrison wants to keep everyone safe -- especially his beloved sub, Jackie Vasquez -- and he's convinced the only way to do that is to dig ever deeper in a forbidden investigation. Keeping his activities secret from the State Department means keeping them from his own boss, Luki Vasquez, and keeping secrets from Luki means Jackie can't know either. Meanwhile, Jackie keeps his own secrets as his kind heart and indomitable spirit drive him to find and help a mysterious homeless woman, who may be connected to a kidnapping. Both men dance around dangers lurking in LA's hidden places. Love continues to grow, adventurous kink heats up, and a marriage proposal still hangs in the balance. Can a willing shot of trust keep them together and alive when secrets collide?
A Shot of Trust
Pairing: M-M
April 24, 2020
Word Count:
80,000
Character Identities:
Gay
Summary: Sparks fly when Chance meets tall, sexy Xav at a Wilmington bar and they have the hottest one-nighter of their lives. But Chance doesn't do repeats, Xav seems detached, and they go their separate ways without a word. Later, when closeted Assistant District Attorney C. Evan "Chance" Fairchild meets Dare's Landing's newest deputy sheriff, Xavier "Xav" Constantine, Evan isn't only wary. He's irritated as hell. Xavier is a former FBI agent turned deputy sheriff who is hot on the trail of a South American child prostitution ring. Evan is fighting to put an end to rampant cocaine trafficking and chafing under the thumb of an election-hungry boss. When someone tries to kill the eleven-year-old witness who holds the key to both their investigations, they're forced to work together as they put their lives on the line to protect him. As Chance and Xav collide in the heat of a sweltering North Carolina summer, dodging bullets and chasing bad guys isn't the only action going on.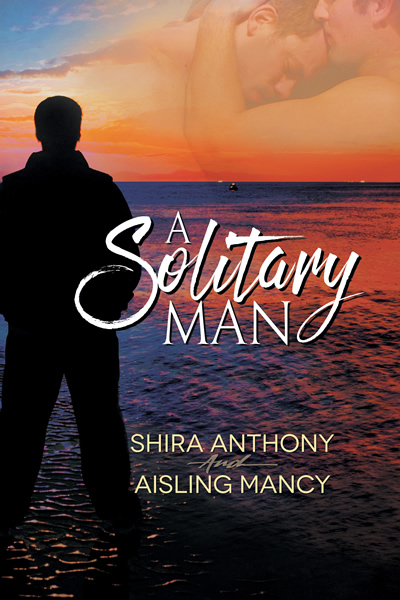 A Solitary Man
Pairing: M-M
November 6, 2015
Word Count:
58900
Character Identities:
Bisexual, Gay
Summary: It was just a one-time indiscretion after an intense disagreement with the love of his life, David Fulbright.  But little did Cal Anderson know it would change his life forever.  The fallout would take him on an unusual quest – sometimes wittingly, and sometimes not – across the ocean and even across time.  During that journey, he would learn that his love for David was his destiny in more ways than he could have ever imagined.  And a young man named Gunter from another place and time would be the one to show him how important that love is to him.  Join Cal as he takes an extraordinary journey to find redemption, and to be reunited with the man who was meant to be in his life.
A Triangle of Pink
Pairing: M-M
September 26, 2020
Word Count:
14300
Character Identities:
Gay
Summary: Jace Villin likes straight lines and clean surfaces. Life is so much easier when everything is in its right place, and he and his friend Felicity have a good system for the cubicle at work. They have a drawer each, one side of the bulletin board each, and they don't interfere with each other's territories. But then Felicity quits, and Jace has to share his cubicle with someone else. Paxton Sallow promised himself never to work in an office again, but there are no job openings, and he has bills to pay. The job might be the most boring he's ever had to endure, but at least he can amuse himself with moving Jace's things around. It's amazing how upsetting a crooked label can be. Jace doesn't know what to do with Paxton. He wants to snarl at him to respect his boundaries at the same time as he wants to run his fingers through his hair and kiss him silly. Paxton knows he should leave Jace alone, but he can't help himself. He wants to see Jace outside of work, but how will Paxton get him to agree to have a cup of coffee with him when he runs off as soon as he tries to ask him out?
A Well-Functioning Cubicle
SALE
Pairing: M-M
April 2, 2022
Word Count:
124000
Character Identities:
Gay
Summary:
A story of two men and the boundless love that forever changed them.
Vannguard Shaw has spent the last ten years serving a life sentence and adjusting to the ache of solitude. He accepts his fate, a sacrifice for the only man he ever loved and the one person who saw beyond his rough edges. Drayton grew up with a trust fund and pre-planned future, but an unexpected encounter one night forces him to abandon everything and start from scratch. He is now a self-made man and developer of one of the most sought after electric exotic automobiles in the world with a fortune greater than that of his birthright. Yet, he'd surrender it all—again—for the only man who's still ever-present in his heart. After a decade and entirely too much distance between them, Vann is suddenly released back into a world that has been nothing but cruel. Drayton never lost hope they would once again reunite and pick up where they left off, but Vann's stubborn nature and repeated encounters with a heartbreaking world prove to be a challenge. Vann needs to tap into his fighting spirit's reservoir of strength and hope life doesn't punish him for taking a chance. Only then will he realize his own value and feel worthy enough to finally have Drayton's heart. And their chance at forever.
----------------
This is book 5 in The Men of Halfway House series. Although part of a series, this is a full-length stand-alone novel.
Main Characters: Drayton and Vann Release date: May 2, 2017 Series: The Men of Halfway House No. in series: 5; can be read as a stand alone Category: Contemporary Gay Romance Word Count:  124,300 words Formats available: e-book and print Drayton first appears in book 3, A Restored Man. Vann is first mentioned in book 4, A Mended Man.
A Worthy Man
Pairing: M-M
May 2, 2017
Word Count:
22150
Character Identities:
Gay
Summary:
Abs Lust Bare Rejection: MM Desire #204
NAKED, COLD, NUMB - WANDERING, STUMBLING, LOST, ALL ALONE! HELP ME TY!!!
How long before Garrett dies of exposure and hypothermia? Ty's parents reveal insights he never suspected. Is Garrett and Ty's secret at risk? Hank, Garrett's father, cites Garrett's sexual orientation as reason to throw him out of the house. Garrett struggles to survive nude in frigid weather. Where is Ty when Garrett desperately needs him? By not dealing with Hank decisively, Ty makes a costly error destined to haunt the boys for a lifetime. So Ty must put everything on the line to save Garrett and a handsome nurse from Hank's wrath. But in whose bed will Ty sleep? Will Ty's love be lost forever? *This book contains explicit scenes of a gay sexual nature by consenting characters who are over 18 years of age. It is intended only for readers who are 18+ years of age. If you are underage or may be offended by this topic, do not purchase this book.
Abs Lust Bare Rejection
Pairing: M-M
September 1, 2020