Word Count:
26000
Character Identities:
Gay
Summary: Aaron has spent the past ten months alone. When he meets a sad, yet strangely familiar man on a cold Halloween night, he impulsively invites him home. But the intimate connection they share lasts only until morning. Aaron wakes up alone—wracked with guilt and devastated to have lost his chance. Or so he thinks. Thanksgiving brings Aaron another shot at happiness, but letting go of an old love and accepting a new one isn't as easy as everyone keeps telling him. And by the time Christmas Eve rolls around, it becomes clear that Aaron's not the only one struggling to let himself love again. Christmas miracles are all well and good, but it's going to take more than the Holiday Spirit for Aaron to get his happy ever after. A story of grief, sadness, and letting it go; and finding love when you least expect it.
'Tis the Season
Pairing: M-M
October 20, 2016
Word Count:
27000
Character Identities:
Gay
Summary: Troy Pettifer, a broken-hearted chocolate shop worker, isn't sure what to do next when Richard Belden, a controlling but handsome sadist, walks into his life and gets him on his knees. Troy's friends start fixing him up with vanilla guys. Richard is nursing his own heart that was broken by a man who betrayed him and the entire BDSM community, but, for Troy to fulfill desires he didn't even know he had, he's going to have to embrace the beautiful leatherman within.
5 Easy Chocolate Pieces: A BDSM Love Story
Pairing: M-M
July 18, 2015
Word Count:
69034
Character Identities:
Gay
Summary: Matthew Doner is starting over. After a five-year prison term that alters every aspect of his life, he receives a bequest from his aunt with the stipulation that he use the money to make things right. Breaking free of the long-standing role he's played and inspired by the few who support him, he decides to create a safe place where people like him can find purpose and start a new life. Julian Capeletti likes challenges. He is confident, brash, stubborn, and just what Matt needs. Desperate for work after a downturn of luck, he accepts the job to renovate Matt's crumbling building. Over the course of a year, romance simmers between them as they restore the house. But there's a bigger renovation that must take place in their hearts. To become better men, they need to learn to trust each other even with secrets and painful memories they fear may rip them apart.
-------------------------------------------------------------------------
69,034 words. 2nd edition. Revised and expanded.
A Better Man
Pairing: M-M
January 16, 2014
Word Count:
56,025
Character Identities:
Bisexual, Lesbian
Summary:
Annie Slocum is a bisexual woman struggling to make a living as a freelance writer. Stuck in a rut, she feels bored with her career, her relationships—her life. A chance meeting with Siobhán at a gallery adds a bright spark to her dull life.
Siobhán Murray is a lesbian Irish painter living in Boston. She loves her career, loves her life, but she's missing the one piece that will make her life complete—a partner. She falls hard for Annie and is delighted to realize Annie inspires her work. But a string of failed relationships has left her wary of bisexual women and wondering if she can trust that Annie won't leave her.
When Siobhán's past comes back to haunt them, they'll have to decide if the new relationship is something that will burn bright and end quickly or if it's meant to last.
A Brighter Palette
Pairing: F-F
June 30, 2017
Word Count:
124,200
Character Identities:
Gay
Summary: For Wall McCormack, actions speak louder than words. He's giving and protective, loyal to his friends, and devoted to his job. While confident and powerful enough to conquer any challenge, his greatest strength lies in his calm nature. Until an unexpected assignment sends his world into a loud and colorful chaos he never could have anticipated. Rejection. It's something Dylan Vaughn has known his entire life. But he's a tough nut to crack and refuses to break. Armed with a sharp tongue and brutal honesty, he pushes through life and at anyone who attempts to take him on. Except for the quiet guardian who piques his interest and dares him to want…more. When Dylan's past comes back with a vengeance and jeopardizes their growing connection, Wall will stop at nothing to protect the younger man and remain by his side. But convincing Dylan that someone accepts the real man behind the cocky facade might prove to be Wall's greatest challenge yet. With his freedom on the line, Dylan must trust the strength of their bond and confront the forces threatening their future. Only then will he realize the dream of acceptance is real and finally have a place to call home.
A Chosen Man
Pairing: M-M
September 26, 2018
Word Count:
32000
Character Identities:
Bisexual
Summary: Tekokwa runs. He runs from his past, he runs from his future. He runs from himself. He runs so far from civilization that he should be the only human around, but instead he finds himself living with Kwaotli, a mysterious young man who is one contradiction upon another. He's a spoiled lordling one moment, a humble weaver the next. He tells stories like nobody Tekokwa has ever known, and yet won't share his own. And above all, his moods swing: from fun and carefree to manic and angry. Despite everything, Tekokwa can't defend himself against Kwaotli's advances. Kwaotli seems determined force Tekokwa to face himself, to let out the darkness that Tekokwa has tried so hard to suppress all his life. A Coward, A Warrior is a 30k novella with no happily ever after.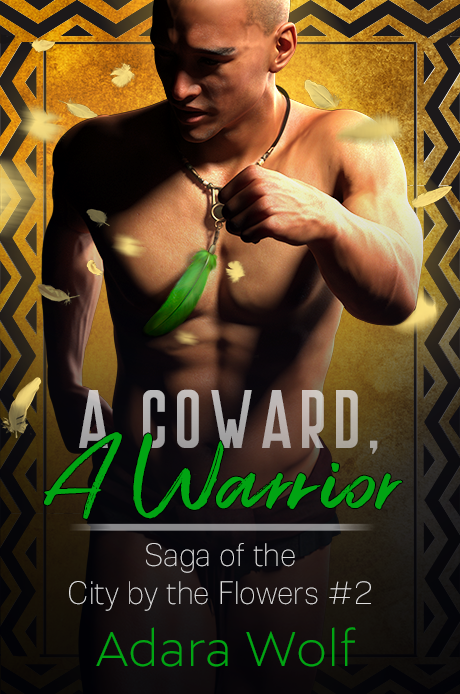 A Coward, A Warrior
Pairing: M-M
August 27, 2018
Word Count:
21534
Character Identities:
Bisexual, Gay
Summary: Josh has stepped back into the closet for a guy, but how long can he stay there? Life in a college town suits Josh Cassidy. He has good friends and neighbors, and the bookshop café he runs with his family is thriving. As the winter holidays begin, Josh finds himself enamored with police officer Alex Curiel, an old friend who has recently moved back to town. The trouble is, Alex isn't ready for the world to know he's attracted to men. At Alex's request, Josh agrees to closet their relationship, though the secrecy quickly becomes a burden. When Josh realizes he is falling for Alex, his ability to hide his feelings from the world begins to slip, and he's forced to decide if love is enough to keep him hiding behind closed doors. A Hometown Holiday is a 21.5K sex-buddies-to-lovers MM novella. It features a bookshop owner with a fondness for jazz music, a closeted cop who could be Mr. Right if only he'd give himself a chance, and the warm, fuzzy HEA that both guys deserve.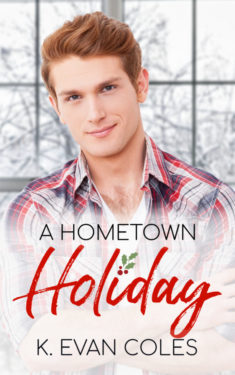 A Hometown Holiday
Pairing: M-M
December 12, 2018
Word Count:
111200
Character Identities:
Gay
Summary: After surviving ten years in prison, Cameron Pierce is attempting to put the past behind him. He tries to adjust to his newfound freedom with a place at the halfway house and a job. But one lesson he learned in prison keeps him guarded: hope is a dangerous thing. Hunter Donovan, Assistant State Attorney, is a man of justice who loves a challenge. After a lifetime of putting his career first, a milestone brings him to a harsh realization—he's lonely. Hunter's world changes when he meets Cam. The wary young man intrigues him and awakens a desire unlike anything he's ever experienced. When Cam's past resurfaces and threatens to rip them apart, their budding relationship is challenged and Cam's hope for a future begins to dim. These outside forces hunting Cam will stop at nothing to send him back to prison. But they'll have to get past Hunter first. ---------- NOTE: Word count: 111,200. This story is a romantic suspense/mystery novel and the second installment in The Men of Halfway House series. Although characters reappear from book one, this story can be read as a stand-alone.
A Hunted Man
Pairing: M-M
April 28, 2014
Word Count:
37,000
Character Identities:
Gay
Summary: Sheriff Avery O'Rourke has tried to obey his strict Christian faith and lead a "normal" life. In 1923 in a rural East Texas town, "normal" means heterosexual. A cholera outbreak has made Avery a young widower, so he is married to his job. When a murder investigation forces him to confront his truth, will he finally be able to accept being gay? Veterinarian Garland Sands has returned from Europe to take over his father's practice. Struggling with shellshock (PTSD) and heartbroken by the suicide of his French lover, he resigns himself to a quiet, solitary life as a country vet. But the murder of the town doctor brings the sheriff to Garland's doorstep looking for help with the investigation. Seeing Avery awakens dormant feelings. Can he love a man who hates what he is? This isn't the lavish 1920s of The Great Gatsby. This is the flip side of that coin—rural East Texas. No electricity. No indoor plumbing. No flappers. In 1923, the timber barons have left and racism, homophobia, and sexism thrive. A Little Sin is a realistic mystery with unlikely heroes and a timeless romance between lovers caught in a world where their love is forbidden. This book contains steamy sex scenes and is intended for adults only.
A Little Sin
Pairing: M-M
February 24, 2018
Word Count:
145000
Character Identities:
Gay
Summary: A story of healing and confronting demons… Detective Aidan Calloway is rock-solid strong. He's a man of justice—loyal to his friends, family, and job—even if it requires bending a law…or two. He shields himself behind an abrasive, fearless facade, until a phone call one night chips his armor and throws his perfectly planned, hollow life into a tailspin. Jessie Vega is the epitome of optimism. His carefully crafted attitude of hope and positivity protects him from a past filled with too much pain. When a ghost from a dark time resurfaces and nearly breaks him, he must tap into his inner strength or risk losing everything he's worked so hard to build. But Jessie can't do it alone. He must fight to break through Aidan's ironclad defenses to reveal the heart of the man hiding beneath the tough surface and mend his damaged spirit. Only then can they truly heal and become strong enough to battle the demons that haunt them and threaten their chance to finally be together. ---------- ***This book contains scenes and subject matter some readers may find distressing. It is only intended for adult readers.*** Word count: 145K Although part of a series and events from prior stories are referenced, this book can be read as a stand-alone.
A Mended Man
Pairing: M-M
April 28, 2016
Word Count:
45000
Character Identities:
Bisexual, Gay
Summary:
Tre Derringer, perpetual underachiever with negative self-esteem, made a mistake. If he'd been a sleeper—sans and unaware of superpowers, that is—he would've gotten a slap on the wrist. Too bad Tre has awakened hot-thermal superpowers, so he ended up in lockup instead.
One year later, Tre's picked up from prison by a mysterious woman called Amy, who turns out to be a recruiter for an activist group—or so they call themselves. New Dawn, New Day's leader, Vic, is out to bring the presence of the awakened to sleeper attention once and for all, by any means necessary.
Tre becomes a part of the ND2 commune, committed to their mission. But then, at a summer music festival, he runs into a crush from his past, Dorian Archer. Dorian's compassionate, cheerful, and even hotter than he used to be. He might just manage to keep Tre from making an epic mistake… or he might not.
It's only the biggest secret in the world at stake, after all.
While all other Superpowered Love books can be read in any order and without previous knowledge, A New Beginning works better after reading at least book 2, Riot Boy and book 5, Re-entry Burn.
A New Beginning
Pairing: M-M
September 3, 2021
Word Count:
47832
Character Identities:
Gay
Summary: A Hampton Road Club story. Angelo wonders if the Hampton Road Club will offer him a new beginning and whether he can love two men at the same time. Angelo escaped his family's farm to be with his first and only love in Los Angeles. He meets up with him at Walter's speakeasy, but their reunion is short-lived when Angelo discovers that his lover is embracing the Roaring Twenties with as many men and as much hooch as he can. With nowhere to stay and no job prospects, Angelo faces an uncertain and scary future. Ex-prizefighters Bruce and George enjoy their employment at the Hampton Road Club for more than one reason. They can indulge in their passion for sadomasochism and search for the boy who will be the submissive they keep forever. Unfortunately, none of the men at Hampton Road are good prospects. When they run into a forlorn Angelo in the alley outside a speakeasy, their protective instincts kick in. But will they want to do more than just protect Angelo? And will the shy and inexperienced man embrace a lifestyle he never knew existed?
A New Beginning For Angelo
Pairing: M-M-M
July 10, 2018
Word Count:
7200
Character Identities:
Ace, Gay, Genderqueer
Summary: Part of the "A Holiday to Remember 2017 Series" On the colony planet Vega III, everyone knows Beck—outgoing, fabulous, and genderqueer—and nobody notices Anil, the quiet plant biologist. But when Anil finds Beck hiding in his greenhouse, lonely and missing Earth, it's Anil who is able to comfort Beck by letting them talk about what they miss most—the feeling that comes with celebrating the holidays with loved ones, especially New Year's Eve. ​The two of them are drawn to one another, but both of them are hiding secrets about their sexuality. With trust between them already on shaky ground, Anil's elaborate plans to cheer Beck may well backfire. A Holiday to Remember Freddy MacKay - Watermelon Kisses Foster Bridget Cassidy - But to Love More Toni Griffin - Corey's Christmas Bundle Angel Martinez - Safety Protocols for Human Holidays Nicole Dennis - Secrets & Silk Kassandra Lea - Winter Home Jill Wexler - The Christmas Eve Craigslist Killer Jayne Lockwood - New Beginnings Tray Ellis - A Piece of Ourselves J. Scott Coatsworth - I Only Want to Be With You Siri Paulson - A New Year on Vega III
A New Year on Vega III
Pairing: Includes NB
December 30, 2017
Word Count:
20,000
Character Identities:
Bisexual, Gay
Summary: Can a man with a dark heart heal a man with a broken one? Logan Perry was offered a job caring for an elderly lady a thousand miles from his home in Iowa. Looking for a place to hide, it seems to be the perfect opportunity to escape. So Logan runs to Texas. All he wants is a roof over his head and food in his stomach. So moving into the amazing McFarren Manor he believes is all he needs. Bradley McFarren is only looking for someone to care for his aging grandmother. Too busy with the family multi-billion dollar real estate firm, he just doesn't have time. With no personal life to speak of, Bradley has kept his heart safe. As long as Gail, his beloved grandmother, is cared for, he thinks it's all he needs. But what both their hearts truly desire is a place to belong.
A Place to Belong
Pairing: M-M
June 26, 2018
Word Count:
14000
Character Identities:
Gay, Questioning
Summary: Jesse is a pastor just sent to a small town Bible college in the midwest. David is an in the closet Bible college student coming to terms with his sexuality.
When they meet, he finds that Pastor Jesse has a secret too. As Jesse helps him come to terms with his sexuality and comforts him after a series of horrible events, their feelings toward one another cannot be denied any longer. But when a former boyfriend turns up at David's in the middle of the night confessing his true love, he is left with an impossible decision. Pursue a relationship with the man who was there for him when he needed someone or run back into the arms of the boy he once loved. Join Daniel Elijah Sanderfer for the re-release of this inspirational tale of coming out and falling in love.
A Prayer For Love
Pairing: M-M
November 8, 2019
Word Count:
14000
Character Identities:
Gay
Summary: Reverend Jesse Dixon has always been "the helper." He's the living definition of the expression beauty for ashes. He's experienced a lot of heartbreak in his forty-some years on this earth, including the suicide of his first lover. But he didn't let it define his life or make him bitter. Steven is the exact opposite. Abandoned as a baby on the steps of a west-end church; he grew up in a house for orphan and wayward boys. When a tragic accident happens that takes the life of the home's overseeing Reverend, the church finds itself placing an ad for a new one. One who can handle the challenges of running the church and the boy's home. Steven is eighteen and the former Reverend and he had an arrangement that permitted him to keep living at the home, despite the fact he's too old to be adopted. However, that security come into question when he learns the church has hired a new Reverend, Jesse. At first, he doesn't know what to make of the man. But he decides for fun and games he'll make Jesse sweat a little by shamelessly flirting and teasing him. But Jesse resists his flirtations for the sake of his calling. The last thing on his mind is taking advantage of someone he's mentoring. But just how long can the good Reverend resist Steven's teasing before something happens between them? Join Daniel Elijah Sanderfer for the long-awaited sequel to his best-selling novella, A Prayer For Love.
A Prayer For Love 2
Pairing: M-M
May 1, 2020
Word Count:
115,000
Character Identities:
Lesbian
Summary: Life hasn't been easy for Aeley since she arrested her brother, and her role as a political leader leaves her feeling isolated and lonely. Days before her brother's trial, she meets Lira, a quiet and modest scribe who makes Aeley want more than just a professional relationship. When she attends the trial and leaves with a marriage contract, Aeley doesn't know what to do. She must choose one of two brothers, marrying into a family she doesn't know. Then she discovers that Lira is part of the same family—a sister to Aeley's suitors and the family's disgrace. And not at all opposed to an intimate relationship. Except random acts of violence against her people test Aeley's ability as a leader, and a web of lies and deceit threaten not only her chance at happiness, but her life...
A Question of Counsel
Pairing: F-F
October 18, 2019
Word Count:
56,700
Character Identities:
Gay
Summary: One Orphan. Two New Dads. And One Scary-ass holiday...coming up.  When Nathan and Og fell in love, little did they realize their union would end up in an unexpected adoption: that of the six-year old runaway child they found at Hope House. Now her first Christmas is fast approaching, and everything is hard for the orphan who's never had a real family. She's still dealing with ghosts of the past, and she's trying to do it alone. How can Nathan, Og, and the whole gang at Hope House, show her everything Christmas can be, in a forever family? Most importantly, how can they make sure that the Refuge Bay community's unparalleled Christmas magic will work its special miracle…on her? Come and celebrate with all of Refuge Bay this holiday season!
A Refuge Bay Christmas #1: Their Daughter's First Christmas
Pairing: M-M
December 14, 2020
Word Count:
117500
Character Identities:
Gay
Summary: Cole Renzo thinks his greatest challenge is to behave for the remainder of his term at Halfway House. Until he meets his new boss, Ty Calloway, a man who ticks off every box on Cole's list of interests. A sought-after restorer and customizer of exotic and collectible cars, Ty had enough confidence to command what he wanted in life, until one fateful night changed everything. Almost two years later, he's slowly rebuilding his life with great control. He's defied the odds and works tirelessly to be the man he once was—but he still feels broken. Cole's candor and unfiltered personality awaken Ty's barely-remembered desire to greet each new day with a smile, while Ty's unwavering acceptance of Cole's quirks and brash humor makes Cole feel as if he fits in for the first time in far too long. When a nemesis threatens Ty's personal restoration and the things he holds dear, Cole is determined to protect their relationship, even if that means sacrificing everything he's worked so hard to achieve. But Ty will have to let his guard down, surrender control, and admit he needs Cole first, even if that puts himself at risk of breaking beyond repair. ---- Word count: 117,600 This is book 3 in The Men of Halfway House series. Although part of a series, this book can be read as a stand-alone.
A Restored Man
Pairing: M-M
February 17, 2015
Word Count:
120100
Character Identities:
Bisexual, Gay
Summary: Two men. One sweet dream of family and forever. Gabriel "Bull" del Toro loves his fast-paced globe-trotting job, but aches for an honest relationship and the trust that comes with it. After a few too many heartbreaks, he's nearly given up hope of finding that special someone. Until Ben. Born deaf, Ben is used to working twice as hard for what he wants, but risking a newfound friendship on an impossible dream is scary. After all, there's one lesson he's learned: everything is temporary—freedom, friends, even family. Neither man expects the undeniable spark between them or for every moment together to fuel that connection. For the first time, a happily ever after is within reach, but they must trust that the dream of acceptance, family, and a place to call home is more than a sweet fantasy. It can be forever. ———— A Sweet Man is an interconnected standalone within The Men of Halfway House series. It is a story about the power of love, the meaning of family, and never giving up on a dream. It includes wounded hearts, an age-gap romance, and enough cake and sweetness to give you a toothache.
A Sweet Man
Pairing: M-M
June 16, 2020