Word Count:
81000
Character Identities:
Gay
Summary: Matt There's nothing quite like a night with one of the Gentlemen of the Emerald City. No strings. No complications. I've been burned by love, and I'm not going there again. Unlike my teammates who fell for their Gentlemen, I know how to keep emotions from coming into play. At least… I used to. Andre I used to love this job. The money doesn't matter—just the thrill. But that thrill is gone now. That is, until I meet Matt. And that's before he starts looking at me like that. And booking me more often. And making my heart do things it's not supposed to do when I'm on the clock. How do I convince a jaded man that love is worth another try? Gentlemen of the Emerald City Andre is Book 5 of Gentlemen of the Emerald City, a sexy series centered around the high class, high-dollar Gentlemen of Seattle's most exclusive escort service. Each book is full of snark, sass, and sweetness, and like any Emerald City client, you're guaranteed a happy ending.
Andre
Pairing: M-M
September 15, 2021
Word Count:
76000
Character Identities:
Gay
Summary: For Andrew Tuttleman, sex is a means to an end. With a mother too sick to pay the bills on her own and college bills to pay, Drew has spent years resorting to sex with strangers to keep a roof over his mother's head and keep himself at school, far away from the hell where he grew up. This summer, his usual tricks are still paying the bills. But there's a new one, Grant, who never got the memo that a trick is a no-strings deal. Convinced that Drew is the answer to a hopeless prayer, Grant seems ready to pursue Drew to the ends of the earth. Drew, on the other hand, isn't so convinced. Grant comes with trouble in the form of a wife and three kids, not to mention a single and unwavering requirement: that Drew give up his livelihood. Grant's kiss makes Drew ache for more, a romance that he never dreamed possible. He finds himself unexpectedly willing to try. Can Drew weather Grant's angry father, wife, and a daughter determined to kick him in the shins so hard that he'll leave Grant's life forever? It all relies on Grant's faith in an impossible prayer.
Andrew's Prayer
Pairing: M-M
September 27, 2017
Word Count:
78000
Character Identities:
Ace, Demisexual, Gay, Pansexual, Polyamorous
Summary: In the final installment in the SoulShares series, author Rory Ni Coileain weaves together the myriad threads of this compelling paranormal romance in a climax that crosses time and space. Sometimes Fae love stories aren't what you expect. The Marfach—devourer of magick, long-imprisoned mortal enemy of the Fae race—is free of its Antarctic prison. The Demesne of Purgatory—Fae, humans, a Fade-hound puppy, a Gille Dubh, and a darag—is all that stands between the monster and the power it needs to destroy both the Fae Realm and the human world. The only clue they have as to how to kill the unkillable is a cryptic note from the Loremasters: "Osclór, Nartú; Tobar, Soladán; Nidantór, Breathea; Glanadorh, Coromór, Farthor; Scian-omprór, Nachangalte; Crangaol, Síofra; Gastiór, Laoc, Caomhnór; Fánadh, Ngarradh." Opener, Strength; Wellspring, Channel; Unmaker, Judge; Cleanser, Equalizer, Sentry; Blade-bearer, Unbound; Tree-kin, Changeling; Binder, Warrior, Guardian; Wanderer, Sundered. As they rebuild Purgatory from the rubble the Marfach left behind, they have to stand together, using everything they know—everything they are to their partners, lovers, husbands. Everything SoulSharing has made them. And not everyone who enters the final battle will leave it.
Back Door Into Purgatory
Pairing: M-M, M-M-M
October 2, 2019
Word Count:
32723
Character Identities:
Gay
Summary: Bryce Harkless is unapologetic. He's raw, rude and arrogant but sweet, gentle and loving. He's a sexy college basketball player from Savannah, GA that everyone loves and wants to sleep with. His life, however, is full of conflicts. He is haunted by the past, yet afraid for the future. He loves his boyfriend, but hates him, too. To avoid facing his troubling past, he lies, cheats and engages in risky behavior. There are layers of pain inside of Bryce that are destined to destroy his life if he doesn't learn how to face them and move on. He was raised in the church, but he doesn't understand God's reasoning for treating him the way he does. He doesn't want to be gay, but women do nothing for him. In turn, he blames God for everything. He hates God. The month of March is the hardest time of the year for Bryce. During this time, he is forced to deal with an event from his past that shattered his young life into pieces. As if dealing with that situation isn't hard enough, an incident involving another man raises questions about his sexuality in the mind of his beloved auntie. However, everything comes to a screeching halt in just one phone call. There, he gets the news that undermines everything else. Come along for the ride in this novella, as the next few days are destined to turn Bryce's already rollercoaster life, even more upside down!
Bad Religion
Pairing: M-M
March 22, 2014
Word Count:
32518
Character Identities:
Gay
Summary: It's been three gut-wrenching days since Bryce received that life-changing phone call in Savannah. He has avoided dealing with the situation, but now that his spring break is ending, he has no choice but to attack and face his truth as he heads back to his college apartment in Atlanta. To Bryce, all of life's issues are hitting him at once. If dealing with the reality of that phone call wasn't bad enough, his closest family members are directly and indirectly questioning him about his sexuality. His conscience is eating him alive as a result of the decisions that he's making. To add insult to injury, his pastor accuses him of something unimaginable. All of this brings Bryce's internal conflict with God to an all-time high, leaving him at the point of no return—emotionally, mentally and physically.
Bad Religion 2: A Sinner's Denial
Pairing: M-M
August 23, 2014
Word Count:
46584
Character Identities:
Gay
Summary: It's summer 2016 and two years have passed since we've last seen Bryce Harkless. He has moved past that devastating but eventual false diagnosis, but has much changed in his life? Is he still doing the harmful things that caused that initial life-changing scare? As Bryce prepares to head into his senior year of college, he plans a relaxing vacation to travel up the east coast with his best friend. Something unexpected happens while on the trip, so they alter their plans and head to the Midwest. While on that journey, Bryce encounters another life-shattering event that will shake him to his core. This unforeseen circumstance will force Bryce into a decision that'll allow him the opportunity to seek vengeance for a previous wrong done to his family. Will Bryce do what his church upbringing taught him and leave it in God's hands, or will he go out and do his own thing? Where will his relationship with God stand when the dust clears? Jaxon Grant, author of the "Incidental Contact" and "Life of a College Bandsman" series, pens a masterfully woven tale of adventure, crime and consequence, lust, secrets, exploration, revenge and mind-blowing sex. In the final book of this trilogy, join Bryce on this two-week voyage as he learns the hard truth about himself—the truth that maybe he isn't even ready to discover.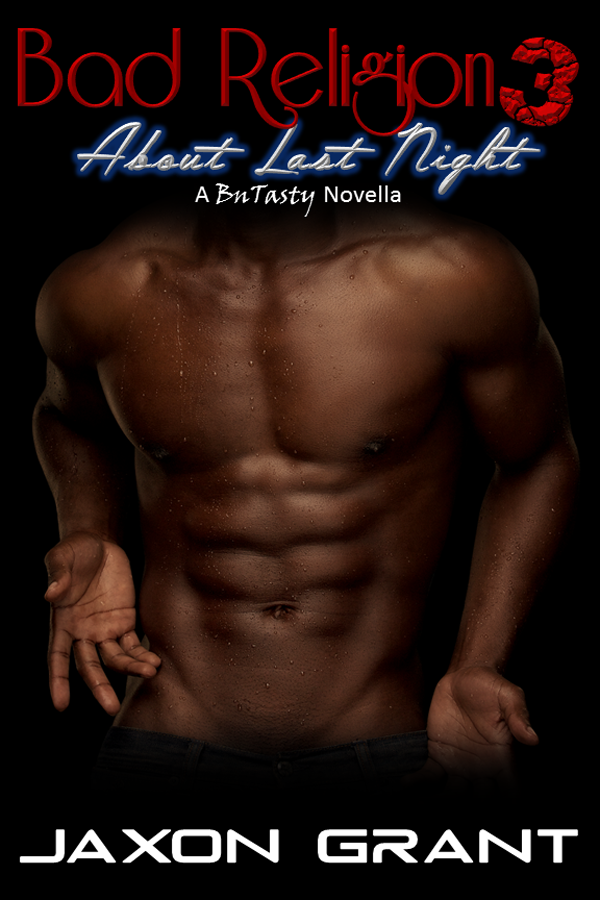 Bad Religion 3: About Last Night
Pairing: M-M
May 22, 2017
Word Count:
92000
Character Identities:
Gay, Straight
Summary: Banyak & Fecks is a prequel to The Clearwater Mystery series of romantic gay novels. However, it is not a mystery. It is a story of how a Ukrainian refugee and the son of an Irish immigrant come to meet in the East End of London in 1884. It is a story about friendship. 1881. Andrej's family are dead or missing, and his village in Ukraine decimated. Aged thirteen, he walks west to find a boat to take him to London. Three years later, homeless, starving and having resorted to prostitution, he finds safe passage and arrives in London alone but determined. 1884. Silas' mother has died, leaving him to fend for his twin sisters in the hellish world of the Westerpool slums. Silas only knows the work of a thief and trickster and at sixteen, heads to London to make his money. What he finds is poverty, starvation and the Greychurch workhouse. About to give up, he encounters a giant Ukrainian, proud, handsome, and renting his body in the alleys of the East End. Silas (Banyak) and Andrej (Fecks) make an unlikely pair, but their friendship is all they need to survive life in London's notorious East End. When disaster robs them of their home, they have no choice but to live rough and work the streets. Lodging houses, rope houses, arrest, violence and prostitution, they face it together. But when the Ripper starts slaughtering Greychurch rent boys, Banyak and Fecks have only their friendship to ensure their survival.
"A colourful and enchanting tale. Beautifully written. Marsh does an excellent job of evoking the look and feel of a different age."
Olivier Bosman author of the DS Billings Victorian Mysteries
'Banyak & Fecks' ends the day before the first Clearwater Mystery, 'Deviant Desire' begins. It is a story of friendship and platonic love set in Greychurch, the imaginary Whitechapel of the Clearwater world. Extensively researched, readers are taken from the Russian steppe and the Wirral slums to the squalor of the East End in the late 1880s. [Genre: Historical Bromance] ['The Clearwater Mysteries.' Historical MM Romance, mystery and adventure.]
Banyak & Fecks
Pairing: M-M
November 29, 2020
Word Count:
25000
Character Identities:
Gay
Summary: From the outside looking in, John leads a boring life by day as a professor at a small liberal arts school in San Francisco. His nights are saucy, sinful even, when he services clients as a sex worker. He's damned good at it, too, for reasons far surpassing simple technique, whether he's entertaining super-hunky coeds or fulfilling the fantasies of married men on the down-low. Because John has a secret. It's not that he's thirty-five and feeling washed-up or that he's got a crush on one of his clients. His secret could be he's buried his rural, Southern roots, or that Paul, his first lover and preacher from back home, still preoccupies his thoughts. Maybe it's the terrors he faced in conversion therapy as a teenager…but it's none of those things. John's secret is the Fountain, a mysterious well of energy within him he cannot control. Paul knows about the Fountain. So do John's parents. Despite their best efforts to protect their dogma, it will all come out now that Paul has called John home to Georgia. To Bethesda.
Bethesda
Pairing: M-M
November 5, 2019
Word Count:
73000
Character Identities:
Bisexual, Gay
Summary: Alec I don't do love. I don't do relationships. What I do is tour with my band and enjoy the life we worked so hard to earn. When I'm home, my favorite escort is always happy to join me in bed. Except he's not an escort anymore. He has, however, hand-picked someone to replace him. I'm dubious because I hate change, but I'll give this new guy a chance. And I will not fall in love with him. Bryce This escort gig is seriously intimidating, and the last thing I expect is for my first client to be a literal rock star. No, scratch that—it's the second to last thing I expect. The last thing? How fast and hard I'm falling for him. Gentlemen of the Emerald City Bryce is Book 3 of Gentlemen of the Emerald City, a sexy series centered around the high class, high-dollar Gentlemen of Seattle's most exclusive escort service. Each book is full of snark, sass, and sweetness, and like any Emerald City client, you're guaranteed a happy ending.
Bryce
Pairing: M-M
July 28, 2021
Word Count:
59,000
Character Identities:
Gay
Summary: Twenty-one-year-old Noah Jeffries has a secret. He's putting himself through college under the rent boy name Max Wilde. He doesn't mind the sex, most of the time, and he sure doesn't mind the money. But when he falls hard for Carlos, a hot student activist, he's clobbered by a tough decision. Can he give up making big money for a chance at love? Will Carlos even want to be with him when he knows his secret? Meanwhile, being Max Wilde is getting complicated. A high paying client who's the provost of Noah's university wants Noah all for himself. There's danger as the guy gets more obsessive, and now it could spill out and impact Carlos as well. The first title in Romeo Preminger's Guilty Pleasures imprint of erotic thrillers.
Campus Call Boy
Pairing: M-M
February 1, 2020
Word Count: Information not available
Character Identities:
Ace, Bisexual, Gay, Genderfluid
Summary:
No one is safe from the mutations needed to survive.
Jackson is investigating murders of hustlers while trying to keep his focus on two in particular; Ivy, who gives him gifts of plants in the middle of winter along with delicate bites of cake, and Candy, the brash and in charge head of the red-light district. When the three of them are ripped apart by a gruesome attack, Jack loses control and lets the monster inside him free, exposing secrets they were never meant to share. While the media is focused on the horrors of Jack's on camera transformation, the murderer sets their sights on Candy, determined to take down the entire city. The trio will have to evolve or be swept beneath a tsunami of rising power.
Candy Land
Pairing: M-M, M-M-M
August 9, 2019
Word Count: Information not available
Character Identities:
Bisexual, Gay
Summary:
A virus is spreading through the city, targeting the humans with mutations.
Paris is the most powerful man in the city, but he's been hiding a painful secret—the world's toxic environment is killing everyone, including him. His search for a way to stop the spread reveals lost facilities, buried nightmares of horrific events, and an abandoned mer-creature who has found a way to survive in tainted water. Rescued from lonely years trapped in ice and contaminated water, Rain is trying to find his feet, literally. He's stuck in a giant pool, watching the man who saved him slowly deteriorate. Meanwhile a virus is ravaging the city, attacking those with mutations. When the past that Paris thought he'd escaped arrives for revenge, will they survive the change? Or will it succeed where the last plague failed and kill them all?
Cardinal Sins
Pairing: M-M
July 26, 2019
Word Count:
80000
Character Identities:
Gay
Summary: Parker This pro hockey thing is amazing! I'm playing in the big leagues. I have money for a change. And suddenly all the men who wouldn't give me the time of day are falling all over themselves to hook up with me. The only problem is that I've never been with anyone. That's just what I need—some random hookup leaking it to the press that I'm a virgin who's lousy in bed. Maybe what I need is a little help from a professional. Cole Clients who want to lose their virginity are a dime a dozen. There's something about Parker, though. Something that makes my heart go a little wild every time he books me, and it isn't the money. He's better in bed than he thinks. He needs confidence, not guidance, and I'm happy to give him both. But is it wrong to wish he'll never stop coming back? Gentlemen of the Emerald City Cole is Book 2 of Gentlemen of the Emerald City, a sexy series centered around the high class, high-dollar Gentlemen of Seattle's most exclusive escort service. Each book is full of snark, sass, and sweetness, and like any Emerald City client, you're guaranteed a happy ending. Content warning: Moderate on-page struggles with disordered eating.
Cole
Pairing: M-M
July 7, 2021
Word Count:
110100
Character Identities:
Bisexual, Gay
Summary: Nate's no supernatural expert, but even he knows a murdered man coming back to life to kill him can only mean one thing—the necromancer is back and out for revenge. Recruited by Department Seven in a desperate attempt to stop Peter before he claims new victims, Nate quickly realizes he's in way over his head. His powers are failing him, he's haunted by Peter's ghost, and he can't even remember how he stopped Peter the first time—or why he feels that someone very important is missing from his life. Ben is fighting for his afterlife. Trapped in the supernatural version of solitary confinement, he knows freeing himself will destroy New Camden's fragile peace—but what choice does he have? The longer he spends in his magical prison, the harder it becomes to resist his inner vampire. But if Ben wants to help Nate prevent Peter taking over the city, he has to prove himself to his sire—Saltaire, a thousand-year-old vampire with no qualms about using his immense power to suppress Ben's free will. As the casualties mount and the city descends into chaos, Ben and Nate must overcome their worst fears and impossible odds—or be written out of existence entirely.
Dead Wrong
Pairing: M-M
February 26, 2018
Word Count:
104000
Character Identities:
Gay
Summary: The Victorian East End lives in fear of the Ripper and his mission to kill rent boys. Silas Hawkins, nineteen and forging a life on the streets could well be the next victim, but when he meets Archer, his life changes forever. Young, attractive and rich, Archer is The Viscount Clearwater, a philanthropist, adventurer and homosexual. When Archer suspects the Ripper is killing to lure him to a confrontation, he risks his reputation and his life to stop the madman's murders. Every man must play his part, including Silas. A mashup of mystery, romance and adventure, Deviant Desire is set in an imaginary London of 1888. The first in an on-going series, it takes the theme of loyalty and friendship in a world where homosexuality is a crime. Secrets must be kept, lovers must be protected, and for Archer and Silas, it marks the start of their biggest adventure - love.
Deviant Desire
Pairing: M-M
March 7, 2019
Word Count:
100000
Character Identities:
Gay, Genderfluid, Non Binary
Summary: Big-hearted Danny finds interaction difficult and must keep his world small in order to survive. By day he lives in an abandoned swimming pool and fixes electrical devices to trade for supplies, but by night, alone, he hunts sharks—a reckless search for the dangerous men who prey on the vulnerable. A search for his best friend's killer. A chance meeting with an American boy selling himself on the streets throws Danny's lonely existence into disarray. Micky is troubled, fragile, and Danny feels a desperate need to protect him. Though from what, he doesn't know. As Danny discovers more about Micky, he realises that what Micky needs saving from is the one thing Danny has no idea how to fight. To save Micky, Danny must risk expanding his world and face something that scares him more than any shark ever could: trusting he will be accepted for who he is. If a freezing winter on the streets, a sadistic doctor, and three thousand miles don't tear them apart first, that is.
Foxes
Pairing: M-M, Includes NB
November 22, 2018
Word Count:
131676
Character Identities:
Gay
Summary: Choices. You cannot escape the consequences of your choices. TJ's choices have landed him in a whirlwind of trouble. Legal trouble. As he faces the biggest challenge of his life, he is also demanding answers about his past. Will TJ beat this case that is moving through the criminal justice system, or will his future come tumbling down? Will TJ have to reap the consequences of what he has sown? The choices Seven made are haunting his mind. Several people believe he was responsible for the Jaquez situation and that choice he made will return some grim results. While Seven tries to shake off the mistakes of his past, a new love interest develops. The choices he makes with this love interest can also come at a costly price. For Seven, do the ends justify the means? Insert Elijah. His past choices have led him to his new truth which causes the relationship with his mother to take a drastic turn for the worst. But why? What is really causing these problems in his home? What is really at the core of Elijah's issues? Is his mother to blame? Or is it something deeper? What will Elijah do when the demons in his head take him to a place of no return? While the friends tackle these storms in their lives, something more sinister is at work. A plan is being crafted to destroy them at their core. Dark secrets will be revealed. The ultimate betrayal will occur. Someone will meet their untimely death. In their world, all bets are off. Who can you trust? Who do you trust?
Free Yourself
Pairing: M-M
February 24, 2022
Word Count:
15,000
Character Identities:
Gay
Summary: Misha's a rent boy and he feels like that's all he'll ever be good for. He deals with the humiliation of being on his knees by escaping into fantasies of shining knights, majestic castles, and lush green landscapes. His dreams are full of chivalry, courtship, and love—things he knows he'll never experience for himself. This Halloween has brought nothing but weirdness for Misha. Bizarre people are accosting him with warnings he doesn't understand and his best friend is acting strange. Even his dreams of knights and honor have become more vivid and disturbing. Misha knows hope is an unattainable thing, but will this strange Halloween bring him closer to his dreams or lead him straight into disaster?
Halloween Knight
Pairing: M-M
October 31, 2020
Word Count: Information not available
Character Identities:
Bisexual, Gay, Genderfluid
Summary:
A global plague and world war created them—monsters in human skin.
Shane contracted the mutation during the third World War, a corruption of the blood that forces him to violently shift into an animal every month. He uses his heightened senses to track down the missing or murdering dredges of humanity. His only safe haven is a hustler with the ability to see other people's pasts. A psi, hiding in plain sight, Misaki spends his days pleasing men for money and basking in beautiful shoes. Shane's presence in his life sometimes means gruesome murder cases and memories that give him nightmares, but he can't help being drawn to the gruff detective. When an official's daughter goes missing, Shane asks for Misaki's help. But the trip into the killer's mind opens a door to evil long forgotten and it's coming for them next.
Note: Mild BDSM undertones.
Hidden Gem
Pairing: M-M
June 14, 2019
Word Count:
102000
Character Identities:
Bisexual, Gay
Summary: Scott I've done a lot of soul-searching this season. I've been in denial about myself and a jerk to everyone else. I don't even know where to start to fix it all. I don't know what to feel about anything. How am I supposed to handle falling in love? Hunter I'm good at faking it most of the time. No, not that. I mean faking like I'm okay. Like something doesn't always hurt, especially when I'm trying to earn my pay. He gets it. More than anyone I've ever met, he gets it. But he's got pain no one can touch. Not doctors. Not me. How do I convince him that shutting me out won't take away that pain? Gentlemen of the Emerald City Hunter is the sixth and final book of Gentlemen of the Emerald City, a sexy series centered around the high class, high-dollar Gentlemen of Seattle's most exclusive escort service. Each book is full of snark, sass, and sweetness, and like any Emerald City client, you're guaranteed a happy ending.
Hunter
Pairing: M-M
October 6, 2021