Word Count: Information not available
Character Identities:
Gay
Summary: Finally working for a man he can trust has given Bill a new purpose. His boss, Christopher Manos, commands respect and absolute loyalty, and Bill has proven himself worthy of a seat at Christopher's table. Becoming best friends with Christopher's husband, Snow, has further proven his allegiance and cements a place for him in the Manos family. When Snow's life is in danger, Christopher places his full trust in Bill to destroy anything and anyone that poses a threat to his husband. But hunting and wiping out the enemy for the safety of everyone Bill cares about means partnering with the one person he has vowed to never see again. Mace wears a mask of vain cockiness and uses his model good looks to his full advantage. Known to many as Without a Trace Mace, he's a deadly assassin well known for wiping out whole families and getting away without a trace. With a dangerous past and an unknown future, Mace uses his veil of conceit to keep others at a distance, rarely trusting anyone. When his boss, Black--the one man he trusts above all others—gives him his next assignment, he learns his newest partner is none other than Bill, the man he'd do anything to avoid. With the safety of the Manos family on the line at the hands of a brilliant maniac, Bill and Mace begrudgingly put their differences aside to ensure Snow, and his loved ones, are protected from harm. With their lives in grave danger and the clock ticking towards zero hour, they navigate deathly perilous situations and uncertain outcomes, hoping they survive long enough to keep the Manos family safe. Bill and Mace's traitorous hearts draw them closer together no matter how hard they fight the inevitable. With the lives of their loved ones hanging in the balance, they find themselves in the middle of a dangerous dance. But when the music stops, will they both be left standing?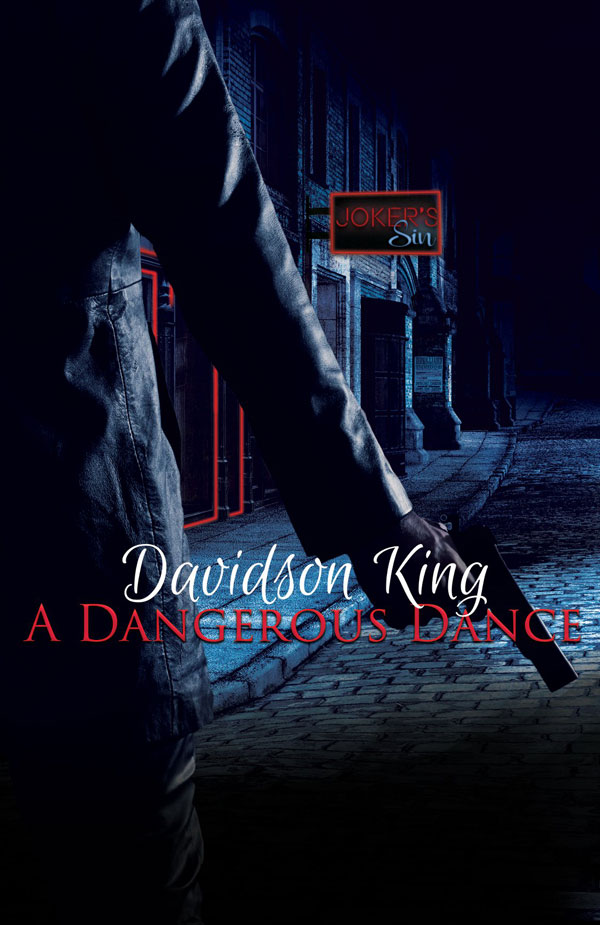 A Dangerous Dance
Pairing: M-M
July 15, 2018
Word Count:
80000
Character Identities:
Gay, Non Binary, Transgender
Summary: Beware the demon prince who's sick and tired of running. Federico Duomo is dead, to begin with. But this is only the first bit of Shax's problems resolved. Powerful crime lords and an obscenely wealthy oligarch are still determined to destroy him and his crew, and Fluffy's original owner may be coming after the Brimstone now, too. It would be splendid to be able to take on one thing at a time. Adding to the external conflicts, life on board the Brimstone has only grown increasingly stranger. Shax has no idea what to do with the seven partly human children that Heckle rescued from slavers. Heckle himself has grown short-tempered, even with Mac. Someone from Julian's past catches up to them on Barbary. It's enough to put a demon off his cinnamon buns. Shax isn't panicking, though. In fact he's had it up to his handsome royal nose with the people he loves having to live in constant fear. The fox has turned at bay and the Brimstone's enemies are in for a shock. The demon prince of thieves is coming for them.
A Fine Mess
Pairing: M-M, M-M-M
July 28, 2020
Word Count:
68500
Character Identities:
Gay
Summary: Adal has always loved Shiv. But when he declares that love, Shiv walks away and leaves him behind. Adal's father isn't interested in whether his only son finds love or not. In his mind Adal is the means to increase the size of the family farm and gain the grandchildren he wants. Adal is so much stronger than that and isn't going to allow himself to be used in such a way. Rather than submit to an arranged mating, he takes to the stars to find Shiv and make him listen. Shiv thought he was doing the right thing when he walked away from seventeen year old Adal ten long years ago. He couldn't believe Adal would be able to deal with the fact he was one of the elite Brethren, men trained in the art of delivering death. When he finds out Adal has been searching for him all this time, living through events that would have broken a weaker man, he feels responsible and just can't forgive himself. Jastl has only ever wanted to be one of The Brethren. And Shiv. When chance throws Adal and him together, he finally sees a way to have the man he's always wanted. His solution is for Adal to become his mate, at least temporarily, so they can win Shiv over together. Three men on a collision course with destiny. Alone, they merely existed, yearning for something more. Together, they just might learn that love can handle the worst life throws at you, and leave you stronger.
A Warrior's Strength
Pairing: M-M-M
October 19, 2015
Word Count:
75000
Character Identities:
Gay
Summary: Rule No. 1 of being an assassin: Don't sleep with your mark. Eh. Alexei has never been big on rules. It's not his fault Soren is too sexy for words. And it's not like he knew Soren was the cat burglar he'd been hired to kill. But as they dodge other assassins, the CIA, and even the Russians to keep Soren alive and a stolen hard drive out of their hands, Alexei might be in even greater danger of breaking Rule No. 2. Never fall for your mark.
Accidental Lover
Pairing: M-M
July 9, 2021
Word Count: Information not available
Character Identities:
Bisexual, Gay
Summary: Declan Devine is the soon to be Alpha of the Asphalt Bay Pack. He's a total playboy that refuses to settle down. He enjoys having his pick of any partner with no regard for what's between their legs. Well, until his father decides to force him into a mating before becoming Alpha. With no time to search for his true mate, Declan chooses the next best candidate. Liam "Lykos" Cassidy is a very powerful demigod. The result of a joining between the sea god Poseidon and a wolf shifter. Favored by his uncle Zeus, Lykos has extra special abilities given to him by Zeus himself. As a "Fixer" for the Paranormal Council he uses his abilities and knowledge to solve any problems that arise. Bordering on psychotic with some of the things he does, he's a force to be reckoned with. Will Lykos finally have someone to call his own despite his frigid personality? Will Declan reject the gift given to him by fate for the sake of duty? Or will everything go the way fate decided it should?
An Alpha for the Demigod
Pairing: M-M
August 3, 2016
Word Count:
35656
Character Identities:
Gay, Transgender
Summary: When Shax stumbles across rumors of an experimental house that responds to the occupant's brain functions, creating scenarios to please and delight, naturally he wants to steal it. While stealing an entire house sounds impossible, the demon prince has a cunning plan. But a night at the ballet heralds the return of a troubled and hunted Julian Parallax. He brings ominous news to whisper in Shax's ear and forces Ness to battle a new emotion – raging jealousy. With nefarious plots in the background and an overabundance of Poe references, even Shax's scheming may not be enough to get the Brimstone crew out alive this time.
Beside A Black Tarn: Brimstone 5
Pairing: M-M
February 10, 2016
Word Count:
60,600
Character Identities:
Gay
Summary: M'lan, headmaster of the order of Ka'alar and Jamil Jarka, king's assassin, find their impossible love challenged to the utmost as a rebellion sweeps them apart, sending Jamil on a dangerous mission to assassinate the rebel leader, General Charvat.  Unknown to anyone, Charvat is on his way to the temple to exploit the headmaster's magical abilities and M'lan is thrust into the middle of political intrigue and a struggle against sexual dominance as Charvat attempts to break his resistance. Violence and death mount, awakening within M'lan both the powers of destruction and the desire for revenge. On the trail of his prey, Jamil begins to question to his devotion to M'lan as his once innocent lover transforms into a mage, allowing him to invade the assassin's thoughts and dreams.  The closer Jamil draws to M'lan, the more he puts his life and his very soul at risk.  Jamil soon realizes that his lover might prove to be more deadly than the man he was sent to kill. A final confrontation between assassin and monk might destroy them both, but Jamil presses on in his determination to rescue M'lan, knowing that only his love can master the mage.
Blood of Salar
Pairing: M-M
April 19, 2018
Word Count:
48027
Character Identities:
Gay
Summary: Double lives were just the way it was for a man like me. By day I was a man with a reputation above reproach. Even assassins needed backup plans. For fifteen years, life was going without a hitch until I had to take out a witness. When it was time to kill him, beautiful eyes filled with fear urged me to do something else. Yet, in order to do that, I had to break him, and by way of pain, my captive would experience pleasure he'd never dreamed. This book is part of CRIMINAL DELIGHTS. Each novel can be read as a standalone and contains a dark M/M romance. Warning: These books are for adult readers who enjoy stories where lines between right and wrong get blurry. High heat, twisted and tantalizing, these are not for the fainthearted. Trigger Warnings: Title contains the following possible triggers. Humiliation, Violence, Master/slave elements, Male Chastity, Murder, Imprisonment, Dub-Con, and Torture. Stockholm Syndrome. It is always by way of pain one arrives at pleasure. —Marquis De Sade (1740 - 1840)
By Way of Pain
Pairing: M-M
May 20, 2019
Word Count:
120000
Character Identities:
Gay
Summary: Slave. Assassin. Bodyguard. Draven has played many roles within the notorious Sapphire Guild, but one man has always controlled his destiny. After the man who shaped his world betrays him, Draven exacts his revenge and flees, pinning all his hopes on a promise of sanctuary made long ago. Director Cameron Asada is responsible for the safety of every psion affiliated with the Institute for Psionic Research. When a vid-clip of a psion destroying an industrial installation goes viral, the citizens of the Federation demand action. With anti-psion sentiment spreading too fast to contain, the last thing Cam needs is for a dangerous figure from his past to show up, drug-addicted, psi-damaged, and seeking to redeem a reckless promise Cam never should have made. Sheltering Draven could cost Cam everything he's worked for, but Cam owes the man his life, and Draven might be just what Cam needs to protect his people from an increasingly hostile government. When it becomes clear that it may take more than a job offer to secure Draven's trust, Cam finds himself walking a dangerous line as he struggles to reconcile his conflicting loyalties. Can Cam be the man Draven needs? Or is everything he's worked for destined to go up in flames?
Closing the Circle
Pairing: M-M
May 8, 2017
Word Count:
105000
Character Identities:
Bisexual, Demisexual, Gay, Lesbian, Polyamorous
Summary: Coulta was born with a curse, one that forces him to obey the commands of those with authority over him. At only five years old, his father gives him up into service of a powerful lord, hoping to give Coulta a better life. But it was a mistake. Varin turns Coulta into an assassin, someone who can't stop himself from killing even the most innocent person he was commanded to murder. Despite the pain of a life out of his control, Coulta does have hope; hope that he will one day meet the person his mother claimed would free him of his curse. Wildas is the Crown Prince of Phelin. He has known nothing but luxury and comfort, not the pain and suffering of a cursed killer. He has no idea that his life is in danger, that assassins are lurking in the shadows of the next city he will visit on behalf of the Crown. Nor does he know that his very soul is tied to one of those assassins, a tie that not even death could ever break. Together they will discover that even chance encounters have meaning, and that their own personal struggles are nothing compared to what is to come when their kingdom is launched into a civil war that puts all of lives in danger. Only by relying on each other will they have any chance of survival. Content Warning: Contains bisexual characters and polyamorous arrangements.
Curse of Blades
Pairing: 4+ or Other
June 1, 2018
Word Count:
100000
Character Identities:
Gay
Summary:
New Expanded Content for Deadly Lover!
Justin Mallory is an assassin. But he's really a good guy. He has years of bad decisions to make up for, starting with agreeing to join the CIA after being recruited out of the Marines. No reason to add more black marks to his soul. Now he chooses the jobs and he works always alone. It's safer that way, and he can make sure the good guy always wins. But this job…he can't do alone. Two scientists are dead and a dangerous drug is on the cusp of winning FDA approval if he doesn't track down the culprit behind the lies and murders. Gabriel Prescott is a well-trained, efficient, and cold-blooded killer. After a brutal betrayal left his lover dead, Gabriel is out only for himself. But when this lucrative contract lands in his lap, he can't pass it up. Even if it means working with the unpredictable and insane Justin Mallory. Dodging bullets and secret meetings force them to depend on each other. And one hot, frantic night together leads to a hidden sweetness and questions of whether they could possibly have something more.
Author's Note: 
As a gift to readers, I have expanded the original 
Deadly Lover
 by nearly 20,000 words, giving readers a deeper understanding of Justin and Gabriel. Furthermore, I have added the short story 
Lover Calling 
to the special edition so you can enjoy even more of these fun assassins.
Deadly Lover: Special Edition
Pairing: M-M
March 1, 2021
Word Count:
17500
Character Identities:
Gay
Summary: Special Agent Cameron Asada has spent four years deep undercover in an attempt to deal a death blow to the Sapphire Guild, the largest drug cartel on Alpha. The things he's done in the name of his mission weigh heavily on his soul, and Cam is reaching the point where he's not sure he recognizes the man he sees in the mirror anymore. Things come to a head when Cam finally gets the break he's been waiting for: an invitation to work for the boss himself as a psionic interrogator. While working at the boss's estate, Cam meets Miko, a powerful psion trapped behind a wall of silence. It doesn't take long for Cam to realize that Miko is a slave, handed around to the boss's associates as a reward for a job well done. Miko's plight tugs at Cam's heartstrings, forcing Cam to examine just how many lines he's willing to cross in the name of serving the greater good. Will Cam risk his life and his career to help Miko? Or is the trail of broken minds and bodies he's left in his wake worth the possibility of victory over the Guild? (~17,500 words)
Facing the Mirror
Pairing: M-M
November 20, 2013
Word Count:
75000
Character Identities:
Gay
Summary: Two assassins meet, don't kill each other, and fall in love. It's happily ever after, right? Not so fast. Reformed mercenaries Justin Mallory and Gabriel Prescott have taken the big leap of living together. They're even working together. But "one last job" has them taking a falsely accused man and his young son into their home for safe keeping. While dodging bullets and fellow hitmen out for the $27 million bounty, Justin and his G Love realize that falling in love was the easy part. Building a life together might be more than they bargained for. Join Justin and Gabriel for their final adventure as they protect an innocent man and uncover the missing piece to their forever.
Final Lover
Pairing: M-M
August 16, 2019
Word Count:
31000
Character Identities:
Gay
Summary: A coldhearted murderer yearning to be had and a pretty boy who wants to have him. Sage Crawford makes a living eliminating people and he prospers from jobs well done. Business is business until he contracts to exterminate a mark in his small hometown. Hasn't been within a hundred miles of where he grew up since he left deserting his best friend whose family practically raised Sage. His idea of reconnecting nose dives when he realizes his target is the friend's younger brother. Skewing matters, while tracking his prey, Sage begins to hope for something he has endlessly searched for. Emory Welton never hid being gay. His life is good until an encounter goes awry with the son of a gubernatorial candidate who wields power. The wealthy candidate will stop at nothing to be elected including keeping his son's sexual preference concealed. Things don't improve when Em finds himself attracted to an old family friend whose secret will devastate his family. And just when he thinks things can't get worse, Emory is kidnapped. Embers smolder, sparks fly and heat grows igniting a fire that can't be smothered before flames become all-consuming. Fire Inside Me rages with shades of John Wick, a pinch of Pretty Woman and a dash of 365 Days. And there's a kitty cat! No furry animals are harmed in this book. Content/warning: #drama #enemiestolovers #gay #HEA #murder #romance #violence
Fire Inside Me
Pairing: M-M
July 13, 2020
Word Count:
75000
Character Identities:
Gay
Summary: Devlin Relic was off limits. The sweet man had already lost a husband and nearly lost his life when someone put a contract on his head last year. He needed to focus on raising his adopted son and finding a nice, normal man. Kai was anything but nice and normal. He was an assassin, and that did not fit into Dev's neat and tidy life. But when a dead body mysteriously appears in Dev's bathtub, it looks like an assassin is exactly what he needs. Maybe this time Kai will be brave enough to fight for Devlin and finally put his exit strategy to use.
Forbidden Lover
Pairing: M-M
June 11, 2021
Word Count: Information not available
Character Identities:
Bisexual, Gay
Summary: A product of his past, Black spends half his time saving lives and the other half taking them. Every day, a hard choice must be made and he's the man to make it. Long ago, he vowed to never love again; one-night stands with a willing body was all he ever needed. But along came Quill, and Black's life is irrevocably changed. He never expects something as simple as Quill's persistence to alter the way he not only sees the world, but how he lives it. Quill has bad taste in men and equally horrible luck. Growing up wasn't easy, surviving is even harder. When his past and present collide, he's convinced he'll finally witness his own destruction. But when an unlikely antihero steps in to protect him, his life is turned on its head. He's spent months flirting with the man of his dreams and hoping he'd take notice. But it turns out, being on Black's radar isn't all it's cracked up to be, and his idea of protection varies greatly from Quill's. Unknowingly sharing the same goal—burying their own pasts deeper than the fires of hell can reach—they're both unaware that jumping into that fire will do more than ignite their feelings, it could lead to their own demise. Will Black and Quill be consumed by the flames, or from these ashes, will they find their own happily ever after?
From These Ashes
Pairing: M-M
November 28, 2018
Word Count:
100000
Character Identities:
Gay, Pansexual
Summary: This is a STANDALONE story, OR it can be read as Book 4 of the Closer Than Blood series. Thirty year old Tino Santini, is a good man, caring and loyal to his family, but he's disillusioned with his job. After being trapped in the company elevator with his terrifying CEO, Tino is offered the role of his personal assistant. It seems a night of scorching, unexpected sex can do wonders for a flagging career. Richard Mason is the pansexual businessman who wants more of Tino's talented mouth and organisational skills. He seems to have it all, but a former female lover and a murky past all threaten to destroy his chance of happiness. Neither he or Tino expect their relationship to be anything other than business, until a personal tragedy means Richard needs Tino more than ever. Meanwhile, Richard's demons have a nasty habit of resurfacing at inconvenient moments. As trouble looms on the horizon, both men embark on a hedonistic journey of sex, murder and possibly love. This book contains graphic scenes suitable for adults only.
Going Down
Pairing: M-M
January 13, 2020
Word Count:
54,646
Character Identities:
Gay, Questioning
Summary: Kaede Hiyashi is sick and tired of living in the shadow of his father, supervillain Doctor Terror. Brilliant but crazy, Doctor Terror sends his son to Corwyn, California, for reasons Kaede can't imagine. Sent to accompany and protect him is Ash, a genetically modified supersoldier raised and trained by an infamous death cult. Corwyn is lousy with superheroes, led by the obnoxious Dark Justice. Kaede finds himself dancing around Dark Justice as he digs into his father's mysterious business and teaches his socially awkward—but physically lethal—bodyguard to acclimate to "normal" life. Can these two wacky supervillains figure out what Doctor Terror wants them to do, solve the riddle of the villain known as Black Hand, and keep Dark Justice from raining on their bloody parade? The course of love—and world domination—never did run smooth.
Hearts of Darkness
Pairing: M-M
November 8, 2016
Word Count:
54000
Character Identities:
Gay, Questioning
Summary: Mango Ururoa has been an agent for the Kawana family since leaving the Temple of The Brethren as a young man. He does what has to be done to keep them safe, following orders without question. It's a good life, and he lives it with honor, never wanting or expecting more. After fifty years of life, Hashani, cat-shifter, Shonto Galon is sick and tired of being alone. Especially after watching his newly-mated brother live in mated bliss for the past six months. The head of security for his clan is ready for a woman of his own and all the domesticity involved. While serving a mission, Mango gets caught between a rock and a hard place, and his actions lead him into serving a self-imposed debt of honor to Fael and Bonachi, friends of the Kawana family. While delivering members of Bonachi's crew to a fellow clan's ship, Mango meets Galon and the two realize immediately they're mates. Surprise would be a mild term for what they experience. Mango had no intentions of ever taking a mate and Galon can't understand why the Gods would pair him with another male. It's not like he's ever been attracted to one before. Life can be crazy, but sometimes you just have to go with the flow and hope for the best. And maybe, just maybe, the Gods knew what they were doing when they matched up two warriors who didn't believe love would ever be written in their stars.
His Warrior's Heart
Pairing: M-M
July 12, 2015
Word Count:
74000
Character Identities:
Bisexual, Gay
Summary: Ricardo Torralba and August Morrison don't agree on much besides the fact that they hate each other. According to Ricardo, August is a spoiled brat who really needs to knock off the sass once in a while. August insists that Ricardo needs a sense of humor, a good lay, or a well-placed bullet. Maybe all three. Fortunately, the assassin's profession is a solitary one, and they can go about their lives without getting in each other's way. Usually. When a contracted hit turns out to be a setup for both of them, they narrowly escape with their lives. Now, even if they don't like it (spoiler: they don't), August and Ricardo have to work together if they want a shot at survival. In between firefights and questionable interrogation methods as they hunt down their would-be killer, the cranky assassins discover that under all that mutual loathing is a spark of chemistry they can't ignore. They want to ignore it, they probably should ignore it, but August can't help flirting to annoy Ricardo, and Ricardo can think of at least one way to shut him up for a while. But they need to focus, damn it, and figure out who's gunning for them and why. Assuming they don't kill each other first. Hitman vs Hitman is a standalone gay romantic suspense featuring two men who'd rather chew glass than fall for each other, a whole lot of inappropriate comments, and some buttons that will need resewing.
Hitman vs Hitman
Pairing: M-M
July 20, 2020