We send out our newsletters on a weekly basis to notify you about new releases, site changes, blog posts and other news. We will never trade or sell your email address.
Every email list sign-up gets five free ebooks. This month's selections are all Sci Fi & Fantasy, and all are from QRI Authors. See the list of books below.
Your books will be sent to you after 8/1. It's a great way to connect with our authors, too. All sign-ups will also be added to our participating author email lists unless you choose to opt out.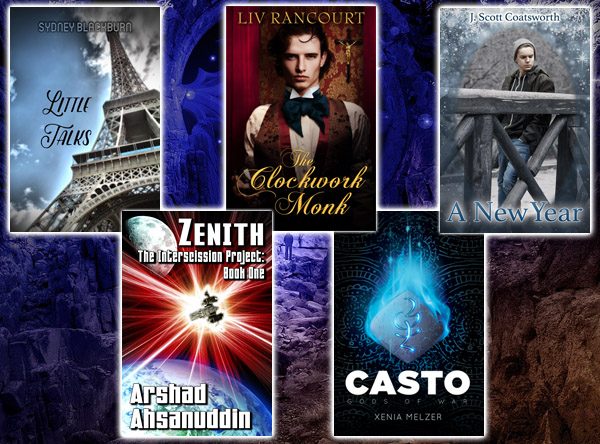 Little Talks – Sydney Blackburn
Ollie lives in a world where isolation of the individual is preferred by the powers that be. He lives for his VR and the Rx that makes it hyper real, until he meets someone in virtual Paris who is more real than his own life.
Zenith – Arshad Ahsanuddin
Grounded after a rescue attempt in Earth orbit goes bad, Commander Martin Atkins of the Confederation Navy is approached by the Interscission Project, a consortium of civilian corporations on the verge of perfecting the technology to travel to another star. Despite his misgivings, the chance to get back in the pilot's seat is too much to pass up, and he convinces his best friend and crewmate, Charles Davenport, to leave the military temporarily and join him as part of the crew of the Zenith, humanity's first starship. Edward Harlen is a brilliant young engineer, and a key player in the construction of the Zenith to take advantage of the untested technology of foldspace drive. But Edward has his own agenda in joining the project, and a bitterly personal score to settle with his boss, Trevor Sutton, a vendetta of which Trevor is entirely ignorant. But when Edward's sister Stella enters the picture and manages to secure a position on the project, all of Edward's careful plotting is upset, and she might spell the downfall not only of his plans for revenge, but of the entire Zenith mission. The spark of attraction between Edward and Martin is a complication that Edward can't afford, but of which he can't let go. For Edward knows the secret at the heart of the Interscission Project, the hidden potential of the technology that in the wrong hands could become the ultimate assassin's weapon: the ability to rewrite history, not just once, but many times. As an unseen enemy moves to destroy them, and the body count multiplies in their wake, Martin and Edward must choose whether they will allow the possibility of love to challenge their destinies, or will they instead take up arms in a war to control the most ancient and terrible power in the universe. Time, itself.
The Clockwork Monk – Liv Rancourt
The Clockwork Monk is a mystery the President herself asks Trevor to solve. She wants it, and Trevor's her spy. An encoded message leads him to the residence of the Archbishop of Chicago, where his undercover role allows him to indulge in fine waistcoats and fancy cravats. Even better, he enjoys the thrill of dodging anarchists and propriety while engaging in a duel of secrets with the mysterious Father Stephen. The good Father doesn't act like a priest. Hell, Stephen may not be his real name. His broad shoulders and dark eyes are intriguing, and though Stephen's clandestine agenda clashes with Trevor's, danger just adds to the temptation. Between kisses, Stephen forces Trevor to admit his loyalty goes deeper than cheap excitement, turning a simple burglary into a test of his allegiance.
Casto – Xenia Melzer
All is fair in love and war. Renaldo has lived happily by that proverb his entire life. But he has finally met his match, and he's about to discover how unfair love and war can be. When demigod and warlord Lord Renaldo takes a beautiful stranger captive during an ambush, he is delighted to have found a distraction that will keep him entertained during the upcoming siege. Little does he know, Casto is keeping more than just one secret from him. Slowly, Renaldo gets sucked into a turbulent roller-coaster relationship with his mysterious prisoner, one that begins with hatred and soon spirals into a whirlwind of conflicting emotions. And when it seems that things can get no worse, an old enemy stirs right in the heart of his home. Determined to keep Casto by his side, Renaldo has to find a balance between the capricious young man and his own destiny as a ruler and god to his people.
A New Year – J. Scott Coatsworth
A mysterious stranger saves Heath from a suicide attempt, turning what would have been his last year into the beginning of a new life. Every time Finn walks into Heath's life, he brings change. It's going to be an interesting new year.
SaveSaveSaveSave