Siri Paulson loves nothing more than mixing up genres to see what will happen. She also wears the hats of non-fiction editor by day and chief editor of micro-publisher Turtleduck Press by night. Her other passion is contra (folk) dancing. Thankfully, her long-suffering spouse is good at keeping himself occupied. After growing up in Alberta, Canada, she moved to Toronto and achieved her lifelong dream of buying an old house, dubbed the TARDIS because it's bigger on the inside. Other lifelong dreams include publishing novels (one and counting), travelling the world (so far, so good), and becoming an astronaut (still waiting on that one).
Siri's latest release is A New Year on Vega III. Her first novel, City of Hope and Ruin, co-written with Kit Campbell, is available through Turtleduck Press. She has also published short fiction and edited several anthologies, which can be found on her Turtleduck Press bio.
This author has been favorited by 1 user.
Contact Information:
Books By Siri Paulson
Love Shines Through
Siri Paulson ...
Pairing: F-F, M-F, Includes NB
March 9, 2019
A New Year on Vega III
Siri Paulson ...
Pairing: Includes NB
December 30, 2017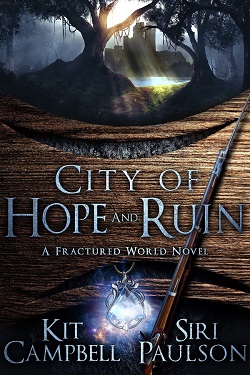 City of Hope and Ruin
Siri Paulson ...
Pairing: F-F
May 11, 2016