Shannon West is an author of MM Romance and believes love has no gender. She has well over a hundred novels, novellas and short stories that usually have a paranormal or a sci fi twist, but she also loves contemporary. Her stories have been translated into French, Italian and even one Japanese Yaoi, and in the past, she has worked with several publishers, both large and small. She can be found most days fighting cats off the keyboard, eluding housework, lost in fantasy worlds, and imagining love scenes—sometimes all at the same time. She makes her home in Georgia, with frequent jaunts to the North Carolina mountains and anywhere else she can, really, as she loves to travel. She's married with four children, has too many cats and a dog named Smokey. She is almost always working on a few more stories at any given time.
This author has been favorited by 4 users.
Contact Information:
Email Address: remyshannon@gmail.com
Books By Shannon West
Word Count: Click here to reveal72462 (Click here to hide)
Character Identities: Click here to revealGay, Genderfluid (Click here to hide)
Summary: What should a Tygerian colonel do when he develops a devastating and disastrous attraction that's totally unsuitable? Kylon Bonnett, close friend of Prince Mikos, goes to the aid of Prince Larz on Laltana when both they and the disgraced human prisoner, Rasc Centarlo become embroiled in a mission to the unfriendly prison planet of Gatifrey. A deranged commandant there is harboring a deadly secret, and playing a dangerous game with the prisoners' lives. Prince Mikos and Ryan's paths converge with Bonnett's and Centarlo's in a surprising way. They discover the commandant's true identity and find themselves in grave danger, when it becomes a contest between them and the commandant to see if they can survive this mission that takes them deep into enemy territory.
In Enemy Territory
Shannon West ...
Pairing: M-M
June 18, 2020
Word Count: Information not available
Character Identities: Click here to revealGay (Click here to hide)
Summary: WRAITH agent Will Donovan should have known better than to fall in love with a treacherous and beautiful Fairy, but he simply hadn't been able to help himself. Now Commander Levi has teamed him with the gorgeous Ash again, this time to travel into the Vargr Realm to stop a dangerous and deadly drug called Candy Hearts from being sold and distributed to humans. Once Donovan arrives, he has to deal with a broken-hearted little wraith, a treacherous brownie, amorous Nymphs and a growing attraction to his partner. When he's kidnapped by Cupids, he's taken to their capital city and has to face the biggest threat to his safety yet—his love for a being who can never stay with him. Ash, along with a Paladin witch he picked up along the way, has to save Donovan, the love of his life and talk himself out of a relationship that will one day prove to be deadly. To do it he has to be willing to sacrifice his own life and break an ancient curse, but if he can pull it off, he might just get everything his heart desires.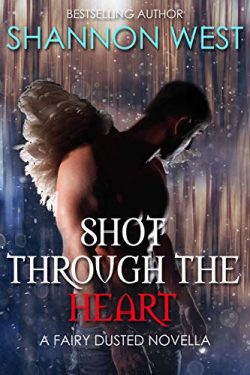 Shot Through the Heart
Shannon West ...
Pairing: M-M
February 13, 2019
Word Count: Click here to reveal65000 (Click here to hide)
Character Identities: Click here to revealGay (Click here to hide)
Summary: Will Logan and Luke Warren are still running, with no refuge in sight. After stopping in Tennessee to meet up with teammates Ron Perry and Jake Wilson, they head for Atlanta, to rendezvous with the remaining member of their team, Todd Jackson. Kowalski told Logan he murdered Jackson, but Logan knows all too well how hard it is to kill any of them now. He's hopeful that Jackson survived and is waiting to meet them. Once they arrive in the city, they find Jackson easily enough. They soon discover, however, that he's involved in a strange and savage situation, a member of a vicious fight club in the basement of an Atlanta club. When he tells Logan he's in trouble and can't extricate himself, Logan finds an oppressive atmosphere of evil in the club, seeming to center around the club's owner, a charismatic man named Austell. Logan is disgusted by the illegal fighting, but Luke and the others are all inexplicably drawn to it. Something or someone is influencing the men, infusing them with violence and cruelty. A chain of events begins to unfold that will test Logan and Luke's bond to the breaking point. Logan's life is turned upside down as he has to fight for the lives of his friends and the man he can't live without. When they're kidnapped, and everything Logan holds dear is in deadly danger, will he be strong enough to save them all? In this book, the second in a three part series, new clues and revelations emerge as to what happened to Logan and his friends in book 1, Origins, Gods of War, to change their lives. They face a new and savage threat to their safety, and receive intervention from Heaven itself? Or could it be Hell?
Dread
Shannon West ...
Pairing: M-M
January 10, 2019
Word Count: Information not available
Character Identities: Click here to revealGay (Click here to hide)
Summary: The fallout from Derrick's union with Rhaegar and Blake's aid in his son's elopement has been intense, to say the least. After a blistering brawl between Blake and Davos, Davos leaves Blake, because he isn't ready to forgive him, and most shockingly of all, he says he isn't sure he even wants to. Blake is frightened and hurt by his actions, but terribly angry. He follows the king back to Tygeria, if only because Davos had the gall to take their two younger children with him when he left. His ship is slower than the king's, though, and when he arrives back on Tygeria, he finds the king has left again, on a wild chase after his errant son and his pirate mate. Even worse, he makes a unilateral decision to send their son Larz to a faraway planet for military training, against Blake's express wishes. When Davos, Derrick and Larz all go suddenly missing, Blake attempts a rescue mission, but encounters a strange wormhole in space, and is flung through it to crash on an unknown planet called Tveir. Strangest of all the planet is populated by Tygerians and their handsome king. Injured and disoriented, Blake begins to feel as if he's trapped in some crazy story. Except this isn't any kind of story at all—this is Blake's life, and the plot has just taken an unexpected, heartbreaking and totally infuriating twist.
The Tyger Kings
Shannon West ...
Pairing: M-M
October 31, 2018
Word Count: Information not available
Character Identities: Click here to revealGay (Click here to hide)
Summary: Jax's little brother Mason is all grown up and finds himself longing for a life of adventure. He finds it in a way he never planned late one night while walking home to the lodge beneath a full moon, when he is attacked, bitten and left for dead by a huge black werewolf. As he's dying and all hope is fading, he is discovered on the trail and believes he's being saved. Instead, he's bitten a second time, and this time by a vampire. Mason finds himself in the middle of an ancient war between the vampires and the Dire werewolves, and during a raid, he's captured by the wolf who first bit him, a strong alpha named Finn. Finn is powerfully attracted to him, but Mason is changing, becoming something not quite wolf and not quite vampire—a new creature with powers of his own.
Hybrid
Shannon West ...
Pairing: M-M-M
March 29, 2017