SA "Baz" Collins hails from the San Francisco Bay Area where he lives with his husband, their daughter and wonder of all wonders, a whirlwind of a granddaughter. A classically trained singer/actor (under a different name), Mr. Collins knows a good yarn when he sees it.
Mr. Collins specializes in character study work. It is more important for him as an author that the reader comes away with a greater understanding of the characters, and the reasons they make the decisions they do, rather than the situations they are in. It is this deep dive into their manners, their experiences and how they process the world around them that make up the body of Mr. Collins' work.
This is Mr. Collins foray into writing but, as with all his creative endeavors, he leaps right in and figures it out as he goes along. It's been a winning combination thus far so why break a working formula?
Baz also runs the popular WrotePodcast with Vance Bastian and roving reviewer Jayne Lockwood. Released weekly on Friday, it is available iTunes, GooglePlay, Stitcher, Soundcloud and other points of distribution across the net.
This author has been favorited by 3 users.
Contact Information:
Email Address: sacollins@sacollins.com
Books By SA Collins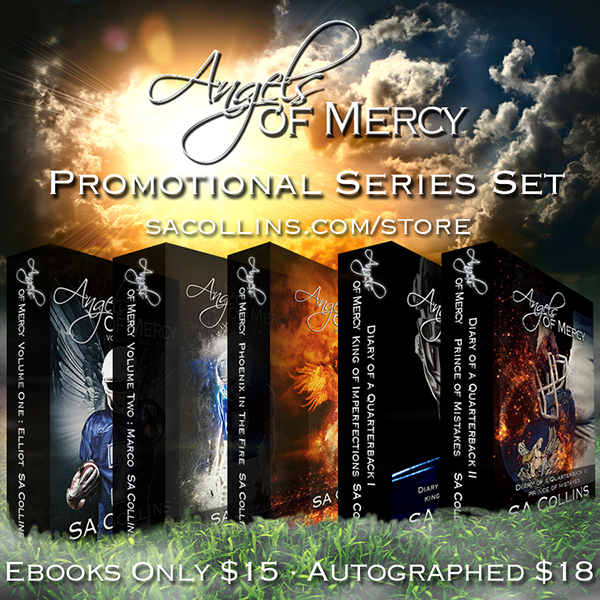 Angels of Mercy - The 5 Book Promo Series
SA Collins ...
Pairing: M-M
November 1, 2017
Angels of Mercy - Phoenix In The Fire
SA Collins ...
Pairing: M-M
March 26, 2016
Angels of Mercy - Volume Two: Marco
SA Collins ...
Pairing: M-M
November 30, 2015
Angels of Mercy - Volume One: Elliot
SA Collins ...
Pairing: M-M
April 15, 2015
HO'M,O - Henry O'Malley, Omega
SA Collins ...
Pairing: 4+ or Other
January 1, 2015