Matt Burlingame is an award-winning journalist and playwright, living in Northern California. After 20 years of working for for various LGBT newspapers, websites, and even cohosting a late-night radio show, he has retired from his aspirations of being the gay Murphy Brown to pursue his love of fiction writing.His first book, the self-published dark comedy Sorry Charley, was released in 2012.
He has written and cowritten over ten critically acclaimed plays including Recovery Mode, Poughkeepsie Porn Co., Countess Dracula, and the controversial Paperclip Messiah. His plays have been produced nationally, most notably in New York, and St. Louis.
He has been a well known LGBT podcaster for over 10 years and produced and cohosted shows focusing on comedy writing, world events, comedy, theater, gay sex education and positive body image. With the support and encouragement of his gay cat, and lifelong friend Nephi, he has now immersed himself into the wonderful world of M/M romance.
This author has been favorited by 1 user.
Contact Information:
Email Address: Matthew.Burlingame@gmail.com
Books By Matt Burlingame
The Perfect Match
Pairing: M-M
September 2, 2017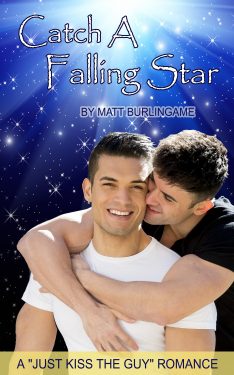 Catch A Falling Star
Pairing: M-M
May 3, 2017
The Fortune Cookie
Pairing: M-M
December 1, 2016