Matt Burlingame is an award-winning journalist and playwright, living in Northern California. After 20 years of working for for various LGBT newspapers, websites, and even cohosting a late-night radio show, he has retired from his aspirations of being the gay Murphy Brown to pursue his love of fiction writing.His first book, the self-published dark comedy Sorry Charley, was released in 2012.
He has written and cowritten over ten critically acclaimed plays including Recovery Mode, Poughkeepsie Porn Co., Countess Dracula, and the controversial Paperclip Messiah. His plays have been produced nationally, most notably in New York, and St. Louis.
He has been a well known LGBT podcaster for over 10 years and produced and cohosted shows focusing on comedy writing, world events, comedy, theater, gay sex education and positive body image. With the support and encouragement of his gay cat, and lifelong friend Nephi, he has now immersed himself into the wonderful world of M/M romance.
This author has been favorited by 2 users.
Contact Information:
Email Address: Matthew.Burlingame@gmail.com
Books By Matt Burlingame
Word Count: Click here to reveal120,892 (Click here to hide)
Character Identities: Click here to revealGay (Click here to hide)
Summary: Garrett spent his life preparing for "one day." One day he'd meet the man of his dreams. One day he'd have a family. One day he'd travel to all the places he's dreamed of seeing. Then came the one day he hadn't prepared for. The day he was told his "one days" were about to run out. Will that be enough to make Garrett stop dreaming and finally start living? Last Romance is a moving look at 48 year old Garrett Gilmore who is grappling with the reality of falling in love with 29 year old actor Justin Dixon, who has agreed to be his companion through the final months of his life. Is the feeling mutual or is the younger man just acting the part out of kindness? Enter David Wong, a muscular, take-charge cruise director who makes no bones about his carnal interest in Garrett. A plethora of colorful characters, challenging situations, and existential realities round out this passionate, raw, and at times sexually charged, tale of humanity, and the lesson that it is never too late to find chosen family and true love.
Last Romance
Matt Burlingame ...
Pairing: M-M, M-M-M
July 1, 2021
Word Count: Click here to reveal30500 (Click here to hide)
Character Identities: Click here to revealGay (Click here to hide)
Summary: Leaving his life in New York City behind, 33 year old Ira Hughes has moved back into his childhood home to help care for his ailing father. His overbearing mother quickly guilts him into looking after her interests in the family curio shop. That means dealing with her business partner Colton McCabe, the bully who made Ira's teen years a living hell. Ira is now forced to confront painful memories from his past. As he watches his father fight for his life, and his relationship with his mother become even more strained, he begins to find unexpected comfort in his time with Colton. Could it be that Colton is not the high school horror he used to be? Is the bane of his youth now becoming the love of his life?
The Perfect Match
Matt Burlingame ...
Pairing: M-M
September 2, 2017
Word Count: Click here to reveal18847 (Click here to hide)
Character Identities: Click here to revealGay (Click here to hide)
Summary: A therapist once told Martin Stevens that being gay was the only thing that saved him from being the most boring man alive. He spends his daytime working a dead-end job and his nights still pining after the ex-fiance who left him five years ago. When his older brother, Daniel, takes him to see a touring musical, a mishap sends superstar performer Alec Jameson flying off the stage right into Martin's lap. It's love at first sight. But can that love withstand the scrutiny of the press, a shock-jock radio personality bent on causing trouble, and the return of Martin's overbearing ex-fiance?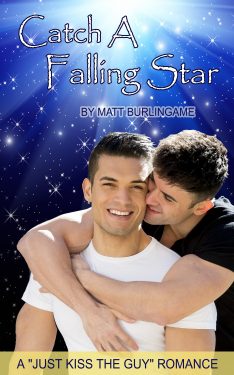 Catch A Falling Star
Matt Burlingame ...
Pairing: M-M
May 3, 2017
Word Count: Click here to reveal16,988 (Click here to hide)
Character Identities: Click here to revealGay (Click here to hide)
Summary: Thirty-three-year-old technical writer Laurence Hart is a modern-day Scrooge when it comes to the holiday season—and the rest of the year too. He doesn't like most people, they don't like him, and he's happy to keep it that way. Over lunch with his best friend, he receives a fortune cookie promising him true love. The next day, forced to work on a holiday charity committee or lose his job, he meets Nick, a jolly ginger giant who loves all things Christmas. Together they face numerous obstacles to put together a holiday fair to raise money for children in foster care in only four days. While Laurence has to mend his curmudgeonly ways to make the event a success, Nick's holiday magic might mend Laurence's heart.
The Fortune Cookie
Matt Burlingame ...
Pairing: M-M
December 1, 2016