Lynn Lorenz is an award-winning and best-selling author who grew up in New Orleans but currently lives in Texas, where she's a fan of all things Texan, like Longhorns, big hair, and cowboys in tight jeans. She's never met a comma she didn't like, and enjoys editing and brainstorming with other writers. Lynn spends most of her time writing about hot sex with even hotter heroes, plot twists, werewolves, and medieval swashbucklers. She's currently at work on her latest book, making herself giggle and blush, and avoiding all the housework.
Here's a list of her books being republished...
From Dreamspinner –
New Orleans Second Line, previously published as Pinky Swear, Pioneers and C'est La Vie

From Pride –
Rush in the Dark, book 2 of the Common Powers series
Edward, Unconditionally, book 3 of the Common Powers series

From Hartwood Publishing –
Truth or Lies
Remember Me?

From MLR –
Coliseum Square
Storyville

Self-Pubbed –
Duty Bound
Pacific Nights
This author has been favorited by 9 users.
Contact Information:
Email Address: lynnlorenz@live.com
Books By Lynn Lorenz
Published by Dreamspinner Press
David's Dilemma
Pairing: M-M
January 11, 2017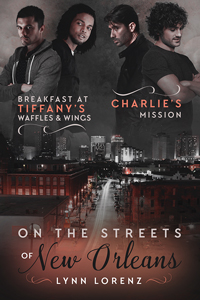 On the Streets of New Orleans
Pairing: M-M
November 15, 2016
Published by MLR Press
Locke and Blade
Pairing: M-M
August 17, 2016
Published by Pride Publishing
Edward Unconditionally
Pairing: M-M
August 22, 2017
Rush in the Dark
Pairing: M-M
July 11, 2017
Soul Bonds
Pairing: M-M
December 15, 2016