L.M. Brown is an English writer of gay romances and all male ménage romances.
She believes mermen live in the undiscovered areas of the ocean. She believes life exists on other planets. She believes in fairy tales, magic, and dreams.
Most of all, she believes in love.
This author has been favorited by 6 users.
Contact Information:
Email Address: lmbrownauthor@gmail.com
Books By L.M. Brown
Stand-Alone Books
Word Count: Click here to reveal90000 (Click here to hide)

Character Identities: Click here to revealGay (Click here to hide)

Summary: Their love could save the soul of a fallen angel or damn an archangel to an eternity in hell. The realm of angels was created as a paradise where angels could watch over the earth as mankind took his first steps. For the archangel Michael, it is the only home he has ever known and he could never envisage another life. Michael's life changes the day his path crosses that of the favoured son of the morning. From the moment he sees him, Michael wants Lucifer for his own. When the two angels come together the passion surprises them both. Their love is forged in Heaven, but is doomed the moment Lucifer falls from grace to become the leader of an army of demons. Separated by war, the former lovers know the time will come when they must face each other in battle. Their confrontation will set in motion events that neither could have foreseen. For Lucifer it is the chance to persuade Michael to stand at his side, as his partner as leader of the demons. For Michael, it is a mission to save his lover's soul, while risking his own. Torn between his love for Lucifer and his duties as an angel, Michael walks a fine line, where one wrong step could result in his own fall from Heaven, and an eternity in Hell.
Falling into Darkness
Word Count: Click here to reveal75000 (Click here to hide)

Character Identities: Click here to revealGay (Click here to hide)

Summary: Can an alien with no knowledge of humans or concept of sex find lasting love with a human man? Zak, an alien from the planet Trimmeron, is a member of a race of beings who transform into other species during their years of puberty. It's customary for the youngsters to be fostered to the worlds native to their new forms, to study and learn about the races who will play an important part in their lives. When Zak turns into a human, it comes as a surprise to everyone, for only one other before him has ever done so. Nevertheless he is sent to Earth, a world he views as primitive and barbaric. He arrives with a chip on his shoulder and attitude to spare. He does not believe that anyone on Earth could have anything to teach him. When Zak meets college student Sam he soon discovers he has a lot to learn, not only about humans, but also about himself. Trapped on an unfamiliar world and in a strange body that seems to have a mind of its own, Zak has no idea what is happening to him—only that Sam seems to be the key to the strange afflictions he is suffering from. But can an alien find love with a human being?
My Boyfriend's an Alien
Word Count: Click here to reveal34000 (Click here to hide)

Character Identities: Click here to revealGay (Click here to hide)

Summary: Can a lab rat whore find love with the servant of his master, or will their different backgrounds and prejudices keep them apart? In the distant future, where the devastation caused by war has driven the human race below the surface of the Earth, society is split in half. The rich scientists live in towers where they can monitor the surface and determine when the poisonous gases have cleared and the world is safe for humans once more. Meanwhile the majority of the human race lives in crowded labyrinthine caves, where life is harsh and short. Uneducated and with no real prospects for the future, a 'lab rat' is lucky to live to see thirty years of age. Employment options are minimal and few can escape the fate of choking to death on the dust of the caves. When AJ, one of the poorest members of society, needs credits for medicine for his sister he is in a desperate situation.  With no other options available he risks alienation from his family by selling himself to the highest bidder. Love is the last thing on his mind, but while Blake, his new owner, might not be Mr Right, Ryder, his servant, just might be. Unfortunately, their different backgrounds, prejudices, and AJ's brutal owner seem destined to keep them apart but true love can be theirs for the taking if only they can find a way. Please note: Various tags that are used in this listing are in relation to sex scenes between AJ and Blake, not AJ & Ryder.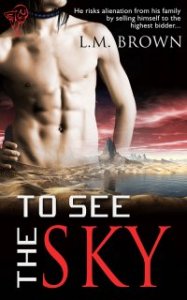 To See The Sky
Word Count: Click here to reveal19000 (Click here to hide)

Character Identities: Click here to revealGay (Click here to hide)

Summary: Scott Baxter is a workaholic with no time for love, until a djinn pulls him out of his life and deposits him into the bed of Cameron Kirk. Cut off from his life, Scott isn't happy about the idea of being forced to help the djinn grant an unspecified wish, but he soon finds he has no real choice in the matter. The djinn who has turned his life upside down has powers that prevent Scott from leaving and ensure he does nothing to ruin Cameron's day with his 'husband'. Reluctant at first, Scott finds that as the day progresses he starts to enjoy playing the role of Cameron's husband. He connects with his unexpected lover in a way he never has with other men. Scott searches for clues to help him track down Cameron after the day is over and he returns to his own life. He doesn't want the day to end, but the wish is out of his control and when the magic is finished his time with Cameron may be over too.
One Perfect Wish
Word Count: Click here to reveal21000 (Click here to hide)

Character Identities: Click here to revealGay (Click here to hide)

Summary: When a dentist meets an average suburban vampire, it may just be a match made in heaven. Tom is your typical modern vampire. He lives in a detached house in the suburbs, pays his taxes, and bemoans the price of bottled blood. He doesn't usually tell people what he is, but sometimes it can't be helped, like now, when he has toothache and needs the assistance of a dentist. Martyn's night isn't going too well at all. He's working late, his patient is a vampire, and now they're being mugged. But what sort of a vampire is Tom if he can't leap to the rescue and use his superpowers to save them? There's only one way to find out and Martyn, a self-confessed geek with a love for all things vampire, intends to get to know Tom better, despite the bloodsucker's fear of dentists.
French Kissing Vampires for Beginners
Word Count: Click here to reveal30500 (Click here to hide)

Character Identities: Click here to revealGay (Click here to hide)

Summary: Caleb has been cursed for two hundred years. He is doomed to watch every man he has sex with forget him as soon as they part company. Each of his lovers then meets their true love within hours of leaving his presence. As rumours about his strange ability spread, more and more men come to his bed, hoping to find love—just not with him. When Ethan's best friend makes him an appointment with the mysterious Caleb, Ethan is sceptical but curious. Despite a shaky start, Ethan and Caleb connect sexually and emotionally then soon begin to wonder if Ethan has the power to break the curse by being the only one to remember Caleb after he leaves. Whether Ethan remembers Caleb or not, with a warlock standing between them, the road to happiness is going to be tough.
Always Forgotten
Word Count: Click here to reveal22000 (Click here to hide)

Character Identities: Click here to revealGay (Click here to hide)

Summary: What if you could only touch your lover one night of the year? Halloween night is all you have when in a relationship with a ghost. Drew Jessop wants a life without ghosts. He doesn't want to see, hear, or talk to them. Ignoring them should be relatively simple. But Drew soon finds that Benji Richards, an eternally gorgeous ghost from the fifties, is not so easy to ignore. Halloween night is approaching and both Drew and Benji know what it could mean for them. From sunset to sunrise, it is the one night of the year when a mortal can feel the touch of a ghost.
Touch of a Ghost
Word Count: Click here to reveal14000 (Click here to hide)

Character Identities: Click here to revealGay (Click here to hide)

Summary: Can a wrong number lead to Mr Right? Nick Davis's life is stuck in a rut until a stranger starts leaving messages on his answer machine. Connor Hayes has mistaken Nick's number for that of his boyfriend, giving Nick an idea of what it would be like to have Connor in his life. Connor seems like his ideal man and although Nick knows he's not Connor's 'baby,' he can't stop himself wishing he were. After the wrong number issue is resolved, Nick doesn't expect to hear from Connor again. He's pleasantly surprised when he does. Unfortunately for Nick, Connor isn't looking for a boyfriend. He already has one and now he wants Nick to help organise a surprise Valentine's weekend for the couple.Can Nick put his own feelings aside to make sure Connor's Valentine's Day plans go smoothly?
Hey, Baby
Word Count: Click here to reveal14000 (Click here to hide)

Character Identities: Click here to revealGay (Click here to hide)

Summary: A science experiment gone wrong gives Justin the body of his dreams. For his best friend Leo it's the start of a nightmare as he watches the man of his dreams turn from a shy nerd to a party animal. His best bet is to reverse the effects of the lab explosion, but how can he do that when he doesn't know what caused it in the first place? In the meantime Justin is gathering notches on his bedpost at an alarming rate. Will he learn that beauty is only skin deep before it's too late?
Skin Deep
Word Count: Click here to reveal18300 (Click here to hide)

Character Identities: Click here to revealGay (Click here to hide)

Summary: Hayden Knight's job is simple. All he has to do is sell his father's latest invention to Tate South, the Acquisitions Manager of the biggest supplier of the best in cutting-edge technology.  The virtual assistant is designed to help the user in all aspects of their life, but Hayden views the holographic helper as nothing but a nuisance.  Keeping his annoyance to himself is relatively easy until a major technical glitch causes Tate to see and hear Hayden's assistant. Hayden and Tate are thrown together while they try to figure out what has happened, and the chemistry between them is electric. Hayden soon finds that convincing Tate that he needs a Holo-Assistant isn't as important to him as persuading him he needs Hayden in his life. The attraction is mutual and the sparks fly. If only they could get rid of their holographic third wheel.
Holographic Havoc
Word Count: Click here to reveal44000 (Click here to hide)

Character Identities: Click here to revealGay (Click here to hide)

Summary: A book written hundreds of years ago holds the key to the future of the last survivors of the human race. Growing up in a massive underground cave network, Jessiah has never known any other world. When he discovers the existence of a time portal he enlists the help of his friends to expose the truth about the greedy scientists who control it. Garrett has no head for science and struggles to earn the respect of both his peers and his father.  With a taste for parties and whores, Garrett is the chosen target for Jessiah and his friends to use to gain access to the laboratory containing the time portal. Impatient and impulsive, Jessiah decides to move things along at a faster pace by playing the role of a prostitute to get close to Garrett.  He is prepared to sacrifice his virginity for their cause, but he doesn't plan on falling for Garrett in the process. With the future of the human race in the balance the stakes for humanity are high. With his heart on the line, the risk Jessiah takes might be even higher. Only together can Jessiah and Garrett change the stars of everyone in the caverns.
To Change the Stars
Word Count: Click here to reveal14000 (Click here to hide)

Character Identities: Click here to revealGay (Click here to hide)

Summary: Being called upon to pull Santa's sleigh is an honour for any reindeer shifter, but for Dashiel the timing couldn't be worse. Stuart was looking forward to his Christmas Eve date with Dashiel, only to have him cancel at the last minute. He puts his disappointment aside and instead focuses on making his younger brother's Christmas as wonderful as it can be, despite the loss of their parents the previous winter. While flying over his home town, Dashiel spots a young boy on the streets, and he knows he has to help. When the young runaway turns out to be his date's little brother, he brings him on board the sleigh, determined to see him safely home to Stuart. Can a reindeer shifter pull Santa's sleigh, reunite two brothers, and find love this Christmas?
Sleigh Duty
Word Count: Click here to reveal16000 (Click here to hide)

Character Identities: Click here to revealGay (Click here to hide)

Summary: When Todd Hunter went to university he left behind his boyfriend, Deacon Jones. Todd knows Deacon is the one he wants to spend the rest of his life with, but for some reason Deacon has stopped returning his calls and is ignoring all his letters. Now Todd is home for the holidays, and he wants to spend them with Deacon. It might not be so easy though. Neither Todd's family nor Deacon's are happy about their relationship, and while Todd knows if they stand together they can make it work, convincing Deacon may be the greatest challenge of all. Note: This is a re-release title which has been revised and re-edited with a brand new ending.
Someone Like You
Word Count: Click here to reveal95000 (Click here to hide)

Character Identities: Click here to revealGay, Polyamorous (Click here to hide)

Summary: When Orion joins an established coven of powerful mages he is unsure how he will fit into the group. The four elemental mages have had centuries to build both their powers and their relationships while Orion is little more than a stranger. As a light mage, Orion has the power to heal, but as he comes to know the other members of the coven, he learns that not all wounds are visible, and healing tortured souls and broken hearts isn't as easy as fixing broken bones. Orion must bring them all together before they tear themselves apart. Only when the coven is strong will they be able to welcome the dark mage who will complete the circle and give them the power to defeat a mage who has waited centuries to exact revenge on the former members of his coven. READER ADVISORY: This story is a ménage and more story with emphasis on the more.
Soul Magic
Pairings:
M-M, M-M-M, 4+ or Other
Word Count: Click here to reveal57000 (Click here to hide)

Character Identities: Click here to revealGay (Click here to hide)

Summary: When Simon hooks up with commitment-shy Jeremy the attraction is immediate.  Convincing Jeremy to give a relationship a chance is a longer process.  When Jeremy suggests a non-exclusive relationship, Simon is reluctant, but agrees rather than lose the man he's falling for. Their relationship is put to the test when Jeremy meets Max on a business trip abroad. Secure in the knowledge that Max is on the other side of the ocean, Simon does his best to put Jeremy's other man from his mind.  At least until the night Max shows up on his doorstep looking for their mutual boyfriend. Max is everything Simon had feared, as well as everything he had ever wanted.  But can the three of them really make this work? CONTENT ADVISORY: This title is a re-release. It originally appeared in the Silver Presents: Three's a Party anthology, then as a stand alone short story.  The current version is a revised, extended, and re-edited full length novel.
The Other Man
Series: Felines of Furyne
Word Count: Click here to reveal87800 (Click here to hide)

Character Identities: Click here to revealGay (Click here to hide)

Summary:
Logan McRae never expected to see two aliens when he woke from cryogenic sleep. He has lost his ship and his people and he questions whether he has lost his mind. As he gets to know Halor and Kit he realises he might just lose his heart as well.
Logan expected to wake on the spacecraft Mercury, ready to pilot the ship down to New Earth. Instead he comes out of cryogenic stasis to find he is on another ship with two alien beings, neither of whom can understand anything he says. Unfortunately, they are all the help he has if he wants to find his people and resume his journey.
Kit doesn't know what sort of creature he has accidentally purchased, but it is definitely male and isn't so very different from him and his lover, Halor. The language barrier might be a problem, but Kit knows the language of love doesn't always need words.
Prince Halor of the Hawk Clan has always been reluctant to expand his nest beyond himself and Kit, but it is obvious from the start that his feline lover is attracted to their unexpected guest. Halor will do anything to give Kit the happiness he deserves, even invite another man into their bed.
Logan has no idea that Kit isn't quite like other men until their passion results in unexpected consequences. Now he must choose between his mission and the two men who have given him everything he ever wanted, as well as things he never dreamed of.
Loving Kit
Word Count: Click here to reveal79000 (Click here to hide)

Character Identities: Click here to revealGay (Click here to hide)

Summary: Jax has made mistakes in his life, the biggest of which was falling for Lyndon. His love died when Lyndon refused to claim him as his mate after Jax discovered he was pregnant. His feelings turned to hate when his babies were stolen from his care the day they were born. Reliant on Lyndon for the cream he needs to survive, Jax does everything he can to keep him happy and he lives for the day when he will be reunited with his children. When Jax discovers he is pregnant for a second time, he is terrified his second litter will be taken from him, too. Ty is a dual-gendered feline who dreams of carrying his own babies one day. If they are fathered by Cal, the sexy feline he feeds from, it would be even better. Ty's parents have other ideas. They don't wish the public to know that their high-born son is dual-gendered, and arrange for a mating festival to take place so Ty can choose a dual-gendered mate of his own. Although Ty has no intention of submitting to his parents' wishes, something about Jax draws Ty to him and when he and Cal discover Jax's secret, they know they must help. Ty and Cal offer Jax a way to escape Lyndon's clutches, but Jax knows almost nothing about the two felines who have offered to claim him. The stakes have never been higher and Jax must learn to trust again, or risk losing everything.
Saving Jax
Word Count: Click here to reveal72000 (Click here to hide)

Character Identities: Click here to revealGay (Click here to hide)

Summary: Trix works as a prostitute on the Pleasure Station, a space station devoted to entertainment, gambling, and the pleasures of the flesh. He never intended to spend his life there, but the place offers him security, regular cream, and over time it has become his home. As a dual-gendered feline, Trix knows the risk of pregnancy is high and sets his prices equally high to discourage customers. Trix never imagines that Delta, a canine with credits to spare will call his bluff. When Delta pays for himself and Farron, a naïve avian from the swan clan, to spend the night with Trix, the three of them forge an unexpected bond, one that leaves Trix pregnant. As a swan avian, Farron is incapable of being unfaithful to his mate, even when the bond is only partially formed. To complete the bond Farron must find Trix before the babies are born, or the bond will break forever, and Farron will be forced to live a life of celibacy. In the meantime, the Pleasure Station is under new ownership, and when the humans ban prostitution on the station Trix is left homeless. When Delta hears about the Pleasure Station, he too races back to find Trix. Both Farron and Delta arrive too late. Trix has vanished and the race is on to find him before he gives birth. Only then will they know if the bond they formed on their first night is strong enough to last a lifetime.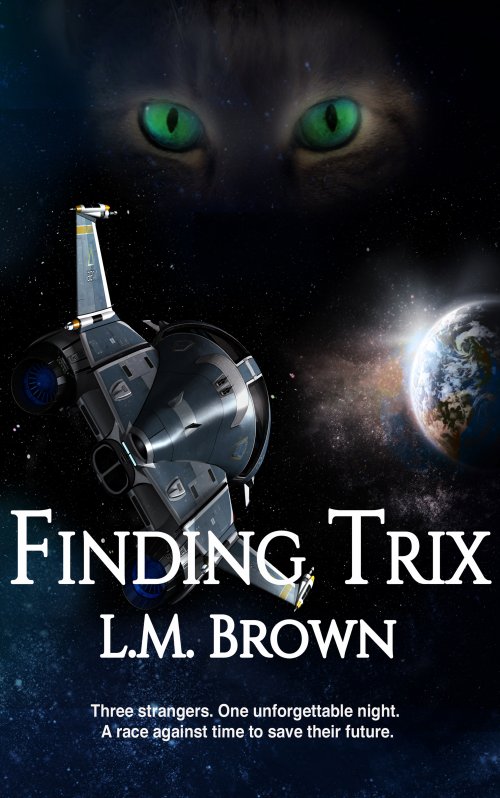 Finding Trix
Series: G-Force Federation
Word Count: Click here to reveal53000 (Click here to hide)

Character Identities: Click here to revealGay (Click here to hide)

Summary: Protecting his shifter from threats is easy, but can he protect him from his own ambition? As part of the G-Force Federation, gargoyle Jude is a newly promoted pilot eager to prove himself on his first solo assignment. Unfortunately, his plans go awry when his craft is shot down, leaving him stranded in the desert. Kirby is a fennec fox shifter on the desert world of Cairo. When Jude's ship comes under attack he races to help him, and after the crash he offers to guide him back to the base. Their journey across the harsh desert is fraught with dangers, one of which is the lure of Kirby's scent as he goes into heat for the first time. Jude's protective attitude towards him pushes all the right buttons with Kirby, and it doesn't take much for him to persuade the gargoyle to be his first lover. When Kirby discovers he is pregnant they know one of them will have to make a sacrifice if they want to raise their baby together, but can either of them give up everything they have ever known?
Space Fox
Series: Gay Ever After
Word Count: Click here to reveal24000 (Click here to hide)

Character Identities: Click here to revealGay (Click here to hide)

Summary:
When Prince Aiden sets out to rescue a princess, the last thing he expects to find is a cross-dressing artist named Robert. Can he set aside his fears and find the fairy tale ending he longs for?
In a world where fairy stories are historical fact, Prince Aiden is on a quest to find a princess to rescue and bring home as his bride. Deep in the Enchanted Forest, he finds Robert, a cross-dressing artist who lives alone in his tower. Mistaking him for a woman, Prince Aiden is determined to have Robert as his bride.
When the prince of his dreams shows up at Robert's tower he is far from happy, especially when the handsome prince refuses to believe he is a man. Can he convince Prince Aiden to love him as the man he is, or is their happily ever after doomed from the start?
Let Down Your Hair
Word Count: Click here to reveal23000 (Click here to hide)

Character Identities: Click here to revealGay (Click here to hide)

Summary: When John the woodcutter realises he is about to lose the love of his life, he seeks out the wicked witch of the Enchanted Forest, hoping to buy a love potion to win his lover back. The witch refusing to help is only the start of his problems, for—on the stroke of midnight—the witch's cottage vanishes from the Enchanted Forest with him in it. Mathias is the grandson of a wicked witch and, like his mother and grandmother, he is cursed to be trapped in the cottage in a desolate wasteland for the rest of his life. He and the cottage only return to the Enchanted Forest on Midsummer Day each year. The last thing he needs is an unexpected house guest. Thrown together for a year, the spark between the two men soon ignites into passion, but can John live the rest of his life in a prison and would Mat even ask him to?
Potions & Prisons
Word Count: Click here to reveal26900 (Click here to hide)

Character Identities: Click here to revealGay (Click here to hide)

Summary:
Lord Marcus is on a quest to slay the dragon, rescue the princess, and live happily ever after. Falling for the dragon was never part of the plan.
When Lord Marcus set out on his quest, it seemed a simple enough task to accomplish. Slay the dragon and rescue the princess, securing his father's approval and earning his happily ever after--only the princess is a witch and the dragon is nowhere to be seen. Instead he finds a young man who has a very big secret and is in far greater need of rescuing. Marcus's well planned quest might have taken an unexpected turn, but his happy ending could still be within his grasp, if he can earn the trust of a dragon who has been betrayed and hurt by everyone he has ever known.
Destiny & Dragons
Word Count: Click here to reveal22400 (Click here to hide)

Character Identities: Click here to revealGay (Click here to hide)

Summary: When King Lucius is imprisoned in a magic mirror by an evil wizard, he is forced to watch as his life is destroyed and his kingdom brought to the brink of ruin.  Trapped in his own reflection, he only has the freedom to move and talk when the wizard sleeps. With his subjects under the dark spell of the wizard, Lucius is forced to rely on the most unlikely of heroes if he hopes to get his life back. Harry comes from a long line of assassins and prides himself on being one of the best in the kingdom, but when he is hired to kill King Lucius he discovers that all is not as it seems in the Kingdom of Cinders. Harry agrees to help Lucius in return for a full pardon for his crimes, but to complete his quest he may have to give up everything, including his freedom and the king he has come to love.
Magic & Mirrors
Series: Heavenly Sins
Word Count: Click here to reveal71500 (Click here to hide)

Character Identities: Click here to revealGay (Click here to hide)

Summary: When an angel and a demon fall for the same mortal man there is only one solution…share him. Halloween night at the Inferno club always draws a crowd. When Tristan spots a stunningly gorgeous man dressed as a demon across the dance floor he sets out to draw his attention, little realising he has already gained the notice of another. The demon disappears into the throng of revellers, but with the heavenly handsome Machidiel in his arms, Tristan doesn't mind. Even though Mac warns him they can never have more than a one-night stand, Tristan longs to see the man who gave him the best sexual experience of his life again. One year later, Tristan opens his door to find Alastor, the demon from the Inferno, who claims they have a date tonight. Alastor may be the one man who can make Tristan forget Mac. Little does he realise Mac isn't as far from his reach as he believes. When Mac reappears he has a proposition for Tristan and Alastor, one that means breaking rules and potentially getting him stripped of his wings. A ménage formed between an angel, a demon, and a human means the sex is hotter than hell itself, but only time will tell if the relationship they have forged together is made in Heaven or Hell.
Between Heaven & Hell
Word Count: Click here to reveal61000 (Click here to hide)

Character Identities: Click here to revealGay (Click here to hide)

Summary: Is it possible for a demon to be a good man, or are all who have fallen for temptation evil at the core? Tristan, Machidiel and Alastor are bound together by love, but their lives are running far from smooth. Thanks to Tristan's demonic bargain with an incubus, they have no choice other than to accept that their lives are never going to be the same again. To fulfil his obligations to the demon Tristan has two choices—remain with the incubus as his trainee or find a mortal to take his place. Neither option is appealing. The three lovers struggle to release Tristan from his bargain, but find bigger problems on the horizon when a human caught up in the mess is taken prisoner by the Demon King himself. With no help forthcoming from either angels or demons, the three lovers are on their own with a seemingly impossible mission before them—rescue the mortal from the Underworld. Mac, meanwhile, has problems of his own. The archangels are voting on whether to ban relationships between angels and demons, and if the new law is passed he must choose between his wings and his lovers. The three of them believe their love is strong enough to see them through the hard times ahead, but if they aren't careful the repercussions of Tristan's bargain could tear their ménage apart forever.
Between Good & Evil
Word Count: Click here to reveal63000 (Click here to hide)

Character Identities: Click here to revealGay (Click here to hide)

Summary: With one of his lovers imprisoned in the Underworld, Mac has no choice except to go where most angels fear to tread. With Tristan imprisoned in the Underworld, the ménage is broken. Angels are forbidden to enter the demonic domain and while Mac has been breaking rules in recent months, he doesn't have the power to enter the Underworld. Alastor is still unsure about his position in the relationship following recent revelations, but he cannot walk away when he is the only real link between his two lovers. Splitting his time between Mac and Tristan, he hopes they can soon find a way to reunite the two men in his life. As time moves on, Alastor realizes he is struggling to satisfy Tristan's thirst for sex. His lover needs more than he can give him and craves Mac in his bed. Mac still believes he can complete his mission to save his two lovers, but with one of them out of his reach, it is going to be far from easy. During their time together they have made plenty of enemies, including one who would seek to separate them forever, even if it means biding his time until Alastor and Tristan are at their most vulnerable, when even the love of an angel can't save them.
Between Life & Death
Series: Mermen & Magic
Word Count: Click here to reveal86500 (Click here to hide)

Character Identities: Click here to revealGay (Click here to hide)

Summary: To save his clan from the ever-increasing shark attacks, merman Kyle seeks sanctuary for his people in the sunken city of Atlantis, even though he knows that as a homosexual merman he will be sacrificing his own chance for love. Love finds him anyway in the form of Prince Finn, the rebellious young heir to the Atlantean throne. When their relationship is discovered Kyle is the one to pay the price. Banished from the oceans he seeks shelter in England and finds a new love with human, Jake Seabrook. For Jake, Kyle is the chance to move on from the crush he has on his straight best friend. The strange man he found naked on the beach seems to fit into his life with ease.  If only Kyle weren't keeping secrets from him, Jake could see them having a future together. Things are not what they seem for either of the men and when Kyle discovers the truth about Finn he knows he must return to Atlantis. Three men, a tangled relationship, and one chance for happiness, if they can trust enough to take it.
Forbidden Waters
Word Count: Click here to reveal79000 (Click here to hide)

Character Identities: Click here to revealGay (Click here to hide)

Summary: Justin is a merman who has been raised on land. He hates his fins and wants nothing to do with his heritage. Lucas is an ambitious merman who has lived his whole life in Atlantis. He has spent his adulthood hiding his sexuality because homosexual relationships are forbidden in the underwater city. Now he has been sent on a mission by King Nereus to locate his oldest son and return him to Atlantis to take his place as the heir to the throne. Although his mission seems impossible, Lucas finds help from the Atlantean Goddess of Love, little knowing she has her own reasons for bringing Lucas and Justin together. Justin is no stranger to immortals, having been raised by two of them, but he has no idea of the consequences of angering the Goddess of Love. When he insults her, she curses him to find love only to lose it forever shortly after. As the love 'em and leave 'em type Justin isn't overly concerned, at least until Lucas enters his life and he sees how the curse will end. Together they could have the greatest love of their lives, but only if they can appease the furious goddess before their time runs out.
Tempestuous Tides
Word Count: Click here to reveal78000 (Click here to hide)

Character Identities: Click here to revealGay (Click here to hide)

Summary: A blind merman fleeing the sunken city of Atlantis is torn between the family he left behind and the love he swims toward. When Dax lost his family to a shark attack he swam away from everything he had ever known. Now he has come to Atlantis, hoping to reconnect with those he left behind. When he finds his birth clan torn apart, he realizes his journey is just beginning. Kai is an Oracle, a blind merman, who only has sight when he has a vision. Atlantis, a sanctuary for so many merpeople, is his prison. Desperation drives him to beg the Atlantean Goddess of Love for help. With the goddess's promise of love to tempt him, Kai persuades Dax to take him along when he leaves the sunken city. Although Dax has some reservations about traveling through the ocean with a blind merman in tow, he quickly discovers Kai isn't as helpless as he appears. Attraction comes easy, but Kai doesn't seem to feel the same way. Kai knows he must seduce Dax if he hopes to win his heart, but his inexperience may be his downfall. With Dax's former lover waiting at the end of their journey, he knows time is running out. A goddess can only help so much, especially when another immortal would see them part. If the two stubborn mermen want a life together, they will have to learn to communicate and fight for their love.
Dangerous Waves
Word Count: Click here to reveal76000 (Click here to hide)

Character Identities: Click here to revealGay (Click here to hide)

Summary: Can a merman and an Atlantean, separated by centuries and prejudices, find love together? Merman Delwyn is an Oracle of the past. He loves nothing better than observing the comings and goings of those who lived centuries before he was born. His favorite time period to visit is when both Atlantean and mer inhabited the sunken city of Atlantis, and his guilty pleasure is watching lovers come together in passion. Secure in the knowledge that no one can see him when he's viewing the past, nothing can prepare Delwyn for the moment Fabian, an Atlantean living in the past, speaks to him. Fabian is a man with divided loyalties. The demi-god son of the Goddess of Sea Creatures has sworn to serve the Goddess of Prophecy as her Oracle of the present. His unique status gives him the power to see anything in the present, including the mysterious merman voyeur from the distant future. Despite the centuries that separate them, Delwyn and Fabian find they have a lot in common and quickly form a friendship that both hope one day will become something more. But before they can be together in the present, Delwyn and Fabian must unravel the mysteries of the past. Only time will tell if truth about the long-since vanished Atlanteans will bring them together or tear them apart, as the battle for the sunken city of Atlantis begins.
Shifting Currents
Word Count: Click here to reveal79500 (Click here to hide)

Character Identities: Click here to revealGay (Click here to hide)

Summary: Lost beneath the ocean, Atlantis has become a myth. When it rises from the deep everything will change for Kyle, Finn and the merpeople. Jake Seabrook, a human descendant of Medina, the Atlantean Goddess of Love, never asked for magical powers. Unfortunately, not only does he have them, but they are also growing stronger as more of the Atlantean gods wake from their long slumber. When Jake develops the power to hear the thoughts of anyone thinking about love, lust or sex, it is strange and embarrassing, but also reveals cracks in his relationship with his mermen lovers, Kyle and Finn. If they are going to continue to live as a ménage, they will have to learn to be honest with each other. With Jake's powers out of control and their relationship on shaky ground, the last thing any of them need is a crisis in the sunken city. The Atlantean gods want to regain the powers they lost when the Atlantean people were banished from the city, but the solution will leave the mer who live in the city no choice but to evacuate and search for a new home or risk exposing the existence of the mer to the whole world. Kyle and Finn return to Atlantis to help with the evacuation and insure the safety of their families, but time is not on their side. When Atlantis rises, the consequences could tear apart their ménage forever.
Hidden Depths
Word Count: Click here to reveal86000 (Click here to hide)

Character Identities: Click here to revealGay (Click here to hide)

Summary: One merman. Two lives. A love so powerful it tore apart a city and broke the heart of a god. Caspian, the Atlantean God of Justice, has devoted his eternal life to protecting the merfolk. He has no time for romance, not even when the merman he now watches over is his former lover reincarnated. Phoebus, a merman living in the sunken city of Atlantis before the Atlanteans were banished, never intended to fall for Caspian, the most promiscuous of all the gods. Yet, when Caspian offers him immortality, Phoebus doesn't know if he can pay the price, even if refusing means breaking the heart of a god. Back in the present, Marin remembers the love he once had for Caspian, but he's not the same merman now. Caspian might have loved him as Phoebus, but he knows the god cannot give him what he needs. Marin doesn't want Caspian's protection. He wants revenge, and he is prepared to make the ultimate sacrifice to get it, even if it means breaking Caspian's heart a second time
Treacherous Seas