Johnny Miles began his writing career in 1985, when his first erotic short story was published by Numbers magazine. Since then his work has appeared in various adult magazines, including Blueboy, First Hand, and Honcho. After several decades and careers in typesetting, graphic design, massage therapy, customer service, and copywriting, Johnny's first full-length novel, Casa Rodrigo, was released in 2008 by the now defunct Loose Id. In 2015, Casa Rodrigo was released as an audiobook, richly layered and textured with sounds effects to stimulate your senses.
Johnny is currently working on self-publishing his original works, including his latest, a new love story called Café y Chocolate. Originally from Brooklyn, New York, he lives in Fort Lauderdale with his husband of 22 years and a grumble of pugs.
Contact Information:
Email Address: authorjohnnymiles@gmail.com
Books By Johnny Miles
Word Count: Click here to reveal80000+ (Click here to hide)
Character Identities: Click here to revealBisexual, Gay (Click here to hide)
Summary: Sereno Hidalgo, newly divorced from his husband, flies to San Juan, Puerto Rico to reconnect with Esteban, an estranged cousin who owns a coffee plantation. But with Hurricane María only days away, the reunited Hidalgo cousins—together with Esteban's wife—are forced to prepare for the worst storm to strike the island in a century. As with any natural disaster, there is invariably something to grab you by surprise, something to take you by storm. For Esteban, it's the shock of a family scandal long kept secret, but revealed by an unusual acquaintance. For Sereno, that surprise is Augusto Toro, the splendid personification of African, Native American, and Spanish cultures that produce the great majority of Puerto Ricans. As María churns in the Atlantic, ever closer, Sereno finds himself inexplicably attracted to the handsome man everyone calls Chocolate, pronounced Cho-koh-lah-teh. Sereno was never noted for detecting red flags in his affairs. The only thing he was ever good at was running away once trouble become clear. Now he can't. He's too far gone, in too deep, and the hurricane is way too close to run. Sereno must find a way to cope with both the fear of loving a bisexual man and handling the mind-numbing, horrifying impact of the ravaged land called La Isla del Encanto.
Café y Chocolate
Johnny Miles ...
Pairing: M-M
February 3, 2019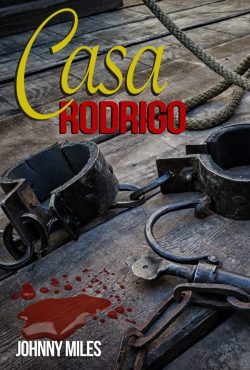 Casa Rodrigo
Johnny Miles ...
Pairing: M-M
December 1, 2018
Word Count: Click here to reveal38000 (Click here to hide)
Character Identities: Click here to revealGay, Genderfluid (Click here to hide)
Summary: It's summer of 1977 and sex is on Tracy McCarthy's mind. Newly graduated from high school, the gender fluid teen is now 18 and hell-bent on losing his virginity. On the first day of his final summer off, he discovers sex in a public restroom at the beach. He also meets Angel Rosa, an incredibly handsome Latino who invites Tracy to take a walk on the wild side in unknown territory.
The Rosas of Spanish Harlem
Johnny Miles ...
Pairing: M-M
December 4, 2018