JD Chambers wanted at various times to be Indiana Jones, Pat Benatar, and Wonder Woman when she grew up. She never considered writing down the stories she crafted in her head. They provided nothing more than entertainment for long drives or sleepless nights, until one particular story insisted it didn't want to reside only in her noggin.  She hasn't stopped writing since.
JD finds unlikely heroes, humans courageous enough to be themselves, and spreadsheets incredibly sexy — the last one much to her husband's chagrin.  Together, they raise three teenagers and the world's most mellow Chihuahua on the Oregon Coast.
This author has been favorited by 6 users.
Contact Information:
Email Address: jd.chambers.writes@gmail.com
Books By JD Chambers
Word Count: Click here to reveal57000 (Click here to hide)
Character Identities: Click here to revealGay (Click here to hide)
Summary: Growing up, Travis hated his small town, Slat Creek, and everyone in it. His only goal was to escape for good, and at the age of twenty-one, he thought he had finally achieved it. But when his sister struggles with the death of their mother, he has to return home to care for her. Whitman grew up believing in the healing power of books, but it wasn't until he moved to a small town in Oregon as their new librarian that he sees that belief in action. He's living his dream professionally. But personally, he's lonely and wondering if he made a big mistake, until he meets a sad teenager and takes her under his wing. Might an observant and helpful librarian be enough to tempt Travis to stay?
Depth of Focus
JD Chambers ...
Pairing: M-M
November 20, 2018
Word Count: Click here to reveal60000 (Click here to hide)
Character Identities: Click here to revealGay (Click here to hide)
Summary: "It has recently come to my attention that I have turned into something of an oblivious asshole. In my defense, I didn't do it on purpose." Ben Harrison is not having the best year. It starts out with his sister announcing her engagement to his ex-boyfriend. The revolving door of roommates leaving as they find their happily ever afters doesn't help. Neither does his knack for making bad decisions. "I'm going right back to school come fall. I don't plan on stopping until people are forced to call me Dr. Olson." Jonathan Olson is too busy for a relationship. As a deaf graduate school student, he works nonstop to fulfill his dream of being a scientist for the Forest Service. He certainly doesn't have time to deal with an asshole who treats him like he doesn't exist. When a friend suggests that Jonathan pose as Ben's boyfriend for his sister's wedding, they both have their reasons for agreeing. But what starts out as a game of pretend between frenemies quickly turns into something meaningful, no matter how hard they try to fight it. But even fake boyfriends can be a challenge for two men who are convinced that they aren't relationship material.
Only Love You
JD Chambers ...
Pairing: M-M
August 28, 2018
Word Count: Click here to reveal62000 (Click here to hide)
Character Identities: Click here to revealBisexual, Gay (Click here to hide)
Summary: "At this point, I'm starting to think that if I don't feel something for someone soon, that the notion of sparks will go the way of the Tooth Fairy and Santa Claus." David Taylor just wants to belong. After a childhood of being the perfect son in an attempt to receive the acceptance he so craved, he has finally started living the life he wants. Maybe that means dating men as well as women. Maybe it even means exploring something a little outside the norm, but that fills him with a comfort and completeness he never thought possible. "I like casual, no-strings sex as much as any man. But in those rare moments when I actually allow myself to wish, I will acknowledge that it might be nice to have a man to come home to."  Arthur Yuen loves men and has a merit badge in flirting to prove it. He also has a big mouth, as evidenced by him calling an adorable stranger "puppy" while at work one day. Who knew his slip would set off a chain of events that brings the two men together in a way neither would have imagined possible? As Dave and Arthur explore a relationship that includes puppy play, they learn as much about themselves as they do each other. The two men discover a companionship that seems to be a perfect fit until tragedy strikes, and it will take every scrap of determination and understanding to keep their relationship going.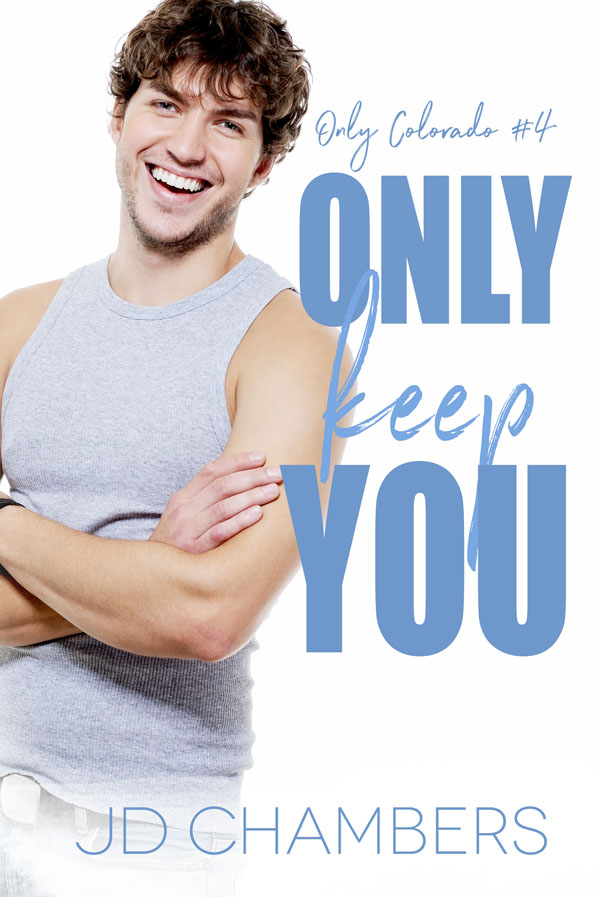 Only Keep You
JD Chambers ...
Pairing: M-M
June 19, 2018
Word Count: Click here to reveal62000 (Click here to hide)
Character Identities: Click here to revealGay (Click here to hide)
Summary: "I am still trying to prove that I am not a hot mess. The last thing I want is to attach myself to someone in even greater need of a personalized TED talk than me." Kieran Jones is perpetually ten steps behind in life. Whether it's advice on how-to-gay properly since he was a little late to the coming out party, navigating the dating scene when a casual hook-up is way out of his comfort zone, or his best friend's boss rescuing him when his car won't start, Kieran's life isn't just a hot mess. It's a blazing disaster. "I don't think I've been giving off greater sad sack vibes than normal, but the more time I spend around Kieran, the more I want things that I can't have." Ted Olson may not be the life of the party, but he is steadfast and dependable, and that will have to do. He's always looking out for others – his employees, his nephew, and the adorable redhead who hangs out at the store and is way too young for him. It has been almost a decade since his last serious relationship, and Ted is tired of being alone. When a dating app throws Kieran and Ted together on a blind date, they realize a mutual attraction has been lurking behind their growing friendship. But Ted can't believe someone as young and pretty as Kieran would want a boring, old, video game store owner. And Kieran has never been with a man before and doesn't trust his own instincts. Both men will have to break free from their insecurities if they want to be what the other needs.
Only Need You
JD Chambers ...
Pairing: M-M
April 17, 2018
Word Count: Click here to reveal63000 (Click here to hide)
Character Identities: Click here to revealBisexual, Non Binary, Pansexual (Click here to hide)
Summary: "I might not be every gay man's wet dream, but I always get a second look." Mal Copol knows who they are: Nonbinary. Awesome. Exhausted. They won't change for anyone, but just once, they'd like to be the one with relationship potential, not the hookup. Also, not having to fight employers on who they are and how they present themselves would be nice. And while they're at it, add not getting raised eyebrows at their high heels and tasteful makeup while discussing their latest rock-climbing trip to the wish list. Is that really too much to ask? "Here I am at twenty-seven, embarking on life, version 2.0." Parker McWilliams is breaking free from the constraints of his former life and wife. He's recapturing his zest to try new things and experience everything to the fullest, instead of the complacency he had fallen into over the past nine years. If one of those "new experiences" happens to be with a certain beautiful and intriguing nonbinary person, well, Parker's just going to roll with it. Anything contrary to his past life is a good thing. Mal and Parker keep surprising each other every time they meet. Despite their differences, neither has any interest in fighting their attraction. But when circumstances threaten to keep them apart, the couple must decide if that attraction is enough to overcome the obstacles they face.
Only See You
JD Chambers ...
Pairing: Includes NB
February 6, 2018