Derain Collier has an enduring love for the built environment and of fast transportation as an architect and a car fanatic. His life-long obsession with cars has led him down a long, sometimes meandering path to being an author. Mostly though, it is just his sudden craving for romance novels based around cars (Hey, everyone loves a good love story here and there. Don't judge me.)
He practices architecture, and car tuning, as a day job and by night, he continues to explore the various sectors of car culture and unconventional romance in a Not-Always-Perfect fictional metropolis Manzano Springs, New Mexico.
Contact Information:
Email Address: deraincollier@gmail.com
Books By Derain Collier
Word Count: Click here to reveal40,000 (Click here to hide)
Character Identities: Click here to revealBisexual, Polyamorous, Transgender (Click here to hide)
Summary: When Marcus Ridgeston looks over his past, he sees what many other boys would see. Fun, friends, bullies, cars, and crushes. One friend, in particular, stands out. His best friend. However, like some boys, he's been saddled with not being able to be his true self, even with his best friend, his soulmate, his boyfriend. When Marcus' best friend moves away suddenly, he's left heartbroken and subsequently without much reason to maintain the charade. Slip Angle is a world-renowned FormulaD1 driver with a decent-sized following. However, behind the scenes, he's known as a world-renowned pain in the ass. He has subsisted on shallow connections with people since losing his best friend in childhood. Every woman he meets he compares to the memory of her and because of that, he has yet to find love. Then again, he's not actually looking for it. Can a guy whose life revolves around the most profound love and loss recognize that love when it meets him again?
Tandem Drift
Derain Collier ...
Pairing: M-M, M-M-M
October 4, 2019
Word Count: Click here to reveal195,500 (Click here to hide)
Character Identities: Click here to revealBisexual, Gay, Polyamorous (Click here to hide)
Summary: Speed. Power. Accuracy. All things needed in racing, but for Brandon, Chris, Jason, and Eric it applies to far more... After Brandon and Chris thrust themselves into perilous danger to protect their chosen family, the world seems completely different to them. Chris finds himself suddenly haunted by thoughts of his long-estranged father, and Brandon immediately knows something is amiss. The ill-feelings haunt him as they continue to deal with the emotional distress caused by their efforts—in cohort with Jason's brother Jim—to stem whatever machinations were set out to destroy them. However, Jim finds there are more forces at play than he originally assumed. Meanwhile, when Chris' father shows up and delivers some earth-shattering news, he and Brandon are left trying to piece together what it all means. When Chris finds out his entire life is based on a lie, he is begrudgingly set on a course of discovering himself all over again. What finds him is far more than he ever could have anticipated. In this final installment, the four friends find out far more about themselves and their pasts and present, which in turn guides their futures with each other. When Chris' lost past merges with his future and a lost connection finds him, he suddenly has more than just protecting his chosen family at stake. It is evident that whatever ordeal awaits them, this unlikely but well-matched group will band together, but will they be able to thwart everything that threatens their safety and happiness?
E85: Power
Derain Collier ...
Pairing: F-F, M-M, 4+ or Other
June 23, 2019
Word Count: Click here to reveal159,200 (Click here to hide)
Character Identities: Click here to revealBisexual, Gay, Polyamorous (Click here to hide)
Summary: The speed of their cars has made them famous, but when Jason's past catches up to them, speed is not the only thing that gets tested on the highways of Manzano Springs, New Mexico... Chris, Brandon, Jason, and Eric continue their speed-addiction and friendly street racing pursuits under their new group moniker "E85." A night spent with Marissa precipitates confusion for Jason and Eric. Jason sees her as an asset, but also as an old friend that could make everyone a little more at ease in their bisexuality, even if he may only be thinking about himself. However, her presence flares up some old insecurities inside all of them that forces some awkward situations. Brandon and Chris have forged an incredibly tight bond, and with the presence of Jason's ex-turned-re-girlfriend, their lives and the feelings they have for each other, and their younger friends, gets complicated even farther. Polyamory is more confusing than either of them realizes, and it's a journey to unpack what everything means. They work cautiously to untangle their confusion and discover love they never knew could exist. Meanwhile, just as everything seems to be settling in for a comfortable life, Jason's past catches up to them. Jason and Eric lose a substantial part of their investment in each other, and Jason's vengeful search for who caused it gets all of them put in the crosshairs of an underground organization bent on controlling Manzano Springs' automotive world, putting all of their lives in danger. Will they be able to uncomplicate their love lives in the midst of everything else? Will Jason's past get them all killed? When drama, violence, and unearthed secrets rock their core, their devotion to each other may be the only thing that can thwart the machinations trying to tear them apart. Manzano Springs finds out that "E85" is a group with which one should not go to war.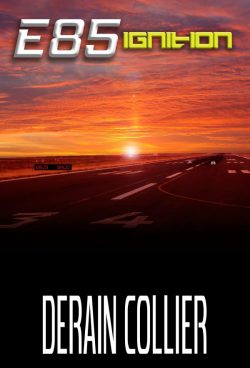 E85: Ignition
Derain Collier ...
Pairing: F-F, F-F-M, M-M, M-M-F, 4+ or Other
December 28, 2018
Word Count: Click here to reveal128000 (Click here to hide)
Character Identities: Click here to revealBisexual, Questioning, Polyamorous (Click here to hide)
Summary: When friendly competition turns four disparate car enthusiasts into speed-addicted street racers, they find out they share more than just an addiction to adrenaline... In bustling metropolitan Manzano Springs, New Mexico, four friends (Chris, a contract welder, Brandon, an architect, Jason, a corporate executive, and Eric, a college student) suddenly find themselves navigating self-discovery in both their professional and private lives while sharing nothing in common save their love of fast cars—or so they thought. When lifelong friends Chris and Eric embark on a seemingly light-hearted, fun string of intimate encounters, their carelessness leads them into getting caught by one of their other lifelong connections, Brandon. In the embarrassment, Chris can't figure out why it bothers him so much that Brandon saw him. Worse yet, why Brandon reacts completely different from what he would have expected. Old feelings for Brandon surface as Chris and Eric continue their "situationship." That is, until their new friend Jason nearly catches them entangled in each other's arms. Eric's newly awakened appetite makes his eyes wander and Jason seems all too happy to oblige, causing Chris to suddenly re-evaluate his feelings for Brandon Will Jason and Eric's passion for each other burn out before it has time to truly bud into love? Will Brandon and Chris' past finally clear up why they've been a "Missed Connection" for most of their lives and allow their slow burn to finally ignite? Fast cars instigate a lot of drama, and these boys are always up for the challenge; whether that challenge be on the road, in the bedroom, or from outside of their group.
E85: Compression
Derain Collier ...
Pairing: M-M, M-M-M, 4+ or Other
May 8, 2018