Amelia Faulkner was born in Thame, Oxfordshire, and sprouted upward in short order. The ground around Thame is reasonably mucky, especially in the winter, and she can't be blamed for wanting to get away from it.
Raised on a steady diet of Star Trek and Doctor Who, Amelia stood no chance in not becoming a grade-A geek. She has sat on the board of the British Fantasy Society, contributed fiction and fluff to various published roleplaying games, and written non-fiction for SciFiNow and SFX Magazines. For every positive there is an equal and opposite negative, and Amelia is forced to admit that she loves Wild Wild West.
In her spare time she enjoys travel, photography, walking her Corgi, and trying to convince her friends to replay the Pathfinder Adventure Card Game with all the Goblins decks.
This author has been favorited by 9 users.
Contact Information:
Email Address: Amy@ameliafaulkner.com
Books By Amelia Faulkner
Word Count: Click here to reveal108000 (Click here to hide)
Character Identities: Click here to revealBisexual, Demisexual (Click here to hide)
Summary: Headstrong. Telekinetic. Pariah. On the run from his family, Quentin d'Arcy has settled in San Diego with dwindling funds and the growing suspicion that his gifts might not be limited to telekinesis. When he meets a psychic who can control people's actions with a few words, his comfortable life starts to unravel. Demigod. Oracle. Hunter.  Laurence Riley almost died killing one god only to discover that he's descended from another. Before he can come to terms with that revelation, Quentin's twin brother walks into his life, and there's no way to know what his motives may be. With great power comes great danger. Kane Wilson wants to make a better world: a world in which psychics are open about who and what they are without fear of reprisal or hatred. With the power to control others he might be able to pull it off, but there's going to be collateral damage. If Quentin and Laurence can't get to the bottom of Wilson's plan, Kane will out the existence of psychics not only to San Diego but to the world, and all hell will break loose. Knight of Flames is the second book in the Inheritance series and contains mature themes and events which may be distressing to some readers. It has a mild heat rating and an HFN ending.
Knight of Flames
Amelia Faulkner ...
Pairing: M-M
August 26, 2016
Word Count: Information not available
Character Identities: Click here to revealAce, Bisexual, Demisexual (Click here to hide)
Summary: Florist. Psychic. Addict. Laurence Riley coasts by on good looks and natural charm, but underneath lies a dark chasm that neither heroin nor lovers can fill. Sobriety is a pipe dream which his stalker ex-boyfriend is pushing him away from. Luckily, Laurence has powers most can only dream of. If only he could control them. Aristocrat. Psychic. Survivor. Quentin d'Arcy is the product of centuries of wealth, privilege, and breeding, and is on the run from all three. A chance encounter with an arresting young florist with a winning smile could make him stop. Laurence is kind, warm, and oddly intriguing but Quentin's wild telekinesis and his fear of sex make dating a dangerous game. When opposites attract, they collide. Desperate to fix his rotting life, Laurence prays for aid and accidentally summons a fertility god who prefers to be called Jack. Jack is willing to help out for a price, and it's one Laurence just can't pay: he must keep Jack fed with regular offerings of sex, and the florist has fallen for the one man in San Diego who doesn't want any. If they're to survive Jack's wrath, Laurence and Quentin must master their blossoming feelings and gifts, but even then the cost of Laurence's mistake could well overwhelm them both. How exactly are mere mortals supposed to defeat a god? Jack of Thorns is the first book in the Rainbow Award winning Inheritance series and contains mature themes and events which may be distressing to some readers. It has a low heat rating and an HFN ending.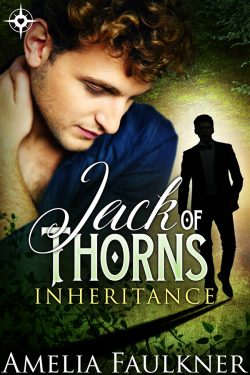 Jack of Thorns
Amelia Faulkner ...
Pairing: M-M
May 9, 2016