Alex is the pen name of a mature Leatherman, who grew up in the North of England and has lived for many years in Southern California. His leather and boot fetishes go back many years, but only now has he used them and his worldwide experiences, for writing fiction and gay BDSM fiction at that.
A NEW Second heavily revised edition of his famous LEATHER MASTERS and slaves trilogy is in the works at present. SUBMISSION and DOMINATION have recently appeared, and OBSESSION is being reedited [finalist for the Fiction Prize of the International Leather Coalition]. Alex has outlined an addition to the series, after many requests. He will be working on BETRAYAL later in the summer.
CAGES – CATHEDRAL CITY is the second novel in a new series set in the area around Palm Springs, and a finalist for the Kink/BDSM Prize of the 2015 LRC Contest. The first was the popular DECEPTION – PALM SPRINGS. The two young heroes, Mark Farrell and Dan Fortunato, have become private investigators professionally as well as Leather partners privately. After several years as homicide detectives in the LAPD [LEATHER NIGHTS and LEATHER DAYS], they have moved on to solving kinky mysteries in the Desert Cities – POSSESSION–PALM DESERT is next, the first part of a new trilogy, for publication late 2018. And there may be more - as many as there are cities in the Coachella Valley.
Alex also likes to vary the time and place of his stories –RED KNIGHT RISING tells the adventures of two gay English knights who sign-up to go on crusade in the Middle Ages. THE MAN & THE MASK takes readers into the bawdy and dangerous world of 1750s London and then on to "the American colonies". He also has a collection of short stories the IRONROD CHRONICLES PARTS I & II, and a novella THE TRAINER.
Details of all his books can be found on his website www.alexironrod.com.         In addition to giving readings from his novels in Los Angeles, Palm Springs and San Francisco he has taught workshops and classes on various aspects of the Leather lifestyle and appeared on panels about gay erotic fiction at such events as Greater Los Angeles Writers Workshop, MAL, CLAW, International Leather Sir/boy, and the Desert Fetish Authority.
Now semiretired, he enjoys life as a writer, a frequent theatre director/actor, and a researcher. He still rides horses occasionally, both Western and English, after many years as an owner/rider, as well as working out at the gym.
Most importantly, he values his relationship with his new partner Michael, with butch and the late Hank, and the camaraderie and support of LGBTQ men and women around the world.
Contact Information:
Email Address: alexironrod@aol.com
Books By Alex Ironrod
Genre: Action Adventure
Domination
Pairing: M-M
April 23, 2018
Submission
Pairing: M-M
October 20, 2017
THE MAN AND THE MASK
Pairing: M-M
April 8, 2017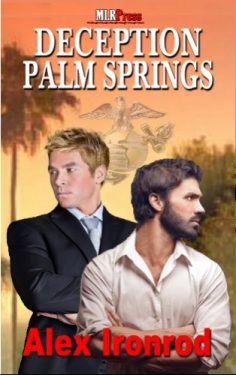 Deception - Palm Springs
Pairing: M-M, M-M-F, M-M-M
March 6, 2014
Leather Days
Pairing: M-M, M-M-M
Genre: BDSM
Domination
Pairing: M-M
April 23, 2018
Submission
Pairing: M-M
October 20, 2017
THE MAN AND THE MASK
Pairing: M-M
April 8, 2017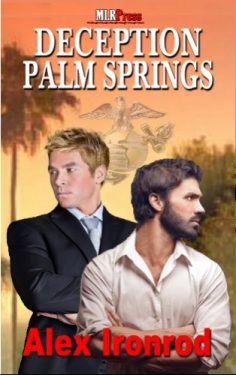 Deception - Palm Springs
Pairing: M-M, M-M-F, M-M-M
March 6, 2014
Leather Days
Pairing: M-M, M-M-M
Genre: Contemporary
Submission
Pairing: M-M
October 20, 2017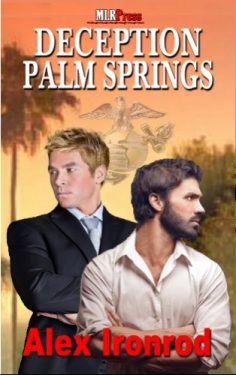 Deception - Palm Springs
Pairing: M-M, M-M-F, M-M-M
March 6, 2014
Genre: Dark Erotica
Domination
Pairing: M-M
April 23, 2018
Submission
Pairing: M-M
October 20, 2017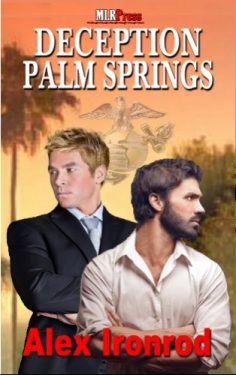 Deception - Palm Springs
Pairing: M-M, M-M-F, M-M-M
March 6, 2014
Leather Days
Pairing: M-M, M-M-M
Genre: Dark Romance
Submission
Pairing: M-M
October 20, 2017
Genre: Domestic Discipline
Submission
Pairing: M-M
October 20, 2017
THE MAN AND THE MASK
Pairing: M-M
April 8, 2017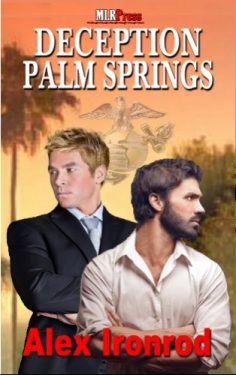 Deception - Palm Springs
Pairing: M-M, M-M-F, M-M-M
March 6, 2014
Leather Days
Pairing: M-M, M-M-M
Genre: Erotic Romance
Domination
Pairing: M-M
April 23, 2018
Submission
Pairing: M-M
October 20, 2017
THE MAN AND THE MASK
Pairing: M-M
April 8, 2017
Genre: Erotica
Submission
Pairing: M-M
October 20, 2017
THE MAN AND THE MASK
Pairing: M-M
April 8, 2017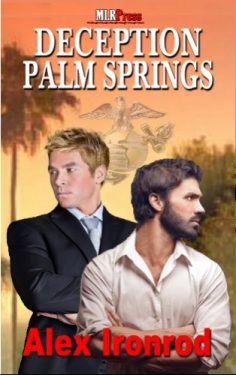 Deception - Palm Springs
Pairing: M-M, M-M-F, M-M-M
March 6, 2014
Leather Days
Pairing: M-M, M-M-M
Genre: Historical
THE MAN AND THE MASK
Pairing: M-M
April 8, 2017
Genre: Historical - America
THE MAN AND THE MASK
Pairing: M-M
April 8, 2017
Genre: Historical - Regency
THE MAN AND THE MASK
Pairing: M-M
April 8, 2017
Genre: Military
THE MAN AND THE MASK
Pairing: M-M
April 8, 2017
Genre: Mystery & Thriller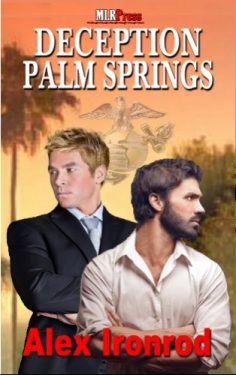 Deception - Palm Springs
Pairing: M-M, M-M-F, M-M-M
March 6, 2014
Leather Days
Pairing: M-M, M-M-M
Genre: Suspense
Submission
Pairing: M-M
October 20, 2017
THE MAN AND THE MASK
Pairing: M-M
April 8, 2017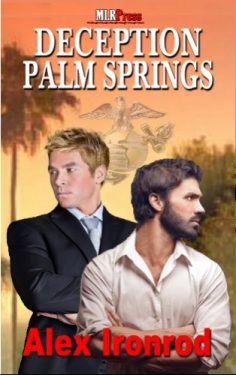 Deception - Palm Springs
Pairing: M-M, M-M-F, M-M-M
March 6, 2014
Leather Days
Pairing: M-M, M-M-M