Word Count:
105,980
Character Identities:
Bisexual, Gay, Genderfluid, Questioning
Summary: Olympic-size dreams come at a price. Openly gay college swimmer Ian Harrington feels like he's fighting against a current of tragedy. He's grieving the loss of his parents and best friend, and now he's dealing with a toxic coach and judgmental brother. But he won't let that stop him from chasing his dream: Olympic gold. Ricky Chavez has just about everything he wants in life: a great career, a supportive family, and a side gig as drag queen Rosie Riveting. The only thing he's missing is a partner to share it all with. When the two men connect after Rosie's performance, they're immediately drawn to one another. But it's never that simple. Ricky isn't the type of man to hide, and with Ian's coach breathing down his neck, he can't openly love a drag queen without making waves. They'll have to brave deep waters to make it to the finish line.
Advance & Retreat: The Midwest Series Book 4 - Ian & Ricky)
Pairing: M-M
July 14, 2020
Word Count:
117000
Character Identities:
Bisexual, Gay
Summary:
Brent Weyland was the life of the party until an injury ended his hockey career. Now he's retreated alone to a lakefront house, trying to make sense of a life and body that don't feel like his anymore. Jon Norquist was happily married right up until he wasn't. Now a single father in his forties, he's trying to figure out what comes next. In the meantime, he pours his heartache and regret into the lyrics he sings for the wine bar crowd a couple of nights a week. When a friend coaxes Brent out for a night of wine and music, he puts Brent and Jon on a collision course. Their chemistry is instantaneous. Jon gives Brent's battered body a much-needed remedial lesson in pleasure. And Brent gives Jon a reason to smile again. Multiple reasons, actually. Neither man wants anything serious, but love has a habit of showing up whether it's welcome or not. No matter how hard they try, the two can't help having feelings for each other, even as life continues to throw them curveballs. But they've both got baggage to unpack and hurt to move past, and if they can't leave their pasts in the past, they might just miss out on an amazing future.
Aftermath
Pairing: M-M
March 29, 2021
Word Count:
117000
Character Identities:
Gay, Polyamorous
Summary: A rookie, his teammate, and his best friend from a rival team. What could possibly go wrong? Seattle Snowhawks rookie Justin Reid has it bad for his teammate Shawn Kelleher. It's just his luck that Shawn's got a crush too… on Justin's best friend, Vancouver Narwhal center Keith Adams. When Shawn lets it slip at the worst possible moment that he wants Keith, Justin is hurt, but what can he do? He steers Keith in Shawn's direction and lets chemistry do the rest. What Justin doesn't know is that while Keith is into Shawn, he's also secretly wanted Justin since forever. After some stumbling, they realize there's something very hot and very mutual going on between all three of them. It's fantasies coming true left, right, and center, and it just doesn't get any better than this. Except this scorching hot triad is anything but simple. Not while the closeted son of a hockey legend is fighting to make his own name in the shadow of his deeply homophobic father's legacy. Not in the midst of grueling schedules and a team's fraternization rules. Throw in pesky emotions showing up where they aren't wanted, and it's a play that's doomed from the start. Shawn, Keith, and Justin all fought their way into professional hockey. Is what they have together worth fighting for too? Or will fear let heartache win this game? ASSIST is approximately 117,500 words. It's book 2 of the Pucks & Rainbows series, and can be read as a standalone.
Assist
Pairing: M-M, M-M-M
December 26, 2019
Word Count:
32518
Character Identities:
Gay
Summary: It's been three gut-wrenching days since Bryce received that life-changing phone call in Savannah. He has avoided dealing with the situation, but now that his spring break is ending, he has no choice but to attack and face his truth as he heads back to his college apartment in Atlanta. To Bryce, all of life's issues are hitting him at once. If dealing with the reality of that phone call wasn't bad enough, his closest family members are directly and indirectly questioning him about his sexuality. His conscience is eating him alive as a result of the decisions that he's making. To add insult to injury, his pastor accuses him of something unimaginable. All of this brings Bryce's internal conflict with God to an all-time high, leaving him at the point of no return—emotionally, mentally and physically.
Bad Religion 2: A Sinner's Denial
Pairing: M-M
August 23, 2014
Word Count:
46584
Character Identities:
Gay
Summary: It's summer 2016 and two years have passed since we've last seen Bryce Harkless. He has moved past that devastating but eventual false diagnosis, but has much changed in his life? Is he still doing the harmful things that caused that initial life-changing scare? As Bryce prepares to head into his senior year of college, he plans a relaxing vacation to travel up the east coast with his best friend. Something unexpected happens while on the trip, so they alter their plans and head to the Midwest. While on that journey, Bryce encounters another life-shattering event that will shake him to his core. This unforeseen circumstance will force Bryce into a decision that'll allow him the opportunity to seek vengeance for a previous wrong done to his family. Will Bryce do what his church upbringing taught him and leave it in God's hands, or will he go out and do his own thing? Where will his relationship with God stand when the dust clears? Jaxon Grant, author of the "Incidental Contact" and "Life of a College Bandsman" series, pens a masterfully woven tale of adventure, crime and consequence, lust, secrets, exploration, revenge and mind-blowing sex. In the final book of this trilogy, join Bryce on this two-week voyage as he learns the hard truth about himself—the truth that maybe he isn't even ready to discover.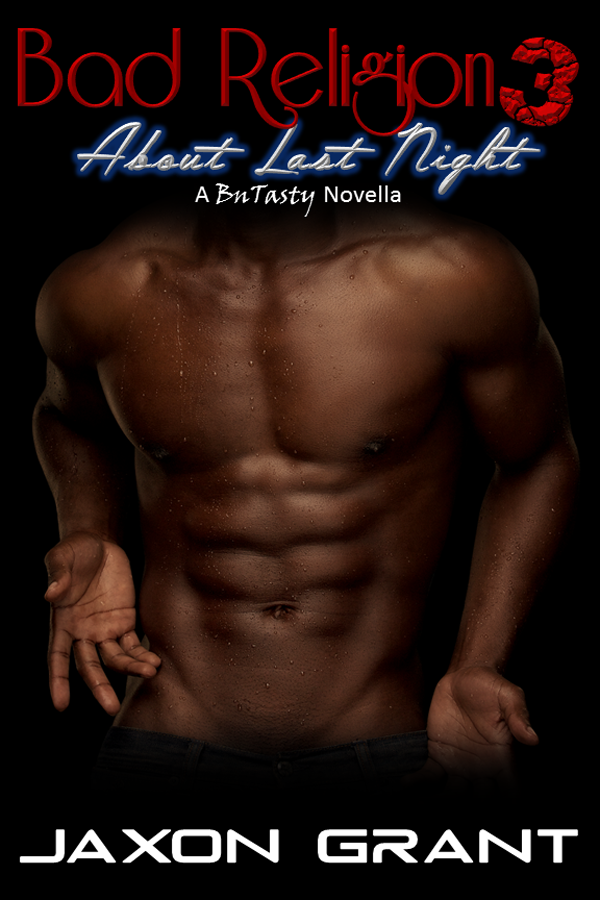 Bad Religion 3: About Last Night
Pairing: M-M
May 22, 2017
Word Count:
15000
Character Identities:
Bisexual, Gay
Summary: Attending his daughter's holiday dance recital should be easy for pro hockey player Patrick Barnes. Showing up in a tutu, however, wasn't exactly part of the plan. And yet the holidays get even more interesting when he bumps into Lee, the man he let get away in high school. Ballet instructor Lee can't believe who just walked into his studio. He also can't believe how quickly the flare of attraction between he and Patrick resurfaces, despite the decade that's gone by since they last spoke. In high school, they let opportunities get away. Now, almost twenty years later, is it possible they'll have a chance to pursue the spark that has come back to life after just one conversation? Holidays are a time for giving, and neither Patrick nor Lee are about to take this particular gift for granted.
Ballerina Dad
Pairing: M-M
December 11, 2017
Word Count:
50000
Character Identities:
Gay
Summary: Three stories of gay bears living their best lives, including: Rough Cut Football players can be gay, too. Chris Hodak, a former college football defensive lineman, never came out. He didn't think big, burly football players could be gay, but he also never got over his crush on Rohan Moore, a hunky teammate with whom he had a fumbling make out session one night after a game. Twenty years after that fateful night, Chris, who is now in his 40s, again meets Rohan, an out and proud big, gay hairy bear who owns a barber shop catering to bears. Rohan is still beautiful but isn't interested in Chris because he hates closet cases. For Chris that spark is still there, and it gets even stronger when he sits in Rohan's chair for a shave and a haircut. In order to get Rohan back, Chris must be braver and tougher than he ever was on any football field. Twinks in Bearland Can a twink fall in love with a bear and keep his friends? The friends of pretty blue-eyed Dustin Garber are about to find out he has a secret. He loves bears, big hairy gay men. None of them know it, but he's just booked them all into the annual Gay Bear Ski week. Craig, beautiful, black and Jewish, is initially indifferent to the fact that he is spending a week with big hairy men. He already has a hook up planned of his own, although that man turns out to have a bizarre secret. Patrick and Ethan, two bear-hating twinks who have been secretly in love with each other for years, take much longer to come around to the idea that bears can be good guys too. Dustin isn't so sure his friendship with them will survive the trip. And then Dustin meets Nate, a big blond bear who is forever single but ready for something a little different. Nate's friends, Casey and Ryland, are fighting about Ryland's porn career. Nate's friend Gil is busy with a Canadian couple, but together Dustin and Nate get lost on a backcountry trail. Deep in the snow away from everyone they may just find the love they've been seeking and the understanding they didn't know they needed. Spooky Ginger Love In one scary weekend, love can set a man free. Keith Norwood, a handsome African American gay bear, came to Camp You-Mee's Bears Haunted Halloween Boo-Nanza Extravaganza for some cheesy holiday thrills and a little ass. A fan of the one-night stand, he thought all he wanted was to get laid. The camp's cute assistant manager with a fantastic butt was Keith's first choice. Instead, he loses his way in the haunted woods. He finds his way and himself with the help of Ronnie Gans, a big, friendly, hairy redhead. But he's unlike any one-night stand Keith has ever had.
Bearland Tales Boxed Set Books 1-3
Pairing: M-M
June 5, 2020
Word Count:
1149000
Character Identities:
Gay
Summary: Just Before Sunrise, as the fog lifts from the pool, the light reveals the tapered backs of male swimmers in Speedos concluding their morning workout. Nicky O'Hare, a promising freshman recruited to the Tampa Bay University swim team, shows promise both in and out of the pool. The lean Irish kid with the 'boy-next-door' good looks from Brandy, South Dakota, is likely the most talented swimmer on the team. Ready to experience all that college life has to offer, Nicky has even put finding a boyfriend on his wish list. Coach Phillip Silva, a former Olympic swimmer with a once-impressive swimming career, has recruited Nicky as part of his mission to rebuild the University's failing swim program. Focused on the upcoming season, Phillip's real challenge will be keeping his secrets and demons submerged below the surface. All seems well until one night when Nicky and Phillip end up at the same Fourth of July celebration. With fireworks in the sky, the hot and humid night reveals the attraction between the two. But can these boundaries be crossed? Suddenly forced to reevaluate his life, Phillip is met with the moral dilemma of discovering true love with the University's rising star. Before Sunrise presents a story of friendships, love, complicated relationships, and deception, woven into a hard-earned happily-ever-after.
Before Sunrise
Pairing: M-M
February 3, 2016
Word Count:
15000
Character Identities:
Gay
Summary:
Be careful what you bet on… Betting is all fun and games until you have to pay up when you lose. Within these three short stories we follow the ones who were on the losing end of a bet. The price they paid? They have to wear a pink Lolita dress. Luckily for them, sometimes paying up comes with the best benefits.
Trusting You by Ryo Salinas
Michael Gentry lost a bet and decides to make the best of the situation with a little bit of seduction.
Bets With Benefits
Pairing: M-M
October 28, 2017
Word Count:
80000
Character Identities:
Gay
Summary: Everyone is chasing their own dreams, but Johnny isn't sure he even has one. Apex Racing is expanding and absorbing Pilot and his lovers. Everyone is happy with it…except for Johnny. He's constantly feeling left out and more alone than ever before. It's time to seek out his own win, and find his holeshot even if it's off the track and away from Pilot. Gavin is determined to put together the hottest Supercross team, and he wants that to include Bryce Nickels. But that seems almost impossible since Bryce signed with Apex. Perhaps he needs a new angle, like the sexy business partner of the bodyguard, Johnny Killebrew. Maybe he'll sign on more than he bargained for. Praise for Holeshot Christmas: "The writing was spot on once again and the storyline flowed really well. A Christmas feel good sexy story for the win!" ~Morningstar with Diverse Reader Blog. "Holeshot Christmas is a delightful little visit with Davey and Tyler. It's sweet, cute, and a lot of fun." ~Amy's mmromance reviews Bike Business is the fourth title in the Holeshot series. For your reading enjoyment, the preferred reading order is as follows: The Holeshot Holeshot 2 Holeshot Christmas Bike Business: A Holeshot Novel Tricky Tracks
Bike Business
Pairing: M-M
August 23, 2019
Word Count:
75230
Character Identities:
Gay
Summary: Should falling in love really get in the way of your lifelong dreams?  Sebastian Saunders is 3000 miles away from home. Working for his father's expanded business in New York, he's left behind the music career he craved, the friends he relied upon and possibly the love of his life. In a city that never sleeps, how can the nights cure a broken heart? Jay Ruttman is in London, throwing himself harder into football and his quest to make it on the professional playing field. Locking himself back in the closet, how can he ever open the door, and his heart, again? A chance encounter in New York where Jay and Seb rekindle their lost romance sets them both on a path to self-discovery and coming to terms with their past, their present and their future. This is the second part of the District Line serial, where half-time oranges are swapped for the Big Apple.
Break Through
Pairing: M-M
May 29, 2018
Word Count:
35500
Character Identities:
Gay
Summary: BULL: Corralling Nature 1 - Mathilde Watson Shy, awkward, and overweight, Roland Paulson wasn't the kind of man who attracted a lot of amorous attention. His romantic life consisted of a series of short lived flings and one night stands with other men who were just as desperate. When propositioned by a charming cowboy with the body of a god, he expected sex. He never imagined the wild ride that would follow. From the moment Dodge Bramen set eyes on the adorable red-head he wanted him. And Dodge was a man who gets what he wants. He had no trouble luring the guy into his bed, but keeping him there was a different story. Deep kept secrets and unexpected discoveries could either strengthen their bond or break it.
BULL
Pairing: M-M
February 15, 2014
Word Count:
60684
Character Identities:
Bisexual, Gay
Summary: It's time to leave college and the closet behind. Nathan Rhodes has put hockey first for most of his life, but as graduation looms, he has a different goal in mind. He needs to come out and reclaim his first love. If only Caleb will believe him... Theater geek Caleb Stockwell gave up on love when his boyfriend chose the closet over being with an openly bisexual guy. Now, he hides his heartbreak behind a string of casual hookups. He loves the drama on stage, but he's done with the drama of Nathan Rhodes. For good. Nathan is determined to right the wrongs of four years ago, but the clock is ticking. One month until he and Caleb go their separate ways. One month to take a final shot at winning Caleb's heart back. Win or lose, everything is on the line. NOTE: This is a second edition released June 2020 with an additional 18k words of brand new content, fresh edits, and a new cover.
Bully & Exit - Nathan and Caleb
Pairing: M-M
July 9, 2015
Caleb's Choice
Pairing: M-M
April 29, 2017
Word Count:
89000
Character Identities:
Gay
Summary: For three gay men in love, opening the closet door could be a risky move. Sheriff Casey Barlow has a slick, media-savvy challenger out to beat him in the upcoming election. Casey's damned good at his job, but he hasn't kissed the right asses, and early polls suggest voters like his opponent's style. Coming out now, let alone revealing his relationship with two men, could sink any hope of keeping his badge. Scott Edison has a real shot at the NHL. He's playing the best hockey of his life. Whenever he can, he travels home to his gruff sheriff and their laid-back cowboy, but there are no out gay players in the NHL. As a rookie working his ass off to be called up, he can't afford to make waves. Will Rice always figured he'd live alone, managing Graham and Annmarie Slater's cattle ranch, but a hot, young hockey player and a compact, muscled lawman rearranged his plans. Even though he's older and lanky and ordinary, he's been sharing their lives and their beds. He doesn't need to be out— isn't sure he ever wants the Slaters to know about him. Life's good the way things are. Then Graham and Annmarie are killed in a hit and run that may not be an accident. As Will grieves, and Casey investigates, the coming changes will shake all their lives. ** this is a re-edit and expansion of the story in the "Hunting Under Covers" anthology
Changes Coming Down
Pairing: M-M-M
November 30, 2019
Word Count: Information not available
Character Identities:
Bisexual, Gay
Summary: Can Tennant show Jared that age is just a number, and that love is all that matters? The Rowe Brothers are famous hockey hotshots, but as the youngest of the trio, Tennant has always had to play against his brothers' reputations. To get out of their shadows, and against their advice, he accepts a trade to the Harrisburg Railers, where he runs into Jared Madsen. Mads is an old family friend and his brother's one-time teammate. Mads is Tennant's new coach. And Mads is the sexiest thing he's ever laid eyes on. Jared Madsen's hockey career was cut short by a fault in his heart, but coaching keeps him close to the game. When Ten is traded to the team, his carefully organized world is thrown into chaos. Nine years his junior and his best friend's brother, he knows Ten is strictly off-limits, but as soon as he sees Ten's moves, on and off the ice, he knows that his heart could get him into trouble again.
Changing Lines
Pairing: M-M
July 12, 2017
Word Count:
57000
Character Identities:
Bisexual, Gay
Summary: You can never escape from yourself. Zac McKenzie is an ex-professional footballer with a secret he gave up his career to protect. Several years ago, he fled to his home in the North East of Scotland to avoid being outed as gay. Now, he owns a successful hotel and restaurant, but is it time to finally come out into the open? Seth Pritchard feels he's damaged goods. He comes to Scotland to escape memories of the accident that left him injured, his bullying stepbrothers and a life of lies. For their whole lives, Zac and Seth have denied who they truly are to themselves as well as others. When they meet, each man is forced to confront his fears and tear them down one by one.
Choosing Home
Pairing: M-M
July 12, 2016
Word Count:
30663
Character Identities:
Bisexual, Gay, Questioning, Transgender
Summary: Tough times are ahead for the gang of best friends. Despite everything that is happening in each of their personal lives, they must come together to support one of their own during this trying time. Will this unexpected event bring some of the friends closer, or pull them further apart? As Raheim reflects on his life, he is afraid of what could happen to his relationships if his damaging secret were exposed. While hiding his own dirt, he mistakenly comes across another friend's secret. What will Raheim do with this information? Will he hold on to it, or will he expose it? Qier's mental stability is troubling. He's dealing with so many personal issues he wants and needs his cousin to be there for him. Qier feels Keston is never there anymore and his arch nemesis is at the root of it all. Could this be the start of a mental breakdown for Qier? In the sixth entry of a nine-book short story series, two familiar and well-loved Jaxon Grant characters appear, revealing their relationship to Phoenix. While Phoenix and Keston continue to enjoy their spring break together, other pieces are unknowingly being thrown into the mix that could damage what they are building. After showing Keston what life could be like with him, Phoenix is tired of the games and is ready to push this ongoing courtship into a relationship, but is Phoenix ready for Keston's response? After some drastic moves, Phoenix believes he has finally rid himself of all the extra baggage named DT and Damon. Is this relationship going to happen or are outside influences messing up everything? With what Damon has planned, he is still an imminent threat to Phoenix's wellbeing and Phoenix has no idea.
Could You Be
Pairing: M-M
September 30, 2015
Word Count:
120,000
Character Identities:
Gay
Summary: Blurb Crossing The Touchline by Jay Hogan What if you've worked your whole life for a dream, to play rugby for the most successful sports team on the planet, the New Zealand All Blacks? What if that dream is so close you can smell it? What if you meet someone? What if you fall in love? What if your dream will cost the man who's stolen your heart? And what if the dream changes? Reuben Taylor has a choice to make. Cameron Wano is that choice. Part of the Auckland Med. series that includes 'First Impressions' Can be read as a standalone.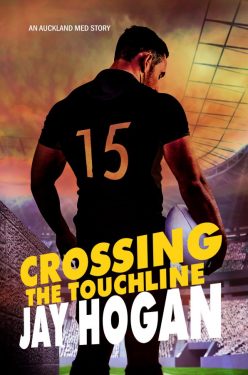 Crossing the Touchline
Pairing: M-M
December 16, 2019
Word Count:
23,280
Character Identities:
Gay
Summary: Blurb Caleb and his husband Sebastian are at a crucial crossroads in their lives. New York City has put challenges and opportunities in their path, and without race car driving in his future, Caleb worries about the future and money. At the same time, Sebastian presses him to have kids. Keeping their love going is Caleb's main goal. When their friend Cujo visits from Florida, he meets their roommate Tristan. Cujo has always wondered about a past college fling. What would have happened if he wasn't afraid of being with another man? Tristan is charming and loving, and presents a new challenge to Cujo, who's now faced with a decision that will change his life forever. Once he embarks on this path of love, there is no turning back. Can he overcome his fears to find love in a new way?
Crossroads
Pairing: M-M
August 18, 2018