Word Count:
12000
Character Identities:
Gay
Summary: ~~a short story~~ April 1185 Stephan l'Aigle is the third son of a Yorkshire baron with no hopes of inheriting land or titles, probably a good thing as he has no interest in women, nor any desire to marry or produce heirs. He finds pleasure in the arms of other men. At eighteen years old, Stephan has recently been knighted and must make his living on the tournament circuit or become a soldier for hire. His fortunes change when Richard, Duke of Aquitaine & son of King Henry II, sees his skills in battle. Stephan will hone his sword arm against Richard's enemies, and learn about comradeship, duty, and honor. Will his relationship with one of Richard's knights crack his hard-hearted armor? NOTE: this is not an HEA. It's rather bittersweet.
A Knight's Tale (Passages)
Pairing: M-M
August 6, 2019
Word Count:
17081
Character Identities:
Gay, Pansexual
Summary: In a world where magic is hated and feared, sometimes the bravest thing a man can do is trust. Daymon is the second prince of a kingdom in which Evokers—those who possess intuitive magical abilities—have long since been treated with fear and mistrust. Marked as an Evoker himself, Daymon is captured by those who wish to take advantage of these powers. Now, the prince must put his faith in Rhyder, the captain of his guards—and the man Daymon has claimed as his own—to free him.
A Trust to Follow
Pairing: M-M
May 25, 2018
Word Count: Information not available
Character Identities:
Bisexual, Polyamorous
Summary: The search for the swords brings Douglas and Margaret back to England, where Mystere has hidden the sword Almace -- his own sword. Four months pass with no signs of Mystere, and Douglas and Margaret start to make plans to go in search of him. Then they accidentally become the caretakers of an injured street urchin. The boy — a sweep's apprentice — tells them that there is something invisible haunting the rooftops of London, preying on the children who make their living there. In the absence of Mystere, Margaret insists that they need to help, but Douglas refuses. Margaret defies him and goes anyway, only to discover that what lurks on the rooftops is far worse than she had imagined -- Caedda has taken the rooftops of London as his domain. Worse, he has taken Mystere prisoner, he holds the sword Almace, and he knows that Margaret is there. Trapped on the roofs, unable to reach Douglas, Margaret has to rely on her wits and her memories in order to save Mystere, herself and her unborn child.
Ashes and Light (Swords of Charlemagne, Book 3)
Pairing: M-M-F, M-M-M
July 20, 2021
Word Count:
113000
Character Identities:
Bisexual, Gay
Summary: A twist of fate changed both their destinies. The wyrbears, once a long-lived species, were being lost to the forest in their prime. A people borne of a curse, their abilities not a gift but something wrongly taken, they nonetheless live in harmony with their animal spirits. But over time the curse they lived under changed, mutated, and now what once was a refuge from the world when they became too weary is culling mathan in their prime. Ewen mhic Friscalach, the leader of his peoples, lost his father too early and is now a widower with four children. The vow he made as a youth to break the curse afflicting wyrbears has been buried by grief and responsibility. Roi mhic Alric, a priest of Cerridwen and seer, watched his fellow priests slaughtered and his temple desecrated. The only thing that kept him going the last three horror-filled years was the vision Cerridwen had granted him of his emancipation. If freedom came at the cost of his life, well, he was more than ready for the Otherworld. A fated meeting upon a bloody field of battle. A wrong done long ago. Their choices could save a people… or send them into extinction. Either way, their love will be legend.
Caledonia Destiny
Pairing: M-M
July 9, 2018
Word Count:
90000
Character Identities:
Gay
Summary: Sir Gerard Fogg, knight in the Royal Guard of the kingdom of Algonwick, is in love with the King's only son, Prince Tristan Fysher. The two men carry on a secret, sexual affair and proclaim their undying love for one another, only to have it torn apart by an intruder from the future. A white supremacist named Malcolm, stumbling on a time portal between 2006 and their time of 1456, murders Tristan and escapes to the future. Sentenced to death for failing to protect the Prince, Gerard is freed by the King's advisor, Ranulf Godfrey, the one man who knows where to find the murdering Malcolm. The two men travel through time to 2006 to discover the castle they love in ruins and a handsome young researcher named Jon Calder cataloging the artifacts of Algonwick's forgotten age. Jon, who has never felt as though he fit in anywhere except the ruins of this castle, is the vessel within which resides the soul of the murdered Prince. As Gerard and Jon embark on a journey of sexual discovery more than 500 years in the making, the murderous Malcolm circles ever closer.
Destiny's Bastard
Pairing: M-M
January 5, 2014
Word Count:
145000
Character Identities: Information not available
Summary: England 1193 Civil war threatens as battle-scarred knight Henry de Grey returns from the Crusades. King Richard languishes in captivity, a prisoner of the Holy Roman Emperor. Traitors to the crown pit Henry and his friends against dangerous and unknown enemies. Loyalties will be tested, families torn apart. Friend or foe? It is hard to tell one from the other. The king's brother John and his allies plot to usurp Richard's throne. With the knights Sir Stephan and Sir Robin, Henry fights for king and country. But he must keep his feelings for Sir Stephan l'Aigle secret. Sure as arrow or sword, their forbidden love could destroy him.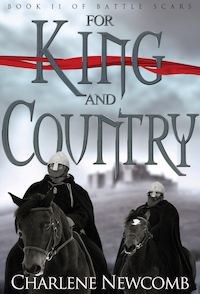 For King and Country
Pairing: M-M
April 27, 2016
Word Count: Information not available
Character Identities: Information not available
Summary: A brutal war left Volos Perun with physical and emotional scars and with a reputation as a hero. Now he's a soldier stationed at the palace, desiring Prince Berhanu while receiving only loathing in return. But when Berhanu foolishly refuses the king's request to let Volos accompany him on a peace mission to the neighboring country, Berhanu is kidnapped and brutalized. Now Volos must risk his life as he works to save Berhanu and help his country avoid another devastating war.
Guarded
Pairing: M-M
April 20, 2016
Word Count:
110840
Character Identities:
Lesbian, Straight
Summary: When Robyn's father and brother are killed in the Third Crusade, she is banished from her manor home and branded a traitor by the Sheriff of Nottingham. Disguised as a boy, she joins Little John and the rest of the gang in Sherwood Forest—and soon finds herself their leader. Queen Eleanor suspects Prince John is up to no good, and colluding with Sir Guy and the Sheriff of Nottingham. To learn more, she engages Maid Marian as a spy—and unwittingly reunites Marian with her old childhood friend, Robyn. Together, the women help the queen acquire the funds needed to free King Richard and help Nottinghamshire—and perhaps fall in love along the way.
Heart of Sherwood
SALE
Pairing: F-F
October 19, 2018
Word Count: Information not available
Character Identities:
Gay
Summary: Jackson has been called to attend his father, Lord Baymore. The man has never claimed Jackson as his son and Jackson believes this might be his father's intent. He's left the Duke of Marden's employ to discover his destiny—to remain a nameless bastard or to claim his father's name. When Jackson stumbles across a man, stripped, beaten, and left in a field to die a slow death, Jackson rescues him. After all, he's guilty of the same thing—wanting a man. Will Holcombe gambled and lost. His meeting with a young, willing man went horribly wrong, and now he must pay for it with his life. Until a man walks up to him and cuts him down. Jackson is like no one Will has ever met before—a man strong enough to stand with him, perhaps forever. But Jackson's on a mission. Will his pride blind him to what his life could be if he chose Will and not his father? Or will his pride lead him to a fate worse than death?
Jackson's Pride
Pairing: M-M
February 9, 2021
Word Count:
51458
Character Identities:
Gay
Summary: When one man's courage is lost to his own anger, another will try to rekindle it—no matter the cost. Kaidyn is the son of the queen and a trainee officer in the kingdom of Sareen. He is also a Half-Blood—his father is from Iskandir, a neighboring kingdom which has been at war with Sareen for many years. Bitter and angry at the prejudice he faces, Kaidyn meets Sorin, a healer from one of Sareen's most prominent noble families. As their relationship deepens, the war between Sareen and Iskandir grows worse. Not only will the pair inevitably become involved with the conflict one way or another, but Sorin is also hiding a secret, and time is running out for them both.
Kaidyn's Courage
Pairing: M-M
March 15, 2019
Word Count:
38000
Character Identities:
Demisexual, Gay
Summary: Stories tell of great fire-breathing beasts large as castles, fierce and deadly, capable of magicks that no human can match. The Kingdom of Kentaine once allied itself with the dragons of old, but eventually, the dragons were lost to time and fell into legend. Sir Gawain, First Knight of the Realm, is tasked by his older sister the Queen to travel to the edges of their kingdom, where a beast is flaming villagers and has the locals ready to form a mob and hunt it down themselves. His mission is to find the dragon, stop the violence, and do what he needs to maintain the peace. His journey puts him in the heart of a confrontation with the dragon, but instead of saving the villagers, it is the dragon that needs rescuing. Zephyr, a fire dragon and an escaped slave, needs protection, time to heal, and a chance at a life full of hope. Gawain can do no less than offer his sword, his shield, and his heart. Evil is hunting Zephyr, and it will not stop until it has reclaimed its prize. Beyond the legends lies the truth, and love, like fire, consumes everything it touches.
Knight's Fire
Pairing: M-M
May 29, 2019
Word Count:
99000
Character Identities: Information not available
Summary: They embarked on the Crusades as strangers. They battled through as more than brothers-in-arms. March 1190. Brimming with the spirit of youth, the idealistic Henry de Grey joins King Richard's army ready to fight for God's glory on the battlefield. But after he bloodies his sword and witnesses the slaughter of innocents, he struggles to justify the violent acts he's committed. Through months of brutal marches and political bickering, Henry finds comfort in the fearless resolve of a brash veteran. But when his feelings of friendship grow into something more, he must put his old convictions through the gauntlet. Stephan I'Aigle would follow the king anywhere, even into the heart of enemy territory. He takes Henry under his wing, but fears his growing attachment and burning passion could make him lose his fighting edge. Will opening up his heart destroy the knights' friendship, or leave them both completely defenseless in the heat of battle? Men of the Cross is medieval historical fiction with elements of an m/m romance. If you like journeys of self-discovery, vivid historical details, and slow-burn chemistry, then you'll love this tale of the knights who served the Lionheart. Man against man. Man against the elements. Man against his own heart. Survival will depend on more than a strong sword arm.
Men of the Cross
Pairing: M-M
April 28, 2014
Word Count: Information not available
Character Identities: Information not available
Summary: Normandy, March 1196 King Richard has their loyalty. The French would have their lives. And John, the king's brother, will never forget how they betrayed him. The kidnapping of the king's former sister-in-law sets off a chain of events that entangle the knights Henry de Grey and Stephan l'Aigle in politics and intrigue, treason . . . and murder. What begins as escort duty for the knights becomes a chase through the Norman countryside on the trail of her son, the young duke Arthur. Assassins want him—and the knights—dead. If assassins' blades don't kill them, King Richard's war to recover his continental domains from France just might. Former enemies, like the king's brother, are now allies. Can they be trusted? Warriors. Heroes. Traitors. Spies . . . Lovers.  Henry and Stephan will risk their honor and the trust of the king to protect Duke Arthur. They will fight treachery and brave bloody battles, see war in all its horror, and fight their fears of losing each other, all the while keeping their forbidden love secret. With Swords of the King, Charlene Newcomb follows up her award-winning novel For King and Country (Battle Scars II) amidst the turbulent final years of the reign of Richard I of England, the Lionheart. This epic adventure furthers an original Robin Hood origins story and will captivate fans of historical fiction and anyone who likes a little romance—forbidden romance—with their history.
Swords of the King
Pairing: M-M
May 3, 2018
Word Count: Information not available
Character Identities:
Bisexual, Polyamorous
Summary: Months have passed since Mystere left England in search of Joyeuse, leaving Douglas and Margaret behind, safe in behind ancient shields in a manor house in Sussex. Then Douglas is called away for an emergency, and disappears without a trace. A letter arrives, assuring Margaret that Douglas will be safe. A letter from Caedda, one embedded with spells meant to kill. Fearing for her husband, Margaret risks her own life and that of her child in a desperate attempt to summon Mystere, setting into motion a journey that will take them from Sussex to Aachen to the mountains of Austria, and to the long-hidden sword, Joyeuse. With all four swords once more in the world, the secrets they've been hiding will finally be revealed.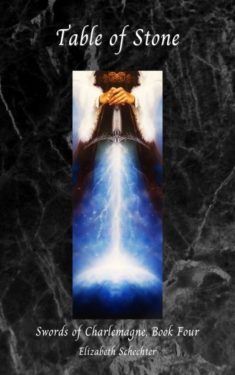 Table of Stone (Swords of Charlemagne, Book 4)
Pairing: M-M, M-M-F
September 21, 2021
Word Count:
8000
Character Identities:
Bisexual, Lesbian
Summary: Sir Adriana Bradshawe is the newest Knight of Elergard, and the first woman to be knighted. While the 'sacred' first task of most knights is to fetch lake water or flowers, she has been given the quest of tracking down an obscure gem that she has never heard about. Princess Bonissima Gemma of Araewen was cursed to be locked in a tower by her asshole father and some asshole warlock. She's been waiting five years for a knight to rescue her, and biding her time by reading her way through the many, many books in the tower. When Sir Adriana climbs the tower and rolls into the bedroom of the cursed Princess Bonnie, neither are what the other expected. But neither are objecting.
The Lady Knight's Cursed Princess
Pairing: F-F
March 11, 2017
Word Count:
88,115
Character Identities:
Bisexual, Lesbian, Straight
Summary: When secrets and lies threaten the throne, can a fierce champion tame her passion in time to stop a cruel enemy's ruthless march? Jutland, Early 11th Century. Viking Warrior Princess Lena craves revenge. Hunting a killer after her husband is brutally slain, she discovers a shadowy traitor is at play behind the scenes, working to disrupt the balance of power. But she places her need for vengeance on hold when the king falls gravely ill, and sails out along with the pretty slave she rescued to locate a fabled healer. Gunnar is loyal to the core. But when his lord orders him to sabotage the princess's royal mission, he's plagued by an unfamiliar sense of doubt. And after he witnesses the courageous woman and her crew save his life in a vicious storm, he's no longer certain he's fighting for the right side. Beset by foul weather and an uncharted island of trolls, Lena fears she'll never avenge her husband's death… even as her heart softens towards the lovely Celt girl she longs to embrace. And now Gunnar must decide where his fealty rests as the tides turn to war. Can Lena and Gunnar survive a bloody grab for power and find a true home for their hearts? Viking Quest is a breathtaking historical fantasy novel. If you like principled characters, battles of conscience, and tender F/F romance, then you'll love Edale Lane's action-packed epic.
Viking Quest
Pairing: F-F
June 28, 2021