Word Count:
57393
Character Identities:
Gay
Summary: Adam Draecon Who knew that a simple visit to Mom in Sedona would change a witch's life forever?  When I first saw Seth, it was love at first sight.  Nero and Zelda were delighted by our fated connection, and called his Sire Bart Magnus, a fact unknown to me at the time, to honor us.  Bart wanted to celebrate at his lodge near the Grand Canyon, but while on a nighttime photography shoot, ancient Arizona secrets are surfacing, and Craig suspects something astounding is coming. Seth Whittaker As I strolled into Zelda's house with Nero, I looked up and saw Adam.  I was stunned and could not breathe.  Within two hours we were on the huge Magnus chopper going to celebrate our fated soulmate connection, but Vito and Craig are not speaking.  I heard Craig did get out there this time, giving pilot Vito a rough landing instead of a happy ending. Craig Wainwright Vito finally got over himself, so now we are out with Adam who is teaching us nighttime photography.  Agnes suddenly appeared looking terrified and talking about finding ancient three thousand year old wards guarding something she felt was sinister.  When she mentioned wrapped up bodies, it sparked a distant memory and if I'm right, this could be beyond belief, and get me off the hot seat at least for a while. Agnes Granville  Zelda and I took a stroll while all the guys were having fun with their cameras, but as we neared the top of a hill, we noticed something extremely odd.  I waved my hand to clarify the shimmering situation, and a hidden cave appeared.  When the others arrived, we all used our witch senses to read the interior of the cave.  At first, we were thrilled, that is until something reached out to touch Nero's mind, demanding to know what a witch wants with him.
Adam Draecon Desert Witch
Pairing: M-M
February 1, 2021
Word Count: Information not available
Character Identities:
Gay
Summary: Tripp doesn't know who he is, how he got here, or why this gorgeous man with dark eyes is the only familiar thing in sight. But he does know this:
It's Autumntide on Mars and love is in the air!
—Embrace the wonders of Fall in this dreamy and evocative MM seasonal romance—
Louisa May Alcott meets the science fantasy of Ray Bradbury! Tripp is a young employee of the Division, corporate authority in the Crater region. Reserved and sardonic, he's inexplicably drawn to Dolan—a goofy, enthusiastic romantic with a body made to remember. But it's not just strong arms pulling Tripp toward this onyx-eyed man. Both colleagues are victims of amnesia caused by their recent interplanetary re-assignment. Though they don't even recognize themselves, they're driven by intense chemistry that feels too familiar to be coincidence ... With work suspended for the month-long Autumntide festival, can Tripp let his walls down and learn to love—even when he's a stranger in his own head? Experience the festivities as two lost souls find each other—again—under the ochre skies of
Autumn on Mars
.
The 4 Seasons Cycle
Four seasons. Four worlds. Four loves.
Join Tripp and Dolan as they walk the Annularity, rising each season on a new planet, in a new settlement, with no memory of their past. But true love creates its own future. Celebrate every major holiday of the year—and experience the magic in our own solar system—as Tripp discovers the endless bounds of a relationship so strong it transcends the stars!
They have been here before. They will be here again...
Autumn on Mars
Winter on Pluto
Spring on Titan
Summer on Europa
ATTENTION EMPLOYEES GLORY TO THE DIVISION! PLEASE READ THIS SCHEDULE OF AUTUMNTIDE EVENTS CAREFULLY:
-Harvest fête- Bob for diamond apples Pie throwing Compete in the Annular Waltz! -Fastelhaim- Brave the spooky night, but watch out for the wraiths of Mars That Was! Visit the homes of friends and neighbors to get treats, but make sure to wear a costume! -Hayrides- Ride the floating wagons among fields of spicestalk Hunt the maze for amethyst corn gemstones! -Apple picking- Harvest delicious diamond apples Visit the orchard master for cider and donuts! -Campfire evenings- Bask in the glow of the Shimmer Pines with your own campfire Make sure to bring spiced vanilla to warm by the coals! -Gratitude feast- Give thanks to the Annularity with the climactic cornucopia dinner, courtesy of the corporation
GLORY TO THE DIVISION!
Lovers adrift in spacetime ...
A surreal, atmospheric sci-fi fantasy romance quadrilogy—something for lovers of any season! Or all of them!
Rapid release through spring 2020, pre-orders coming soon!
Autumn on Mars
Pairing: M-M
November 25, 2019
Word Count:
90000
Character Identities:
Bisexual, Gay
Summary: Lornyc is good at keeping secrets, because secrets can get you killed. Lornyc hates politics. The small talk, backstabbing, and the attempts to undermine his marriage makes his blood boil and his head ache. But what he really hates is someone kidnapping his husband. The suspicion that the Valen are somehow involved is confirmed when the truth about Methian's real parentage is revealed. But there are other fights ahead, this time with the mage when Lornyc discovers that they were not only behind his mother's family being stripped of their magic, but have been trying to limit the Reagalos family powers for centuries.
Avarice
Pairing: M-M
November 4, 2021
Word Count:
55275
Character Identities:
Gay
Summary: Ben De Santis I manage a small Western art gallery, where I've flirted on and off for years with Devin, an Arizona ranch owner, and a scruffy sexy artist. I know he likes what he sees but is too shy and never says much to me. Not one soul here knows I'm a witch, but today things suddenly sparked into life, and now Grandpa is calling, and I have no clue what he wants. Devin Hunter I sell my Cowboy art at a small gallery in Carefree, that has a crazy handsome manager, and he is it for me. He's always been friendly but seems quiet so I've left him alone. Now however, I need to make my move, since I'm going to start my own art gallery and want him to come along. When I finally approached him and shook his hand, I had the shock of my life, and soon his phone was ringing. Nero De Santis My grandson Bennie a good boy, respectful, and dense about his fated soulmate, but so is Devin. I felt them connect but they still had no clue what was going on, and I soon filled them in. I scanned Devin naturally, and something is way off with that cowboy. His deadbeat witch parents are a joke, so his immense power makes no sense. I need to consult Agnes as something is very wrong over there. Agnes Granville As a witch dealing with the Magnus coven, I received a concerning call from Nero, about his grandson's fated soulmate Devin. I checked him out as a favor, and while quite powerful, he is unaware he is under a spell, and has no apparent pedigree to back up his dangerous power. I need Vito and Craig to help me sort this out, and do some sniffing around, sorry Craig, no pun intended.
Ben De Santis
Pairing: M-M
October 8, 2020
Word Count:
19000
Character Identities:
Gay
Summary: What if you could hear the words behind the words? Brad Weston's life seems perfect. He's GQ handsome, the chief of staff for a Republican California state senator, and enjoys the power and the promise of a bright future. And he's in a comfortable relationship with his boyfriend of six years, Alex. Sam Fuller is Brad's young blond blue-eyed intern, fresh out of college, running from a bad breakup, and questioning his choices and his new life in politics. To make things worse, Sam also has a thing for the boss, but Brad is already taken. While looking for a gift for his boyfriend, Brad wanders into a curiosity shop and becomes fascinated by an old wooden medallion. Brad's not a superstitious man, but when he takes out the medallion in his office, he sees the world in a whole new light. And nothing will ever be the same.
Between the Lines
Pairing: M-M
January 10, 2021
Word Count:
120000
Character Identities:
Gay, Pansexual
Summary: Secret identities are hard to keep. Sora finds this to be doubly true after meeting the struggling Burkhard Clan and the mischievous Ravi. The wind dragon has stolen his breath, and heart, away. Sora suspects he might have found his mate. But his inability to be truthful with Ravi eats at Sora. When the Jaeggi attack, Sora can't keep his secrets any longer. Not when Ravi is in the center of the war raging around them. He has to reveal who he really is. It's the only way to be with Ravi and give the Burkhards the help they need. Sora's secret could tip the scales to save them all. Tags: There's tropes, and then there's this book, Ravi has impulse issues, in Ravi's defense he was left unsupervised, you're only in trouble if you get caught, secret identity, only Ravi could have a meet-cute like this,  Ravi attempts romance, it's bad, no its really really bad,  thank god for it, bored mages get into stuff, mothers with an agenda, hurt/comfort, somehow the comfort part involves tacos, Ravi is a corruptive influence, Sora is a willing corruptee, chaos incarnate, protective mate, bad guys ramp it up to the next level, Sora has an ace up his sleeve, and is not afraid to use it, Bat-Ravi
Blood
Pairing: M-M
April 9, 2021
Word Count: Information not available
Character Identities: Information not available
Summary: Fate has a wicked sense of humor when enemies become lovers. After the death of his parents, Bronx Harrison had to take on the responsibility of his family's company, not to mention taking the throne as the king of his sect. Bronx thought he'd found his mate in his childhood best friend, Jordan Sutton. Although they loved each other, there wasn't any passion. With the threat of the Blackburn Hunters trying to kill his kind, Bronx put love out of his mind. When he was asked to extract information from a captured hunter, Bronx didn't expect that the man would turn out to be his mate. Captured and in the hands of the enemy, Kallen Blackburn was on death's door and was ready to accept his fate. But just like everything else in his life, things changed. He was trained and conditioned to be the best paranormal hunter. Since he was a child, Kallen's world had been filled with torture and death. Love was something he had never experienced. His only purpose was to be used and discarded. When he failed on a mission and was punished severely, Kallen realized he needed to escape from the family business as a Blackburn Hunter. Kallen thought he was incapable of emotions, let alone loving anyone. When Kallen encounters Bronx, he questions the meaning of life and love.
Bronx's Bite
Pairing: M-M
May 31, 2022
Word Count:
45873
Character Identities:
Gay
Summary: This is book 1 of the Eternal Flames series, Centuries ago the Phoenix and Dragons were a force no one could penetrate. They fought together, mated together, and worked side by side, and then all that changed. The children of the leaders were dead and war had practically destroyed them all. The fighting stopped and they both went their separate ways. Daytona was the Captain of the Crystal fire department. He loved his small town and he loved his job. However, what none of the small town knew was that he was also a dragon. Crystal was a small location just outside Denver, and it was also the home to the Phoenix. He had lived amongst them for years, hiding his scent, until the day came that he could no longer keep his secret. When a fire claims his mother's life, Ethan rushes home. Having your mother being a victim of an arson is not something he was prepared to face, but discovering he wouldn't have to do it alone, should have been a relief. The thing is...that relief came in the form of a dragon, and the town believes that his mate is the cause of all the fires around town. When the arsonist strikes close to home, Day knows he must clear his name and find the culprit that is now trying to kill his mate.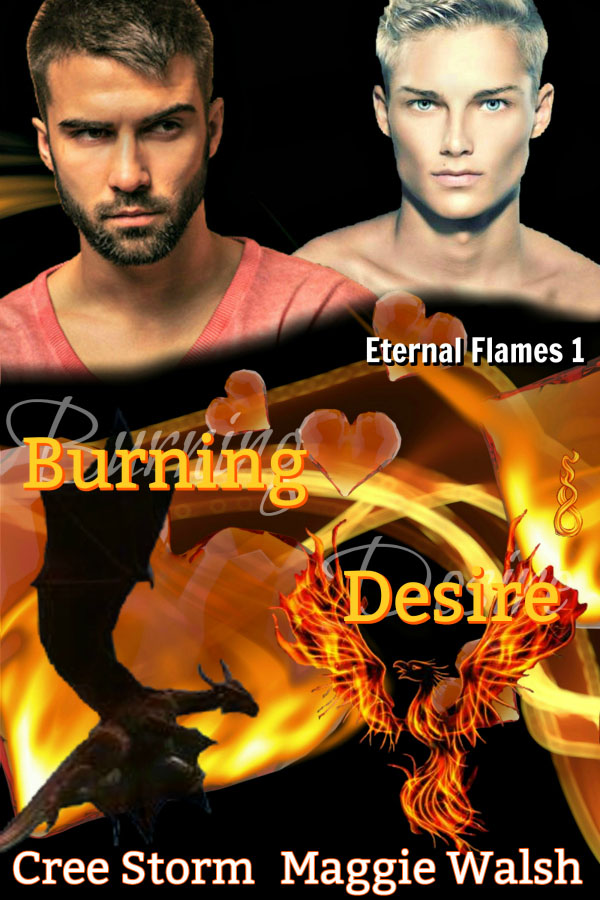 Burning Desire
Pairing: M-M
May 25, 2016
Word Count: Information not available
Character Identities: Information not available
Summary: Emrys Marlowe had only ever fallen in love once, and that was with Kiyoshi Gwynne. He'd been young and Kiyoshi had been a man in which he could care for… and he'd loved caring for him. Now, six years later, he finds himself nervous as for the first time, he's meeting his best friend Lindsay's brother Ísarr. Ísarr Trevelyan, bookshop owner and unpublished screenwriter, has been quite content in living with his sister above the shop while she attended college. When she befriended two actors one afternoon, he'd thought nothing of it, and since their busy schedules kept them away from L.A. for the most part, it wasn't until today, six years after her meeting Emrys, that he finally got to meet the man. Neither man expected to feel anything for the other, but the light and the completion they feel lends wings that can surely weather any storm… can't it? 29,500 words
Butterflies Are Free
Pairing: M-M
September 23, 2014
Word Count: Information not available
Character Identities:
Ace, Bisexual, Gay, Genderfluid
Summary:
No one is safe from the mutations needed to survive.
Jackson is investigating murders of hustlers while trying to keep his focus on two in particular; Ivy, who gives him gifts of plants in the middle of winter along with delicate bites of cake, and Candy, the brash and in charge head of the red-light district. When the three of them are ripped apart by a gruesome attack, Jack loses control and lets the monster inside him free, exposing secrets they were never meant to share. While the media is focused on the horrors of Jack's on camera transformation, the murderer sets their sights on Candy, determined to take down the entire city. The trio will have to evolve or be swept beneath a tsunami of rising power.
Candy Land
Pairing: M-M, M-M-M
August 9, 2019
Word Count:
130000
Character Identities:
Bisexual, Gay
Summary: When the slightest touch triggers visions of horror, you learn not to let anyone close. After more than a decade hiding from society, Seth Albright is sheltered. His visions make it a necessary evil. After a precocious emergence as a seer when he was eight, his mother took him to live in the woods. To protect him. When he can't take another day of isolation, Seth turns to SPIRE. There, he gets partnered with Roy Merchant as his anchor. Enough inexperienced psions have burned Roy by using him as a stepping stone to last a lifetime. Roy has seen scandals come and go in his time with SPIRE. Seth has seen atrocities most people couldn't imagine. But neither of them has seen anything like what's coming for them next. This is MM urban fantasy containing some mild BDSM elements and an age gap.
Clear Sight
Pairing: M-M
March 29, 2020
Word Count:
62000
Character Identities:
Gay
Summary:
Knitting. Ice Cream. And a Matchmaking Fae.
Quiet, industrious Finn dreams of his own knitting store. He needs Leo's enthusiasm to make him reach for what he wants. Cheerful, adventurous Leo sells artisan ice cream but shies away from fulfilling his grandmother's last wish. He needs Finn's love and support to put his past to rest for good. Add a Saxon treasure, a fae stranded in the human world, and an empty store with very unusual rental terms - and falling in love is not the only challenge Finn and Leo have to face.
Making a dream come true takes work. But there's magic in dreams if Finn and Leo can hold on tight.
***
Tags: I'm only here for socks and ice cream. Sometimes you just click with another guy even if you're opposites. I look at you and know what I'll be knitting. How to share a house with someone you've just met. Utensils don't sparkle, right? Grandmas rock. Making a deal with a burglar. Roisin is a decorating wiz and Finn worries about antique furniture. If you don't talk to me, I can't help you. Finding treasure at inopportune moments. And yes, there's a happy ending.
Cosy & Chill
Pairing: M-M
November 10, 2021
Word Count: Information not available
Character Identities:
Bisexual, Gay
Summary: Danny Marina's new step-father takes him to the laser tag stadium, the movies, the go-kart track. He and his mother now have a new house and more money. Then Danny finds the cameras–in the living room, his bedroom, the shower. Which leads him to uncover the secret web site, the one devoted to him and his step-brother Eric. Danny's Mom doesn't believe him–doesn't want to believe him. Faced with the unthinkable as his stepdad brings home strangers, Danny and Eric hop a bus for Florida. Frightened, and with only each other for support, they flee to Aquapura, a crappy, decrepit resort town. But the streets of Aquapura have dangers of their own. A grinning hotel owner named Lucian ropes the boys into a prostitution ring, pimping them out to traveling businessmen who flash enough cash. The work crushes Danny's body and threatens to steal his soul. As an escape, Danny fills his notebook with a strange and secret story. He spins the tale of Ganymede, a teenaged boy from ancient Greece. Zeus, the king of gods himself, snatches Ganymede up to Mount Olympus, where he is pulled into a web of intrigue and adventure that threatens the very gods. As his life under Lucian's thumb worsens, Danny escapes deeper into Ganymede's fictional life. Except the more Danny writes about Ganymede, the more it becomes clear he's writing about himself. And over time, Ganymede's life crosses Danny's in strange and impossible ways. Danny needs to use Ganymede's strength to fight back and create a better life for himself and for Eric. But can a teenager use the power of a god?
Danny
Pairing: M-F, M-M, M-M-F
June 19, 2015
Word Count:
59596
Character Identities:
Gay
Summary: Darius Zan My estranged grandfather has died, and I am Balthazar Zan's sole heir.  I've inherited a small hidden town called Shimmering Canyon in Arizona, populated by supernatural people.  The real kicker here?  I find that my mother who left when I was born, is living there.  Balthazar's closest friend Parker is a red hot wolf shifter who now it turns out is my fated soulmate.  What's a witch to do? Nero De Santis I've heard many stories about the elusive Balthazar Zan in my time, but nothing prepared me for this.  Darius is a surprisingly powerful witch and has had a rough go of it over the last several years.  I first heard from him a while back to thank me for my part in avenging his dad's murder.  I knew Maxim Zan decades ago, and now it seems Darius is coming to Arizona for his inheritance.  I only hope this will be a turning point for him, but something seems to be very wrong out there. Agnes Granville After hearing about Darius' family, to say the least things are a hot mess in Shimmering Canyon.  I've talked with Darius in private, but there is still something that bothers me about that remote place.  I finally let Bart Magnus know that I believe hidden danger is lurking out there, and that perhaps dead men do tell tales after all. Parker Jeffries Balthazar spent a lot of time before his death telling me about his beloved Darius even though he'd never met him.  I'm just a lonely shifter and somehow, I now find myself fated to a sexy well connected witch.  I was devastated by Balthazar's unexpected death, but suddenly old festering resentments are becoming precarious and we must turn to others for help.
Darius Zan
Pairing: M-M
December 9, 2020
Word Count:
22,075
Character Identities:
Ace, Lesbian, Polyamorous
Summary: A pink-haired succubus, a kitchen witch and an angelic agent. In a world of supernatural threats, they'll need all the help they can get. In the town of Bellasford, Rose is a succubus who can't avoid trouble. She wants little beyond a happy life with her magically-gifted girlfriend Lisa, some steamy poly encounters to keep her nourished, and to find her missing mother. Ella, an elder succubus, disappeared years before, but Rose's attempts to uncover information led her straight into a trap and a veritable nest of vampire trouble. A daring escape is not without its price, as Rose is forced to strike a deal with one of her captors. As tempted as she is to cast aside the task, innocent lives are at stake, as is her continued well-being if she breaks her word. Relieved to have her girlfriend back safely, Lisa agrees to help fulfil her promise. Neither knows what dangers lurk in the shadows, especially as secrets are unveiled. Darkling Rose is a F/F romantic urban fantasy novella of around 22,000 words, which contains strong steamy content and language. Trigger Warning: Kidnapping
Darkling Rose
Pairing: F-F
April 5, 2018
Word Count: Information not available
Character Identities:
Bisexual, Gay
Summary:
Seven hundred years after the initial dragon invasion, the world is now controlled by humans. Dragons have devolved into animals. They've lost their ability to shift into humans and with it, their intelligence. Humans enslave them like the animals they are, using them to power factories and in some countries, even eat and skin. Brothers, Ellis and Wyatt believe the dragons have more potential than humankind give them. When they discover an escaped dragon in their barn, they know she'll be killed if returned to her owners. They decide to take matters into their own hands and ask a drifter they met at a bar for help. He's rumored to be a dragon whisperer and might just be the one to help the dragons rediscover who they are.
Dragon Devolution
Pairing: M-M
February 19, 2019
Word Count:
68234
Character Identities:
Gay
Summary: Liam Grady is the owner of the Feathered Quill, a quirky little bookstore in Asheville, and—though he doesn't realize it yet—a dream walker. His last relationship failed almost a year ago, and he's not had the interest or nerve to pursue anyone he's met since. Cameron Danu is a tattoo artist from rural Georgia. Cameron is left without a job after his boss, José, is forced to close the shop after a heart attack. When Cameron learns José has set up an interview for him at a small tattoo parlor in Asheville, he hopes for a fresh start in a new town. Fate brings Cameron and Liam together, and they realize they've met before—in their dreams. A chance encounter and a winged tattoo might lead them to their destiny—if fear doesn't turn their dreams into a nightmare.
Dreamers' Destiny
Pairing: M-M
May 13, 2017
Word Count: Information not available
Character Identities:
Bisexual, Gay, Straight
Summary: Mean
t
to bring harmony to the Earth after years of turmoil from the dragon invasion, Elemental Dragons emerge and seek their human counterparts—Dragon Mages. Deemed a threat to all current social orders and leaders, some seek to prevent the Elemental Dragons from finding their mages and attaining their true powers. Others offer a recruitment program, wanting to capitalize on their abilities. Xander has spent most of his life loyal to the dragon king, who adopted him as a hatchling. Upon his encounter with a human who can become his Dragon Mage, he feels his first independent desires and his loyalties are tested. Kaylee never knew her background, or that much about dragons. Finding herself with a bloodline capable of making her into a powerful mage, she must decide which Elemental Dragon she desires to bond with, and which leader she wishes to align with.
Elemental Dragons
Pairing: M-F, M-M
September 10, 2018
Word Count:
20975
Character Identities:
Bisexual, Pansexual
Summary: Grad student Andrea is mostly self-assured and quite open to whatever the world might bring her way. She's sensible, but she's got a quiet belief in the supernatural and a daytime interest in studying history, and finds herself surprised to be falling head over heels for the older woman she just met. Liz is thrilled to have made a new best friend. Overjoyed with how well they click, how well her son likes Andrea, how much fun they have together, and how easily she can open up, Liz finally considers it might be more. Blissfully in love, Liz relishes in how all this makes her feel, and how it's almost made her forget that high school boyfriend she's been grieving over for a couple decades. But maybe things are too good to be true? A family dinner brings up questions for Liz. Questions that prove difficult to answer, and possible answers that defy logic and reason.
Eternally Yours
Pairing: F-F
July 15, 2020
Word Count:
85,000
Character Identities:
Gay
Summary: All Keiron wants is a quiet life. Fat chance with a boyfriend like Bren. But if he thought Bren complicated his life, that was nothing compared to the complications that begin when he opens the door to what he thinks is a naked boy claiming to be his slave. Draven is a fairy with his sights set on the handsome human who keeps a wild place in the garden for fairies. When Draven slips through a fairy gate into the city, he sets in motion a series of events that binds him to Keiron forever, and just might be the end of him. While Draven explores Keiron's world with wide-eyed wonder, Keiron does everything he can to keep Draven's at bay, until the only way to save Draven and bring him home is to step into a world that should exist only in children stories.
Fairies At The Bottom Of The Garden
Pairing: M-M
November 13, 2017