Word Count:
68000
Character Identities:
Gay
Summary: Beto Hernandez isn't in town to make friends, much less fall in love. His objective: Break the human trafficking ring plaguing Skagit once and for all. When he crosses paths with an intriguing and handsome younger man, the first in years to spark Beto's interest, he knows the attraction can't go anywhere. Carsten Quinn wants nothing to do with the law. After surviving years in hell, Carsten has his own mission. The only problem is he's hiding, not living anything like a normal life. He doesn't trust anyone, especially not cops. The two try to stay away from each other, but their undeniable chemistry keeps them close. And when Carsten's past comes back with a vengeance, he has no one to turn to but Beto. Are Beto and Carsten too different and too broken to trust anyone, much less each other? Can they overcome the terrifying obstacles on their path to love? When it Rains is a dual POV about a tough loner with a tender side and a man who's done everything he had to in order to survive. An opposites attract romance with a happily ever after. The Shielded Hearts series follows a different couple in each book as they stop killers, unravel a human trafficking ring and fall in love. Not necessarily all at the same time.
Pairing: M-M
April 2, 2019
Word Count:
65000
Character Identities:
Gay
Summary: A gorgeous stranger wanders into his life one summer night and Jacob knows he's in trouble; he's going to break all his rules and probably his heart. Duff Cleveland knows better than to open himself to love, that's how you get hurt. Jacob De Rossi is a family guy; he's got the house and the picket fence he's just missing the man. Something about Jacob has Duff wanting more, but how many just one more time's can a dedicated hookup artist justify? He can hardly handle the life he's living, having an actual boyfriend is impossible isn't it? Jacob's not letting Duff go easily. It's obvious, to him at least, that Duff needs someone in his corner, and he is the man for the job. Will Duff admit his heart is safe in Jacob's hands, or turn his back on the one thing in his life that makes sense? tragic past, high heat, found family, hurt to comfort, reluctant lover, family is everything, the wooing is the hardest part, angsty, when grandparents interfere... The Heart Heist is a first-person, dual POV, following Duff Cleveland and Jacob De Rossi as Jacob woos Duff's reluctant heart. No cliffhanger, HEA guaranteed. Heat level, 4+. Can be read as a standalone but you may enjoy it even more if you read Feinted Heart first.
Pairing: M-M
March 18, 2021
Word Count:
65000
Character Identities:
Gay
Summary: How do you repair a broken heart when you were the one who broke it in the first place? Charley It's been four years since Simon broke up with me, but who's counting? I'm fine these days, thank you very much. I don't need a man to make me happy. ♥ Simon Past me had to make a choice. Current me knows it was the wrong one. Future me hopes I can fix it. I've never stopped loving Charley this is my last chance; our last chance. ♥ The Boyfriend Gambit is first-person dual POV. Simon lays all his cards on the table in an attempt to win Charley's heart back. No cliffhanger, HEA guaranteed. Heat level, 4+. Can be read as a standalone but you may enjoy it even more if you read Feinted Heart and The Heart Heist first! second chance, love/hate/love, interfering friends, found family, feisty grandmother.
Pairing: M-M
December 30, 2021
Word Count:
47500
Character Identities:
Gay
Summary: Jason Gibbons: As an ace sports reporter, Jason is revving up for his next big story—Ryker Brennan, Supercross star, sexy and solid. He captivates Jason like no one else ever has. "Despite having told myself not to get worked up, I am. And it pisses me off. Ryker Brennan is under my skin, and nothing good is going to come from that." Ryker Brennan: Motorcycles are his passion. He's a little sweet and a heck of a lot of wild rolled into a 250 racer who's always primed for the next big win. Then Jason Gibbons rolls into Ryker's life, and now his wheels are spinning. "I fell and got a mouth full of dirt. That's racing. The bike just got away from me, kind of like Jason did after that kiss. So why was I still thinking about him?" When life gives them a gnarly track to follow, they have to get dialed in for the next jump. Will they accept the challenge?
Pairing: M-M
Word Count:
37000
Character Identities:
Gay
Summary: Jules Rose leads a quiet life working as a librarian. He's happy to spend his spare time reading books and talking to his homicidal cat. What more could he wish for? But when his cozy Friday night is shattered by a friend request on his book community app, politeness gives him little choice but to accept. Jules doesn't want to talk to anyone, but he can't be rude. Besides, if he had to talk about something, books is the topic he'd pick. Phoenix Ford is dyslexic and avoids everything that has to do with the written word, but when the colleague he's trying to impress calls him stupid, he decides to convince the other man, he's mistaken. All he needs is the right book to make him look smart, a perfect balance between intelligent and short. And who better to ask for help than a guy who loves books so much, he labeled one boner-worthy on a book app? When Jules finds out Phoenix never has read a book from start to finish, he's on a mission. He will find the right book, the book that will make Phoenix fall in love -- with reading. Phoenix's plan might have been to listen to the book Jules picked for him to impress his colleague, but that was before he got to know him. Talking about books is a sure way to Jules' heart, but is it enough for him to agree to go on a date?f
#PictaBook
Pairing: M-M
February 20, 2021
Word Count:
26000
Character Identities:
Gay
Summary: Aaron has spent the past ten months alone. When he meets a sad, yet strangely familiar man on a cold Halloween night, he impulsively invites him home. But the intimate connection they share lasts only until morning. Aaron wakes up alone—wracked with guilt and devastated to have lost his chance. Or so he thinks. Thanksgiving brings Aaron another shot at happiness, but letting go of an old love and accepting a new one isn't as easy as everyone keeps telling him. And by the time Christmas Eve rolls around, it becomes clear that Aaron's not the only one struggling to let himself love again. Christmas miracles are all well and good, but it's going to take more than the Holiday Spirit for Aaron to get his happy ever after. A story of grief, sadness, and letting it go; and finding love when you least expect it.
'Tis the Season
Pairing: M-M
October 20, 2016
Word Count:
47, 083
Character Identities:
Gay
Summary: Warwick, whose name has a second W that's silent, also has a new neighbor who is anything but. The constant creak of bedsprings and headboard banging against the common wall has Warwick in 11-A wondering if the activity in 11-B is an occupation and not merely an enjoyable hobby. When Warwick finally meets noisy neighbor Dom, though fun, heat, and music ensue, uncertainty and questions remain. Some things are easily explained away by the sort of happenstance and misunderstanding silly sitcom plots are based on, but a painful past connection, a difficult future, and a lie in the present set up roadblocks Warwick and Dom struggle to get over. Can Warwick and Dom create a second verse to their love song, or will the tune end before it really begins?
11-B: The Noisy Neighbor
Pairing: M-M
July 3, 2021
Word Count:
12241
Character Identities:
Gay
Summary: Following a horrific break up with his fiancé, Luke Bennet spends two years as a social hermit, only going to work and talking with Tina, Gina, and Rita, three friends from high school. Refusing to let him wallow any longer, they intervene and talk him into going on twelve blind dates to get him back in social circulation. The Trio have not only planned the dating venues but also chosen the perfect guys to lure Luke from his isolation. Will he find love through these dates? Or will he run for cover again?
12 Blind Dates
Pairing: M-M
July 16, 2022
Word Count: Information not available
Character Identities:
Gay
Summary: Drew needs to start over and the only place he can think to go is back home. Back to Monroe, Iowa where he grew up. The one place in the world he hates. Back to all the people he left behind after high school. Back to Paul. Paul knew Drew was back in town, now he just had to get his attention. He had let him get away once before, it wasn't going to happen this time. Not if Paul had anything to do with it.
20 Years Worth of Time
Pairing: M-M
December 28, 2012
Word Count:
100641
Character Identities:
Gay
Summary:
2018 Top Ten Gay Romance brings together the best-selling short stories published by JMS Books that year.
From first love to true love, from submission to sensual, from heat to sweet and everything in between, the couples in these stories are sure to keep you turning the pages as you fall in love with them.
With stories by Addison Albright, Laura Bailo, Kris T. Bethke, Sarah Hadley Brook, Nell Iris, Shawn Lane, K.L. Noone, Deirdre O'Dare, J.M. Snyder, and J.D. Walker, this head-over-heels collection goes beyond bedtime reading. Whether happily ever after or happy for now, there's an ending for everyone in here!
Contains the stories:
The Contingency Plan by Addison Albright
No Rulebook for Flirting by Laura Bailo
Hero Worship by Kris T. Bethke
Motorcycle Man by Sarah Hadley Brook
Unexpected Christmas by Nell Iris
Hitting It Big by Shawn Lane
Leather and Tea by K.L. Noone
Doggone Love by Deirdre O'Dare
Commanding Officer Thomas by J.M. Snyder
No Snarkasm in Love by J.D. Walker
2018 Top Ten Gay Romance
Pairing: M-M
December 29, 2018
Word Count:
11,948
Character Identities:
Gay
Summary: A superhero, a ghost, and an angel walk into a bar. Dario, the ghost, feels a sense of déjà vu. He died in a bar, and it seems like he might be reliving that terror over and over again. This time, however, there's an angel at his side, Dondre, and that brings some comfort. After a few too many drinks, Dwight, the superhero, reveals his animosity toward angels. He's angry angels get all the credit when someone survives a deadly incident. People think angels are real, while most believe superheroes are only found in fiction. When a wave of deadly crime sweeps across the country, Dario and Dondre become the prime suspects. Who is setting them up? All signs point to Dwight, the disgruntled superhero. Can the ghost and the angel prove themselves innocent? Will someone else die? And what of Dwight? Is he friend or foe?
3-D: Superhero, Angel, Ghost
Pairing: M-M
October 27, 2021
Word Count:
12000
Character Identities:
Gay
Summary: Can thirty minutes change your life? Maybe it can, or maybe it can't. Either way, if you had the chance to sit down with someone you thought hated you, do you think you could find common ground? Charlie and Aiden have known each other since the third grade, but both boys have very different memories of the moments they shared. While Aiden remembers love taps, Charlie remembers a bully who made his life even more miserable than it was and still does to this day. So why does Aiden pick on Charlie if he actually likes him? Maybe he just doesn't know any other way to show Charlie how he feels. Unfortunately, every action has a consequence and he's about to lose the best thing that's ever happened to him if Aiden doesn't change his ways. Join best selling author Daniel Elijah Sanderfer for this short, sweet, enemies to lovers story about two rival boys who find they may have something in common after all.
30 Minutes or Less
Pairing: M-M
August 7, 2020
Word Count:
27000
Character Identities:
Gay
Summary: Troy Pettifer, a broken-hearted chocolate shop worker, isn't sure what to do next when Richard Belden, a controlling but handsome sadist, walks into his life and gets him on his knees. Troy's friends start fixing him up with vanilla guys. Richard is nursing his own heart that was broken by a man who betrayed him and the entire BDSM community, but, for Troy to fulfill desires he didn't even know he had, he's going to have to embrace the beautiful leatherman within.
5 Easy Chocolate Pieces: A BDSM Love Story
Pairing: M-M
July 18, 2015
Word Count:
72000
Character Identities:
Gay
Summary: 6 Days Series, Book Two Mixologist Nick Valentine never thought love was in the cards, but after a scorching Valentine's Day kiss from bouncer Davis "FatBoy" Newman, he's beginning to think it's possible. After four weeks of dry spell, Nick's losing patience—it's time FatBoy stop acting the gentleman and just throw him over the bar or Nick may just change his mind. All FatBoy wants is a shot at winning Nick's heart. As long as meddling bosses, an Irish hurling team and a bar riot don't ruin his chances forever, he might just get lucky and take the man of his dreams, home.
6 Days To Get Lucky
Pairing: M-M
March 9, 2018
Word Count:
24000
Character Identities:
Gay
Summary: Life as we know it will never be the same. Flying saucers are spotted all over the world. But after one crashes into the San Francisco Bay, they disappear. Not far from the crash, Mitch rents his spare room to Claytone and quickly develops a crush. But what he doesn't know is that Claytone will soon turn his world— and heart, upside down. Claytone's final revelation will reach even further; it will change life on planet Earth— forever.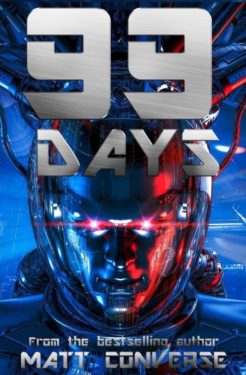 99 Days
Pairing: M-M
May 27, 2021
Word Count:
43,000
Character Identities:
Gay
Summary: Digging into history can turn deadly. Wyatt Harig and his partner Vladimir 'Val' Mihalic are busy planning their wedding when Wyatt's old friend asks him to investigate the mysterious death of her uncle, Tom Manning, in a fire back in 1927. Back then men were silent, tough, and expected to marry nice girls. Working with Val, Wyatt digs up clues uncovering the truth behind the tragedy. When Tom met Philip in a speakeasy outside Cleveland, Ohio the spark between them was instantaneous. They fell hard and fast for each other. However, with Philip working as a beat cop and Tom as a schoolteacher, their relationship being discovered meant the end of everything. As the story of Tom and Philip slowly reveals itself, and Wyatt and Val realize nothing is as simple as they originally believed. While their trail heats up, an old enemy of Wyatt's decides he's waited long enough for revenge. Wyatt's life before meeting Val catches up with him and the results could prove fatal.
A Barlow Lens
Pairing: M-M
January 3, 2020
Word Count:
69034
Character Identities:
Gay
Summary: Matthew Doner is starting over. After a five-year prison term that alters every aspect of his life, he receives a bequest from his aunt with the stipulation that he use the money to make things right. Breaking free of the long-standing role he's played and inspired by the few who support him, he decides to create a safe place where people like him can find purpose and start a new life. Julian Capeletti likes challenges. He is confident, brash, stubborn, and just what Matt needs. Desperate for work after a downturn of luck, he accepts the job to renovate Matt's crumbling building. Over the course of a year, romance simmers between them as they restore the house. But there's a bigger renovation that must take place in their hearts. To become better men, they need to learn to trust each other even with secrets and painful memories they fear may rip them apart.
-------------------------------------------------------------------------
69,034 words. 2nd edition. Revised and expanded.
A Better Man
Pairing: M-M
January 16, 2014
Word Count:
92200
Character Identities:
Bisexual, Gay, Polyamorous, Straight
Summary: Janis and Niall were best friends almost from their first day working together on tour. Over the years, that friendship grew stronger. Her troubled long-distance relationship and his slow recovery from losing the love of his life gave them more points of connection, not fewer. And almost three years in, they had to face it: they were in love. There was only one problem. Janis was straight, and Niall wasn't. They didn't know what to do. As a woman and a man, certain combinations were, technically, possible. But there are some things you don't ask even your best friend to do. If a day arrived when one of them found a person to meet that unmet need, what would happen to them? And then they met Geoffrey. A man who enjoyed women and men. A man they both found attractive and charming; a man attracted in turn to each of them; a man whose particular circumstances made the experiment possible. Now the question was, would their unique combination be the catalyst for a new, indissoluble element … or would it blow up in all their faces?
A Braid of Love
Pairing: M-M-F
December 29, 2019
Word Count:
56,025
Character Identities:
Bisexual, Lesbian
Summary:
Annie Slocum is a bisexual woman struggling to make a living as a freelance writer. Stuck in a rut, she feels bored with her career, her relationships—her life. A chance meeting with Siobhán at a gallery adds a bright spark to her dull life.
Siobhán Murray is a lesbian Irish painter living in Boston. She loves her career, loves her life, but she's missing the one piece that will make her life complete—a partner. She falls hard for Annie and is delighted to realize Annie inspires her work. But a string of failed relationships has left her wary of bisexual women and wondering if she can trust that Annie won't leave her.
When Siobhán's past comes back to haunt them, they'll have to decide if the new relationship is something that will burn bright and end quickly or if it's meant to last.
A Brighter Palette
Pairing: F-F
June 30, 2017
Word Count:
124,200
Character Identities:
Gay
Summary: For Wall McCormack, actions speak louder than words. He's giving and protective, loyal to his friends, and devoted to his job. While confident and powerful enough to conquer any challenge, his greatest strength lies in his calm nature. Until an unexpected assignment sends his world into a loud and colorful chaos he never could have anticipated. Rejection. It's something Dylan Vaughn has known his entire life. But he's a tough nut to crack and refuses to break. Armed with a sharp tongue and brutal honesty, he pushes through life and at anyone who attempts to take him on. Except for the quiet guardian who piques his interest and dares him to want…more. When Dylan's past comes back with a vengeance and jeopardizes their growing connection, Wall will stop at nothing to protect the younger man and remain by his side. But convincing Dylan that someone accepts the real man behind the cocky facade might prove to be Wall's greatest challenge yet. With his freedom on the line, Dylan must trust the strength of their bond and confront the forces threatening their future. Only then will he realize the dream of acceptance is real and finally have a place to call home.
A Chosen Man
Pairing: M-M
September 26, 2018