Word Count:
36000
Character Identities:
Bisexual, Gay, Pansexual
Summary: Despite their mutual attraction, Marques Williams and Armin Jahani agreed a long time ago that they were better off as friends. They don't want to risk their friendship, and they definitely don't want things getting awkward at the art gallery where they both work. But even as they've moved on with their lives, they've both quietly regretted that decision. When Armin's father scores the gallery a collection of sculptures from a renowned and reclusive artist, he sends Armin and Marques on the road to pick them up. As the two friends embark on a multi-state trip, they each assume the other is still with his longtime partner. Armin doesn't know that Marques's now-ex-boyfriend is moving out. Marques doesn't know that the last fraying threads of Armin's relationship have snapped. Secretly, they pine for each other from across the console of their rental car, each wishing they hadn't missed the chance to be together years ago. But maybe they haven't missed that chance after all. I Think We Missed Our Turn is a short and fun ~36,000-word novella with a happy ending and no cheating.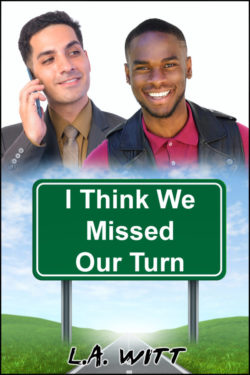 I Think We Missed Our Turn
Pairing: M-M
February 3, 2021
Word Count:
62000
Character Identities:
Bisexual, Gay
Summary: Colin Everroad should be dead, but after his lobster boat founders during a violent storm off the Maine coast, he wakes up on a beach. He's cold, but unscathed… with strange memories of a face he can't conjure and a voice he doesn't recognize. No one can explain it, but a friend suggests Colin was saved by one of the mer. Except the mer don't exist. Do they? But… that face. That voice. Someone was in the water with him. Someone saved him. If not a mer, then who? And whoever it was, Colin wants to see his face. Lir broke protocol by rescuing a land person, but he couldn't just let the man drown. When he disobediently resurfaces to see his beautiful land man, he knows it's only a matter of time before he's forbidden to leave the depths again. One clandestine visit turns into more. Soon, Colin and Lir are meeting at the shore as often as possible, and the connection between them deepens. The only problem is that neither can live in the other's world. Or can they? Then Lir finds a way for them to be together, but only for a little while… and at a cost. As time grows short, they have to choose: does Lir return to the sea and never see Colin again, or stay forever with the man he loves in a world that will never love them? Ripples & Waves is a modern, queer retelling of Hans Christian Andersen's The Little Mermaid.
Ripples and Waves
Pairing: M-M
October 1, 2019
Word Count:
9000
Character Identities:
Gay
Summary: Working in retail is brutal, especially during the holidays. For Sam, it means his back and knees are killing him, his patience is wearing thin...and his own holiday plans are probably getting canceled. Again. As Sam's hopes dim for a relaxing Christmas with his family, he also misses Austin, the man he loves and who makes him kneel. He misses submitting, and he craves everything Austin gives him and makes him do. Shame he barely has the time or energy to faceplant in bed these days. But Austin always takes care of his submissive. And no matter what, he's going to give Sam a Christmas he won't forget. Season's Beatings is a standalone holiday-themed short story.
Season's Beatings
Pairing: M-M
December 8, 2020
Word Count:
78000
Character Identities:
Bisexual, Gay
Summary: Mortal-enemies-turned-furniture-breaking-lovers August Morrison and Ricardo Torralba have found a groove that suits them both. They've teamed up as hired guns, they live together, and by some miracle, they haven't killed each other. It's the closest to normal they'll ever have, and they love it. But their guns-and-roses future is thrown into chaos when Ricardo's past comes crashing into their present. What begins as a favor for an old friend—well, "friend," but don't tell August—quickly spirals into something far bigger than they anticipated. Now they're in way over their heads with powerful people on both sides of the law, and it's going to take more than snark and explosions to see them through. Nevertheless, there will be plenty of snark and explosions, because this is August and Ricardo, and no one would expect any less. In between the smoke and sarcasm, though, they are determined to bring an evil operation crashing down… no matter who they have to work with to get the job done. And no matter who they have to kill. Sniper vs Spotter is the sequel to the apparently-it-doesn't-want-to-be-a-standalone Hitman vs Hitman, which absolutely was supposed to be a standalone, but August and Ricardo (predictably) refused to be contained. Our audiobook narrator also shares some of the blame, Michael. So here we are.
Sniper vs Spotter
Pairing: M-M
November 3, 2021
Word Count:
115000
Character Identities:
Bisexual, Gay
Summary: Holden Russell let his job consume his life for too long, and it took his wife leaving for him to realize it's time for a change. His marriage is over, but he's determined to do right by his kids, starting with fewer hours at work and more with them. Except it's no longer the kids competing with his job for his attention. It's Holden competing for their attention… with their new live-in nanny. Their very hot male live-in nanny. Porter Blake never saw himself becoming a nanny, but okay. After burnout and PTSD drove him from his job as a paramedic, he's desperate for something new, and it turns out the nanny gig isn't so bad. The pay is decent, the stress is manageable, the kids are great, and their mom is cool. It's the ex-husband he's not so sure about. The situation is awkward enough when Porter and Holden are butting heads. When they find some common ground and their mutual attraction becomes too much to ignore, things are bound to get complicated. And unless they want Porter to lose his job, they're going to have to fly under the ex-wife's radar. Except secrets like this have a way of coming out… This standalone novel is approximately 115,000 words long.
Square One
Pairing: M-M
June 12, 2019
Word Count:
82000
Character Identities:
Gay
Summary: David Coleman has made some mistakes, and he'll be living with the consequences for the rest of his life. He's made decisions that have left him estranged from his once tight knit family. Even now, when David is clean and sober and working his way through medical school with a promising future ahead, his parents refuse to forgive or forget. When he gets some grim news about his father, David realizes he's running out of time to make amends. As he comes home for the holidays and his sister's wedding, he knows it's going to be tense, but he's desperate to prove they're wrong about him. And since they won't take his word for it, he's bringing reinforcements. Hunter Scott will do anything for his childhood best friend, but he never thought that would include posing as his boyfriend. Except David's family has always respected Hunter. Maybe if they see that David is good enough for Hunter to love, they'll realize he's good enough for them too. But as Hunter and David lean on each other through snowstorms, family drama, and visits from personal demons, maybe this relationship isn't as much of a performance as it was meant to be. CW: Recovering addict struggling on-page, references to meth use, combat PTSD, discussions of suicide
The Road Home
Pairing: M-M
March 3, 2020
Word Count:
72000
Character Identities:
Gay
Summary: Their plan was perfect…until the world stopped. After the Navy boots him out, Tristan is screwed. Without an honorable discharge or a college degree, his job prospects are grim. If only he knew a service member who was willing to get married, make Tristan a dependent, and transfer his GI Bill. Such as, say, a former coworker who's single, gay, and wants his family off his back about his refusal to settle down…and who maybe feels guilty for his role in Tristan losing his career. Casey has never liked Tristan, but the plan is irresistible. In fact, it's perfect. Now Tristan has health insurance and a place to live, and he's going to school. Meanwhile, Casey's conscience is assuaged, and he's still sleeping his way through town while his family is none the wiser. The guys stay out of each other's way, and it's all good. Right up until a pandemic locks everything down. Suddenly it's just Casey and Tristan…and maybe that's not such a bad thing. In a time when they're both desperate for strength, support, and human contact, they find them in the most unexpected place: each other. But when feelings come into play, is it something real? Or just two lonely men making the best of terrifying times? And how in the world do Casey and Tristan tell the difference? Until the World Stops is a 72,000-word standalone gay romance. CW: COVID-19 A note from the author: As the events of 2020 have unfolded, in particular the COVID-19 pandemic, I've debated when and how to incorporate that reality into my work. It's not something I want to make light of or capitalize on, but it has become a part of our lives, and one that doesn't look to be going anywhere any time soon. There comes a point when—if I'm to write about life—I need to write about the ugly parts too. For that matter, writing is how I process the world around me, and as time has gone on, I've found myself needing the catharsis of looking this reality in the eye and putting it into words as best I can. Most importantly, however, this is a time when we all need hope and even moments of peace. While pure escapism is important to me, so too is finding that hope and peace when everything feels so bleak. So it's with that in mind that I give you a couple of guys finding a little bit of light when all the world feels dark.
Until the World Stops
Pairing: M-M
October 28, 2020
Word Count:
73000
Character Identities:
Gay
Summary: Nikita Ravenov It was supposed to be a simple job—tail the Italian for an evening, see if he was up to anything shady, and report back to the Bratva. But I didn't expect him to go into gay bars. Is someone trying to out me to the Bratva? Am I being set up? And what the hell do I do now that my mark knows I'm following him? Lorenzo Ferrari It's insulting, really. My organization wants to do business with the Russians, but they're putting tails on me? That's just bad manners. But when that tail get a beating from his own for failing to tell them everything he knows about me, I know something is up. Now we're both in way over our heads. Our only hope is working together. And even then, I'm not so sure we're getting out of this. CW: On-page drug use, active addiction, graphic violence, suicidal ideation, domestic abuse.
You Had One Job
Pairing: M-M
May 19, 2021