Word Count:
53000
Character Identities:
Gay
Summary: "There's no time. Remember, I love you." It all started with a discovery. A cave beneath a waterfall that held a crystal. Two boys—best friends—embark on a journey they're told will help all mankind. As the years go by, their friendship turns to love, and their adventure turns into a battle. Drew Langly is the keeper of the crystal. With his contact, the crystal allows them to jump to different timestreams and help, if they can, to further that society or fix anything that improves their lives. When he's ripped from the timestream, it's the beginning of what will change everything they've come to know about how the different timestreams function. Colby Adams is Drew's boyfriend, fellow traveler, and jump partner. When Drew is left vulnerable after a failed jump, he's there to help and try to figure out what went wrong. They soon discover another team of travelers is in trouble, but they've been warned against trusting them. The more they learn, the more they realize everything has been a lie. To rewrite a history that's been full of deceit, they'll need to put their trust, once again, in strangers. Can they rewind it all and begin again? Experience the history they were always meant to? With some unconventional help, maybe… Amos Ridge is the fifth book in the multi-author series, Beyond the Realm: Remember. Each book is set in its own world and can be read as a standalone novel. Join eight authors on eight very different, romantic, and magical stories as each one writes their own take on the same concept.
Amos Ridge
Pairing: M-M
October 20, 2020
Word Count:
52000
Character Identities:
Gay
Summary:
What's the perfect recipe for an emotional MMM romance? One autistic coffee shop owner, one morose mug maker, and a mostly cheerful police detective. Fie Morogh Russell goes off to war with a broken heart and returns with a shattered spirit. He hermits away in Bideford, Devon, making mugs, with his service dog, Haggard, for company. Post-traumatic stress turns every memory into a minefield, and life is dismal with one or two rare exceptions. Davet Heuse drags his younger brother to Bideford for a new start. Both autistic, the two siblings have fought hard to enjoy freedom by the seaside. While Davet runs a coffee shop from his tiny house, his brother pursues his dream at university. Detective Sidney Little has transitioned from military service to the police force easily. His unrequited crushes and his estranged father are the only points of frustration in his life. He hasn't quite figured out how to deal with either problem. When a tragic accident brings Davet's world crashing down around him, can Fie and Sid help him through the pain of loss? In this May-December romance with a twist, three men struggle through one obstacle after the other to somehow find themselves in love on the other side.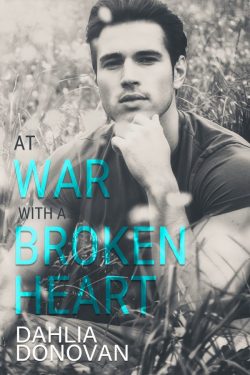 At War With A Broken Heart
Pairing: M-M-M
February 26, 2019
Word Count:
75,000
Character Identities:
Gay
Summary: "You're pregnant, Graham." Wow. Life has tossed Graham a lot of curveballs, but he never expected to hear those words. Then, just as Graham and his fated mate, Hyden, are getting used to that amazing news, someone from Graham's past returns and kidnaps him, threatening the very future they want to build. Turns out Graham is an Oletti, a bloodline of wolf shifters that seems to be part of an ancient prophecy, one that speaks of a hidden magical spring of water that can restore the earth and all that is in it. A power some would kill to possess. Except, in the wrong hands, it can also turn humans and shifters totally away from what, and who, they truly love, tearing families and even fated mates apart. Unfortunately, Hyden has been forced to drink this water so no one is coming to rescue Graham. It's now up to him to not only save himself, his unborn child and his fated mate, but very possibly the world as they know it. But superhero capes are hard to come by and he never liked himself much in tights. Still, with the help of his Oletti powers, this should be something he can do, right? Oh, Great Wolf, let this be something I can do...
Graham's Rescue
Pairing: M-M
September 27, 2020
Word Count: Information not available
Character Identities:
Gay
Summary: When a shifter and a human are bound by fate, neither man knows if their connection will be enough to save not only their growing love, but their lives. Shahin Halcón has been taught that if and when he meets his soul mate, he'll know immediately. Always the rebel, he doesn't believe it until the day he crosses paths with Cai, a full-human. Plagued by unsuccessful relationships and heartache, Cai Banes's life is quiet and unexciting. When he meets young and wild Shahin, his life is turned upside down, and he's not sure he likes it. But neither can deny the powerful pull that draws them together. Old secrets and ancient myths about cross-species relationships plague their romance and threaten to put their happiness and life at risk. Will their love for each other be strong enough to survive?
Infinite Blue
Pairing: M-M
September 8, 2018
Word Count:
24,000
Character Identities:
Gay
Summary: Congratulations! You have a fated mate! That's what the card says. Grey, an Alpha wolf shifter, laughs at it, though. Fated mate? What a joke! He has tried enough dating websites in the few months to choke a horse shifter and he's done with all of them. Besides, having a mate would mean joining a pack, and that will just bring up a past Grey has no intention of doing. But Mates, Inc. has an agenda that can not be ignored or put off. Grey has a mate, and the powers that be are determined he's going to meet him come hell or high water...or a past best forgotten...
Mates, Inc.
Pairing: M-M
September 26, 2020
Word Count:
14000
Character Identities:
Gay
Summary: Escape with Shaun and Mitch in outback Australia as they discover it sometimes takes time, distance, and interfering family to help them realign. After eight years of living in America, it's time for Shaun to return home to his family's farm in outback Australia. He has a decision to make: continue working his dream job with NASA or move back for a corporate job and his family. He thinks his decision is easy. He thinks he's going to have a fun two weeks at home catching up. He also thinks seeing his best friend, Mitch, will finally allow him to move on from that one hot kiss they shared the day he left. Shaun realises he's truly screwed as what he thinks and what he knows don't always align. Realigned is a fun and steamy M/M short story in Becca Seymour's Coming Home series. Stand-alone romances complete with heat, wit, and happily ever afters.
Realigned
Pairing: M-M
May 18, 2019
Word Count:
40000
Character Identities:
Gay
Summary: For Eden, life revolves around making sure his sister and niece are taken care of while building his landscaping business. Love certainly hasn't been a priority. From the moment he meets his new client, his outlook on what's important changes. For Adam, the last two years have been spent helping his best friend, Maggie, grieve for her late husband while helping take care of her kids. Between his work at the hospital, and supporting his friend, finding time for himself has not been his priority. When Eden knocks on his door one summer morning, he knows life will never be the same. Mistakes and misunderstandings are always difficult to navigate. Can Adam convince Eden he's still the only man for him before it's too late?
Still You
Pairing: M-M
February 11, 2017
Word Count:
38,000
Character Identities:
Gay
Summary: The Minneapolis/Saint Paul 77th police precinct has been labeled as a group of misfits. It's unfair. In reality, they have loads of talent. Paranormal talent. Except, of course, no one knows that. Their job? Chasing and capturing all those creepy crawly things that go bump – or worse – in the night, and sending them back to their realms. In other words, they keep the people of the city safe and totally unaware that doors to other realms even exist. Nick, their boss, is the keeper of those cosmic openings. He is the only one who can find, open, shut, and more importantly, seal other-worldly realm doors, preferably with its scary and sometimes homicidal inhabitants on the other side. Vicious hungry monsters waiting for Nick to mess up. Or for an opening Nick misses. From a single tear comes an unspeakable horror. A dangerous vampire. Ferociously brutal, he is a killing machine. A creature so lethal it will take Nick's entire team and absolutely all their power to hunt him down to send him back. And the last thing Nick needs is another partner. Especially one as sexy as Arrain. But Arrain intends on being more to Nick than just a partner. Much more. Something Nick cannot allow. Not with the devastating secrets he harbors. Except Arrain has a few secrets of his own and one thing he knows. Nick is next on the vampire's list. The handsome monster wants not only to seduce the talented Door Keeper, but to suck his power over doors right out of him. If that happens, the world of humans is doomed. Can Arrain make Nick trust him in time to save him?
The Door Keeper
Pairing: M-M
November 30, 2018
Word Count:
96,000
Character Identities:
Gay
Summary: Mark has always been a Dominant. The Top in every relationship. Just ask Leon, his very ex-boyfriend, because that's what he told Mark he was. Okay, Mark's only had the one relationship so the 'always' was a reach, but it didn't matter. It was more than over with now, and Leon was long gone. That is until Leon felt it necessary to show off his new boyfriend, a gorgeous mountain called Rogan, by evidently telling him that Mark was stalking, bullying, badgering, harassing and get this, abusing him. "He'll kill you, Mark, because he loves me and wants to protect me." From whom? Skinny little Mark? What a joke. Because all Mark has ever done was exactly what Leon told him to do and that now included staying as far away from Leon as he could get. But how can he do that when Leon is hell-bent on proving all the lies he's told Rogan about Mark were true, and by any means possible except the actual truth? Thankfully, it seems Rogan's not quite as clueless about Leon's wild imagination as Mark has always been. In fact, the big, beautiful man has come to Mark's rescue a couple of times and has made it clear, Leon and he are not a thing. At least, not anymore. Which is good since Mark is going to need Rogan's help. Mainly because something else is out to get Mark. Something not Leon. This something isn't even human…
The Ex's Boyfriend
Pairing: M-M
October 26, 2021
Word Count:
68,000
Character Identities:
Gay
Summary: Ryan was shocked when he saw the man who had rescued him from a psychotic co-worker three months ago, a man Ryan had been having very sexy dreams about ever since, standing on the same yacht as he was. Learning the man's name was Jansen Branwyth should have rung a few bells, but Ryan was never one to keep up with the rich and powerful. Now this big, gorgeous man seemed to be in hot pursuit, relentlessly and expertly, backing the confused Ryan against a hard wall. Deliciously turned on by the man's erotically suggestive flirting, Ryan finds himself now in competition with his former, incredibly beautiful girlfriend, vying for Jansen's attention. As the heat ramps up, so does Ryan's self-doubt, forcing Jansen into making it perfectly clear who he intends on taking with him off the boat, even if he must chase down, subdue and throw that certain someone over his shoulder to do it.
The Superior Jewel
Pairing: M-M
February 26, 2021