Word Count:
52000
Character Identities:
Gay
Summary: When a man hits rock bottom, he needs someone to remind him life comes with second chances. Luke Lafontaine lost everything— his father, their family farm, and a whole way of life. He's survived the past year by putting one foot in front of the other in dead-end jobs to survive. Cleaning up city folks' trash at the State Fair is just another two weeks of money between him and being back on the streets. But seeing Mason Bell in the parade— gorgeous, gay, out-of-his-league Mason— stirs dreams he thought he'd given up long ago. Mason left his small hometown for college in Minneapolis without looking back. It's been fun and easy— classes and guys— but nothing has really felt important. Then he spots his high school crush, Luke, picking up trash at the Fair. Mason's done with smooth and easy; he desperately wants a second chance with the boy he left behind. This is a rerelease of the 2018 Dreamspinner Press novella, with only minor editing changes.
Fair Isn't Life
Pairing: M-M
July 7, 2020
Word Count:
32793
Character Identities:
Bisexual, Gay
Summary: Ten days to finally make the leap from friends to lovers…. Craig and Mitchell have been friends for years, but each of them reached a point where that camaraderie became… more. Mitchell's kept his feelings close to his chest. So has Craig, but now that they've graduated from UMKC, he knows it's his last chance to show Mitchell they're meant to be before their careers take them to opposite sides of the country. He insists they can't leave Missouri behind without one last adventure. Mitchell agrees to a road trip to visit all the touristy spots and say goodbye to their home state. As they spend their days and nights together, buried feelings rise to the surface and hope blossoms. When their journey ends with a dance beneath the Branson stars, will they find love and a future together at the end of the road?
Gateway to Love
Pairing: M-M
October 19, 2018
Word Count: Information not available
Character Identities:
Bisexual
Summary: Small but mighty—that could be Detective Nevin Ng's motto. Now a dedicated member of the Portland Police Bureau, he didn't let a tough start in life stop him from protecting those in need. He doesn't take crap from anyone, and he doesn't do relationships. Until he responds to the severe beating of a senior citizen and meets the victim's bow-tied, wealthy landlord. Property manager and developer Colin Westwood grew up with all the things Nevin never had, like plenty of money and a supportive, loving family. Too supportive, perhaps, since his childhood illness has left his parents unwilling to admit he's a strong, grown man. Colin does do relationships, but they never work out. Now he's thinking maybe he won't just go with the flow. Maybe it's time to try something more exciting. But being a witness to a terrible crime—or two—was more than he bargained for. Despite their differences, Colin and Nevin discover that sparks fly when they're together. But sparks are short-lived, dampened by the advent of brutal crimes, and Colin and Nevin have seemingly little in common. The question is whether they have the heart to build something lasting.
Love Is Heartless
Pairing: M-M
January 13, 2017
Word Count:
82997
Character Identities:
Gay
Summary: Two years ago Mico and his partner suffered a savage gay bashing that left Mico a quadriplegic—and ended his dreams of traveling the world as an archeologist. Abandoned by the man he loved, he lives in isolation, tethered to his bed by the machines keeping him alive, with only his caretakers and immediate family as companions. Assigned to interview Mico and uncover the story behind his assault and his refusal to identify his attackers, journalist Danny is unprepared for his reaction to the other man. Mico is afraid to let Danny into his life, and Danny is unsure how to change his mind. Mico is also keeping secrets, and he isn't the only one. Danny is determined to protect Mico, and he's determined to show Mico that their feelings for each other can thrive amidst the mechanics of Mico's existence. If you enjoy romantic tales of heartbreak turned to hope, the life-affirming story of Danny and Mico will make you believe in the possibility of love for everyone—no matter what obstacles they face.  
Love's Tethered Heart
Pairing: M-M
January 2, 2017
Word Count:
32250
Character Identities:
Gay
Summary: 2018-2019 Rainbow Awards Runner-up, Best Gay Contemporary Romance & Romantic Comedy When a series of personal crises prompt risk-averse research librarian Aaron Templeton to apply for a job on the other side of the country, nobody is more surprised than he is. He nearly runs home before the final interview except for one little problem: he has no home anymore. He put his condo on the market before he left California and it's already sold. Only an encounter with free-spirited Connecticut native Cody Brown at the Mystic Seaport Museum staves off Aaron's incipient panic attack. Cody loves nothing better than introducing newcomers to the great features of his beloved home state, and when the newbie in question is a rumpled professorial type with the saddest blue eyes on the planet? Score! The attraction between the two men deepens as they explore Cody's favorite spots, but when difficulties arise and Aaron's insecurities threaten to overwhelm him, will Cody's love be enough to keep him in Mystic? Mystic Man is a 32,000-word novella featuring a pertinent internal playlist, suggestive shellfish consumption, and a six-year-old who thinks history should have more girls. HEA guaranteed.
Mystic Man
Pairing: M-M
June 22, 2018
Word Count:
33003
Character Identities:
Gay
Summary: Every man has secrets, but some are bigger than others…. Felix Peake escaped a shady past to carve out a successful career as an expert in Mesopotamian art and gain the respect of the Chicago art community. But when an assistant curator—a man Felix could easily see himself falling for—asks him to reauthenticate a cuneiform tablet to avoid a looming scandal, Felix's carefully constructed life could crumble. The tablet is a fake, and Felix is intimately familiar with the artist. Master forger Carter Janson—Felix's ex and first love—disappeared from his life six years before without a word of explanation. Now, to hold his world together, Felix must find the original tablet, steal it back, and replace the forgery—all before the museum exhibit debuts. It'll mean slipping back into a role Felix wanted to leave behind and risking his promising future. But even then, he can't do it alone. He'll have to confront that rat, Carter Janson.
That Rat, Carter Janson
Pairing: M-M
January 19, 2018
Word Count: Information not available
Character Identities:
Gay
Summary: How can something so cuddly and adorable be so destructive? The teddy bear robot decimating his lab is only the first disaster of the day for roboticist Forbes Pohle. If he can figure out how to end its rampage, he still has to interview applicants for the position of research assistant and convince the time traveler on his doorstop that they should be making their future right now. Oliver Lennox didn't travel back in time to have a quickie in the blast chamber—but it certainly is fun. This younger Forbes is a sweeter, more innocent version of his lover. And it will be hard to leave him behind in the past. If you like sexy nerds, humor, plenty of action, and a love story not even time can disrupt, this romantic adventure has the perfect credentials for the job.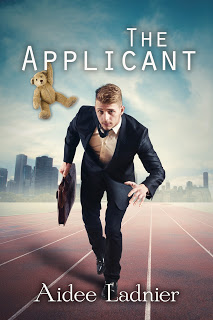 The Applicant
Pairing: M-M
January 11, 2017