Word Count:
115000
Character Identities:
Bisexual, Gay
Summary: Vol. 1 (Books One and Two) Jory Keyes leads a normal life as an architect's assistant until he is witness to a brutal murder. Though initially saved by police Detective Sam Kage, Jory refuses protective custody - he has a life he loves that he won't give up no matter who is after him. But Jory's life is in real jeopardy, especially after he agrees to testify about what he saw. While dealing with attempts on his life, well-meaning friends who want to see him happy, an overly protective boss, and a slowly unfolding mystery that is much more sinister than he could ever imagine, the young gay man finds himself getting involved with Sam, the conflicted and closeted detective. And though Jory may survive the danger, he may not survive a broken heart.
A Matter of Time Vol. 1
Pairing: M-M
July 18, 2011
Word Count: Information not available
Character Identities:
Bisexual, Gay
Summary: Vol. 2 (Books Three and Four) Three years ago, Jory Harcourt changed his name and shut the door on a past full of pain, only to emerge stronger on the other side. He has a new career, a great working partner, and a satisfying life—except for the hole in his chest left behind when police Detective Sam Kage walked out with his heart. Now Sam's back and he knows what he wants... and what he wants is Jory. Jory, who doesn't know if he can survive another break up or losing Sam to his dangerous job, resists returning to the arms of the only man he has ever truly loved. But when a serial killer with a score to settle targets Jory, he will have to decide if love is worth the danger as he tries to solve the case and keep Sam safe. Previously published by Club Lighthouse Publishing
A Matter of Time Vol. 2
Pairing: M-M
July 18, 2011
Word Count: Information not available
Character Identities:
Gay
Summary: Zach Mitchell is stuck in a rut. His college boyfriend left him ten years ago, but Zach still lives in the same apartment, drives the same car, and feeds his ex-boyfriend's ungrateful cat. His Denver business, A to Z Video Rental, is struggling. He has annoying customers, eccentric neighbors, and an un-fulfilling romance with his landlord, Tom. A combat boot-wearing punk with an attitude, Angelo Green was raised in foster homes and has been on his own since he was sixteen; he has never learned to trust or to love. He doesn't do relationships, so when Angelo takes a job at A to Z Video, he decides Zach is strictly off-limits. Despite their differences, Zach and Angelo quickly become friends, and when Zach's break-up with Tom puts his business on the line, it's Angelo who comes up with a solution. Together with Jared and Matt, their friends from Coda, Colorado, Zach and Angelo will find a way to save A to Z, but will they be able to save each other too?
A to Z
Pairing: M-M
March 5, 2010
Word Count:
70843
Character Identities:
Bisexual, Gay
Summary: Forty-five-year-old English professor Nathan Qells is very good at making people feel important. What he's not very good at is sticking around afterward. He's a nice guy; he just doesn't feel things the way other people do. So even after all the time he's spent taking care of Michael, the kid across the hall, he doesn't realize that Michael's mob muscle uncle and guardian, Andreo Fiore, has slowly been falling in love with him. Dreo has bigger problems than getting Nate to see him as a potential partner. He's raising his nephew, trying to leave his unsavory job, and starting his own business, a process made infinitely more difficult when a series of hits takes out some key underworld players. Still, Dreo is determined to build a life he can be proud of—a life with Nate as a cornerstone. A life that is starting to look like exactly what Nate has been seeking. Unfortunately for Dreo—and for Nate—the last hits were just part of a major reorganization, and Dreo's obvious love for Nate has made him a target too.
Acrobat
Pairing: M-M
May 7, 2012
Word Count: Information not available
Character Identities:
Gay
Summary: Un appel de détresse mystérieux amène l'équipage de l'Hermès jusqu'à un vaisseau militaire en perdition… et désert. À l'intérieur, du sang et des viscères jonchent les couloirs, et un seul survivant, prisonnier d'une cellule de détention. Attiré par le bel homme traumatisé, l'agent de com' de l'équipage, Isaac Ozawa, prend Turk sous sa responsabilité, lui offrant la gentillesse et la chaleur dont il a besoin après les horreurs qu'il a vécues. Isaac sait d'expérience ce que c'est qu'être différent, d'être un paria, et cela renforce leur lien. Jadis pilote prometteur, il a vu son cerveau être endommagé lorsque l'implant devant servir à piloter les puissants chasseurs de la flotte n'a pas fusionné correctement. Le cerveau de Turk n'en mène pas plus large. Le résultat d'une expérience militaire ratée, ses compétences naturelles ont été augmentées à un niveau dangereux. Lorsqu'un amiral sans morale et avide de puissance kidnappe Isaac et se sert de lui pour convaincre Turk de devenir l'arme cataclysmique dont il rêve par-dessus tout, les deux hommes et leurs compagnons se lancent dans une bataille éperdue pour leur liberté…
Attraction gravitationelle
Pairing: M-M
April 25, 2016
Word Count: Information not available
Character Identities:
Gay
Summary: Julian "Quinn" Quintero, a gruff, tough Miami SWAT officer, has been injured on the job, and all he's looking for is a little peace and quiet to recover—difficult to achieve with his large Cuban family. An adventure in picking up his prescriptions puts him in the path of his geeky, brownie-baking neighbor, Spencer Morgan. Spencer sweeps into Quinn's life like a tropical storm of sunshine and rainbows. Not surprisingly, it's chaos at first sight. Quinn's in need of a little tender loving care, and Spencer decides he's just the man for the job. Their very different lives might clash, but they might also find some common ground—and maybe more.
Beware of Geeks Bearing Gifts
Pairing: M-M
August 19, 2015
Word Count:
95000
Character Identities:
Bisexual
Summary: Ten years ago Sheriff's Deputy Aaron George lost his wife and moved to Colton, hoping growing up in a small town would be better for his children. He's gotten to know his community, including Mr. Larkin, the bouncy, funny science teacher. But when Larx is dragged unwillingly into administration, he stops coaching the track team and starts running alone. Aaron—who thought life began and ended with his kids—is distracted by a glistening chest and a principal running on a dangerous road. Larx has been living for his kids too—and for his students at Colton High. He's not ready to be charmed by Aaron, but when they start running together, he comes to appreciate the deputy's steadiness, humor, and complete understanding of Larx's priorities. Children first, job second, his own interests a sad last. It only takes one kiss for two men approaching fifty to start acting like teenagers in love, even amid all the responsibilities they shoulder. Then an act of violence puts their burgeoning relationship on hold. The adult responsibilities they've embraced are now instrumental in keeping their town from exploding. When things come to a head, they realize their newly forged family might be what keeps the world from spinning out of control.
Bonfires
Pairing: M-M
March 24, 2017
Word Count:
72000
Character Identities:
Bisexual, Gay
Summary: As a young gay man—and a werepanther—all Jin Rayne yearns for is a normal life. Having fled his past, he wants nothing more than to start over, but Jin's old life doesn't want to let him go. When his travels bring him to a new city, he crosses paths with the leader of the local were-tribe. Logan Church is a shock and an enigma, and Jin fears that Logan is both the mate he fears and the love of his life. Jin doesn't want to go back to the old ways, and mating would irrevocably tie him to them. But Jin is the mate Logan needs at his side to help him lead his tribe, and he won't give Jin up so easily. It will take time and trust for Jin to discover the joy in belonging to Logan and how to love without restraint.
Change of Heart
Pairing: M-M
November 8, 2009
Word Count:
63000
Character Identities:
Bisexual, Gay
Summary: Sequel to The Actor and the Earl The Crofton Chronicles: Book Two Sebastian Hewel will endure many things to maintain his role of Bronwyn, the wife of Anthony Redbourn, Earl of Crofton, so he and Anthony can be together. But when Queen Elizabeth demands a favour of Anthony, Sebastian's world is in danger of being fractured beyond repair. The Queen requests Anthony to seduce Lady Marie Valois, the beautiful daughter of a French noble, to discover the whereabouts of her father, who is wanted by the King of France. There is no way Anthony can refuse the Queen, but Sebastian having to watch his lover pretend to court another is more painful than he thought. However, when Lady Marie takes a fancy to Sebastian when he is dressed as himself at Crofton Hall, Sebastian find his roles reversed and a green-eyed Anthony to contend with. Things go from bad to worse with the arrival of Lady Marie's brother, Lord Nicholas Valois, who is not happy that his sister has been linked to a man like Anthony. But when Valois's head is turned by Lady Bronwyn and her acerbic wit, Sebastian has to survive the attentions of both siblings. And a very jealous Earl of Crofton. Third edition – previous editions published by Dreamspinner Press. Re-edited for publication.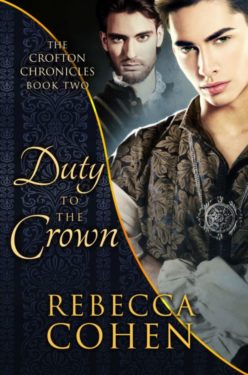 Duty to the Crown
Pairing: M-M
October 28, 2019
Word Count: Information not available
Character Identities:
Gay
Summary: The long-awaited sequel to Strawberries for Dessert. Families should grow, not shrink. It's been on Jon Kechter's mind since before he tied the knot with his millionaire lover, Cole Fenton. Now hoping to adopt, Jon and Cole search for a mother-to-be willing to let them love her baby, but the interminable wait is wearing on them both. Jon is close to his father, George, but until Cole, he didn't have anyone else. Now George is pushing Cole to reconcile with his estranged mother. When the three of them spend Christmas with her in Munich, the results are disastrous. Jon and Cole resolve to stay positive, but no hope exists without a tinge of fear. Jon and Cole can't help but wonder if their dream of being parents just wasn't meant to be.
Fear, Hope, and Bread Pudding
Pairing: M-M
June 4, 2013
Word Count:
62000
Character Identities:
Bisexual, Gay
Summary: Sequel to Duty to the Crown The Crofton Chronicles: Book Three Sebastian Hewel has never been happier. But after two years of playing the role of his twin sister Bronwyn, the wife of Anthony Redbourn, Earl of Crofton, his blessed life will never be the same. When rumours start circulating that Bronwyn is using witchcraft to enthral her husband, and false evidence is found planted at Crofton Hall, they need to act fast. If Bronwyn is questioned by the sheriff, even Sebastian's best performance won't keep their secret hidden. Forced to lay Bronwyn to rest and bring their ruse to an end, Sebastian and Anthony must prepare to face an unknown future together. Anthony is determined to track down whoever it was who started the rumours and will make them pay in the most terrible of ways, and Sebastian vows to help. Sebastian once more has to be put his acting skills to the test, not just to catch a traitor, but to return to his first love of the theatre, which will not be easy, even with Anthony as his patron. Second edition – previous edition published by Dreamspinner Press. Re-edited for publication.
Forever Hold His Peace
Pairing: M-M
October 30, 2019
Word Count:
100,000+
Character Identities:
Gay
Summary: A wolf shifter eases his pain with work after being rejected by the other half of his soul, a man who despises the idea of true mates. Nicholas Cartwright buries himself in his work in an effort to forget the night he found his mate only to be callously rejected. He pushes himself to exhaustion, an incomprehensible state for most shifters, while being unable to find solace for even a single night in another man's arms. When Nick's reluctant mate reappears one day asking for his help, he questions whether he can set aside his pain and forgive Thayne. He must decide if he can trust Thayne to stay this time and not cut and run again. Forgiving Thayne is Book 2 in the True Mates series. Although it can be read as a standalone, it does include scenes with characters from the previous book.  This book features rejected mates, slow burn MM romance, and some content which some readers may find difficult to read with an inevitable HEA. **Please note: this is a self re-release previously published by a publishing house.**
Forgiving Thayne
Pairing: M-M
September 29, 2020
Word Count:
85200
Character Identities:
Gay
Summary: A mysterious distress call draws the crew of courier ship Hermes to what appears to be an empty, drifting troop vessel--empty except for the blood and gore spattered corridors and a lone survivor locked in a holding cell. Drawn to the handsome, traumatized man, the crew's comm officer, Isaac Ozawa, makes Turk his personal responsibility, offering him the kindness and warmth he needs after the horror he experienced. Isaac knows firsthand what it's like to be different and an outcast, and this cements their bond. Once a promising pilot, Isaac was left with a damaged body when his brain didn't meld with the high-tech implant needed to fly fighter ships. Turk's brain is no better. The result of a military experiment gone wrong, his natural abilities have been augmented to a dangerous degree. When an amoral, power-hungry admiral kidnaps Isaac and uses him to convince Turk to become the cataclysmic weapon he's hungered for, it will take Turk's strength, the ingenuity of the Hermes crew, the help of the enigmatic Drak'tar, and Isaac's own stubborn will to save them.
Gravitational Attraction
Pairing: M-M
May 11, 2021
Word Count:
113000
Character Identities:
Bisexual, Gay, Pansexual
Summary: No one can outrun destiny or the gods. In Epiro, a kingdom in Greece, Perseus is prophesied to be a great demigod hero and king, with a legacy that will shape the world of Gaia. When he was born, his grandfather exiled him, and his mother brought them to Seriphos, where she created an academy for demigod youth. Perseus trains there and waits for the day when he will be able to take the throne of Argos. Despite potential future glory, Perseus's fellow students think he is weak. By the time he reaches manhood, he has given up the hope of having any real friends, until Antolios, a son of Apollo, takes an unexpected interest in him. Perseus and Antolios fall in love, but Antolios knows it cannot last and leaves Seriphos. Perseus, grief-stricken and lonely, rebels against the Fates, thinking he can avoid the prophecy and live his own life. But when the gods find him, he is thrust into an epic adventure. With his divine powers, he fights gorgons and sea serpents, and battles against his darker nature. Perseus strives to be his own man… but the gods have other plans.
King of the Storm
Pairing: M-F, M-M
November 24, 2015
Word Count:
105,000
Character Identities:
Gay
Summary: In a trendy San Francisco art gallery, out-of-towner Vin Vanbly witnesses an act of compassion that compels him to make investment banker Perry Mangin a mysterious offer: in exchange for a weekend of complete submission, Vin will restore Perry's "kingship" and transform him into the man he was always meant to be. Despite intense reservations, Perry agrees, setting in motion a chain of events that will test the limits of his body, seduce his senses, and fray his every nerve, (perhaps occasionally breaking the law) while Vin guides him toward his destiny as 'the one true king.' Even as Perry rediscovers old grief and new joys within himself, Vin and his shadowy motivations remain enigmas: who is this off-beat stranger guiding them from danger to hilarity to danger? To emerge triumphant, Perry must overcome the greatest challenge alone: embracing his devastating past. But can he succeed by Sunday's sunrise deadline? How can he possibly evolve from an ordinary investment banker into King Perry?
King Perry
Pairing: M-M
February 28, 2012
Word Count:
73115
Character Identities:
Gay
Summary: When jackal shifter Quade Danas was banished from his pack for being gay, he spent years in the military escaping his father's prejudice before returning to civilian life as a bodyguard for Roman Howell, the teenage son of a very rich man. After Roman is in an accident that leaves him physically scarred and emotionally distant, Quade is the only one who can get through to him. As Roman becomes a man, he realizes what he wants—his bodyguard by his side and in his bed. Unfortunately, Quade can't seem to see past the kid Roman once was to the man he has become, certain Roman's feelings are merely misplaced gratitude. But Roman knows a lot more than Quade realizes, and he's used to persevering, no matter how many impediments life throws his way. He wants the chance to prove to Quade that he's strong enough for a jackal alpha to call mate. Despite the decades Quade has been away, and the heartache of his father's rejection, his inborn loyalty to the pack remains, and his abrupt departure left the jackal shifters without an alpha heir. As a psychopath shifter staking claim as alpha draws Quade back home, and Quade feels compelled to heed the call, he may be forced to make a choice he never anticipated. But doing so means he must leave Roman behind… unless somehow they find a way to make loyalty and love work together.
Old Loyalty, New Love
Pairing: M-M
December 13, 2013
Word Count: Information not available
Character Identities:
Gay
Summary: Zach Mitchell and his lover Angelo Green are headed to Paris (along with their Coda friends Matt and Jared) to attend Jon and Cole's wedding. Matt will have to face Jared's former lover, and Angelo will have to spend an entire week with Zach's ex-boyfriend. Between Matt's jealousy and Angelo's temper, Zach thinks they'll be lucky to get through the week without one of the grooms being punched. But Zach soon realizes he should worry less about Angelo and more about himself. Facing the bittersweet memories of his past and his own guilt over breaking Jon's heart is harder than expected, but Zach will have to find a way to leave his past behind if he's to have any hope of the future he wants with Angelo. Sequel to The Letter Z.
Paris A to Z
Pairing: M-M
April 6, 2011
Word Count: Information not available
Character Identities:
Gay
Summary: Jared Thomas has lived his whole life in the small mountain town of Coda, Colorado. He can't imagine living anywhere else. Unfortunately, the only other gay man in town is twice his age and used to be his teacher, so Jared is resigned to spending his life alone. Until Matt Richards walks into his life, that is. Matt has just been hired by the Coda Police Department, and he and Jared immediately become friends. Matt claims he is straight, but for Jared, having a sexy friend like Matt is way too tempting. Facing Matt's affair with a local woman, his disapproving family, and harassment from Matt's co-workers, Jared fears they'll never find a way to be together—if he can even convince Matt to try.
Promises
Pairing: M-M
January 8, 2010
Word Count: Information not available
Character Identities:
Gay
Summary: As a young man, Dominic Jacobsen already suspects he's gay, and he gets all the confirmation he needs when a rich boy from out of town climbs into the back seat of Dominic's GTO. One night with Lamar Franklin is all it takes to convince Dominic he's found the man of his dreams. Unfortunately, that one night is all he'll get before Lamar returns to Tucson. Fifteen years later, Lamar returns to Coda, Colorado after ending the latest in a string of bad relationships. He's alone, depressed, and plagued by late-night phone calls from an unidentified caller. Lamar's ready to give up when he comes face-to-face with his past. Since he was seventeen, Dominic has dreamed of a reunion with Lamar, but that doesn't mean he's ready for it now. Facing small-town rumors and big-family drama is bad enough, but Dominic won't risk losing custody of his teenaged daughter, Naomi. The only solution is to make sure he and Lamar remain friends and nothing more. Clothes stay on, no matter what. It seems simple enough. But for better or worse, Lamar has other ideas.
Shotgun
Pairing: M-M
May 29, 2015
Word Count: Information not available
Character Identities:
Gay
Summary: When Jonathan Kechter agrees to a blind date with Cole Fenton, he expects nothing more than dinner and a one-night stand… but he gets more than he bargained for in Cole. Cole is arrogant, flamboyant, and definitely not Jon's type. Still, when Cole suggests an arrangement of getting together for casual sex whenever they're both in town, Jon readily agrees. Their arrangement may be casual, but Jonathan soon learns that when it comes to Cole Fenton, nothing is easy. Between Cole's fear of intimacy and his wandering lifestyle, Jonathan wonders if their relationship may be doomed from the start—but the more Cole pushes him away, the more determined Jon is to make it work.
Strawberries for Dessert
Pairing: M-M
August 6, 2010