The Angels and Demons of Babylon Book 1
by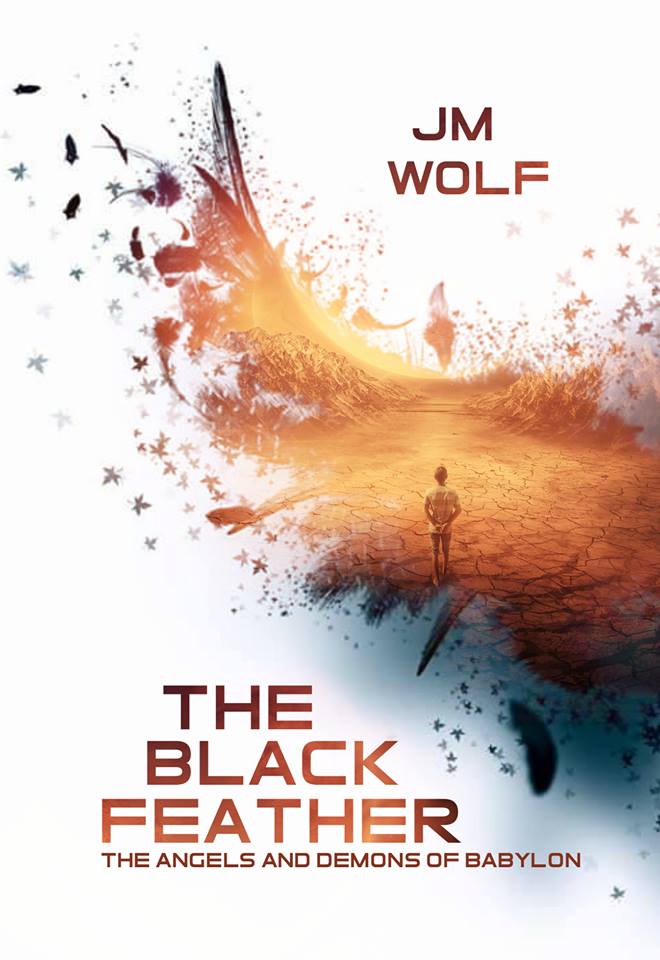 Archangel turned Archdemon, Bastion (Belial) McDowell was left with the horrid memories of the mistakes he's made that cost him not only his white wings but also caused the death of his lover. Wandering amongst the humans in hopes of finding a way to earn his place back in the light realm, one tragic accident involving an eleven-year-old boy has changed his entire way of life. Watching over the kid from the shadows for ten years, Bastion watched him grow into a handsome young man and struggled with the decision to make himself known finally. But, is Bastion truly ready to let his past go to give this human his all? Especially since the human looks exactly like his fallen lover.
21-year-old Scott Grayson's life had gone to hell ever since the accident when he was eleven that took his mother away from him. Locked up in his home like a prisoner with an abusive father, Scott was an empty shell stumbling through life, until he was rescued from an ambush in an alleyway by a mysterious man in a black cloak with eyes as blue as ice, who left a black feather for Scott to remember him by. After discovering a strange cafe called "Angel's Haven" in the direction where his rescuer ran off to, Scott decided to check it out and eventually meets the mysteriously dark and sexy owner Bastion, whose eyes resemble the man in the black cloak.
Circumstances have brought these two together, and Bastion's secrets become harder to hide from Scott. Especially when a prophecy reveals an upcoming war where both Bastion and Scott play a role in the event. Can Bastion accept the darkness that he's been denying to keep Scott safe from the army of demons hunting for them? And can Scott find the strength within himself to fulfill his role in the prophecy and fight alongside the demon his heart belongs to?
TRIGGER WARNING:
This book contains mentions of alcoholism, abuse, past grief, violence, death, gore, thoughts of suicide, and loss. This book also includes figures from religion and demonology.
Published:
September 8, 2017
Publisher:
Encompass Ink
Cover Artists:
Genres:
Pairings:
MM
Heat Level:
3
Romantic Content:
3
Ending:
Click here to reveal
Character Identities:
Gay
Protagonist 1 Age:
18-25
Protagonist 2 Age:
Ageless/Immortal
Tropes:
Fated Mates / Soul Mates, Rescue, Wingfic
Setting:
Babylon, New York
Languages Available:
English
Series Type:
Continuous / Same Characters
Excerpt:
The next morning, Scott awoke to the smell of food coming from downstairs. Normally Bastion would bring breakfast up to his room. Scott decided to change that this time. He wanted to have breakfast with Bastion. So instead of staying in bed, he got up, put on his navy-blue pajama pants and a white T-shirt then stepped out of the bedroom heading downstairs. When he got to the kitchen, Scott froze in his tracks.
Bastion was at the sink washing some of the cookware he was using and was shirtless. The muscles on his arms flexed and his abs were tight. His caramelized skin was glistening from the light of the early morning sun coming through the window. It was a sight to behold. Even his morning wood was enjoying the view.
Be still my virgin heart. Scott thought as he bit his lower lip.
Bastion turned his gaze and smiled at the sight of Scott.
"Hey. Good morning, little crow," he said walking to Scott and placing a kiss on his forehead.
READ MORE
My lips. Enough with the forehead bullshit and kiss me on the lips, you bastard. Oh God, what's wrong with me?
Scott cleared his throat to prevent himself from laughing. "Good morning Bastion."
Bastion did his usual morning routine by examining the wounds around Scott's neck and face. The smell of autumn leaves and caffeine coming from him greeted Scott's nostrils.
"You seem to be healing well. I hope you're hungry. Breakfast will be ready soon." Bastion said.
Forget the food. Have me for breakfast. Take me. Take me in your mouth you fool. Eat me. Scott's body shook as he couldn't help himself giggling this time.
"What's so funny?" Bastion asked also laughing a bit.
Scott shook his head. "Nothing. Breakfast sounds great."
Bastion arched an eyebrow. "If you say so."
He turned back to the stove and continued cooking. The smell of eggs, bacon and french toast filled the kitchen. When he turned, Scott was admiring every detail of Bastion's body. His strong legs through his black jeans. The fullness of his ass. The curves of his hips. Trailing up to his back, Scott noticed something that made his jaw drop and his eyes widened.
"Jesus..." Scott said softly.
Two large scar tissues near each of his shoulder blades plastered on Bastion's back. Damage like that would normally tarnish the body's perfection, but they looked natural on him.
"Your back. How did it happen?" Scott asked.
Bastion froze, and his shoulders tensed for a moment before relaxing.
"An accident. It happened...years ago." Bastion finally said.
Scott slowly walked towards him, placing a hand on his back. His skin felt warm to the touch. His fingers trailed along the scar tissues. They felt rough. What kind of accident could cause these? The dream he had of the figure with black wings flashed in Scott's mind, along with the black feather attached to his earring.
But that's not possible.
Scott leaned towards Bastion's back, and without thinking, he placed a kiss on both scar tissues. Bastion's body stilled to the touch of Scott's lips. He pushed back pressing himself against Scott's front.
"I'm sorry," Scott said softly.
Bastion turned himself around and looked at Scott directly in the eyes. Scott's gray eyes were full of concern. Concern and affection for him.
"Beautiful." Bastion blurted out before he could stop himself.
With that comment, Scott lost all resistance. He grabbed Bastion's face and did the one thing he'd wanted to do since that night in the alley. He kissed Bastion. His hot lips were pressing against his own. The contact took Bastion by surprise, but then his eyes shut and clutched Scott's hips, deepening the contact. Scott's body began to heat up.
He brought his tongue out, pressing it to Bastion's lips, desperate to seek entrance. Their tongues danced in the open before Scott snaked his inside and devoured every taste that is Bastion. In return, Bastion threaded his fingers through Scott's hair, groaning in Scott's mouth. He held Scott close tasting as much of him as he could. He barely managed to pull away so they both could breathe.
"God, I've wanted to do this since I brought you home. You have no idea." Bastion cried out in Scott's mouth.
He brought Scott to the kitchen counter, pressing him against it. Bastion then grabbed him by his hips, lifting Scott up and sitting him down on top of it.
Scott breathed heavily in Bastion's mouth. Tasting him. Devouring him. He wanted more. His semi erection from when he awoke this morning was now rock hard. He'd been dreaming of Bastion fucking him. Scott wondered if he would now.
Bastion's hands slid inside Scott's shirt, running up his smooth chest. He bit down and started pulling on Scott's lip letting out a low growl. Scott's fingernails scratched down Bastion's back, avoiding the scar tissues as his legs wrapped around the man's hips.
Bastion's back arched up and began pinching Scott's nipples in his shirt. Scott hissed out a breath as his body trembled in pleasure. He tried to deepen the kiss, but Bastion pulled away, saliva dripping from his mouth, breathing heavily and his pupils dilated. Scott moaned his disappointment at the absence of his sexy Savior's mouth.
Bastion chuckled and pulled one of his hands from inside Scott's shirt to lift up his chin, making direct eye contact
"Oh, baby. Believe me, I don't want to stop either, but if we keep this up, our breakfast will burn," he said wrinkling his nose.
Scott began to smell the bacon burning up, and he couldn't help but laugh.
"Is it sad that I really don't care about breakfast?" Scott asked smiling big.
Bastion in return cupped his face and gave him a gentle kiss.
"I don't either, but since you're feeling better, I thought it would be nice to have breakfast together."
Scott's heart swelled.
With a chuckle, he said, "Okay, breakfast together it is then. No matter how burnt the bacon is now."
COLLAPSE
Reviews:
Wendy Stone

on

Rainbow Gold Reviews

wrote:
I love to meet new authors. Not just new to me authors, but authors who are just writing their debut novels. There is something very special in watching them grow and develop their craft. JM Wolf is one of those authors. What an accomplishment it is to write a novel. I'm honored that I was one of the people to see this story before it was released out into the world. It must be nerve wracking to put your blood, sweat and tears into someone's hands and ask for criticism, which in all honesty is what a review is. Thank you JM Wolf for your trust. I have big love and respect for you!

The first character I'd like to talk about is Scott. He's been abused by his father. I have to guess to the point of oppression because he's a physically healthy young man who for some reason let his father control him so much that at 21 he has no job, no friends and feels like he can't leave. He's lost every opportunity to follow his dreams of professional gymnastics because of his father. He spends his days (once he discovers it) in a coffee shop that our other MC owns reading and making a friend of the barista. Though I do wish the author could have touched a bit more on that so we could have understood the depth of the emotional aspect of the abuse and gotten into the "why" of how Scott was feeling. It really isn't hugely important in the story, it just would have filled in some holes for me. Perhaps it will all come out in the next book of this series. Anywhoo… Scott is kinda broken. My favorite part of him is that he's a dreamer and doesn't give up the hope for a better life. He's always felt a protective presence in his life and that presence makes himself known one night when Scott is in dire straights! Into his life comes Bastion. Once Scott is freed from his life with his father, he really comes into his own. He's brave and determined and not one single thing is going to stop him from doing what he thinks is the right thing to do.

Bastion is a archangel turned archdemon who has dedicated his life to watching over Scott and trying to get his white wings back. Once he saves Scott from a brutal assault, he can't help but follow the draw to be in his life. He comes with his own set of baggage and it hinders not only his developing relationship with Scott, but also stops him from being the warrior that he needs to be in the upcoming battle to save not only Scott, but the world. I won't say much more because I don't want to give too much away, but there is a bunch going on that you are going to want to stick around for. I know I do, I can hardly wait to see things develop and wonder just how Bastion will react.

I kind of liked the fact that Scott, the mere human was the strong character in this story and Bastion, the big archdemon was the one who ended up having the bigger issues and was the weaker one at least emotionally if not at times even physically. The premise is a nice take on the good vs. evil and I like the world that JM Wolf has created. The writing didn't start as strong as I'd hoped, but really smoothed out as the story began to flow and I liked seeing the author become more and more comfortable as the book went along. Once again, it's one of my favorite things to see an author grow his or her craft. This story was really heating up and I can't wait to see what the next book in the series will bring.
Elaine White

on

Divine Magazine

wrote:
This debut novel from J.M. Wolf really packs a punch.

To start off, the presentation is utterly gorgeous, from cover to the dreamcatcher chapter headings, the chapter titles and the feather scene dividers; there's nothing about this book that isn't pretty to look at.

On the inside, there's an original take on the Angels/Demons theme that begins right on page one with Scott, our MC. Right off, we get an intriguing first chapter and a view into Scott's life, from relating to his struggles, feeling sympathy for his situation and the very serious issues that plague his life (see warnings). These are all really serious issues handled in a very sympathetic and respectful way, but they're not ignored or over-emphasised, either. They are a part of Scott and his life experience, but they're also something that he has to try to overcome, both alone and with the help of new friends.

Leaving the serious aside, because I don't want to spoil the story, I have to applaud the genius of stepping straight into the thick of the story, with the first meeting between Scott and "Blue Eyes" Bastion, as well as the mysterious Angel's Haven cafe that appeared out of nowhere. Not only did it draw my attention, keeping me intrigued about how the issues would be resolved, how Scott would discover who his hero might be and where it might lead, but it also allowed us to get to know Scott properly, before we were expected to care about him and his life. There was no boring beginning here.

The story doesn't make the mistake of some other debuts that I've read. It isn't overloaded with description, but it doesn't forget it, either. There's a really nice attention to detail, a balance between descriptive showing/telling, as well as a subtlety in the writing style that focuses on what's important to the story and the characters. Which really showcases the characterisation, because the entire story was built upon the foundation of the characters and their lives.

As characters, I loved Scott. For a 21-year-old, he's down to earth, logical and street smart. He's been pushed down his entire life and his journey into emotional and physical independence was beautiful to read and follow, even as he faced struggles he could never have imagined being part of his life. His skills aren't over-the-top and perfect for what he's going to face throughout the story; what he's able to do, the parkour and gymnastics, are normal things for a man of his age to be capable of. He doesn't suddenly have all of these skills that no one in their right mind would have at his age; he's like any normal kid thrust into a world he never expected to exist, trying to find his way, including learning how to function and adapt what he knows.

Bastion is an interesting guy. He's got a hint of the old Angel, from Buffy; dark, brooding, but with a softer side that keeps him a constant mystery. He's also a bit of a worrywart, but with good reason. His abilities aren't thrust in our face, making him the most perfect MC love interest possible. He's a normal guy, who just happens to be a little different. But, he's not the biggest baddest mo-fo in the world, either. He's capable of being beaten, of feeling depression and fear; he's real and relatable.

The POV is omni-present in places, but about 80% dual POV. Normally, that would really frustrate me, but it made sense here because it's done with a purpose. Bastion gets his first POV at Chapter 4, where it's most logical to see his POV, because it's only at this point that Scott first meets him in person. And, again, later on there are aspects of omni-presence where it's important to know what both Scott and Bastion are seeing/feeling, even a few scenes where Ariel and Luc get their POV, or where Emmanuelle and Ornias need to let us know what they see/think. There are some places, after Chapter 11, where the omni-POV is split a little more obviously, giving a one line gap between the various passages/scenes/paragraphs where the POV has to split between Scott and Bastion. But, this is done for a reason and has a really good effect of only revealing things at the right point.

It's this multi-, omni-POV that allows the reader to formulate their own opinions and guesses about the plot and the big secrets yet to be revealed. There are a trail of hints and clues throughout the story and the character's observations that help us, the reader, figure things out along the way, and leave us feeling completely immersed in every detail and occurrence, as well as letting us feel connected to the story and the characters.

Negatives? Nothing, really. For a debut novel it was very well written, excellently plotted and the editing was pretty good. This is an unedited arc, so the minor issues I found will definitely be spotted before publication. What were they? There was one or two slips into present tense, one single instance of 1st person POV (literally one "I" instead of "he") and a few capital letters in odd places. But, that is it and that's not a lot for an unedited novel.

Overall, this is a story packed with action, romance and secrets. The story – and the author – aren't afraid to jump right into the thick of things. The novel begins with that all important first meeting, while giving us time to get to know Scott and to think about the secrets he's trying to unravel.

This is an impressive debut with clear storytelling ability that drew me in right from the first. I can't wait to read the next installment of the series.

~

Favourite Quotes

"He'd reluctantly gotten used to seeing the bruises and cuts on his body. Abuse must also be what he was attracted to because every relationship he had always ended with Scott either mentally or physically strained. For Scott, Babylon was a cage, in which he was the lonely bird. Trapped inside with no way out."

"Was there ever a good time to tell your human boyfriend that you're a demon?"