by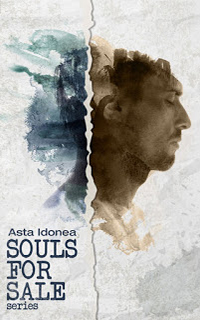 21st Century Demon
It should have been an easy job: a contract signed and a new soul earmarked for Hell. But when suave demon deal-maker Saul chooses nerdy Thomas Ives as his next target, events take an unexpected turn. The lines between business transaction and pleasure blur, and Saul must decide whether he cares more for his professional reputation or the soul he just condemned to eternal damnation.
Hell to Pay
The contract was destroyed and Tom's soul saved from Hell. Or so they thought.
Demon deal-maker, Saul, and his mortal lover, Thomas Ives, find themselves on the run when the other demons take none too kindly to Saul's bending of the rules. With the denizens of Hell on their heels, Saul and Tom must fight to stay one step ahead, knowing that if they're caught there's only one direction they're headed: down.
When Heaven decides to get involved, Saul's actions are no longer a mere bureaucratic misdemeanour but the basis of a factional confrontation. And now only one question remains: to whom does Tom's soul truly belong?
Published:
February 5, 2016
Publisher:
Wayward Ink Publishing
Genres:
Pairings:
MM
Heat Level:
5
Romantic Content:
4
Ending:
Click here to reveal
Character Identities:
Gay
Protagonist 1 Age:
18-25
Protagonist 2 Age:
Ageless/Immortal
Tropes:
Forbidden Love, Star-Crossed Lovers, Trickster Hero
Word Count:
39000
Setting:
London, England / Paris, France / Prague, Czech Republic / Heaven / Hell
Languages Available:
English
Excerpt:
BOOK ONE: 21st CENTURY DEMON
IT'S TOUGH BEING a demon in this day and age. Times are hard and souls just aren't what they used to be. I should know; it's my job to collect them. Or try to, anyway. What I wouldn't give to go back to the good ol' days when you could buy a soul as easily as an apple at the market place. And I mean a proper apple, plucked straight from the tree that morning. None of this modified, refrigerated crap that passes as fresh fruit nowadays.
I know what you're thinking. Trust me, I've heard it all before. You're wondering how it could be so hard to get someone to sign away their soul in an age where everything can be obtained for a price, where everything is for sale. Actors, bankers, politicians. You'd think rich pickings, am I right? Well, you'd be wrong.
READ MORE
Problem is no one believes anymore. Picture this: I walk up to someone and offer to grant them anything their heart desires in exchange for their soul. Now, in times past they'd either tremble in fear and drop to their knees, praying to the guy upstairs (my cue to leave), or they'd tremble in fear for a moment, and then they'd sign on the dotted line. Simple. Everyone knew where they stood. But if I were to try that today, most people would laugh in my face and walk off, or else they'd look uneasy and slink away from the "deranged lunatic" as soon as possible. Hell, I miss the fear.
The faith is gone, you see, supplanted with technology, gizmos, and gadgets. An age of information. Everything you want, obtainable with the press of a button. What is there to long for anymore? What is there worth selling your soul for that you couldn't get another way? Sure, you still have the old favourites—riches, power, and sex—but as I said, the belief is sadly lacking.
Every passing year it gets harder and harder to fill my quota. I have the big boss breathing fire down my neck—both metaphorically and literally—and damned if I know how to get around the problem. It's not just me. My colleagues are equally exasperated. It won't be too much longer until it's impossible to sign up even one new soul to burn in everlasting Hell. Then what's a conscientious, hard-working demon to do?
Anyhow, I guess it's about time I introduced myself. The name's Saul. Yeah, I know, but it's not like I picked it. We get what the boss dishes out, and I drew the short straw that day. Guess he was in one of his funny moods. I'm here today following a mark. I'm actually pretty stoked I found this guy as he's shaping up to be the most promising potential soul-seller I've seen in several months. Hey, try saying that three times faster! The trick now is not to rush things, not to push him too hard or too fast.
Oh, here he comes. See if you can pick him from the crowd. No? Hard, isn't it? Everyone looks the same these days. It used to be so much easier to tell a sinner from a saint. Now the line is so blurred it barely exists at all.
But I digress. Just wait a moment…. There! See the guy heading into the pub? The one in the Marvel T-shirt? With the blond curls? That's our man. Bit of a stereotype of a comic book nerd, isn't he? Unlikely to sell his soul, you think? Well, we'll see. So, are you coming or not? I haven't got all day, you know.
COLLAPSE