The Demon Heart Series Volume 2
by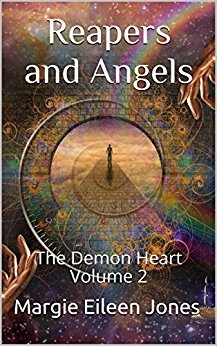 "Calis Midnight and Sebastian Black are back again with new adventures.  A murderer has been killing young boys with blonde hair and blue eyes making Ashton Underwood the target of a possible killer.  Christian Cross must help save Ashton before it is too late and the killer is not so easily dispatched since he is a nonhuman.
Also, William Reynolds, Sebastian's reaper best friend ends up showing certain feelings toward Sebastian that the former demon did not expect.  With their brief affair Calis is devastated and Kingsly is also hurt.  However, Angels cannot always control their feelings of temptation and lust.
Despite all that has happened, Kingsly agrees to marry William after forgiving him for his transgressions.  After their honeymoon, Kingsly gets his wish as a transgender man with help from the Archangel Raphael.  With this event Kingsly finds himself fighting off the advances of several males in the grim reaper community with William doing his best to remain sane since Kingsly as a transgender woman is two handfuls.
In the end, Christian Cross is given a gift from Anne and Sebastian as Anne is to give birth to the first natural born cherub.  Little Sean Cross enters the lives of the Angels and Reapers.  He is the only natural born Angel in the universe so he is very special and his family is very protective of him, especially Calis."
Published:
May 5, 2017
Editors:
Genres:
Pairings:
MM, NB
Heat Level:
5
Romantic Content:
1
Ending:
Click here to reveal
Character Identities:
Bisexual, Gay, Polyamorous, Transgender
Protagonist 1 Age:
Ageless/Immortal
Protagonist 2 Age:
Ageless/Immortal
Protagonist 3 Age:
Ageless/Immortal
Tropes:
Age Difference, Beach Romance, Bodyguard/Guardian Angel, Cheating, Class Differences, Death of Parent, Everyone is Queer, Fated Mates / Soul Mates, Married Life, Office / Workplace Romance
Word Count:
125488
Setting:
London, England
Languages Available:
English
Series Type:
Continuous / Same Characters
Excerpt:
After a long night of rest Calis awoke, he noted that his hip did not hurt any longer with it being healed overnight from the wild sex he had with his husband and that the bandages that Sebastian put on him were quite tight.  In fact, the bandages hurt so much that Calis hoped Sebastian would hurry up and take them off.
Sebastian was already up for the day and getting tea as well as breakfast together for his beloved.  When Sebastian came into the bedroom he almost dropped the tea set as he looked at the boy on the bed.
"Sebastian these bandages hurt, please take them off."
Calis noted his voice was lower although he was not fully awake to take notice of anything else.
"I will remove them immediately my Lord."
READ MORE
Sebastian shakily removed the bandages from the young man's legs.  Sebastian did not know how he did not notice the change in Calis when he woke, but he had been rather tired last night.
"Calis I think you should look in the mirror this morning."
Sebastian removed the bandages which were cutting into the boy's legs.
"Why?"
Calis asked thinking Sebastian was being ridiculous again.
"Trust me; you will want to see this young Lord."
Sebastian did his best to not literally attack the sexy young man.  Calis went from adorable to gorgeous and Sebastian wanted the boy to see it for himself.
"You are being so weird this morning, but fine."
Calis got up and then went to the mirror passing out cold at what he saw.  Sebastian caught the boy and placed him on the bed doing his best not to ogle too much since he had no bloody clue on what they were going to do for clothing now.
When Calis finally woke up Sebastian was sitting by the bed running his fingers over that silky thick hair.
"Was it a dream?"
Calis asked as he looked into Sebastian's eyes with those beautiful eyes of his.
"I am afraid not my love."
Calis frowned since what in the hell was he going to do for clothing now?
"So, I am really…."
Calis started to say when suddenly Ashton ran into the room in Christian's boxers with a big smile on his face.
"Calis I grew up!"
Ashton exclaimed as he stood in front of both Calis and Sebastian holding up his boxer shorts which were a bit big on him with his slender figure.  In front of them was a strapping eighteen-year-old young man with fine muscle tone and slender long legs.  Ashton was also gorgeous, but Sebastian only had eyes for Calis who frowned at Ashton.
"I grew up to, but not as much as you.  It is either that or I am short."
Calis said with a frown with Sebastian smirking a bit.
"Calis I think you are simply short.  We look about the same age."
Ashton said with Calis looking at Ashton in envy.  He wished he were taller, but he was indeed grown.  Ashton was as tall as Sebastian and absolutely stunning to Calis although the boy's hair was a bit long now and needed to be trimmed.
"Ashton go to your room and I will see if something of mine will fit you."
Sebastian tried to figure out if one of his pairs of boxers would fit Calis.  The boy was so slender and still so frail he wasn't sure anything would fit the boy.  He was certain he had something that would fit Ashton, but for Calis they were going to have to go shopping.
"Calis I am going to lend you a pair of my boxers for this morning and then measure you for clothing so we can go buy it for you today.  I will have Anne stay with you or would you prefer Christian?"
Sebastian asked as he got out a pair of his boxers pulling them over those long legs.  Sebastian also noted to not waste too much time getting Calis his clothing since for at least two hours he wanted the boy with no clothing on.
"I would prefer it if you stayed Sebastian.  Send Christian to go get my clothing with Anne and Ashton."
Calis said with a yawn since he did not want Sebastian to go anywhere.
"Nonsense, I must pick out the clothing Calis.  Do you want Christian and Ashton picking out your clothing?  I do not think so."
Sebastian said since he could just imagine the things Ashton would want to buy for Calis.  Shorts, short shorts, were what Sebastian imagined and those could only be on Calis if he was wearing them for sex play.  No one was to see Calis in anything inappropriate especially now that Calis was even more like walking art on legs.
"Sebastian, I don't want you to go.  I could care less what they pick.  Have them pick only one outfit for me for all I care and we will shop later, but you need to stay with me."
Calis said looking at Sebastian who was trying to find a way to argue with that.  It wasn't that Sebastian did not want to be around Calis, it was he was afraid of what Christian and Ashton might buy Calis in terms of clothing even for casual wear.
"Calis I should really go……"
Sebastian tried to argue only for Calis to grasp his husband by the hand and pulled him to the bed.
"You are not going anywhere."
Calis said as he kissed Sebastian passionately.  Calis now had a cock worth doing something with and he was going to fuck his lover to the floor.  Of course, Calis was still not happy with its size since it was nowhere near Sebastian's in length or width, but it was still better than before.
"Calis……. We can't."
Sebastian tried to get out as he gently pulled away from his love.
"Why not?"
Calis asked with a pout on his face.
"Because you are dreaming……."
COLLAPSE