by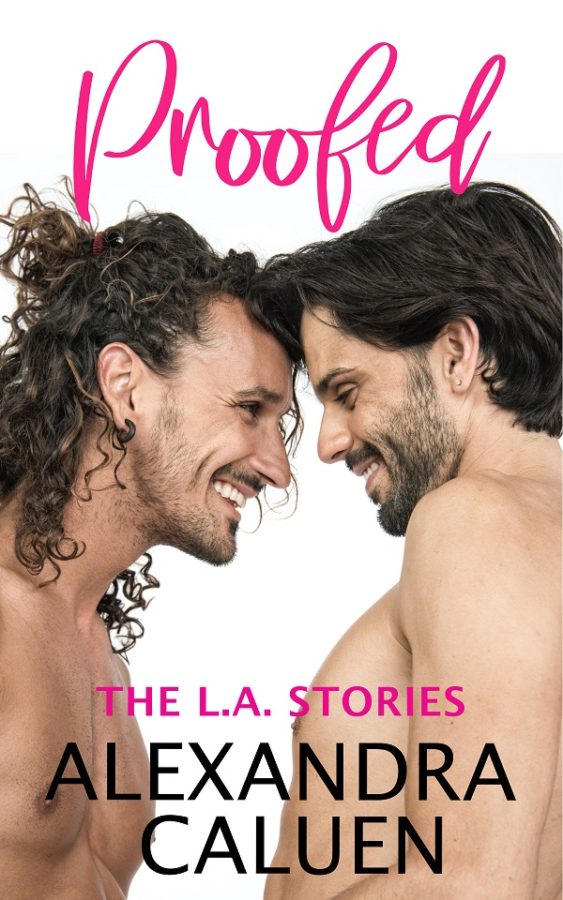 A neighbors-to-lovers M/M romance novella.
For nine years, bookshop owner Dominic has been getting his coffee across the street. For nine years, café owner Louie has been wondering if he'll ever risk making a move.
Then weeks go by with no Dominic. Is it a sign of trouble for the bookshop (and the neighborhood), or only for the man himself? Louie doesn't quite dare ask the booksellers; he and Dominic haven't been that kind of friends. The relief when Dominic comes back is overpowering. So much so that Louie finally makes his move.
Dominic expected the story of his life to pick up where it left off. He didn't expect the next chapter to include Louie. But from a touch to a kiss to a best-ever date, their story unfolds with a new surprise on every page. A new thrill, and a new chance.
Adult situations, themes, and language; 27000 words and a happy ending.
Published:
May 1, 2021
Publisher:
Independently Published
Genres:
Character Identities:
Gay
Tropes:
Death of Parent, True Love
Languages Available:
English
Series Type:
Same Universe / Various Characters
Excerpt:
Dominic found out Louie's trainee Benicio was working on his GED online. That led to another laptop, and some tutoring up in the loft. "It's not like being a professor," he told Louie on their first date in June. "More like when I worked as a tutor in college. I always did enjoy teaching, though."
"He doing the work for you?"
"Oh yeah. The guy is motivated. Once he's got his certificate squared away I'm going to see if he wants to start on the tattoo removal. He told me how much it cost and I almost said, jeez, that's all?"
"Aw, cher." Louie sat back in his chair, gazing at this sweetheart of a man.
Dominic blushed. He couldn't help it, with Louie looking at him that way. "Well, it's his face."
"Mm-hmm." A sip of plum wine, a bite of the miso-glazed eggplant, and another moment of admiration. "Eugene wouldn't have hired a cook with tats like that."
READ MORE
"Lots of people wouldn't. I get the idea Benny likes the kitchen side of things, but it'll change his life if he's comfortable out on the floor."
"For sure. I had a moment, or like five minutes, when I thought about getting a tattoo. I was a little bit lit," he added, which made Dominic laugh. "The person I was with said honey, you don't want this asshole drawing on you unless you're sober enough to stop him."
Dominic was grinning. "What were you going to get?"
"Oh, something stupid. The next day, my friend texted me a picture of the design I was looking at and said, you glad this ain't on your ass right now?" They were both laughing. "I texted back, I owe you one. He was like bitch, can you count?"
"Was it actually going to be on your ass?" Dominic could hardly get the words out.
"No! That's the stupid part! I was gonna put it, like, here." Louie patted his shoulder. "I was always running around sleeveless those days. The whole world would've seen that shit." Dominic's cuteness was killing him right now. "All right, it was this Mardi Gras nonsense. Mask and beads and a fleur-de-lys in three colors. Laissez les bons temps rouler." He gave that an ironic twist.
Dominic finally got himself under control. "You must have been more than a little bit lit."
"Oh yeah. I decided I better spend more time in the kitchen, less time in the bar. That's when I came up with my praline bread pudding." A yummy sound from his lover made Louie's toes curl. That's what he sounds like when he puts his mouth on me. "Bourbon-soaked raisins and crème anglaise. We sold that all day long."
"It's not on your menu here," Dominic said, so sadly that Louie laughed again.
"What would I call it?"
"Hmm." Dominic ate some of his caterpillar roll, thinking about it. "How about Seven Sinners? You don't have anything named after Marlene Dietrich."
Louie took a second to pretend he had to think that over, wondering if he ever had this much fun before this man. Then he nodded judiciously. "All right. Been a while since I made it, though. You might have to sample it for me."
"I'll do that and more." Louie raised his eyebrows; Dominic raised his too. "I'll get you the bourbon." They were halfway home when he spotted a BevMo and pulled in. The clerk was probably wondering if they were already drunk. Neither of them really drank whiskey, so they asked for a recommendation, and then when Louie said he was going to soak raisins in it the clerk gave him such an appalled look that they both totally cracked up.
When Louie tried to insist on paying for it – "You got dinner, cher" – Dominic just took the bottle out of his hand and gave it to the clerk. Kissed him like nobody was watching. Wrapped an arm around him and kept it there until they had to separate to get back in the car. Louie spent the remainder of the drive telling himself to watch his mouth. A few more dates like this and something over-the-top was bound to fall out of it.
COLLAPSE