Jack's Magical Beanstalk V3
by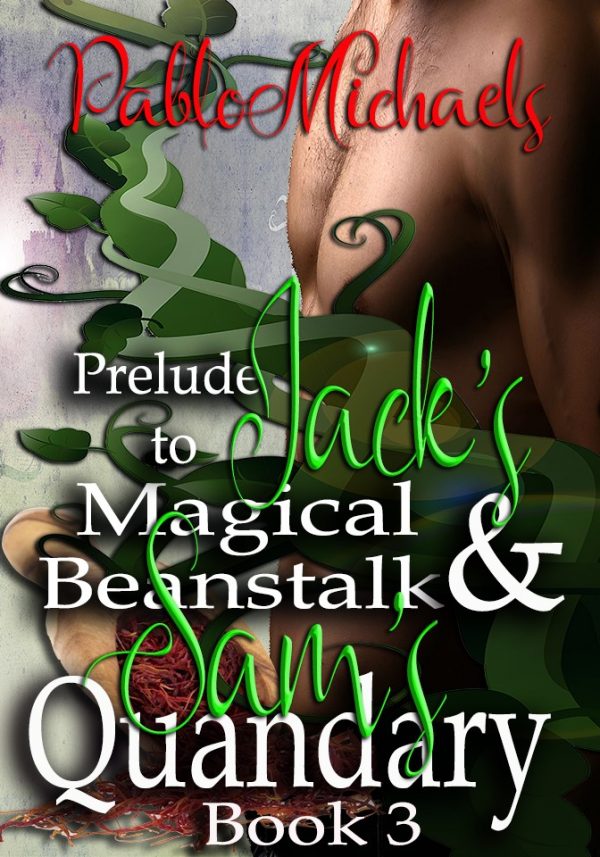 Jack's Magical Beanstalk & Sam's Quandary is the story of Jack and the Magical Beanstalk seen through Jack's partner and lover's eyes.
The story began when Jack's future love interest, Sam watched him flee from the evil giant Master with his bag of gold coins. When they met they were infatuated with each other. Through Jack's escapades with Master, Sam eventually followed Jack down the magical beanstalk to live with Jack but the beanstalk had to be cut down.
Subsequently, Sam was prevented from seeing his father and brothers. When Sam discovered his father's illness, he conspired to plant a new magical beanstalk, having to do so secretly. Adam the farmhand had his suspicions and blackmailed Sam into a sexual fling to keep the secret.
Did Sam save his father from sickness? Did Jack follow his lover when the farm faces ruin?
Published:
September 4, 2016
Editors:
Illustrators:
Cover Artists:
Genres:
Pairings:
MM
Heat Level:
3
Romantic Content:
4
Ending:
Click here to reveal
Character Identities:
Gay
Protagonist 1 Age:
Varies During Story
Protagonist 2 Age:
Varies During Story
Protagonist 3 Age:
Varies During Story
Tropes:
Alpha Character, Big Character / Little Character, Class Differences, Fairy Tales Revisited, Fated Mates / Soul Mates, Forbidden Love, Hero and the Great Quest, Love Triangle, Coming of Age, Cultural Differences, Out for You, Thrill of the Chase
Word Count:
7240
Setting:
USA
Languages Available:
English
Series Type:
Same Universe / Various Characters
Excerpt:
Once upon a time, two equally handsome young men lived on a prosperous farm. Sam and Jack were deeply in love and had devoted their lives to their relationship, their happiness, and the well-being of their parents, Jack's mother, Lorene, and Sam's father, Jason. But their widowed parents lived in different, far away worlds. Jack grew up on the farm, while Sam grew up high in a faraway land. They currently employed two loyal farmhands, Zeke and Adam, and had a prized cow, Pearly White that helped them survive through leaner times.
READ MORE
Sam and Jack fell in love years before when Sam lived in a land high above the clouds. In this different world, Sam lived with his father and brothers in a tribe inhabiting the forests, bordering a cobblestone road, leading to a majestic castle possessed by two giants, Master and his submissive servant, Slave. Often, Sam snuck into the castle to steal food for his family, especially when a member of his family became ill, the sickness usually Giant Fever. Although Slave gave morsels of food when Sam begged, Master delighted in feasting on humans like Sam. Sam developed his skill in running with exceptional speed to prevent being captured by the giants. Living naturally without clothes was a necessity to hastily flee them. Nudity, also enabled the people in his tribe to select their mates. It was only natural they went about their daily lives uninhibited and naked.
Sam first met Jack from a distance when Sam lurked in the background after getting food from Slave for his ailing father. Sam noticed a strange man who wore clothing, like the giants, but fleeing with Master's bag of gold coins. Sam's thought about this man he saw running for his life.
How strange. A man like me who wears cloths like the giants. There is something about that man I like. Where is he going? He's definitely in a hurry to get away from Master. He must know that Master loves to eat us. That man must be adventurous to be bold enough to steal from this villain. I would like to meet him. Sam stared, and stared, and stared.
As Jack fled the pursuit of Master and Slave with the coins, he noticed Sam watching him from a distance. Their eyes locked with more interest than curiosity. Jack disappeared down through the ground, vanishing from Sam and the giants. Oh, no. Master has stopped chasing him. The man must have fallen off the ground into oblivion. That's disappointing. I wonder where he was from. Sam thought the man had fallen off the edge of the world. So he returned to his family with food for his ailing father, thinking of the man who wore clothes. The clothed man left a deep impression in Sam's mind, a rush of sensations breeding curiosity and desire.
COLLAPSE
Reviews:
arica shupe

on

Hot Box Reviews blog

wrote:
A short sexy read from Sam's point of view was full of ups and downs but the constant was his love for JackThis was a new and different take on this fairy tale that i haven't read before. A short sexy read from Sam's point of view was full of ups and downs but the constant was his love for Jack. The author really brings you in to see Sam's side of the story and how he saw his relationship with Jack and the characters surrounding them relationship. This m/m fairy tale captures your interest with the descriptions of all that goes on around Sam and Jack from the first to the last page.
stacey c. brown

on

https://www.amazon.com/gp/pdp/profile/A1U0RS0JIDAHDM/ref=cm_cr_dp_pdp

wrote:
family lovers and friendships .
this is a prelude to the 1st and 2nd books which i have already read , but a brief recounting on the story until he goes up the beanstalk Sam and to his family . and the fact his family and him were cut off from him after book 1 . but now there is a second beanstalk that he can go back up to be with his family but can also come back down to be with jack to find out buy and read this book and books 1 and 2 . to see how Jack and Sam's story unfolds .
Robin Barton

on

https://www.amazon.com/gp/pdp/profile/A1XDJIA70PO34V/ref=cm_cr_dp_pdp

wrote:
Added Insight

Having read Jack's Magical Beanstalk, I wanted to read this prelude to find out answers.
I really enjoyed Jack's Magical Beanstalk. However it is always nice to find out what the other person in the story felt as events were going on.
Hearing Sam's point of view about the events helped add a different perspective to the story.