Play Series 3
by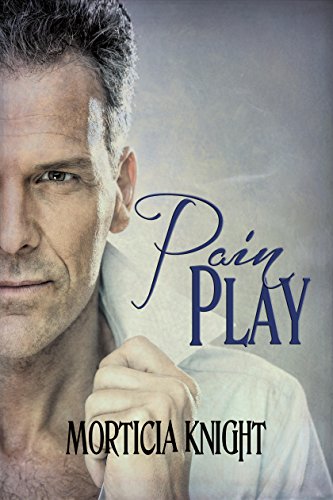 Terry is ready for some pain that brings him pleasure…
The deeper Terry becomes immersed in a 24/7 dynamic with Phil, the more he realizes that he's ready for them to be full-time. There might still be plenty to learn in his D/s journey with his Master, but he's discovered a sense of peace and fulfillment he hadn't known was possible.
Phil can't wait to show his boy how exquisite erotic pain can be.
Phil couldn't be more thrilled when Terry confesses his desire for them to take the next step in their Master/sub relationship, and he decides to explore some of Terry's soft limits regarding pain. Adding to his joy are the approaching holidays that include celebrating with their friends. If only he could receive an offer for a film project, Phil would get all his Christmas wishes.
Surprises are revealed, forbidden desires are shared, and their New Year begins with a bang—which not only brings them closer to each other—but to their friends, Master Gerard and his boy Marco.
Author's note: Pain Play is part of a continuing series that chronicles Phil and Terry's loving D/s journey and should be read in order. Phil and Terry are a committed, monogamous couple, but there is a scene of group play. This story ends with an HEA, no cliffhanger and doesn't include any additional content. Pain Play is approximately 37,500 words and 120 pages. Watch for more in the Play Series coming soon!
This book is on:
2 To Be Read lists
1 Read list
1 Currently Reading list
Published:
January 18, 2018
Publisher:
Knight Ever After Publishing
Cover Artists:
Genres:
Pairings:
M-M
Heat Level:
5
Romantic Content:
4
Ending:
Click here to reveal
Character Identities:
Gay
Protagonist 1 Age:
26-35
Protagonist 2 Age:
36-45
Tropes:
Age Difference, Alpha Character, Hurt / Comfort, Second Chances
Word Count:
37500
Setting:
Los Angeles, CA
Languages Available:
English
Series Type:
Continuous / Same Characters
Excerpt:
Terry stirred, soaking up Phil's warmth as he snuggled into him. He let out an unbidden groan.
Fuck.
His first thought was that he was going to regret the throbbing sting in his nipples or the deep ache in ass cheeks, but as he bent one knee to drape a leg over his Master, his next thought was how delicious the lingering pain felt, how it was like having Phil's continuous touch all over him. A low moan rumbled in Phil's chest and he rolled on his side, wrapping an arm around Terry then tugging him closer. Terry used his leg to embrace Phil's limbs even more as he rubbed his face against Phil's neck.
"Morning." Phil's sleep-roughened voice was more growly than usual.
It had been quite a night.
READ MORE
Despite the occasional off-hand remarks Phil made about his age and diminished prowess, it hadn't stopped him from fucking Terry twice after they'd had a chance to rest up from Phil's enthusiastic flogging. The multiple coming in the same night for them both wasn't something that had happened since they'd been reunited. Terry grinned. Ass is sore on the inside too. They'd both gotten a thorough workout.
"Good morning, Master." He yawned a bit too loudly.
Phil chuckled, the deep timbre of his voice a cock-awakening sound. "I'd ask if you need more sleep, but that nice, hard rod pushing against my stomach says otherwise."
"What can I say? I'm hot for you all the time."
Phil traced circles with his fingertips on Terry's back. "Flatterer." He placed a firm kiss on the top of Terry's head. "But I'll take it."
"I'm the one who took it last night."
Phil barked out a laugh. "That you did. And quite well, I might add." Phil hugged him. "What time does your session begin?"
Terry's eyes went wide and he jolted out of Phil's arms, smashing their chests together as he surged over Phil's torso to check the digital clock on the nightstand. Phew. But what a boner-killer. He collapsed into Phil's embrace again. Even though he didn't typically sleep much past dawn, their enthusiastic play the evening before had exhausted him.
Phil snorted. "Everything okay?"
"Yeah. Sorry about that. They won't be here 'til ten. I've got almost two hours still."
"Then may I hold my beautiful sub for a few more minutes before we start our day?"
Terry smiled. "Of course."
He wriggled against Phil to work himself back into a comfortable position. His bladder wasn't screaming at him yet, but he didn't figure he'd last much longer than the few minutes Phil had requested. Terry chewed at his lip, the pleasant dreamy zone he'd been in when he'd first awoken had been ripped from him, which meant that instead, his mind was whirring the way it always did. Phil jostled him.
"Baby? You're tense."
Terry let out a frustrated sigh. "Yeah, sorry. My brain is up and at 'em. You know how I get."
"That's okay, I understand. Then let's go over our day for a moment before I feed you your breakfast."
Terry snapped his head up, furrowing his brow as he stared down at Phil. "Wait, what? Again?"
Phil's expression radiated amusement. "You're like a prairie dog this morning."
Terry gave Phil a smirk. "Ha ha. Now what about the breakfast thing?"
Phil smiled, caressing Terry's cheek, his thumb scraping the stubble there. "Let me do this for you. Then, after your session we'll discuss everything in depth when we go over our permanent contract."
Permanent. Holy shit and fuck yeah.
"Okay. I can do that."
Phil searched his face, and whatever aspect of their relationship—or perhaps Terry himself—he was musing on, seemed to fill his Master with contentment. He ran his hand along Terry's cheek before threading his fingers through his hair. "Thank you. Taking care of you that way made me very, very happy."
Terry smiled, Phil's statement reminding him of how much he'd been touched by it as well. "I'm glad. I was thinking it might be one of those things you only liked to do on occasion, or was only for my benefit, and you didn't get all that much out of the act."
"Mmm. I get a lot out of feeding you and I'm continuing it for our benefit." He kept playing with Terry's hair. Phil cupped the back of his head then drew him in for a chaste kiss. "Nice to be coddled a bit, isn't it?"
Terry swallowed hard. He constantly struggled to let go, to allow himself the true vulnerability that Phil wanted from him. "It was, I mean it. I suppose I assumed it was merely part of a scene."
Phil gave him a soft smile. "But you said you were sorry the scene ended, that you wanted us to be 24/7 from now on."
Terry chuckled shakily. "Yeah. I remember saying something to that effect."
Phil's brow furrowed. "We don't have to be 24/7 yet if you're still unsure. Just hearing you say you wanted to at all let me know we're making real progress."
Terry grabbed the hand Phil had cupped around his nape, prying his fingers loose so he could clutch their joined hands to his chest. "No. I'm not unsure, just nervous. I'll fight you. Even if I don't want to, won't mean to—I will. You've been a lot softer with me since what happened with Anson and those assholes. And I love that gentle side, it's so different from what I'm used to with us, but I need your rougher side too. Don't be afraid to push me. You never were before."
COLLAPSE