by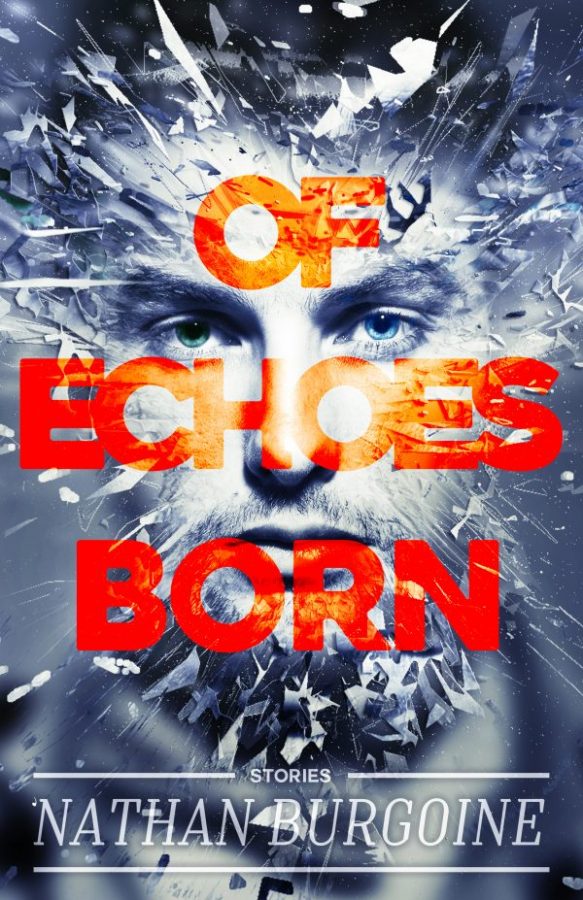 Editions:
Paperback

-

First Edition

: $ 18.95

USD

ISBN:

9781635550962

Pages:

252
ePub

: $ 9.99

USD

ISBN:

9781635550979

Pages:

252

Outside a hospital in Ottawa, a heartbeat returns long enough for a good-bye. Downtown, a man steps into shadows of the past to help those who have died find their way free from their memories. In Niagara, an icewine vintage is flavored with the truth of what happened on a dark evening of betrayal. In British Columbia, the snow itself can speak to someone who knows how to listen.
The past echoes through these queer tales—sometimes soft enough to grant a second chance at love, and other times loud enough to damn a killer—never without leaving those who've heard it unchanged.
Of Echoes Born is the first short story collection from Lambda Literary Award finalist 'Nathan Burgoine.
Published:
June 1, 2018
Publisher:
Bold Strokes Books
Editors:
Cover Artists:
Genres:
Pairings:
MM
Heat Level:
3
Romantic Content:
3
Ending:
Click here to reveal
Character Identities:
Bisexual, Gay, Lesbian
Protagonist 1 Age:
Varies During Story
Protagonist 2 Age:
26-35
Protagonist 3 Age:
66+
Tropes:
Coming Out / Closeted, Families/Raising Kids, Meet Cute, Second Chances
Word Count:
73900
Setting:
Canada
Languages Available:
English
Excerpt:
There & Then
The world shattered. People, the classrooms, even his own hands—no matter where Christian looked, he seemed to be staring through layer after layer of broken glass windows in a place without gravity. Triangles of the view shifted and rotated, coming in and out of focus, and the world didn't line up right behind them. It distorted everything along sharp lines, sometimes twisting, sometimes rotating, but always broken.
Maybe he was dying. Maybe he was going mental.
Either way, he was totally blowing off third period English.
He hadn't ever skipped a class before, but he hadn't lived under a rock. He knew where to go. Now, under the Art wing stairwell like a far more practiced malcontent, he tried to figure out what to do next.
READ MORE
Tucked up tight, out of view of any stray teachers, he sat and rested his forehead against his knees, trying to get past the pain and the way everything kept shattering when he opened his eyes long enough to think.
He'd had headaches before. Lots of them. They ran in the family, his mother had told him the first time he'd had weird blurry spots across his vision. She'd told him to lie down and take some painkillers before the headache hit. His mother's migraines would knock her off her feet at least once a month, so he'd taken her advice.
When he'd gotten his first headache at thirteen, it had made him weep with pain. That was right after he'd been skipped a grade and dropped into high school. They hadn't stopped since.
But three years later, this headache had come. It was worse than anything that had happened before and was so sudden and fierce, he nearly screamed out loud when it hit in the middle of biology class. Instead of blurry spots, he saw weird trails of color and light so bright he thought he was going blind.
Then everything had started shattering, and that was it. He'd had enough. He put his hand up, asked to go to the bathroom, and had been here ever since.
Dying or crazy?Dying or crazy?The two options danced along with the beat of his pulse.
"Breathe," he said. Sometimes when the headaches were really bad, he'd start yawning, which always made it worse. He took deep, even breaths, waiting for the extra-strength painkillers to kick in. He always carried them.
The pain receded a bit. He didn't know if it was from the cool quiet where he was sitting, or the pills, but he'd take it. He lifted his head and opened his eyes.
He could see the wide green field outside the school through the floor-to-ceiling windows running along the stairwell's east wall. Strange trails of light still swam around the edges of his vision, but it wasn't quite as bad as before, and at least nothing was cracking.
But then his view of the field shattered, pieces breaking off and spinning away, and behind them…the field…only…there was snow? He thought he saw some people walking around, too, covered from head to toe, complete with toques.
He rubbed his eyes with the palms of his hands.
"Stop it," he said. "Stop it."
When he opened his eyes again, the glimpse of snow was gone and the field was green again. There were no people. Colors still twisted in the corners of his vision, but at least he could see what was in front of him. That was better than nothing. And the pain was letting up. Finally.
Christian exhaled, relieved.
A cloud of bruised blacks and browns bled from above. He glanced up and waved a hand, thinking it was smoke until they seeped through the stairs, not reacting to his touch.
A moment later he heard footsteps on the stairs above, and Dawn Solati slid in beside him a few seconds later.
"I didn't think you skipped classes," she said.
The awful twists of black and brown, as well as dark purples, were coming from her. They sort of pulsed out of her.
Christian rubbed his eyes. "Headache."
"Figured there was a reason," she said. "Scoot over."
He moved. He was a little surprised himself. Dawn was solid B-crowd. Track athlete, decent grades, a bit standoffish, sure, but otherwise she blended in with the crowd. She had a lean, lanky grace that made Christian think of horses, and though boys teased her about being skinny, she tossed back insults with a sharp tongue and a wicked, aloof smile.
Those horrible colors didn't suit her, he thought. He couldn't help but look again.
The bloom of black and purple was a thundercloud around her. He could imagine the sound of thunder. But he still saw her despite the dark, roiling mass. He felt like he had two sets of eyes or two different lines of sight, both of them looking at the same person but seeing something different.
He saw other colors inside the bruised cloud, but it was almost impossible to see past the dark layers. The more he tried to focus on the cloud of dark colors, the more the pressure in his head seemed to pull back. He stared at her, trying to understand what was happening.
Dying or crazy? Dying or crazy?
Or…?
"Something on my face?" Dawn said.
"Sorry," Christian said. He'd been staring at her for far too long, but just before he looked away, he finally slipped past the roiling storm clouds surrounding her. Inside, he saw a tiny spark of something that burned with a golden light.
"Seriously, what are you looking at?" Dawn snapped.
"Are you pregnant?" Christian said.
Dawn gaped.
COLLAPSE
Reviews:
Publishers Weekly

on

Publishers Weekly

wrote:
"Burgoine assembles 12 queer supernatural tales, several of which interlock...The best tales could easily stand alone; these include 'The Finish,' about an aging vintner whose erotic dalliance with a deaf young man named Dennis gets complicated, and 'Struck,' in which beleaguered bookstore clerk Chris meets Lightning Todd, who predicts his future wealth and romance. A pair of stories set in 'the Village,' a gay neighborhood, feature appealing characters and romances and could be components of a fine Tales of the City–like novel."
This collection contains six reprinted stories and six new stories.