Jack Addison vs. a Whole World of Hot Trouble
by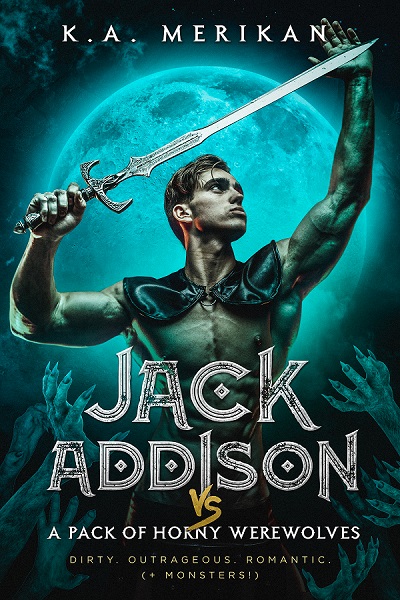 "Apparently, black market werewolf pheromones were readily available if one knew who to ask."
Two years on from his first assignment, Jack Addison is a seasoned monster hunter, as hungry for fame and glory as he'd been when he first saw his rival, Roux Chat-Bonnes. They meet again when Jack is trapped by seven polyamorous gnomes, but what Roux doesn't know is that Jack has developed a taste for unusual creatures and got himself captured on purpose.
Roux himself, with his furry body and graceful tail, is just the kind of man Jack would like to get to know intimately, if he only wasn't so uncertain about flirting.
Opportunity for time together comes when the two of them are asked to hunt down a rogue werewolf pack. But with Roux being his usual uptight self, Jack turns his attention to the possibility of charming a werewolf. To increase his chances, he purchases a vial of pheromones, but once Jack and Roux are alone in the woods during the full moon, the line between hunter and hunted gets blurry.
POSSIBLE SPOILERS:
Themes: pride, experimenting, werewolf, shifter, menage, sacrifice, dreams, self-discovery, tolerance, fame, monster hunting, interspecies relations
Genre: M/M romantic erotica, horror-comedy
Erotic content: Scorching hot, explicit scenes
Length: ~15,000 words (Episode 3 in the serial)
WARNING: This story contains morally ambiguous characters and scenes that might be considered taboo.
Published:
January 2, 2019
Publisher:
Independently Published
Editors:
Cover Artists:
Genres:
Pairings:
M-M, 4+ or Other
Heat Level:
5
Romantic Content:
3
Ending:
Click here to reveal
Character Identities:
Gay
Protagonist 1 Age:
18-25
Protagonist 2 Age:
18-25
Tropes:
Antihero, Big Character / Little Character, Biological Urge to Mate, Cultural Differences, Enemies to Lovers, Forbidden Love, Interracial Relationship, Opposites Attract, Slow Burning Love, Smartass Twinks, Thrill of the Chase, Trapped Together, Trickster Hero
Word Count:
15000
Setting:
Bohemia, Europe, Germany, Bavaria, Czechia
Languages Available:
English
Series Type:
Continuous / Same Characters
Excerpt:
If Jack were to pick the most transformative moment of his young life so far, he would have to pick the day he'd met Lavaan—or Nessie—and lived to tell the tale to precisely no one. He did share the unbelievable secret (without details) with Drake Nguyen and a number of unidentified venators who'd stumbled upon the beautiful creature during the annual hunt, but for the most part he felt alone in his newfound affinity for non-human bodies.
It was an indulgence he needed to keep to himself, so only he and his lovers knew the truth about Jake Addison, and not a single word about his escapades could ever reach his father's ear. But away from the predominantly human population of his hometown, the world was rich in the weird and wonderful, and Jack's appetite grew with each exotic conquest.
READ MORE
There had been a giant far North, whom Jack had to jerk off using his entire body, and who had come so much Jack could have lost his life drowning in spunk. A few weeks later, he'd been sucked off by a male veela, and fooled around with a poltergeist who refused to leave its former home due to unfinished business. Thankfully, he was more agreeable after getting a good fucking from Jack.
But not all of Jack's attempts at broadening his sexual horizons had been as successful. Two months prior, he'd attempted to seduce a swarm of sentient bees, only to end up trapped and begging for mercy when their teasing turned into torture. Weeks had passed until all the ugly stings were gone, and his dick once again worked as normal.
But failure had never stopped an Addison from exploration, which had brought Jack to the beautiful valleys of Bavaria. And a group of seven polyamorous gnomes, all eager to get a piece of him.
Technically, his job had been to subdue them, trap them, and bring them to justice at the local interspecies negotiator's office, but when Jack had first read about their scandalous, obscene behaviors scaring away venators, he took a coach all the way from Berlin to try and get himself some action.
He let them entrap him and pin him to the ground with his own rope—naked—but what they didn't know was that the rope had been created by Jack's ingenious sister and would loosen if he pressed hard in a sequence only Jack knew. If he needed to, he could free himself from peril at any second.
One of the gnomes, a thick-limbed fellow with a salt-and-pepper beard and large feet, slapped his small hand against Jack's face, leaving behind a sting, before barking something in German.
Jack moaned into the gag made of the tiniest of comforters and a gnome-sized bedsheet, and jerked his hips, aroused by the prospect of getting intimately acquainted with this depraved septet. Were he anyone else—he'd have been trapped for good.
Packe, the youngest of the gnomes, still beardless and with a high-pitched voice, was the only one to know English. He gleefully crawled up Jack's chest on his hands and knees, offering a toothy smile. His teeth were so ungodly small in comparison to the size of his mouth!
"You will be sorry you walked into our territory, human," Packe said, before rapidly unfastening his pants to present his cock, which already seemed unnaturally large for his size, and still growing.
The one with the annoying giggle rubbed a feather along Jack's cheek, then all the way down his neck. He was saying something in German, but it sounded as if he were laughing at his own jokes. The glide of the feather down his body made Jack wriggle helplessly in the binds.
Another gnome pulled his cock out and had to use two of his tiny hands to stroke himself. No one would ever believe Jack if he told them about this.
Their cocks were small in comparison to that of an average human male's, but those gnomes were known to play rough, and just thinking about them parting his buttocks, two, maybe even three pricks pushing into Jack's hole at once, set his skin aflame and made him rock against the teasing touch.
That was exactly what he wanted—the kind of illicit experience most of his friends wouldn't have been able to get their heads around. He was about to get fucked into oblivion by seven gnomes, and do his actual job of bringing them to justice once he was satisfied. What a fantastic way of killing two birds with one stone!
Jack gasped when a rock fell to the side of his head. He hadn't imagined they'd be playing that rough. But the gnomes seemed confused as well, and when Jack turned to look where the rock fell, he frowned at the smoke coming out of the round object.
He knew the scent—a Slumber Smoke Bomb! He writhed in his binds in panic.
No!
Not yet!
But Packe's eyes closed, and he fell headfirst to Jack's chest, still holding his engorged cock. Jack fought the sudden tiredness, but it was no use. Soon enough, he dozed off as well.
COLLAPSE