by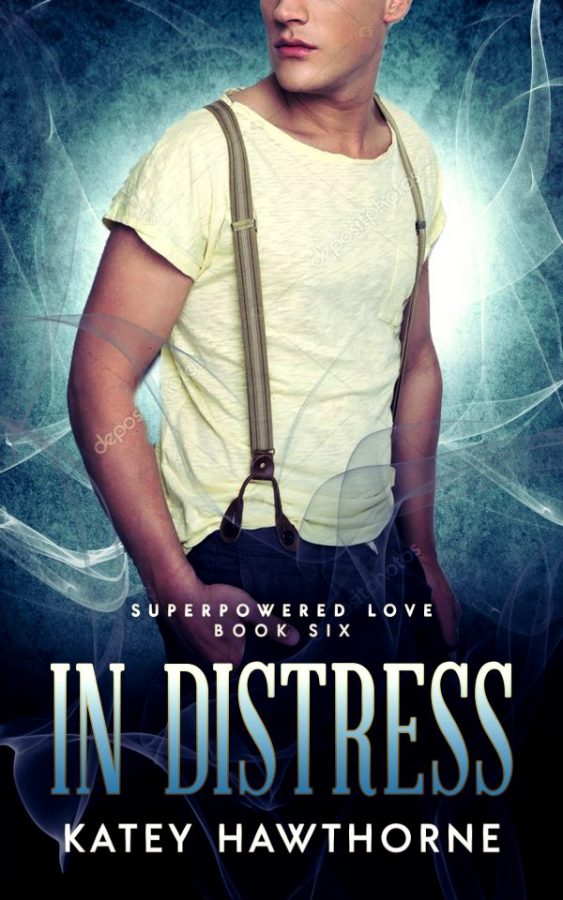 Hopeless romantic Eddie Kim acts out his favorite 'rescued by the white knight' fantasies through weekly D&D campaigns, but has almost given up hope of ever getting a real one. Then Callum, a mysterious redhead with freezing superpowers and a memorable kiss, saves him from a house fire before promptly disappearing.
Then Eddie's friends look to Craiglist to relocate his hero. Unfortunately, the publicity brings down the kind of attention Callum has been trying to avoid. He's in town to clear his family name, and now the dangerous superpowered organization he needs to thwart knows he's back.
The heat between Callum and Eddie flares, and Eddie insists on helping repair the damage his romantic notions have done. But that means embroilment in a nefarious plot, exploring a superpowered world Eddie didn't even know existed a week ago, and crafty foes trying to trick and use him. All that, while convincing Callum to trust him to be the white knight for once, instead of the perpetual damsel in distress.
Published:
March 20, 2019
Cover Artists:
Genres:
Pairings:
M-M
Heat Level:
4
Romantic Content:
4
Ending:
Click here to reveal
Character Identities:
Bisexual, Gay, Genderfluid
Protagonist 1 Age:
18-25
Protagonist 2 Age:
18-25
Tropes:
Criminals & Outlaws, Interracial Relationship, Rescue
Word Count:
33,600
Setting:
Columbus, Ohio
Languages Available:
English
Series Type:
Same Universe / Various Characters
Excerpt:
When Gloria showed me the apartment, she said, "Eddie, sweetie, we're redoing the whole kitchen. Don't even sweat it, okay?"
And I said, "The whole kitchen? Oh no. No, no, no, you have got to let me keep that old stove. It's adorable." Lots of italics, just like that, because Gloria's just one of those people who inspires others to talk in random italics.
So maybe I'll just blame the fire on italics. Because that stove, oh my God, I don't know what even happened, but it set some shit on fire about six months later. And there I was, sleeping like a cliché-baby on my futon, dreaming about that guy who plays Jon Snow in Game of Thrones. About him crawling up that giant ice wall with my thighs wrapped around his waist, saving me from the attacking Wildlings. Me shifting my hips (gotta keep warm on the Wall somehow) and whispering into his ear, "Faster, baby. Winter is coming."
I have weird dreams sometimes.
READ MORE
The point is that I probably would've died if someone hadn't hauled me to my feet. Which I also thought was a dream, but no. The first thing I noticed was that the hands pulling me around were large and gloved—and freezing cold even through the leather. Or maybe I was just hot, because I was sweating and having trouble breathing. But then I shivered violently.
"You're okay. Just come with me," said the voice attached to the hands.
My feet slipped on inexplicable ice. The strong, gloved hands steadied me, and the voice said, "Shit, sorry." Then my feet were wet, but it wasn't so slippery, and I could walk.
And some guy in a black hoodie and leather gloves led me out of my smoke-filled apartment in the middle of the night. As we turned in to the hallway, flame flared up at the end. He held out a gloved hand. By the firelight, I saw frost spread in a flash over the wall and floor, snuffing out the flames.
I shivered again and decided I was still dreaming. And if I took this guy's hood off, it was clearly going to be Jon Snow. Maybe I should jump on his back?
He tugged me out onto the rattly wrought-iron porch and started down the equally rattly stairs. He was tall, taller than me—which isn't saying much, but still—with broad shoulders and slim hips. It was a perfect swimmer's build, but he moved like he didn't realize it, with an almost adolescent awkwardness. "Don't you have a fire alarm?"
"It needs a battery," I said, dazed. There was a small streetlight in the parking lot below, and the moon was out, and all I could smell was melting plastic. Now my brain was finally waking up. Oh God, this is real. My apartment was on fire—is on fire—was on fire, and this guy put it out with… What the hell did he just do? Who the hell is he? Oh my God, this is not Jon Snow!
"Well, consider getting one." The voice was mild and somehow equally awkward but far from adolescent. "I'll call you an ambulance. I have to get out of—"
But I wasn't having that crap, by then. Adrenaline had belatedly kicked in, and I grabbed for his arm and spun him.
He was pale, possibly with a sprinkling of freckles, but I couldn't see his hair under the hood. I could see his lips, palest pink and plump, especially the bottom one, which looked like someone had bitten it hard and the swelling had never gone down. Nice bone structure too—nothing supermodel or delicate, but hard, straight lines and angles. For some reason it made me think: Football hooligan? He was pretty, but the kind of pretty that'd still be scary in a fight.
And he'd probably just saved my life. I had a million questions (chiefly: Why the hell were you in my apartment—when it was on fire?), but my heart was racing with the sudden acknowledgement of my own ridiculous mortality. I had somehow forgotten the words thank you. So I grabbed the front of his hoodie, went up on my toes, and kissed him.
Because that's what the damsel in distress does when he gets rescued from the tower.
I did mention I'd just been torn out of sleep and bed by an apartment fire and a stranger in my room, right? I was a little confused, so I was just going with the subconscious here. I still say I was not wrong.
COLLAPSE