by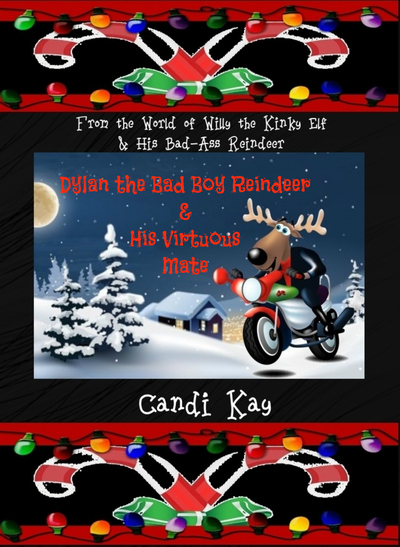 From the world of Willy the Kinky Elf & His Bad-Ass Reindeer.
The North Pole isn't exactly as it appears in fairy tales. It has the elves and Santa and his reindeer, but Santa and Mrs. Claus aren't the jolly couple the world believes them to be. Far from it, actually. The reindeer are all shape-shifters who transform into gorgeous beings in human form and are respected by all.
Reindeer Dylan is the ultimate bad boy - wearing leather, riding a motorcycle, having sex anytime he wants. Forced to run away as a teen, he's had to fight for survival. Now twenty-five, Dylan lives in Mistletoe Hill, the one place in the North Pole that's not eggnog and sugar cookies.
When Santa's wife promises to share information about Dylan's long-missing mother, he reluctantly escorts her to the annual Christmas party to make Santa jealous. What he doesn't expect is to see a reindeer who'll have him wanting something he's never wanted before. Scared of what he's feeling, he leaves, not even knowing the reindeer's name.
Cole Crawford is one of the North Pole's most respected citizens. Not one for random hookups, when he locks eyes with Mrs. Claus' date at the party, he's convinced he's found his mate. But then the reindeer bolts, leaving Cole wondering if he'll ever see him again.
When Mrs. Claus breaks her promise, Dylan contacts the Chief Reindeer and his elf for help locating his mother. Unfortunately, there are powerful people who'll stop at nothing to ensure that certain secrets stay buried. Elf Willy just wants to play matchmaker and drink his Peppermint Whiskey. After witnessing the look between Dylan and Cole last Christmas, he makes it his elfly duty to bring them together.
Published:
November 1, 2018
Publisher:
Independently Published
Editors:
Genres:
Pairings:
M-M
Heat Level:
4
Romantic Content:
4
Ending:
Click here to reveal
Character Identities:
Gay
Tropes:
Fated Mates / Soul Mates, InstaLove / Love at First Sight, Opposites Attract
Word Count:
60000
Setting:
North Pole
Languages Available:
English
Series Type:
Same Universe / Various Characters
Excerpt:
I stand up and again pull him into my arms. I hold him for several minutes before forcing myself to pull back a little.
"I've never in my life wanted a man as much as I want you right now," I whisper to him.
"Let me take care of you, Dylan."
I shake my head.
"Soon." 
"Promise?"
"Oh, yeah. I'd love nothing more than to stay here and spend time with you, get to know you."
"But?"
"You have to go back out there before somebody really does strangle Willy."
"And you?"
READ MORE
"I had some things thrown at me earlier that I need to try to process." I place a finger over his lips when he goes to speak. "But I'll be back. Now that I've found you, I plan on sticking around to find out why you've been stuck in my head for the past year."
I take a step back.
"I have a lot of questions, Dylan."
"And I'll answer every one you throw at me, including why I was at the Christmas party with Santa's wife."
He fixes his clothes and walks around to the other side of his desk. He grabs a business card and hands it to me. I slide the card inside my front pocket and walk to the door.
"Dylan?"
"Yeah?"
"I can't do just sex. That's not who I am."
"I don't just want sex, Cole."
The relief on his face when I say it is obvious.
"When you saw me at the Christmas party..." I trail off, not wanting to make a fool of myself if he didn't feel the same connection I did.
"Dylan, it took all my power not to grab you the minute you walked in with Santa's wife. I wanted to break her fingers when she tried to put her hands on you. I don't think you saw me until you were leaving, but I watched you from the time you walked in until you took off."
"And?"
"To be blunt, I wanted you. I wanted you in a way I'd never wanted anybody else. I didn't even know your name yet you've been on my mind almost constantly since that night. I had no idea where you were or how to find you. I just knew something happened when you looked at me across the tent." He takes a deep breath. "You?"
"The same. It freaked me out. I didn't see you until I was trying to leave, but when I did, I almost made a complete fool of myself. How'd you know I was gay? I was there with the most hated female in the North Pole."
He leans against his desk and crosses his arms before answering.
"I guess I just knew. The way you looked at me before you left confirmed it. And I could tell that you didn't want to be there with her."
"But then I wouldn't have seen you."
"True. Go take care of what you need to take care of and come back to me. If you can't, I'll come to you."
"I don't want you anywhere near Mistletoe Hill, Cole. You're too good for that place."
"And you're not?"
"I'll call you."
I walk out of the office willing my cock to go down."
COLLAPSE
Reviews:
Silvia

on

Goodreads

wrote:
More!

I got everything I wanted and more from this latest book of my fave Christmas series. This was the most serious of the books I've read in the series so I appreciated that Willy the elf popped up whenever I needed a laugh. He had me at "haggy ho"! You have to read the book to get the meaning. LMAO! But as much as I adore Willy, this book was all Dylan. Dylan finally escaped an abusive father at the tender age of 16 and the horrific things he did to survive... OMG, I'm crying again. He melted my heart and I surrendered it to him. He comes off as a bad boy riding on his Harley, living and working on the wrong side of the tracks. Then along comes a shiny light by the name of Cole, albeit very briefly at Santa's Christmas party, across a crowded room, their eyes connect, then its over, for the time being. Then a year later..... Oh come on. You've got to read it yourself to get all the feels. And of course being a Christmas book the magic happens. Don't miss it.
Kazza

on

On Top Down Under Book Reviews

wrote:
I think this is my favourite book in the series, apart from the original. I had a great time being with this wonderfully ragtag, supportive, caring shifter/elf (and one human) group of friends/ family that keeps on growing.

The mystery was interesting, although it's not meant to be a full-on mystery book, it's first and foremost a Christmas paranormal romance.

Dylan and Cole are good together. They pretty happily slip into their mate bond and Dylan's backstory adds depth to the overall tale. Dylan and Cole get their happy ending and I'm all for it – make love not war. While they'll add nicely to the ever developing family I've adopted in the North Pole, Willy, with Randy's help, steals the show and I wouldn't have it any other way.

Overall:

The Willy the Kinky Elf series never takes itself too seriously, although there is often a message, just look at the titles, they're awesome. It's one goofy, crazy, cheesy, fun and fabulous ride I've been on since book #1 came out. I never miss a book and, in my opinion, it isn't Christmas until Peppermint Whiskey is consumed and a pervy elf named Willy calls it. You're a butthead Willy. I love you. 4.5 Stars!
Author Kelsy Kasey

on

Goodreads

wrote:
I'll cut to the chase. I love a bad boy. Dylan is a bad boy. He's hot, he drives a Harley, and he only cares about how many bucks he can fuck in one night. Then he meets Cole and only has eyes (and I'll just say it..... his cock) for his new mate. Or should I say that elf Willy forces him to meet Cole. I like Cole but he's such a good guy. Not a bad thing but this girl loves her a bad boy.

Then there's the rest of the NP gang. What I really love about this series is how the author weaves past characters into each new book. Willy the elf. Need I say more? He's crazy. Crazy as all fuck but I love him. There's a scene in the jewelry store with Willy that I read during a meeting. I still have a job after giggling out loud so that's something I suppose.

Seriously. Don't read that scene unless you're in a place where you can laugh out loud. I can't even type this without laughing. That elf is nuts. I work in sales. I want to hire the little fucker. I'd be set and never have to do another day of work.

Mrs Claus takes evil to a new level in this book. I don't know how she can come back from what was revealed here. It was nice to see Santa finally grow a pair with her. I'm curious to see what happens with him in upcoming books. I don't care about her. I used to love to hate her. Now I just hate her.

Dylan has to find out what happened to his mother before he can give his all to his new mate. All our fave players from past books are right there to help him, including Blake Simpson who Dylan knew from his using days and hated.

I admit to being surprised over how things came together. Not at all what I was expecting.

I'm still having fun with this series when i'm normally bored to tears by book three of a series. I want more. And Willy? I wanna see his butt too. Honey, there ain't nothin' wrong with wanting to look at nice things. 🙂