Crux Survivors Compilation
by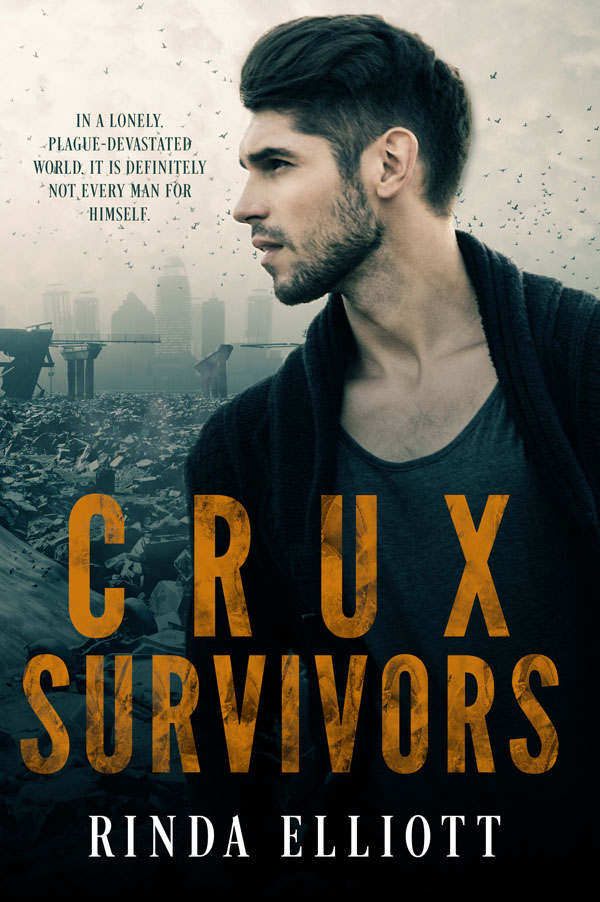 Note: These erotic novels were originally published with Samhain Publishing through my pen name, Dani Worth. Only the cover has changed. The content is the same. (Compilation of two books. Book one is MMF.)
AFTER THE CRUX (Book One)
Seventeen years after the Crux Virus wiped out most of the world's population, Ross is doing what he can to keep his small community in what was once New Mexico safe. He's made a habit of collecting survivors. They're all family, especially Jenna and Dorian.
Now, at thirty, Ross hopes to find a love of his own on supply runs, but his heart has long been snagged by his two best friends.
Alone with his tangled emotions, Ross is about to discover that his friends have their own ideas about their relationship…and everything is about to change.
SOLE SURVIVORS (Book Two)
Chase Hawthorne is on the run from a ghost. The shooting that took his little sister and scarred him left far deeper scars on his brother Tripp's soul. Driven to pull up stakes and head for the most haunted place in Louisiana, Chase hopes to prove to Tripp there is no ghost of their sister beckoning from the afterlife.
When they come upon upon a young woman fighting off raiders, the Hawthornes don't hesitate to help the first female they've seen in years. Chase tries to ignore his instant attraction, hoping Tripp will feel something, too—and emerge from his frightening depression.
Keera has been alone too long, and scarred, difficult Chase makes her feel things she never thought she'd feel again. Tripp may be the needier brother, but it's Chase she wants.
Letting people too close comes with risks. Both Keera and Chase must accept the possibility that there's more to life—and love—than simple survival.
Published:
May 30, 2017
Publisher:
Independently Published
Editors:
Cover Artists:
Genres:
Pairings:
M-M-F
Heat Level:
4
Romantic Content:
5
Ending:
Click here to reveal
Character Identities:
Bisexual, Polyamorous
Protagonist 1 Age:
26-35
Protagonist 2 Age:
18-25
Protagonist 3 Age:
18-25
Tropes:
Age Difference, First Time, Friends to Lovers, Hurt / Comfort, Menage
Word Count:
80000
Setting:
Post-apocalyptic
Languages Available:
English
Series Type:
Same Universe / Various Characters
Reviews:
Monique

on

Sinfully Gay Romance Reviews

wrote:
Post Apocalyptic Novella with an erotic menage relationship. Loved it...What a great start to a new series!

For a novella and the first in the series, Dani Worth balances the world building, character development and romance perfectly - throwing a little action and humour in along the way, it is not pretty, it's dangerous and they are constantly on a knifes edge, their lives and home could so easily be destroyed by one small mistake or bad decision. I liked how they all had a place within the family and we learnt the 'hows' and 'whys' of what brought them all together, it left me wanting to know more - to know where this story was going to take me next.

We arrive in this Post Apocalyptic World 17 years after the Crux virus has taken out most of the Worlds population. What is left are towns and cities devastated by neglect, with subsequent looting and damage caused by survivors with no thought for what remained of mankind - It was a kill or be killed situation for most, with many preferring to take their own lives, than live in what had now become an existence with no hope. The virus had not only destroyed the population but had taken humanity in its wake.

Ross at the age of 14 finds two 9 year olds, Darian and Jenna, sick, starving, frightened and all alone living in a basement. His instinct to protect these two vulnerable children is the start of their journey, spending years evading danger and death, finding others also lost to the devastation along the way, they eventually, as a family, find a place to call home.

When we first meet Ross my heart was breaking for him - Selflessly he has poured all of his love into making a home and a family, where there was previously no hope! and now after years of hoping that HE would find a woman to share his heart with, he has resigned himself to the fact that he will forever be alone, with the Crux virus being more virulent amongst women, there are very few and any that have survived are usually brutalized and raped!

Darian and Jenna, who are now a couple and Ross, their hearts so emotionally bound, their love for each other never in question. But Ross was their protector and when he began to see the two people he loved more than anything in the world with desire and need, his conscience and sense of responsibility threw up a wall he was not prepared to cross. Darian and Jenna on the other hand have a different idea, and they are going to find it hard to convince this honourable man they both love, that his place is really with them.

The camaraderie and humour that follows their seduction and the effect it had on the family as a whole left me chuckling on more than one occasion - and the m-m-f sex and relationship was WOW ~ HOT!! His virgin status was well and truly vanquished! This part of the relationship was wonderfully executed from my point of view as an m-m reader. The focus of the relationship was not Jenna, but Ross. So there is some hot and heavy action between Ross and Darian as well as all Jenna.

This book finished at 87% and I have to say I was a little disappointed....I wanted more! It is however left perfectly to follow on to the next book, I for one can't wait.
E.Bookpushers

on

The Book Pushers

wrote:
Yet another great story from Ms Worth. The emotional tension between the characters, the high stakes outside of their relationships, how they made it all work. Also the growing attachments between the other survivors and something left unresolved that I can't wait to find out about in the next book. Once I started reading I couldn't stop.
Vicky

on

Scorching Book Reviews

wrote:
When the crux virus struck, it wiped out nearly everyone. There were very few survivors and most that did, ended up trying to protect themselves from the raiders. In the desolate world that they are living in they have created their own family and will protect each other to the end.

For a long time Ross has been trying to ignore that his feelings for Jenna and Dorian have changed over the years. When he first found them 14 years ago he wanted to protect them. Now he wants both of them in a way that he thinks he should be ashamed of, especially as they have been in a relationship for a while. So whenever Ross goes on a supply run he hopes that he will find someone for himself to love but always returns alone.

Jenna and Dorian love Ross and they realise it is more than just as family – they want him as their lover too. When Ross is injured, Jenna and Dorian are terrified that they will lose him and the chance to show him how they feel.
Ross is such a strong character. He tries to take care of everyone, even if it's at a detriment to himself. He is his family's protector and provider – whenever he goes on a supply run he always tries to find other survivors that he can help and items that he knows his family would love. He is really conflicted as he feels that he shouldn't have the feelings he does for Jenna and Dorian. What makes it more difficult is that he doesn't believe that they would reciprocate his feelings and if they did whether their family would accept their situation.

Dorian was a bit of a dark horse to me – I now have a huge soft spot for him and the scene in the supply closet with Ross, my god can I just say HOT, HOT, HOT!!! He knew what he wanted and was willing to risk going for it. He didn't give in to his nerves about Ross rejecting him. He has become the family doctor and is as dedicated as Ross in caring for his family, just in a different way.

Jenna is one lucky lady! She accepts and understands Dorian's feelings toward Ross and doesn't doubt that they are all meant to be together. She seemed to have taken on the hunter/gatherer role for the family which I was impressed by and she isn't the type of person to sit back and let others do all the work.

The relationship between Ross, Jenna and Dorian is strengthened by their friendship and knowledge of each other that has developed over their years together. They have a devotion to each other that is something that I would only expect after the experiences that they have been through together. The people they have rescued and added to their family over the years has only strengthened them further, providing them with much needed security.

I really enjoyed all the various dynamics of the characters within the story and am intrigued by what may happen in the future. After the Crux is an wonderfully written, emotional story that I just couldn't put down – Dani Worth has done it again!
Chappy

on

Goodreads

wrote:
I love, love, love this series by Dani Worth. It's real post-apocalyptic goodness. Just picture Walking Dead with all the great character development and gripping survival stories but without the zombies. Here the bad guys are other human survivors of the plague called "raiders". They are just a bunch of thugs intent on taking what they can, embracing violence and treating women like property. Our heroes are instead trying to rebuild some kind of society that protects each other, and most importantly loves each other. Chase (who had wicked facial scars) is alone with his brother Tripp until they meet up with Keera who is also totally alone and very lonely. Awesome sexual chemistry between Chase and Keera had me fanning myself. They run into Ross, Dorian and Jenna from the first book who are helping Cadmar to rescue his family from raiders. The story just keeps getting better and better and I can't wait for more...hurry Dani please.
In Kindle Unlimited! This is a compilation of the first novella and book of the series Crux Survivors. The first volume, After the Crux, is a novella featuring bisexual (MMF) characters. The second volume is MF but the trio from the first volume are major secondary characters. This was originally published with Samhain Publishing under the pen name Dani Worth.